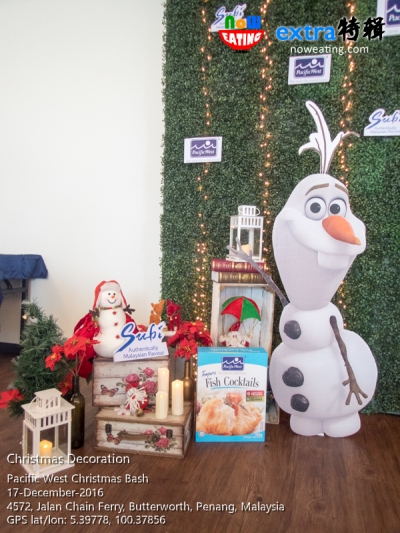 [17-December-2016] For frequent grocery shoppers, you may heard of Pacific West – the premium frozen seafood brand under Golden Fresh with light blue packaging.  Living in The Pearl of the Orient, to be honest, we seldom purchase frozen seafood as fresh seafood can be obtained easily around the island. Recently, we were fortunate enough to be invited to Golden Fresh factory at Butterworth, Penang to celebrate Christmas and to witness the making of the premium seafood.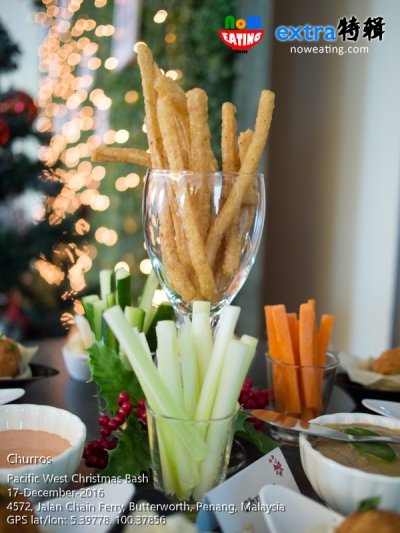 It was a sunny afternoon and we were welcomed by Golden Fresh staffs with some canapes and finger food made using their own products. Despite being just a one-bite appetizer, we were pretty impressed with the food quality and creativity. For instance, who will expect a seafood Churros tastes so good with Siracha Mayo dip.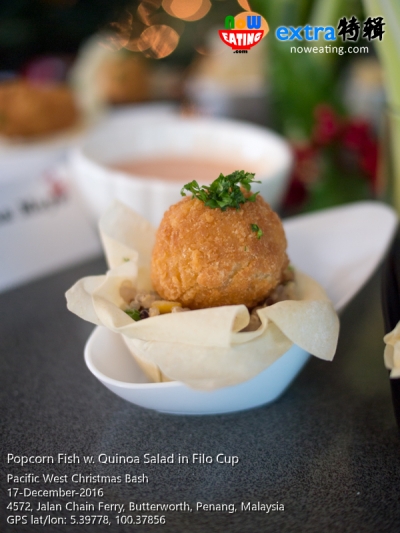 Special thanks to the management team, we had the privilege to visit Golden Fresh production floor with state-of-the-art production equipment to ensure the highest level of efficiency and productivity. Smock, mask, hair cover, boot, and hand sanitizer are required before entering the production floor. Unfortunately, due to company rules, we were not able to take photo in the production floor.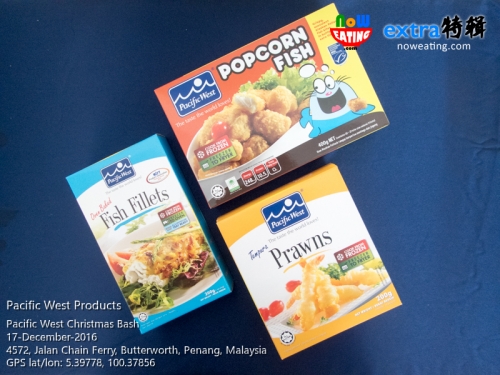 Frozen seafood is not just about putting flour on skin, freezing to a negative degree and pack into individual pack. From our observation, Golden Fresh emphasizes on hygienic, quality, and process as well. For instance, machinery are used to ensure that the seafood is coated, pre-fried, frozen and packed in minimum time to retain its freshness and nutrition as much as possible. Before packaging, seafood are inspected physically by operators to remove those not meeting specification. Last but not least, cartons will be stored in one of the largest cold room in Malaysia before shipment. Golden Fresh currently exporting Pacific West products to various countries including Australia, New Zealand, and UK.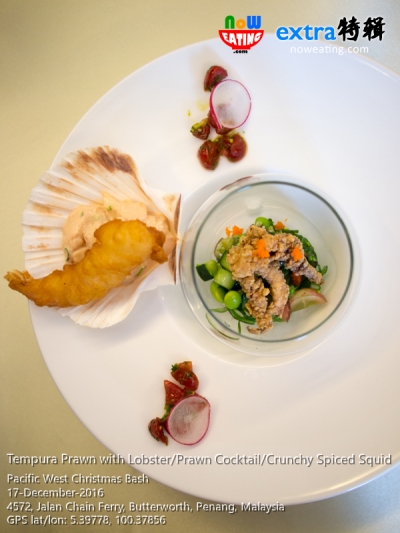 We returned to the office building after plant tour for our lunch and were surprised that Golden Fresh does have its own in-house chef. We were astonished by the food presentation using their very own products.  Our starter was simple but rich in flavor's Tempura Prawn with Lobster and Prawn Cocktail and Crunchy Spiced Squid in Japanese Garden Salad.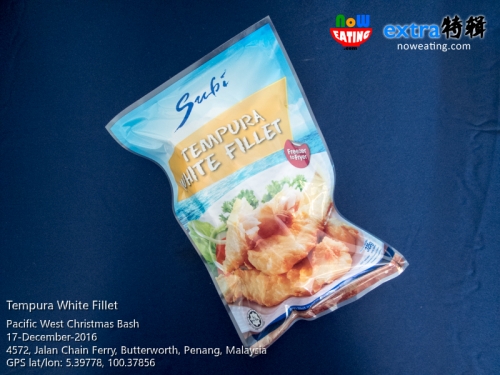 Other than Pacific West brand, Subi is another brand under the same company with its products designed for Malaysians with heavier taste buds. Crunchy Spiced Squid, in this case, is one of Subi products.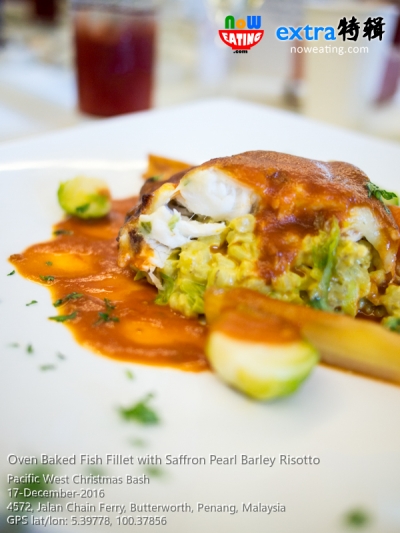 Introducing Oven Baked Fish Fillet with Saffron Pearl Barley Risotto and Honey Roasted Christmas Vegetables – the main course so perfect that we hope the chef will have his own restaurant outside so that we can visit it in future. Instead of common French fries or mashed potato, the chef cleverly use Safforn Pearl Barley Risotto to complement Pacific West's fish fillet, turning the dish into a mouthwatering Italian food.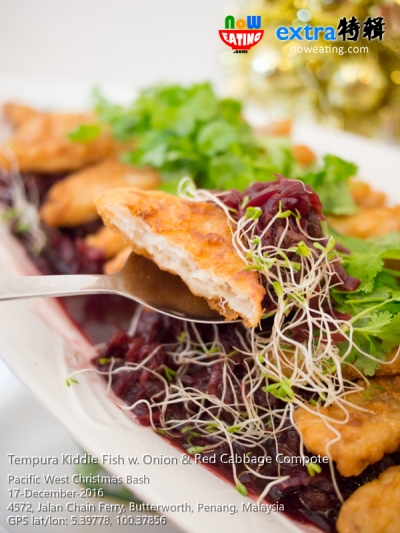 Also known as Blaukraut, German Red Cabbage is usually found in German cuisine. Using own Tempura Fish product, Golden Fresh created Tempura Kiddie Fish with Onion and Red Cabbage Compote.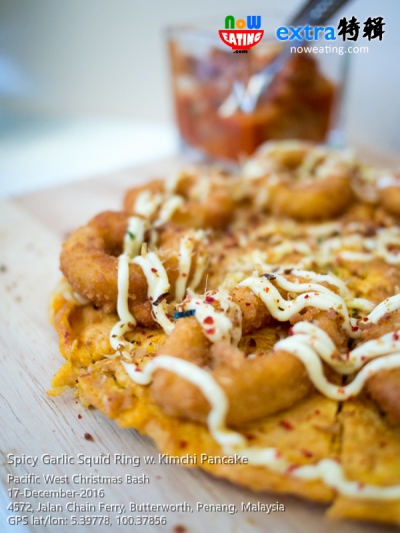 Golden Fresh proved that frozen seafood is not only meant for western cuisine by introducing Spicy Garlic Squid Ring with Kimchi Pancake. We had tried Kimchi Pancake in some Korean restaurants and this was our first time having squid ring, mayonnaise and chili flakes sprinkled on top. We regretted that those Korean restaurants didn't find this recipe earlier.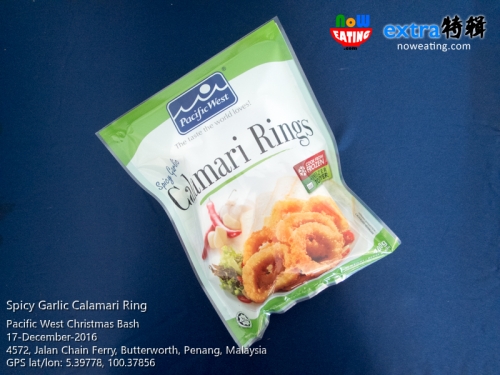 By the way, the Spicy Garlic Calamari Ring is the latest Pacific West's premium product. Most of the Pacific West's products can be deep fried, conventional oven baked, or air fried which is pretty convenience especially for working class demanding something fast and easy.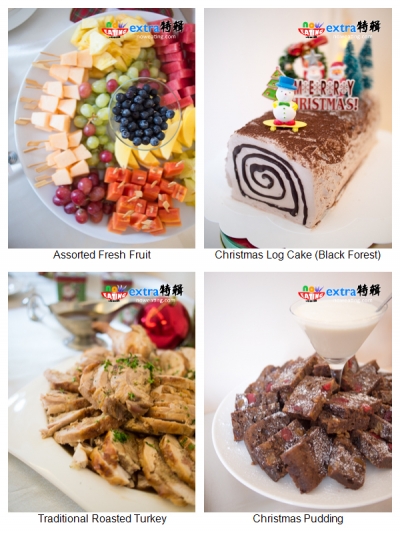 Other dishes for the afternoon including Roasted Turkey, Christmas Yule Log Cake, and Fresh Fruit. Of course, they were signature dishes for this festive session and not from Golden Fresh's products.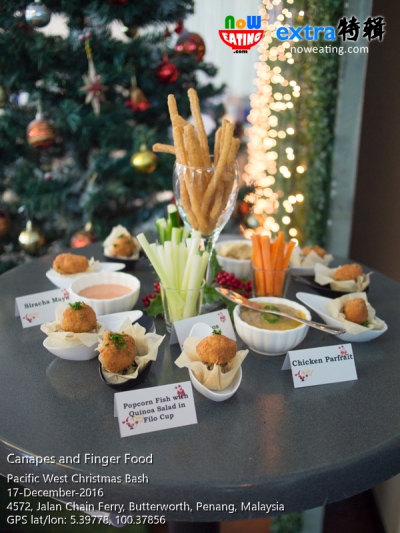 As a whole, the food didn't let us down and we were surprised that with proper pairing, frozen food can be turned into quality fine dining dishes. It was also a wonderful and eye-opening afternoon in which both Golden Fresh staffs and bloggers mixed and learned together. Special thanks to Golden Fresh/Pacific West in hosting us. For more information about Golden Fresh products, kindly visit their official website or visit their office at:
4572, Jalan Chain Ferry,
12100 Butterworth, Malaysia.
+604 – 3333 388
[email protected]
GPS: 5.397751, 100.378546