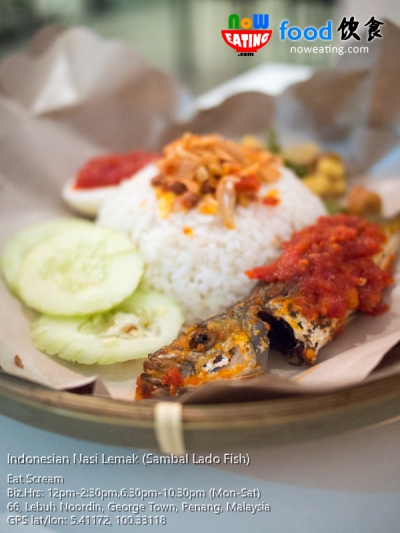 Traditionally, Nasi Lemak is Malaysian's famous breakfast enjoyed by all races. It can be found as triangle-shaped packages in coffee shop or roadside stalls. It is also not a stranger in some chain restaurants in which the coconut milk-infused fragrant rice dish is included as one of the menu items. Recently, we noticed few "Nasi Lemak specialists" popping out in The Pearl of the Orient – including Eat Scream (GPS: 5.41172,100.33118) we are going to introduce.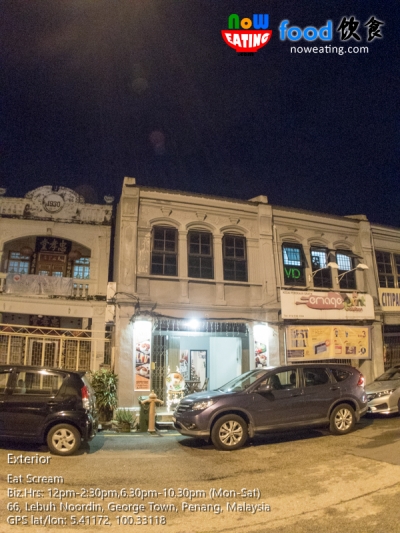 Eat Scream is located at the quiet street of Lebuh Noordin (well, at least it is quiet at night). Fortunately, parking is not an issue here as most shops are closed in the evening. The cafe initially only operated in the evening and starting November 2016, it extended its business to lunch hour. Eat Scream is opened daily from 12pm-2:30pm, 6:30pm-10:30pm and is closed on Sunday.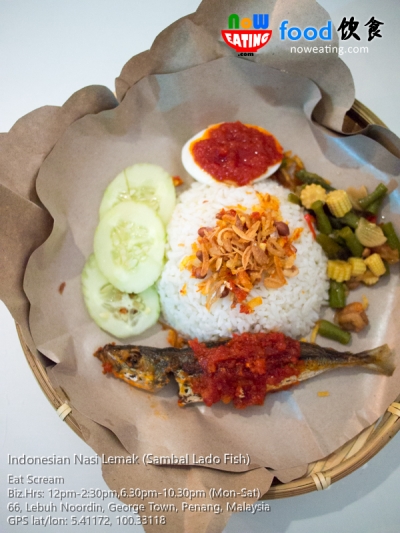 Do you need another Nasi Lemak restaurant? The answer is yes especially for Eat Scream. Instead of serving Malaysian Nasi Lemak, Eat Scream serves Indonesian Nasi Lemak prepared by none other than Chinese Indonesian owners. Instead of pick-your-own-ingredient style, Eat Scream has three set of Nasi Lemak readily available, including Rendang Chicken, Sambal Lado Fish and Asam Prawn. Sambal Lado Fish (RM12.80) we ordered came with fragrance Nasi Lemak topped with Sambal Ikan Bilis, served with Sweet and Spicy Sambal Lado Fish, Sambal Egg and Tauco Vegetable.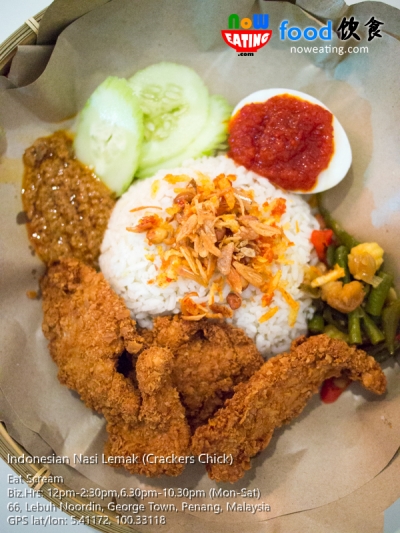 Asam Prawn is actually seasonal and unfortunately, it was not available during our visit. In return, the friendly crew offered us their new invention yet in their menu – Crackers Chick 咸饼鸡 (RM13.80). A recommended set for those preferring non-spicy Nasi Lemak.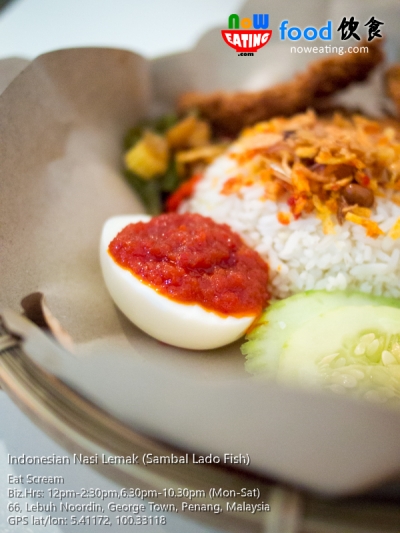 By the way, their Nasi Lemak is mild in spiciness and we found the tangy sambal on top of the egg was a pleasant one to an extended that we requested for more of it in the middle of our meal.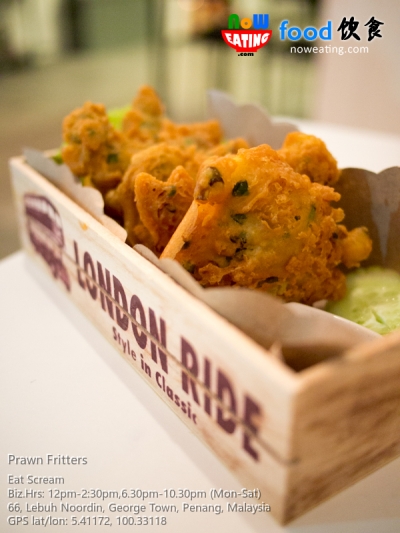 Fearing that Nasi Lemak was not able to feed big eaters like us, we ordered Prawn Fritters (RM7.80) – daily picked fresh prawn fried with fine flour paste and chives. It took time to fry but worth the wait thanks to the generous amount of prawns in it.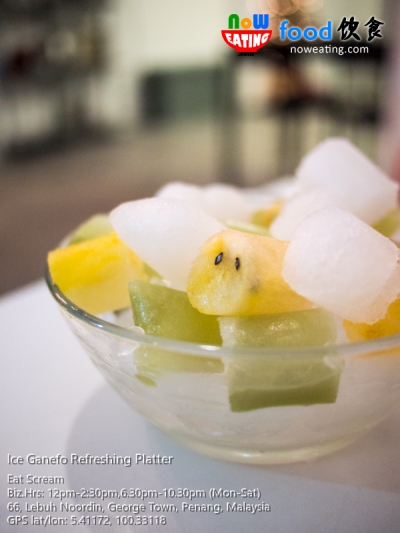 Eat Scream is more than just a Nasi Lemak specialist. It also serves Ice Ganefo which reminding us of the classic RM0.20 ice stick we had during our childhood day. Compared to the latter which is made of syrup (and coloring), Ice Ganefo in Eat Scream is 100% made of real fruit juice including 14 all-time flavors and 6 seasonal fruits. Each ice ganefo stick is priced at RM2.00 .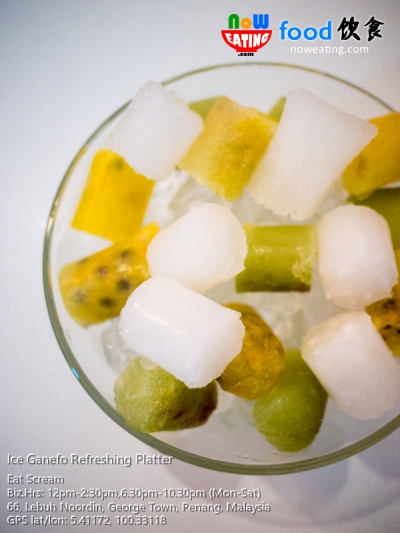 For sharing of 2 persons and more, Eat Scream has their Ice Ganefo pre-selected, cut into smaller chunks, and served in a bowl with ice cubes. Two of us selected Ice Ganefo Refreshing Platter (RM5.80) consists of passion fruit, ampula sourplum and coconut lime flavour. Every chunk is like real fruit juice. We just couldn't stop "sucking" the juice out and almost had frostbite on our tongue.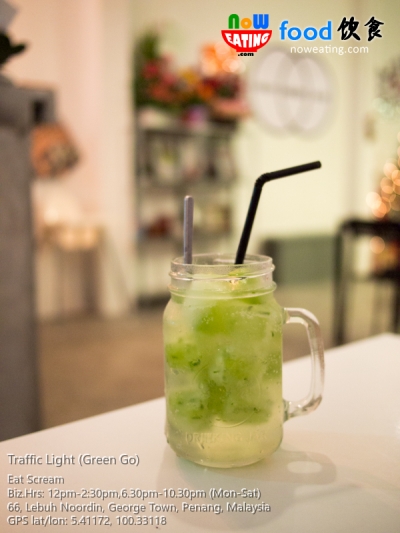 Not enough with the Ice Ganefo? Order their Traffic Light drinks with Ice Ganefo as ice cube. Our Green Go (RM7.80) did not disappoint us with cooling Sprite filled with cucumber lime ice ganefo. Definitely refreshing especially under the hot sun.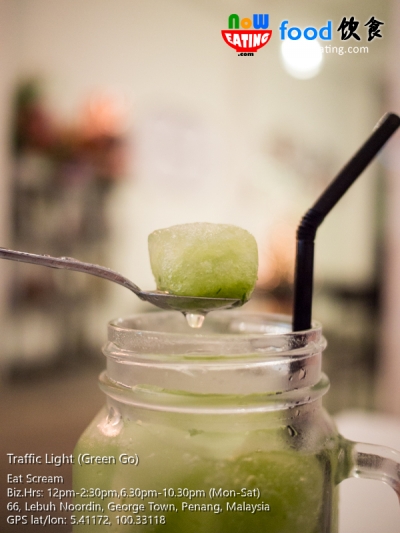 Even better, the longer you keep the drink, the more flavorful the drink will be as the fruit juice from Ice Ganefo melted into the drink.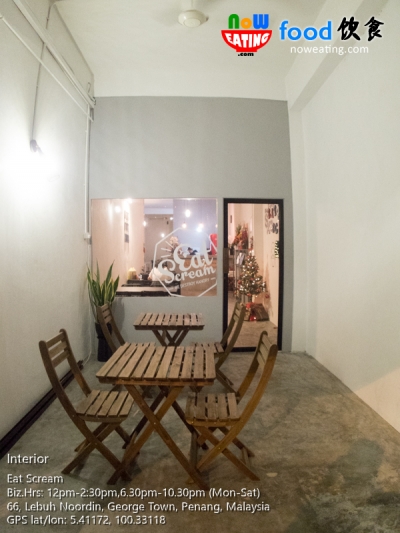 As the name applies, Eat Scream will let you eat and scream positively after trying out their food. No doubt, it has one of the best and more unique Nasi Lemak in town and is able to bring back our good childhood memory with their homemade Ice Ganefo. Perhaps a minor drawback is the odor escaping from the kitchen which may stain your cloth if you are sitting indoor. Alternatively, outdoor seating is also available.
| | |
| --- | --- |
| Place Name: | Eat Scream |
| Cuisine: | Chinese |
| Address: | 66, Lebuh Noordin, George Town, 10300, Penang, Malaysia |
| Tel: | 60164998807 |
| Email: | [email protected] |
| Working Hour: | 12pm-2.30pm,6.30pm-10.30pm (Mon-Sat) |