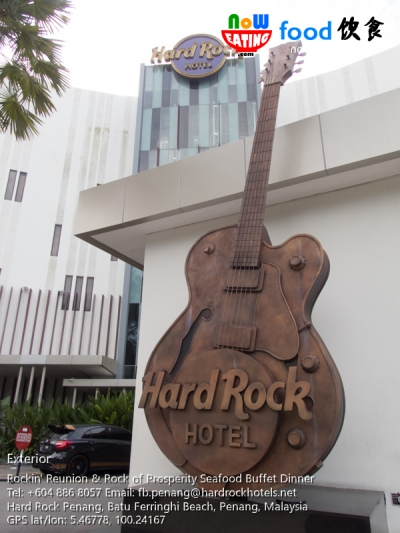 Looking to indulge a wide spread of Asian cuisine in a buffet style for Chinese New Year? You are in for treat at Hard Rock Hotel (HRH) Penang (GPS: 5.46778,100.24167). We recently its Starz Diner for a preview session of their CNY buffet dinners.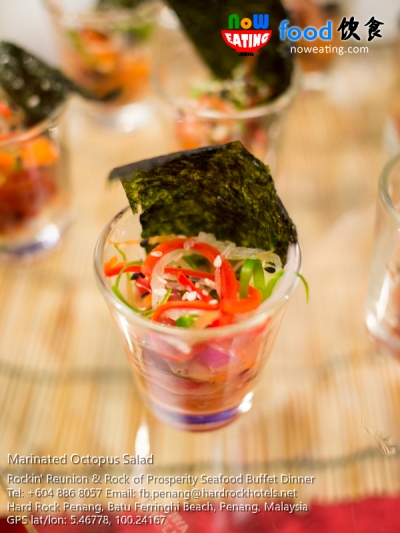 Chinese New Year Buffet Dinner is available on 27-January-2017 (除夕/Reunion Night) and 28-January-2017 (初一/First Day of CNY) at Starz Diner.- the main restaurant in HRH serving à la carte breakfast and dinner daily. Special for both meaningful days, chefs will unleash the beast within by offering buffet dinner. Asian delights such as Nyonya platter, Sushi & Sashimi, Teppanyaki, Chinese Carving, Dim Sum, and Steamboat are just few cuisines available on both days (Figure: Marinated Octopus Salad)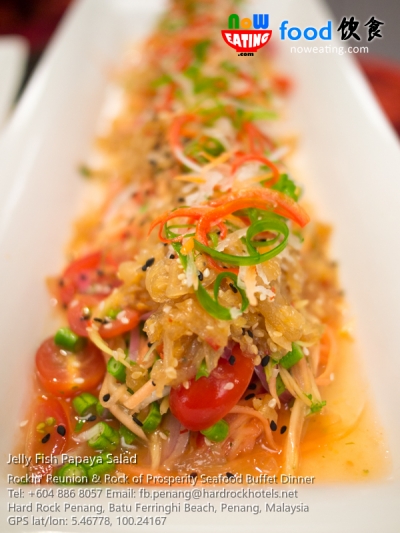 We were presented with some dish highlights during our preview sessions. In general, most of the cold platters, soups and desserts remains the same for both nights except on hot dishes. (Figure: Jelly Fish Papaya Salad)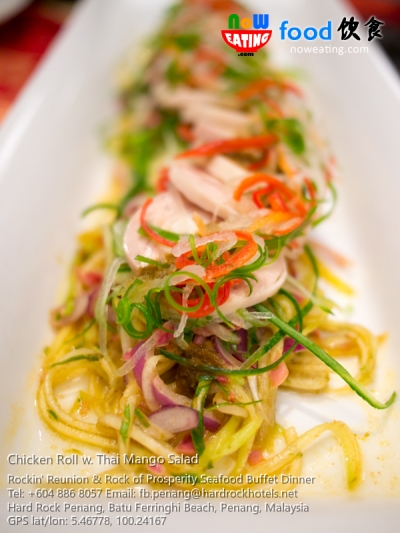 For cold platters, we particularly enjoyed Chicken Roll with Thai Mango Salad and Jelly Fish Papaya Salad since we were Thai food lover. Both appetizers definitely will kick start your taste buds.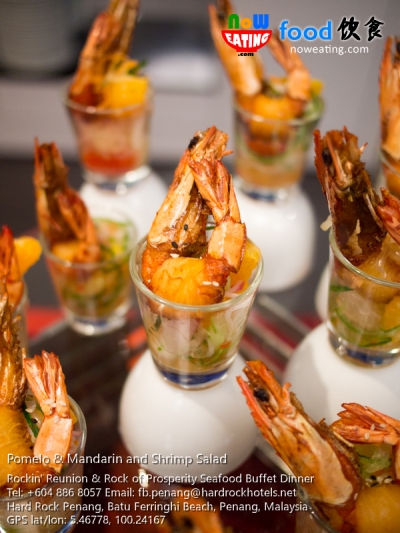 Pomelo & Mandarin and Shrimp Salad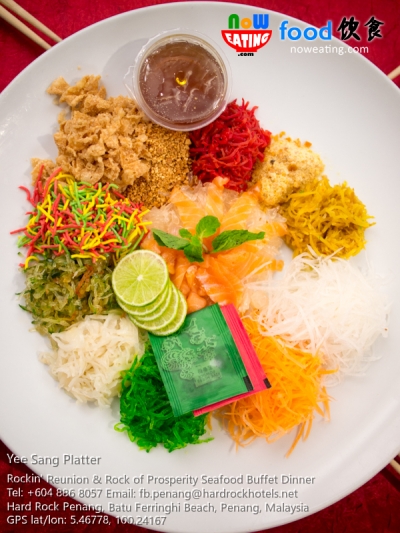 Start off your meal with the tossing of Yee Sang – slices of fresh salmon, abalone, jelly fish, pomeo with potpourri of flavorful ingredients such as the Chinese five spiced powder 五香粉, toasted sesame seed, roasted peanuts, crispy crackers and more.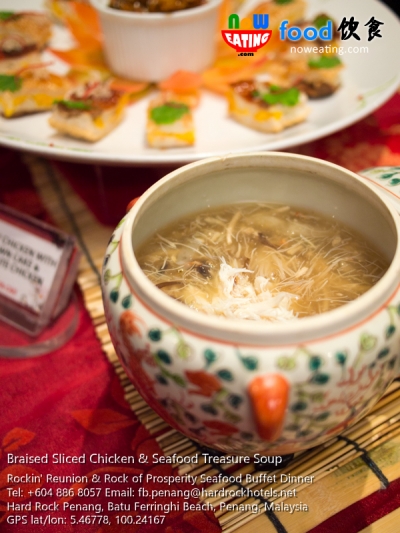 Boost up your appetite with a nourishing Braised Sliced Chicken and Seafood Treasure Soup before you head on to the mains.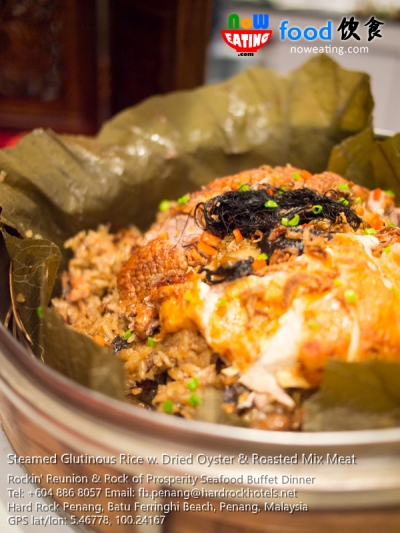 During Reunion Night (27-Jan-2017), HRH is pleased to offer the following hot dishes:
Steamed Glutinous Rice with Dried Oyster & Roasted Mix Meat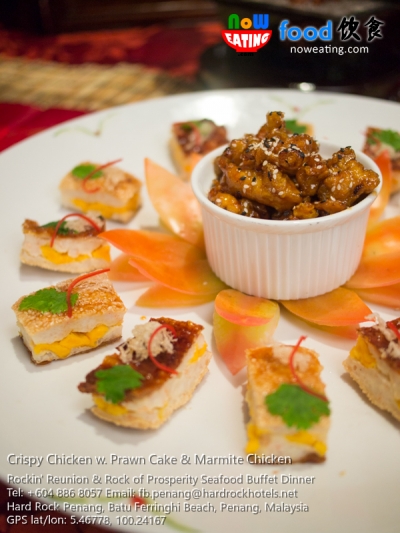 Crispy Chicken with Prawn Cake and Marmite Chicken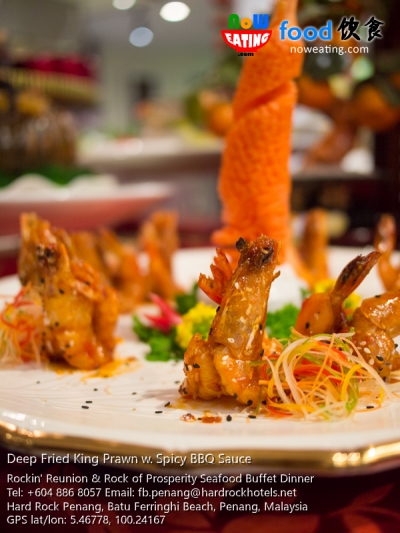 Deep Fried King Prawn with Spicy BBQ Sauce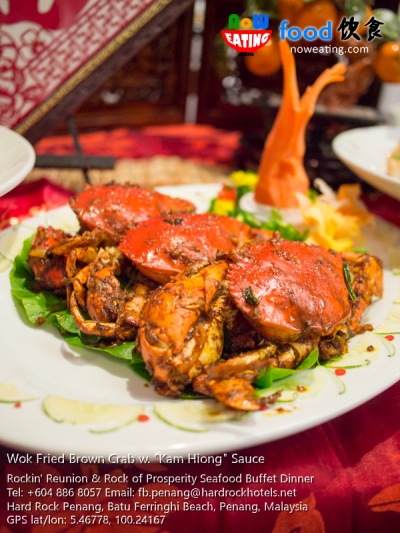 Be ready to get your hands dirty with Wok Fried Brown Crab with "Kam Hiong" Sauce.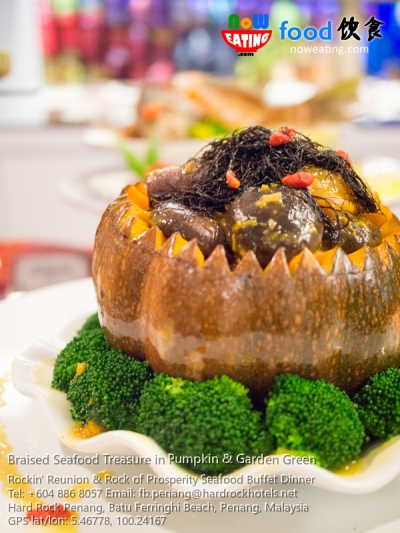 Braised Seafood Treasure in Pumpkin and Garden Green was our top pick that evening with generous amount of premium seafood such as mussels, fish maw, abalone and even sea cucumber in the pumpkin.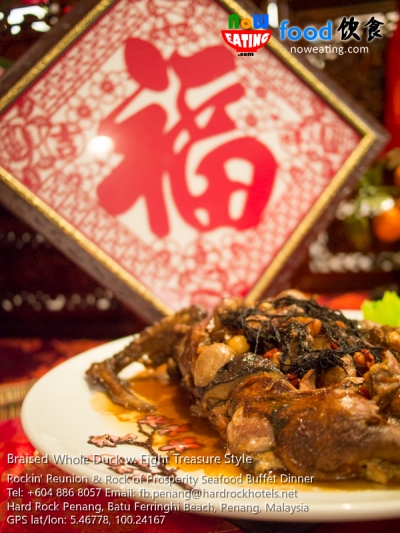 As for the first day of Chinese New Year (28-Jan-2017), highlights of the hot dishes are as follow:
Braised Whole Duck with Eight Treasure Style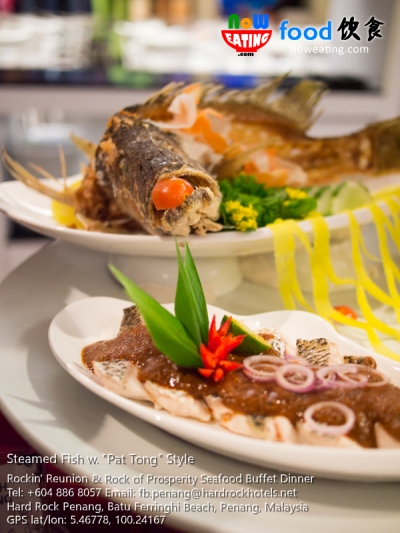 As an American hotel, we were pretty impressed with the Asian culinary prepared from multiracial kitchen of HRH Penang. Food quality-wise, without any hesitation, it is at 5-star hotel banquet standard with premium ingredients being used. (Figure: Steamed Fish with "Pat Tong" Style)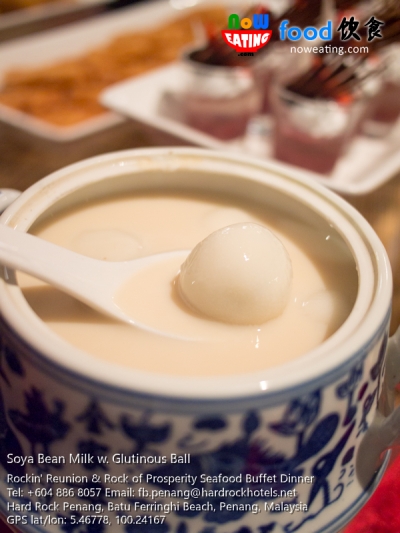 Chefs further intensified CNY atmosphere by adding some famous Chinese desserts, including Soya Bean Milk with Glutinous Ball.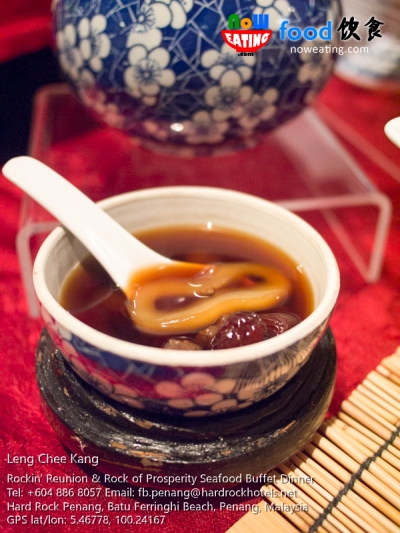 Leng Chee Kang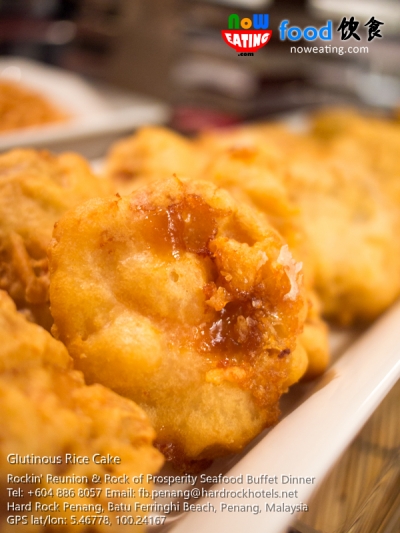 Glutinous Rice Cake and Chinese Cookies (below).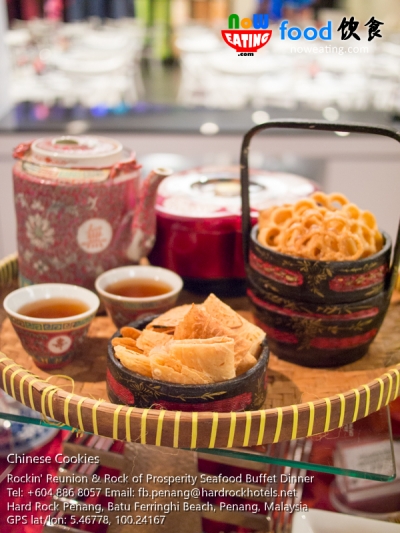 The Rockin' Reunion Buffet Dinner (27-Jan-2017) is priced at RM138 nett per adult and RM69 nett per child from 6 to 12 years old. The Rock of Prosperity Seafood Dinner is priced at RM128 nett per adult and RM64 nett per child only. Call +604 886 8057 or email [email protected] to save your seat.
Hard Rock Cafe Penang on the other hand is offering a Prosperity Rock Platter starting from 9 January – 5 February 2017. The platter will be available daily from 11.30am-10.30pm, RM160 nett for 2 persons and RM240 nett for 3 persons. Call +604 886 8050 or email [email protected] to reserve.