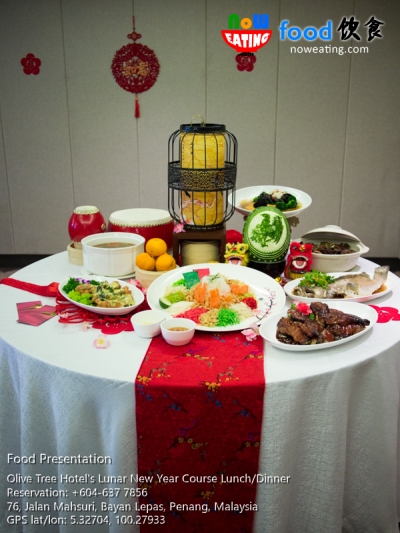 Thinking of trying something new this coming Chinese New Year? Visit the new Olive Tree Hotel at Bayan Lepas, Penang for Lunar New Year Course/Buffet Lunch/Dinner. Opened since late of 2015, we recently visited the hotel for course dinner preview session.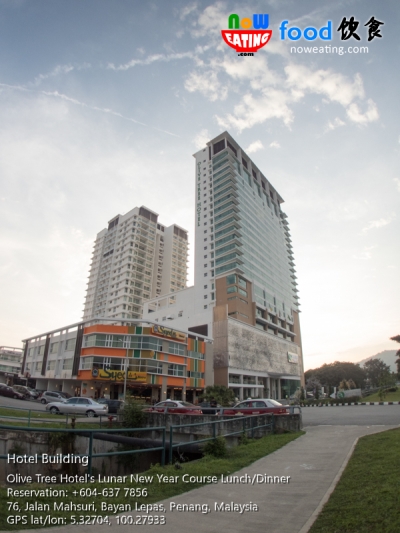 The 25-storey hotel with 228 rooms is not difficult to spot as it is just located opposite of sPICE (formerly PISA). All rooms come with Chiro-Tech mattress and microfiber pillows, 40-inch LED HD TV, high-speed Internet access, iron and ironing board to name a few. Other than Agoda, you may make your room reservation from their official website.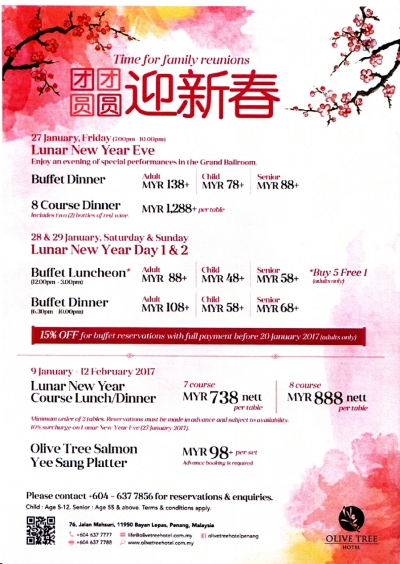 In conjunction with upcoming Chinese New Year, Olive Tree Hotel is offering both Lunar New Year course meals and buffets. Buffet Dinner is available on 27-Jan-2017 (7pm-10pm) at RM138+ for adult, RM78+ for child, and RM88+ for senior. On 28 and 29-Jan-2017, in addiction to Buffet Dinner, Buffet Luncheon (12pm-3pm) is available at RM88+ for adult, RM48+ for child, and RM58+ for senior. Buy 5 free 1 (for adult only). Buffet Dinner (6:30pm-10pm) is available at RM108+ for adult, RM58+ for child, and RM68+ for senior.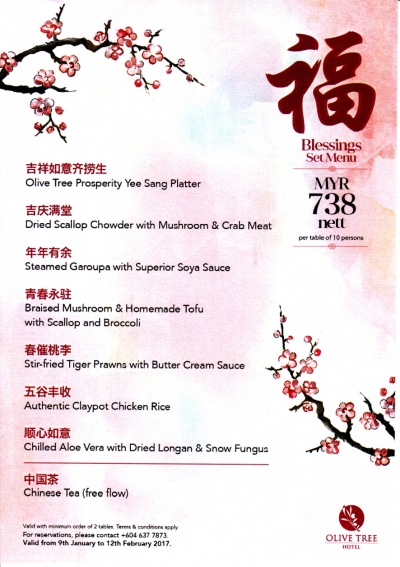 RM738+ Course Lunch/Dinner Menu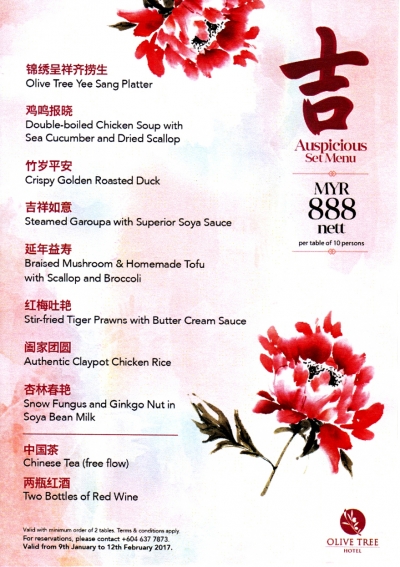 RM888 nett 8-course meal
From 9 Jan to 12 Feb-2017, Lunar New Year Course Lunch/Dinner are available at RM738 nett for 7-course meal, and RM888 nett for 8-course meal.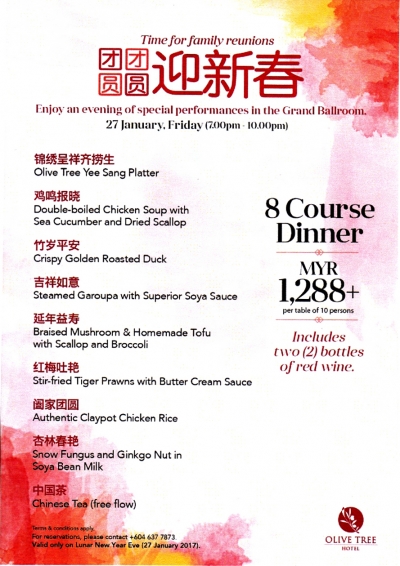 On Chinese New Year Eve (27-Jan-2017), the 8-course meal is priced at RM1288+ per table. Note that during Chinese New Year Eve, both course and buffet dinners will be conducted in grand ballroom with special performance. On other days, course meals will be served in smaller functional rooms.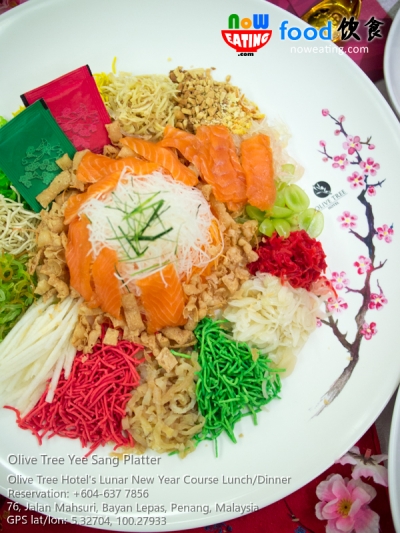 We recently attended a preview session for its RM888 8-course meal. Specially for this RM888 course meal, two bottles of red wines will be provided on top of free-flow Chinese tea, which is value for money in our opinion. Our meal started with Olive Tree Yee Sang Platter 锦绣呈祥齐捞生. Alternatively, the Yee Sang can also be ordered separately at RM98+ per set (Advance booking required). Other dishes included: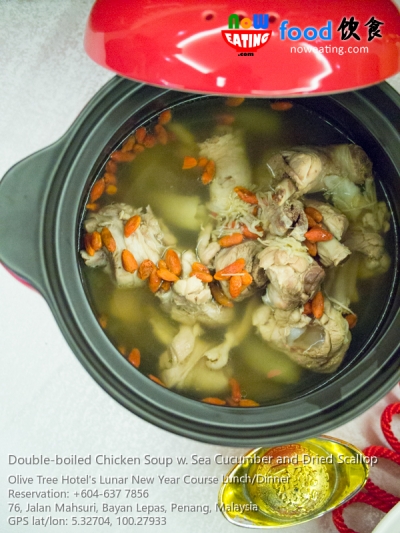 Double-boiled Chicken Soup with Sea Cucumber and Dried Scallop 鸡鸣报晓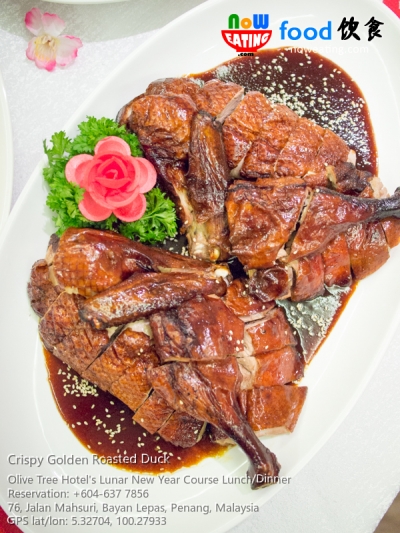 Crispy Golden Roasted Duck 竹岁平安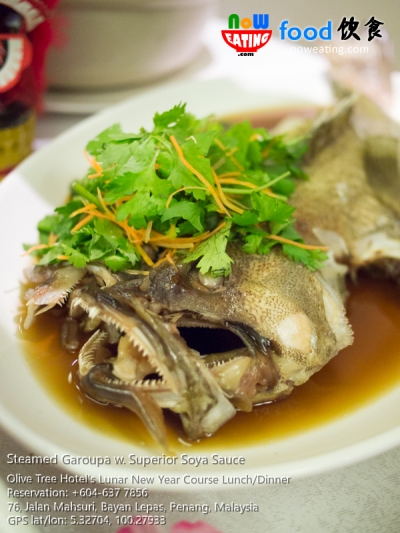 Steamed Garoupa with Superior Soya Sauce 吉祥如意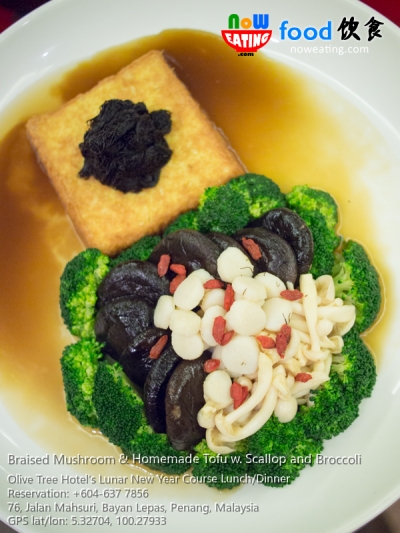 Braised Mushroom & Homemade Tofu with Scallop and Broccoli 延年益寿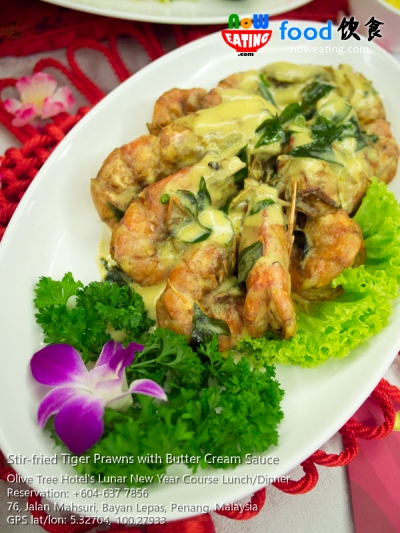 Stir-fried Tiger Prawns with Butter Cream Sauce 红梅吐艳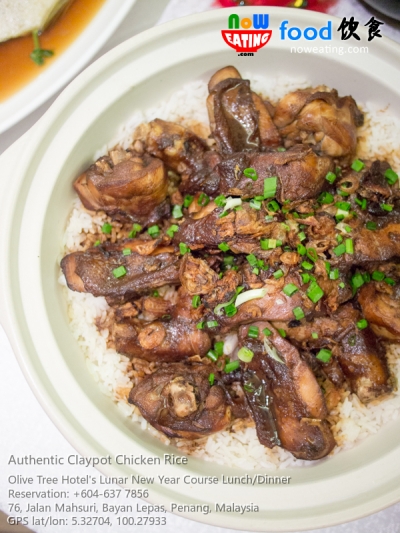 Authentic Claypot Chicken Rice 阖家团圆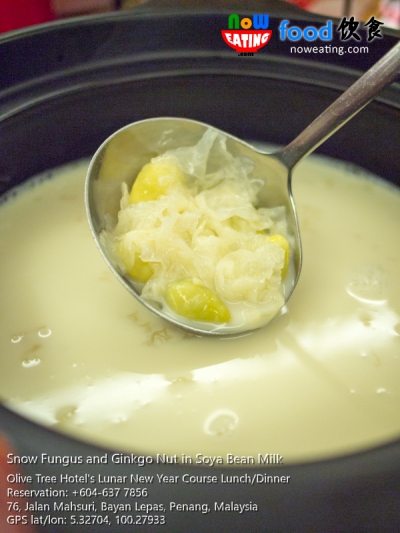 End your evening with sweet memory – Snow Fungus and Ginkgo Nut in Soya Bean Milk 杏林春艳
Verdict: As a whole, the course meal met our expectation, if not exceeding. The one-of-its-kind butter cream sauce on Stir-fried Tiger Prawns was an eye-opener, along with unique Authentic Claypot Chicken Rice with generous amount of marinated chicken meat. The addition of homemade tofu in the vegetable dish – "Braised Mushroom & Homemade Tofu with Scallop and Broccoli" was also stand out from similar dish in other banquet dinners.
For reservation, kindly call +604-637 7873.