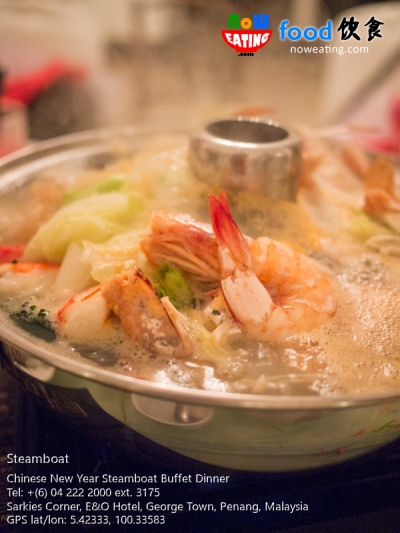 Planning for reunion dinner for coming Chinese New Year (CNY)? Other than course meal, buffet dinner is a better alternative for big eaters looking for more varieties of food. Even better, have it in "Steamboat way". We recently visited a preview session at Eastern & Oriental Hotel, George Town, Penang for its new steamboat package.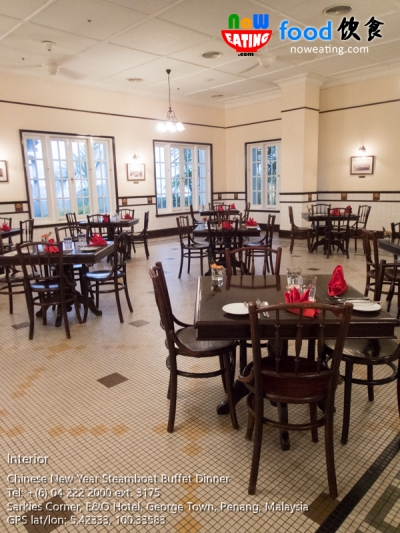 Time flies and it has been more than one year since we last visited E&O Hotel for its steamboat meal. An excellent news is that, instead of set meal, the steamboat is now being offered as buffet. The steamboat buffet dinner will be conducted at Sarkies Corner at old wing of E&O Hotel from 27-January-2017 to 31-January-2017, from 7:00pm to 10:30pm.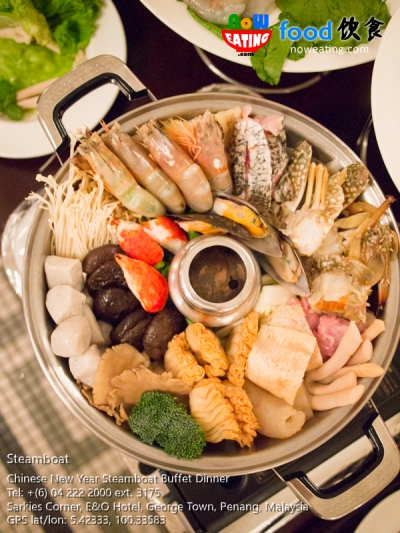 Steamboat is also known as "hot pot" – an Asian delicacy in which raw ingredients are cooked in a metal pot using either gas stove or charcoal on the dining table. Diners will usually get themselves busy cooking and waiting for their food to be ready in the pot. This is also a great bonding time with family members.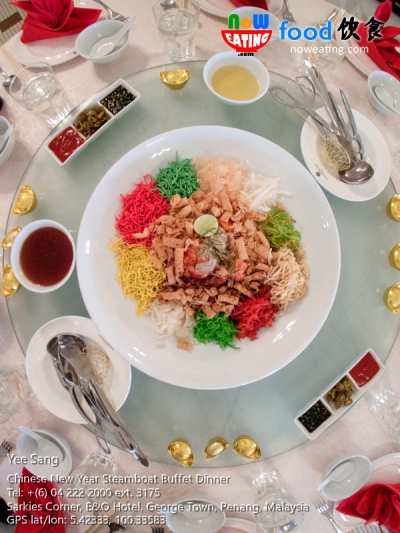 In conjunction with Chinese New Year, a plate of Yee Sang consisting premium ingredients such as raw salmon and pomelo will be presented on each table, allowing guests to toss it  as high as possible symbolizing "good luck" for the new year.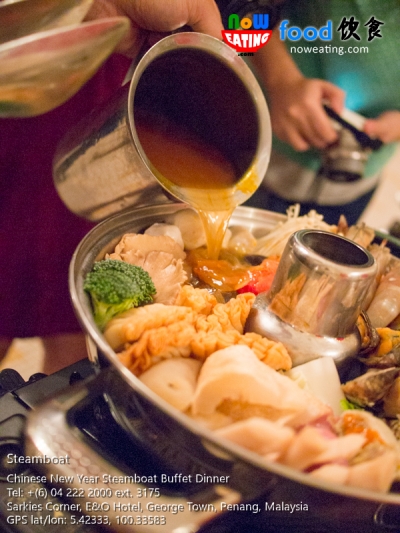 As for the steamboat, three (3) type of broths are available, including chicken, Tom Yam and herbal soup. They are refillable, of course.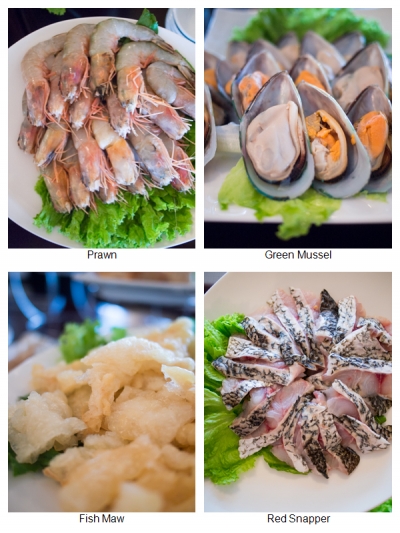 Another good news is that, E&O Hotel does not hesitate in providing guests with premium ingredients despite being a buffet dinner. Prawn, green mussel , fish maw and red snapper are just few examples of seafood you will find in the buffet spread.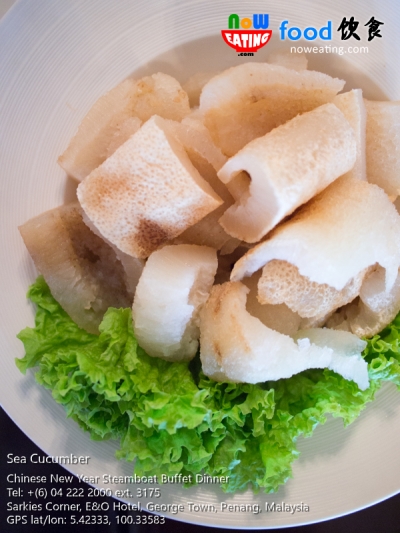 Our favorite being sea cucumber – a cholesterol-free premium seafood which is also good for skin.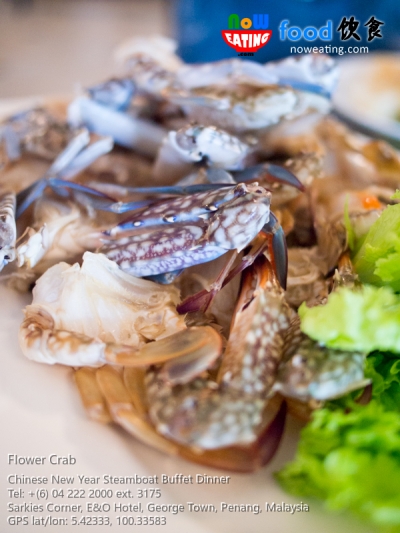 Flower crab greatly enhances the taste of the broth.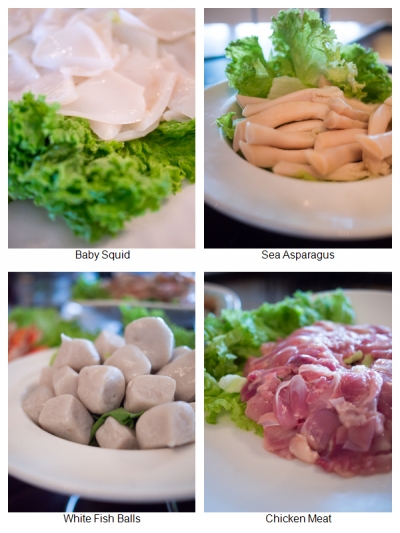 Other seafood include white promfret, baby squid, sea asparagus, white fish balls, crab claw and etc. Meats such as sliced beef, lamb, chicken and duck are also available.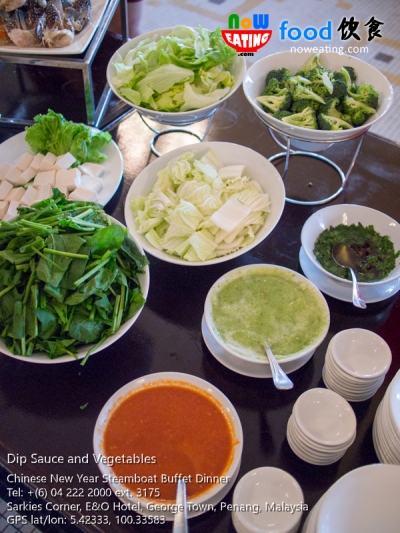 Vegetables such as Tang Hao (a.k.a steamboat vegetable), long cabbage, Chinese spinach, Nai Pak, local Choy Sum and etc are at your disposal. We particularly enjoyed E&O's homemade special chili sauce and coriander oyster garlic sauce.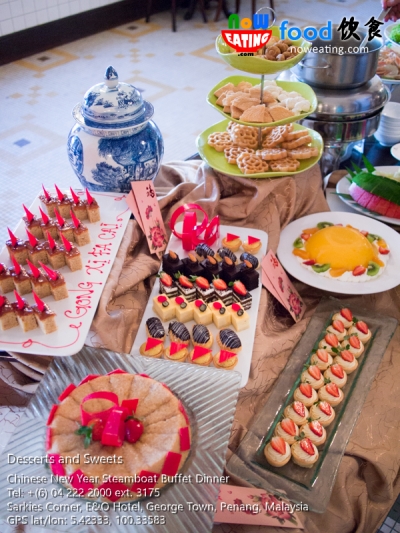 Be sure to reserve some space at the end of the steamboat feast as mouthwatering desserts are awaiting, including Chinese tea chiffon cake, Semolina almond cake, mango pudding, assorted pastries, and fresh tropical fruits.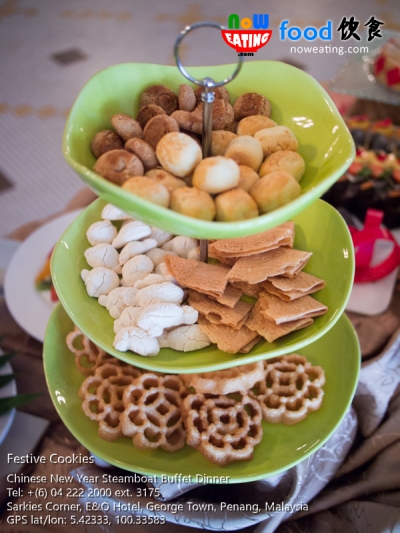 Chinese New Year is incomplete without festive cookies.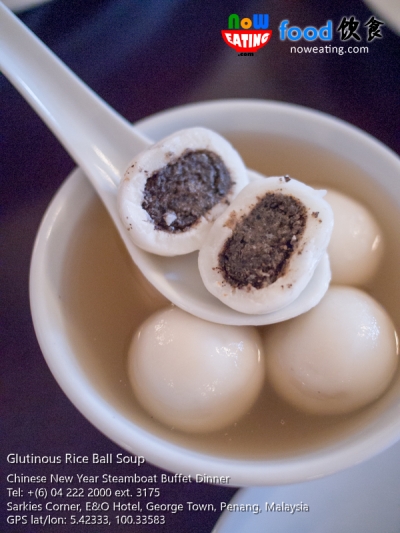 For us, we enjoyed a bowl of glutinous rice balls in ginger soup.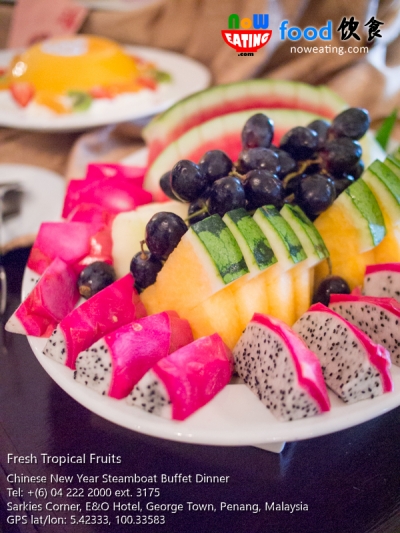 The steamboat buffet dinner is priced at RM108.00 nett per adult and RM54.00 nett per child. 10% early bird discount on food (excluding alcohol and beverages) will be giving to those making reservation from 2 to 15 January 2017. Hurry as the seats are limited to maximum of 80 pax only. For reservation, kindly call: +604-222 2000. Ext: 3175.