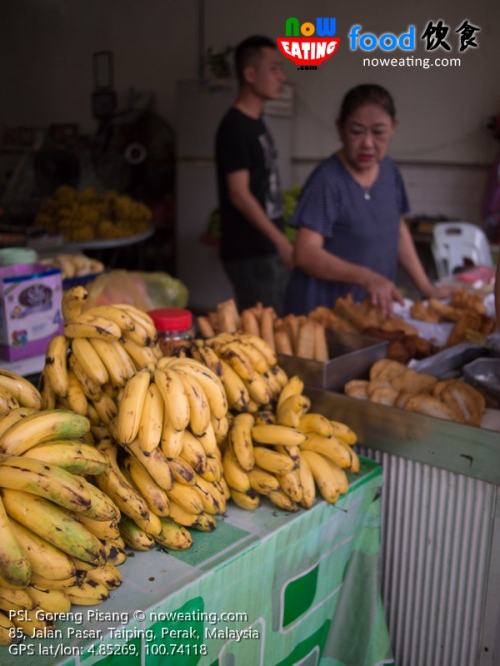 What to eat in Taiping? Answer: Goreng Pisang (Banana Fritter). No joking! Located in Taiping old town is P.S.L Goreng Pisang (GPS: 4.85269,100.74118) operated by a lady owner for about 30 years, from a roadside stall to a dedicated shop using only quality bananas. We were told that some customers even ordered 100 pieces back home.
Our first visit to PSL Goreng Pisang was during Merdeka holiday this year in which we spent 2 days 1 night in Taiping. To be honest, we were impressed with local delicacies during this trip and one of them being the banana fritter. P.S.L was located at Jalan Pasar in Taiping town and is opened daily from 12pm to 8pm.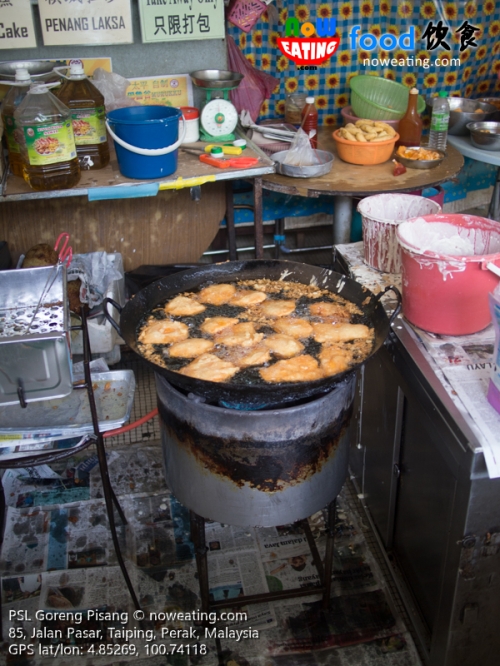 Few things making PSL Goreng Pisang special:
Careful selection of banana – Not all types of banana are suitable for deep fried and the owner only selects the best among them.
Texture – Coated with thin layer of flour, banana fritters are deep fried to golden and is crispy outside, soft inside.
Quality – Instead of cutting banana into half, whole banana is deep fried instead.
Friendly lady owner – The lady owner is very sociable. Occasionally, she will give you extra fritters, extend business hour after 8pm, or just simply tell you story about her shop.
Choices – Other than Goreng Pisang, the shop also offers Goreng Popiah, Kuih Bakul, Ubi Keladi, Kari Puff, Kacang Merah, Ubi Kayu Bulat, Ubi Kayu Panjang, Ubi Keledek, Kuih Kelok, and Kacang Hijau. We also noticed Radish Cake and Penang Laksa signboards there.
Price – A piece of banana fritter is priced from RM1.00 to RM1.80 – a figure you can't find in Penang.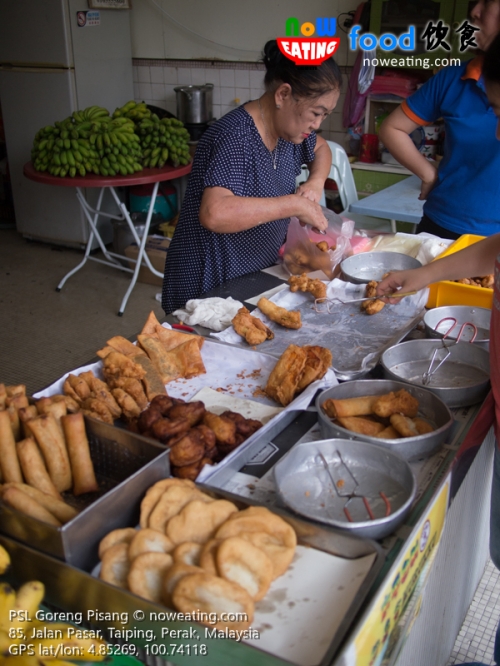 Four of us lost count on the number of fritters we selected. All we remembered was our food container was full of fritters and the total price was just about RM20. The friendly lady owner even gave us additional three banana fritters. She told us that a customer even took away 100 pieces of banana fritters a day before.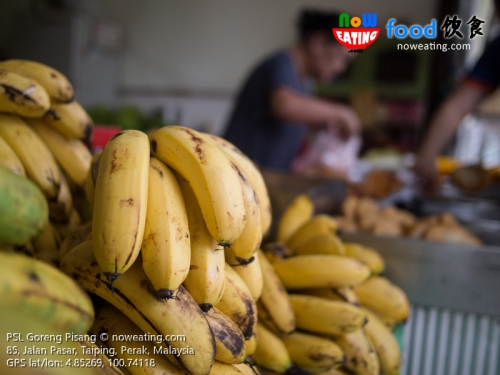 Fritters are best consumed when hot and we finished them in our car. As a whole, a recommended local snacks if you happened to stop by Taiping for whatever reasons.
| | |
| --- | --- |
| Place Name: | P.S.L Goreng Pisang |
| Cuisine: | Other |
| Address: | 85, Jalan Pasar, Taiping, 34000, Perak, Malaysia |
| Working Hour: | 12pm-8pm daily. |
| Tax: | No GST. No Service Tax. |
| Last Visit: | 20170901 |