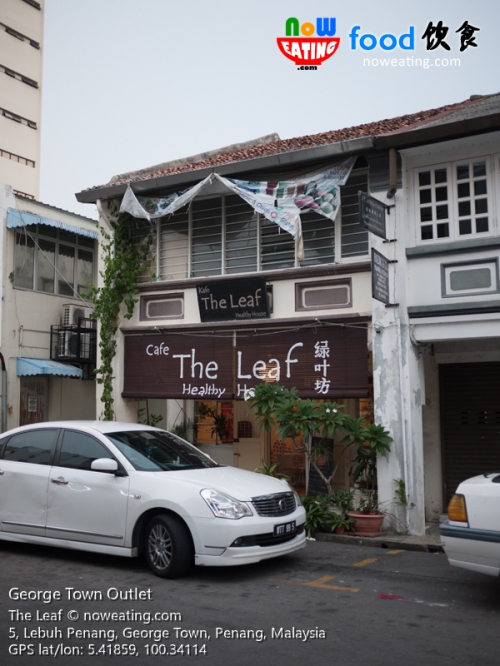 The Leaf is one of the pioneers in Penang promoting healthy cuisine in modern cafe environment. The first outlet was opened at Lebuh Penang, George Town and we visited it couple of times since year 2012. For Bayan Lepas folks, now you have a nearer option as the second outlet (GPS: 5.41859,100.34114) is now opened at D'Piazza, Bayan Baru, Penang.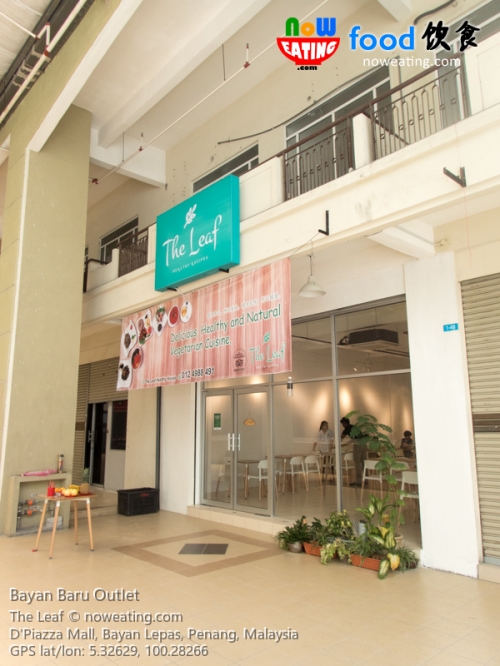 The new outlet is a bit difficult to spot as it is shy away from Bayan Baru main roads. To be exact, it is located at the back of D'Piazza Mall near a corner with basement entrance/exit. Parking-wise, one may try his/her luck along the narrow alley between D'Piazza apartment and the mall bur personally, we recommend readers to park in paid car park to avoid "love letter" from MBPP appearing on your windscreen.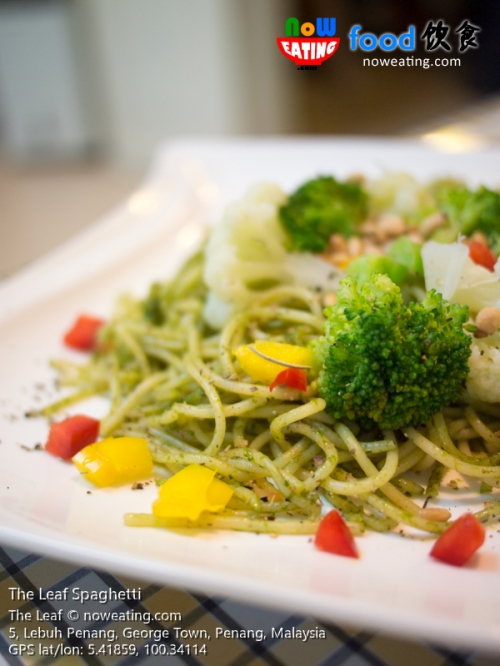 Walking into the cafe during its first day, to be honest, we didn't have much expectation as habitually there were many things to iron out during soft launch. Other than few items still not available on the first day, both service and food surprisingly met our expectation, if not exceeding. Oh yes, we were also impressed with its modern and bright interior with minimalist concept. It was also a pleasure to see some familiar faces in the new premise.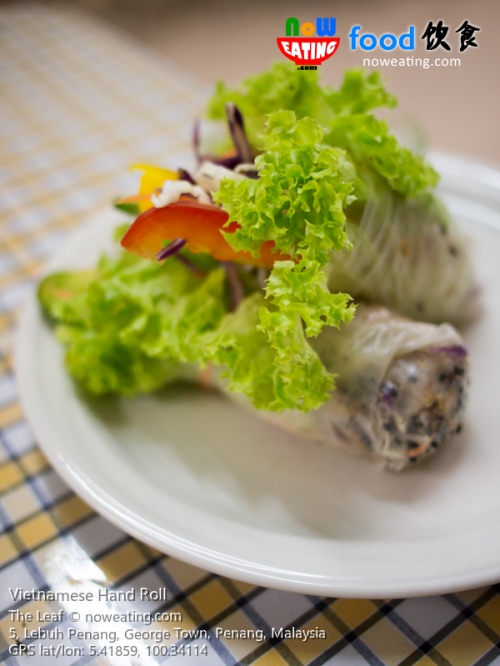 The Leaf promises in using:
Olive oil
Coconut oil
Brown rice
Rock salt
Brown sugar
High fibre

No artificial colouring

No MSG

No preservatives

No garlic

No onion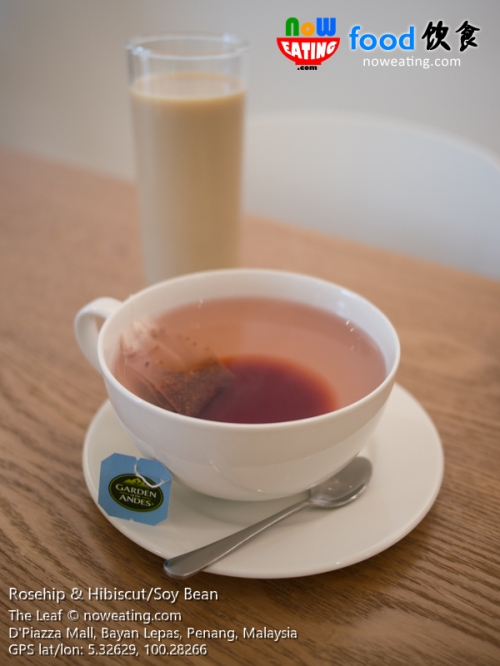 The menu was same as the main branch. By adding RM4.90, one is entitled to convert their main course into a set consisting of a Daily Sweet Soup or jelly, and a drink.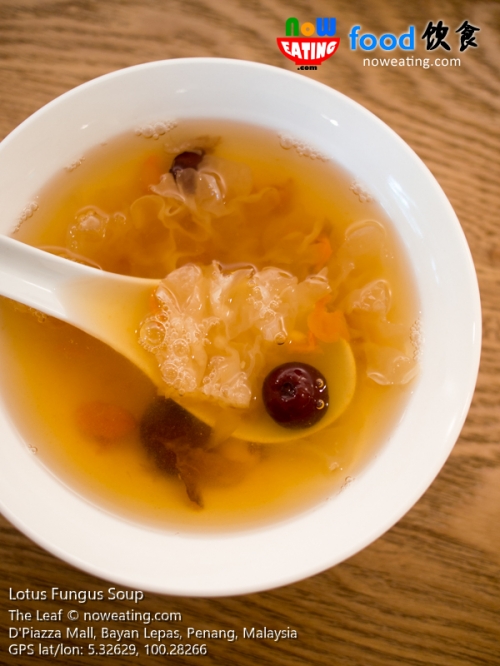 Our Daily Sweet Soup was Lotus Fungus Soup.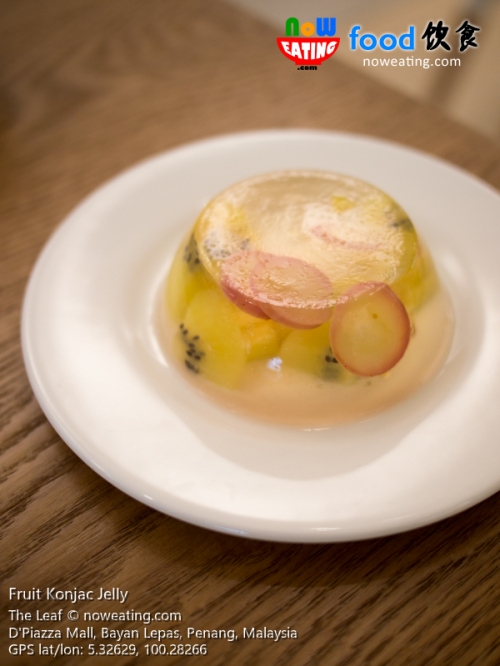 Alternatively, one can opt for Konjac Jelly.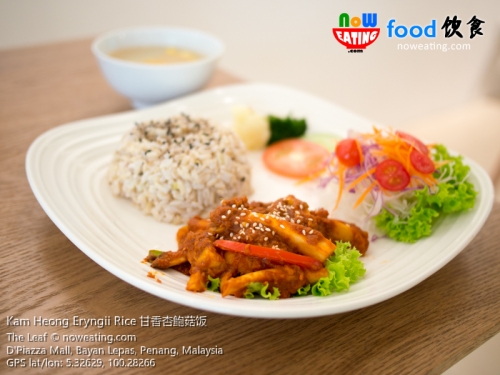 Our first item – Kam Heong Eryngii Rice 甘香杏鲍菇饭 (RM12.90) arrived fast, not a typical speed you will get on Day 1. Made of lemongrass, yellow ginger, chili and curry leaf to name a few, the gravy was utterly spicy. Suitable for Penangites with heavy taste buds.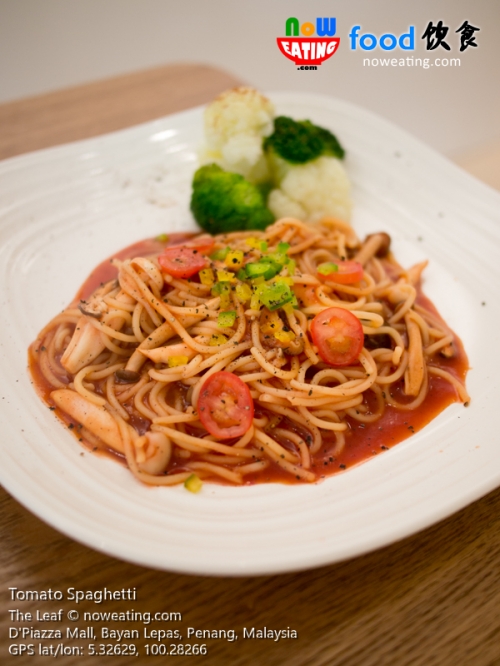 Tomato Spaghetti 番茄意大利面 (RM9.90) – simply classic.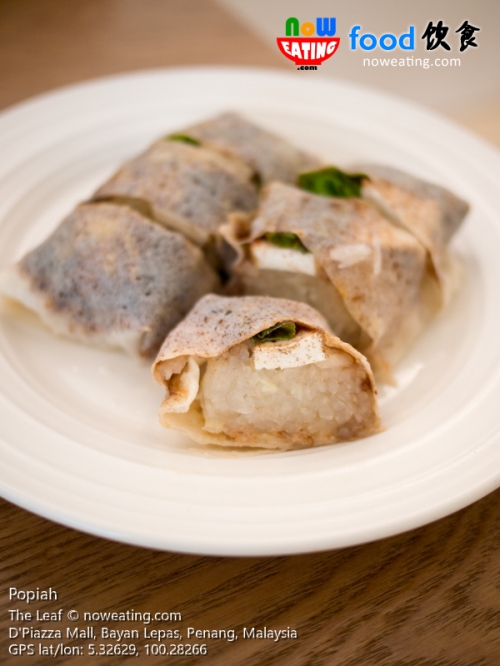 Popiah (RM4.50) – tasted as good as non-vegan version, if not surpassing.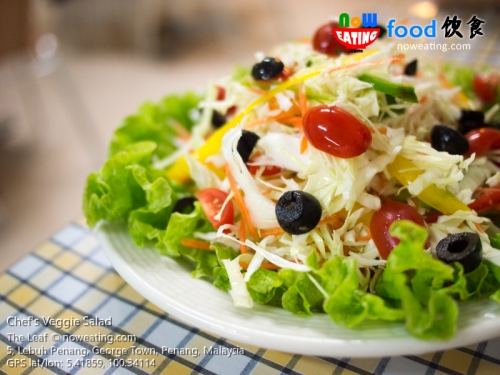 As a whole, congratulate on the new opening. With reasonable price (we just noticed that they kept same prices for years for most items) and variety of choices, we foresee that the cafe will be a famous healthy lunch/dinner places for white-collars and residents in Bayan Lepas area.
Bayan Baru Branch
Lunch: 11:30am to 3:00pm
Dinner: 5:30pm to 9:00pm
Sunday closed
Georgetown Branch
Lunch: 11:30am to 3:00pm
Dinner: 5:30pm to 10:00pm
Monday to Sunday
The Leaf is also active on Facebook as well.
Photos below are some items we enjoyed few years back in The Leaf George Town outlet. Some items are still being served nowadays. Our favorites? Nasi Ulam, The Leaf Spaghetti and Yogurt Fruit Salad.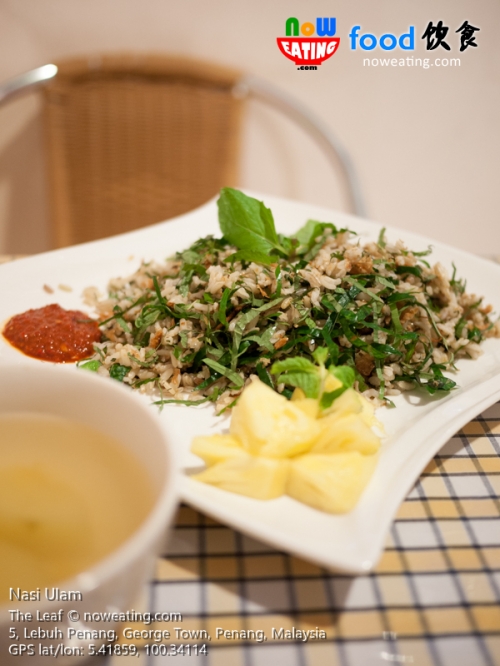 Nasi Ulam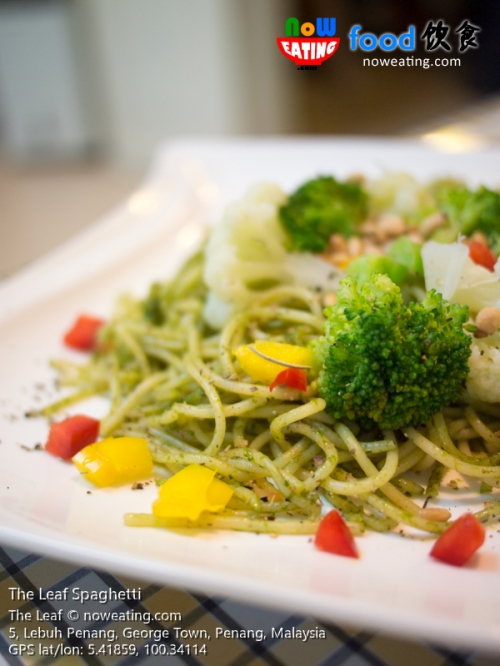 The Leaf Spaghetti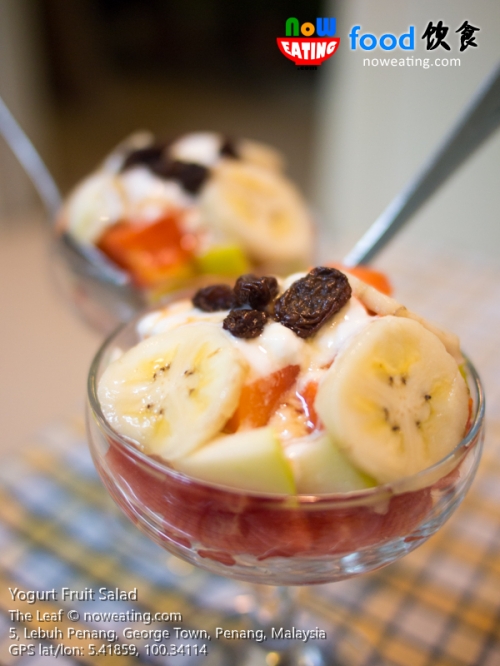 Yogurt Fruit Salad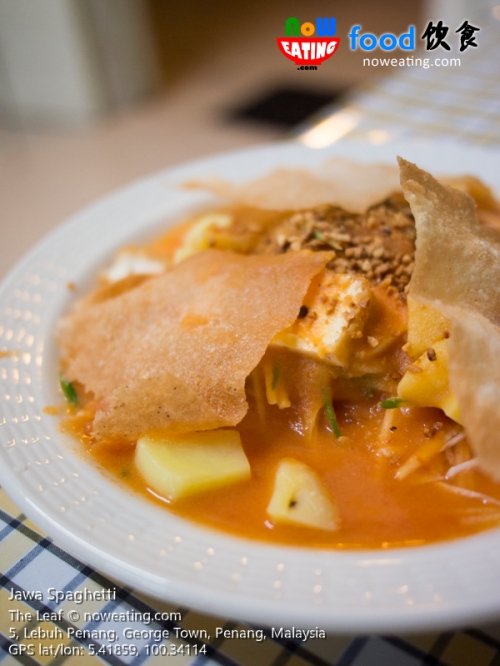 Jawa Spaghetti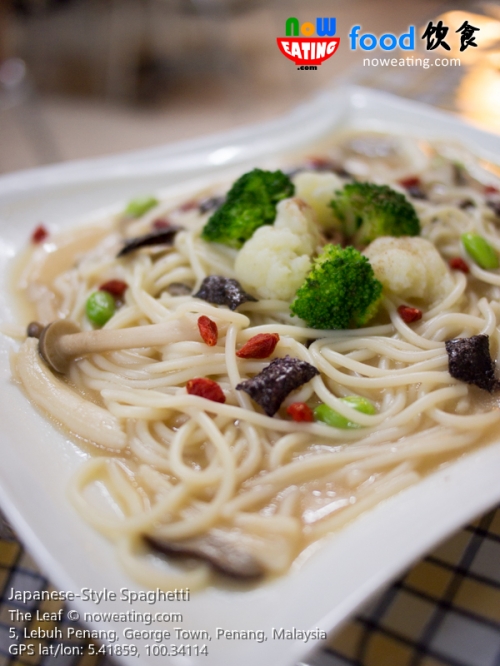 Japanese-Style Spaghetti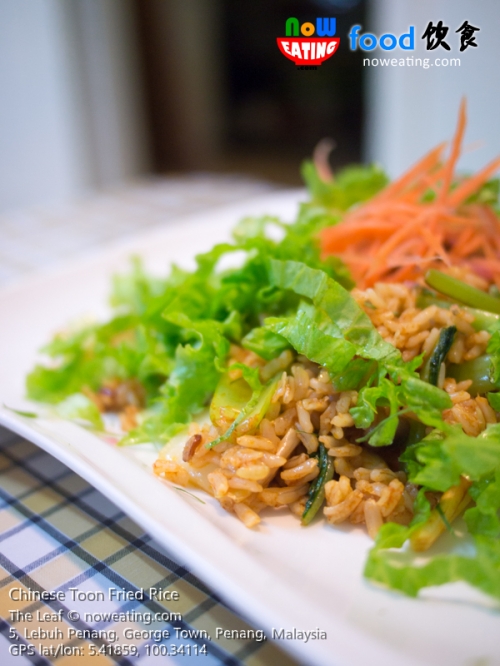 Chinese Toon Fried Rice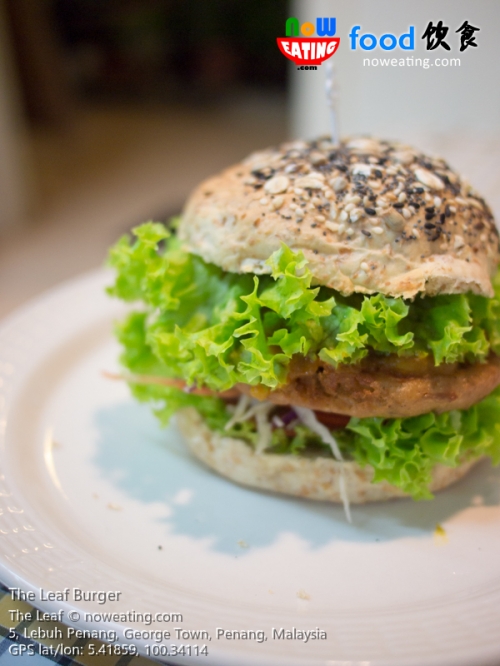 The Leaf Burger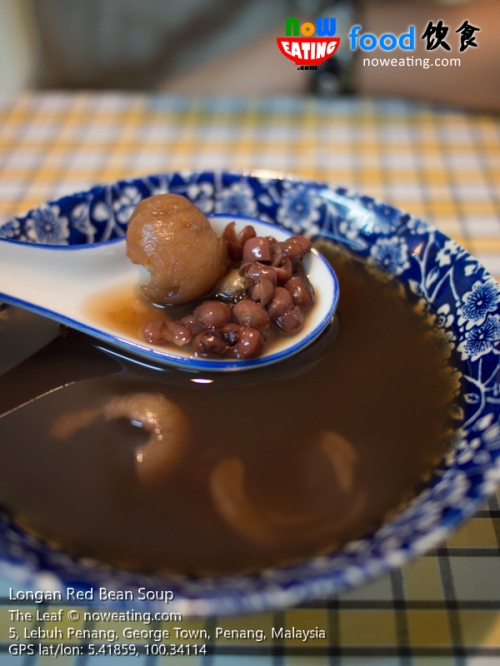 Longan Red Bean Soup
| | |
| --- | --- |
| Place Name: | The Leaf Healthy Recipes |
| Cuisine: | Vegetarian |
| Address: | D'Piazza Mall, 70-1-49, Jalan Mahsuri, Bandar Bayan Baru, Bayan Lepas, 11900, Penang, Malaysia |
| Tel: | +6018-9804491 |
| Working Hour: | Lunch: 11:30am to 3:00pm, Dinner: 5:30pm to 9:00pm, Sunday closed. |
| Tax: | No GST. No Service Tax. |
| Last Visit: | 20171010 |