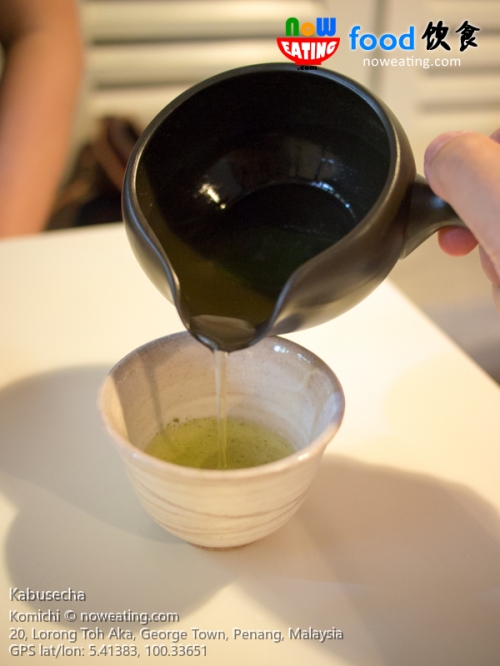 You may have seen Chinese tea houses scattered in busy streets of Penang. How about Japanese tea house? Located in narrow lane of Lorong Toh Aka is Komichi Tea House (GPS: 5.41383,100.33651) operated by a Japanese daughter, and you can't go wrong with a tea house with green tea from owner's farm.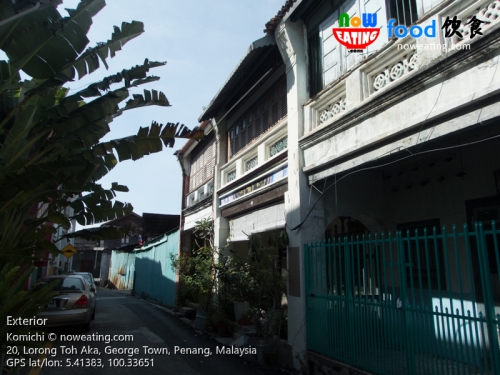 Komichi means "lane" in which we believe it is referring to the narrow Lorong Toh Aka. Yes, the alley is utterly narrow in which you need to drive slowly. Some parking spaces are available after turning left at the end of this one way alley.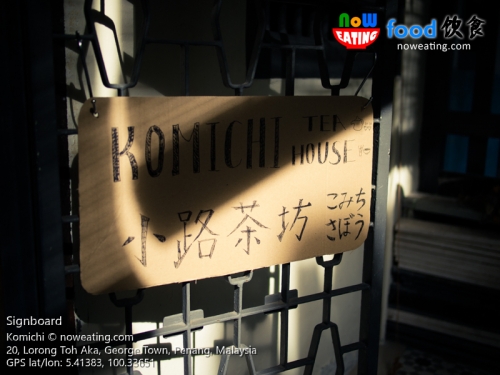 The tea house is a bit difficult to spot due to small signboard. Do note on their operating hours as well, which is only opened from 12pm to 6pm and is closed on Tuesday and Wednesday.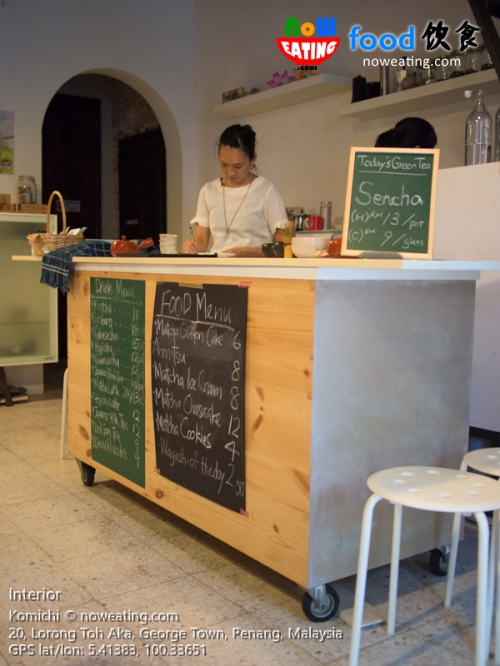 Walking into the little tea house in the heritage building, we sensed a tranquil atmosphere with some customers, potentially tourists who stumbled upon this hidden gem, enjoying their "afternoon tea" here. Limited seats are available but in most cases, customers are comprehensible enough to give away their table for new walk-ins.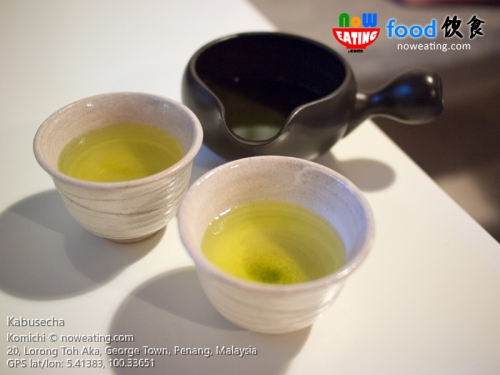 To be honest, our knowledge on green tea is limited so we asked for recommendation from the friendly Japanese lady owner. Out of 11 drink items, she recommended us Kabusecha (RM15 per pot) – a premium grade of Secha 煎茶 in which the young leaves are shaded for 10 to 14 days before picking (we did some homework before writing this post). The result is umami-rich Secha. For the first brew, Kabosecha is brewed at 50 to 60 degree Celsius for 2 minutes, whereas for the second brew, it was prepared at higher temperature for 30 seconds. We were like attending a Green Tea class and trust us, both brews were distinctive.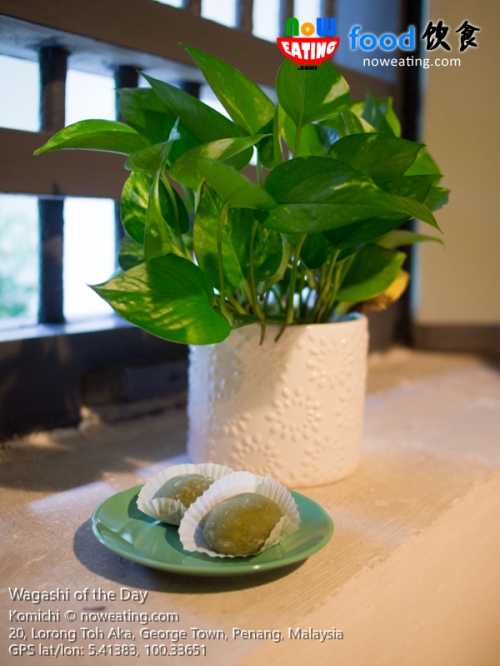 One should enjoy Secha just like Japanese in which the umami green tea is best consumed with Wagashi 和菓子 – a traditional Japanese confection usually made of Mochi, Anko (red bean paste) or fruits.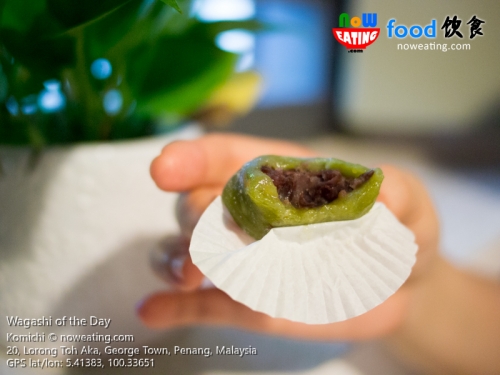 For Komichi, it is called Wagashi of the Day priced at RM2.50 per piece and our star of the day was Green Tea Mochi with Anko filling.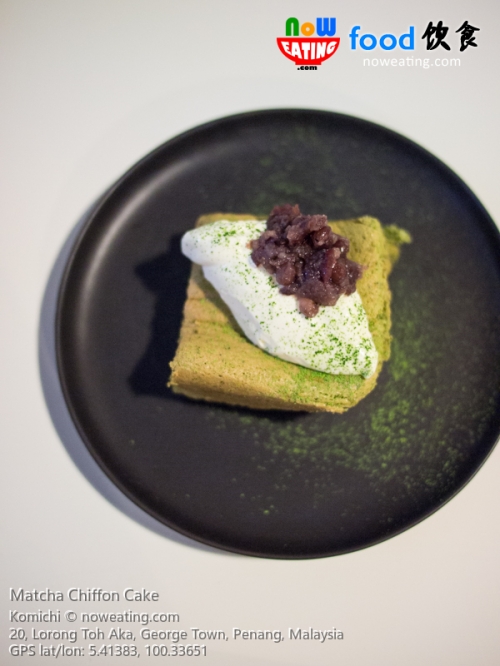 Komichi offers a handful of peculiar desserts, including the dense Matcha Chiffon Cake (RM6). A plus about desserts here is that they have adequate level of sweetness, allowing one to taste the essence of Matcha accompanied by a trace of bitterness. This Matcha Chiffon Cake is a must-have thanks to magical layering of whipping cream and Anko.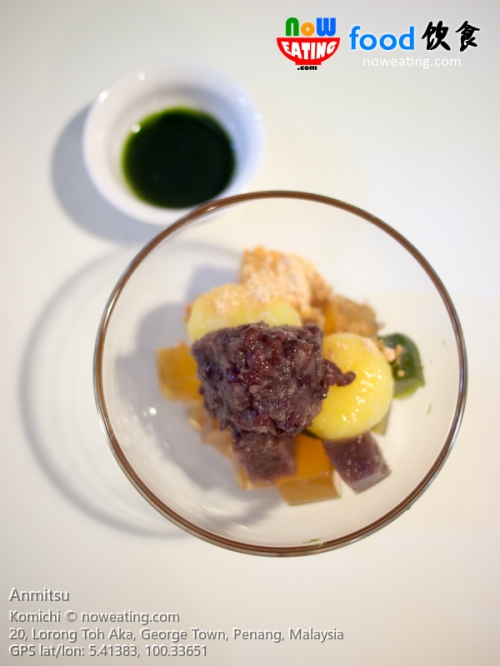 Anmitsu (RM8) is a Japanese dessert which is popular for decades with main ingredients made of agar jelly, Mochi, peanut flour topped with Anko. "Mitsu" refers to the syrup provided in which for Komichi case, is Matcha syrup.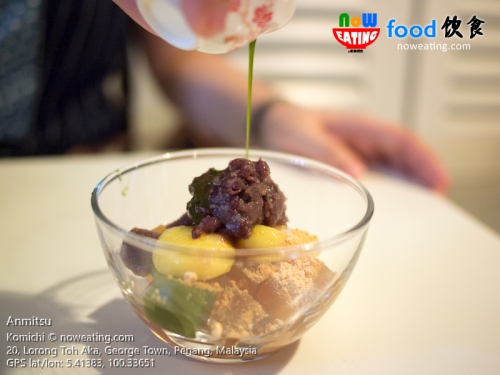 Once again, the Matcha syrup was not overly sweet. Pour the syrup slowly on the dessert and enjoy the Match-infused dessert with a tea spoon.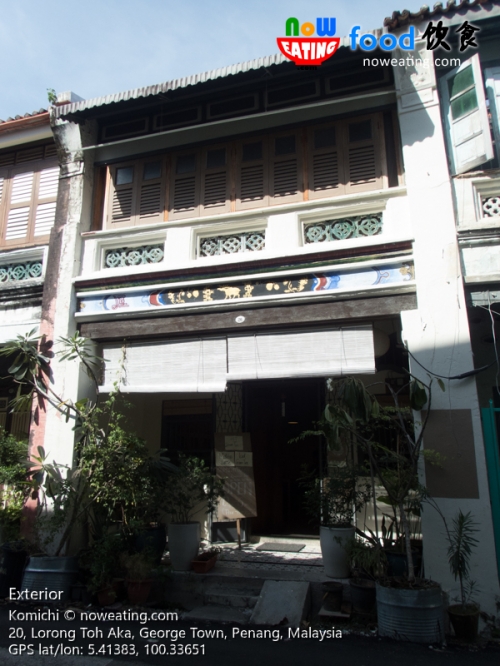 We'd love to continue relaxing in the peaceful tea house, if not due to customers flocking in and we had to give away our table. As a whole, a rare, lovely and authentic Japanese tea house in Penang. If you are having heritage walk in George Town, be sure to stop by this lovely tea house for some refreshments from Japan.
| | |
| --- | --- |
| Place Name: | Komichi |
| Cuisine: | Japanese |
| Address: | 20, Lorong Toh Aka, George Town, Penang, Malaysia |
| Tel: | +6012-478 8852 |
| Working Hour: | 12pm-6pm. Close on Tuesday and Wednesday. |
| Tax: | No GST. No Service Tax. |
| Last Visit: | 20171022 |