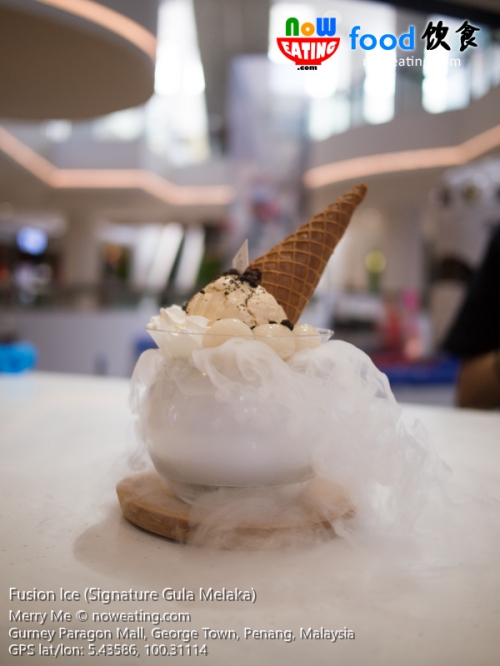 While nitrogen ice cream is trending in Malaysia, some ice cream parlors merely focus on presentation. Merry Me (GPS: 5.43586,100.31114) at Gurney Paragon Mall, however, is an exception as the homemade ice cream is not only nice to look at, it is even better to taste with.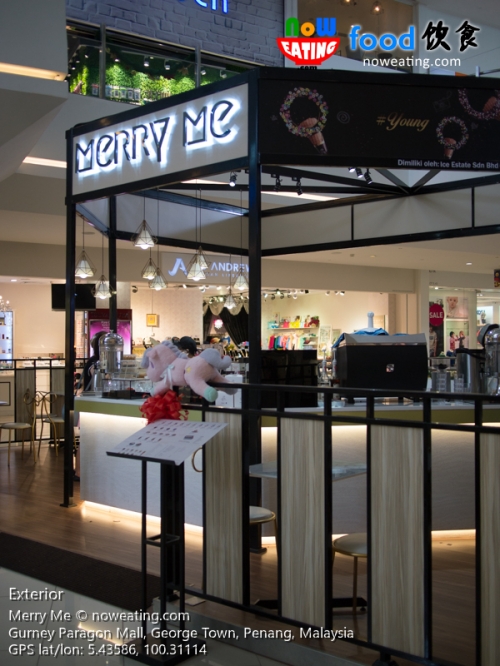 Merry Me's Gurney Paragon outlet can be spotted effortlessly at the center area of Level 5. We recently visited it for newly launched menu with the introduction of Croffle and Kakiguri series.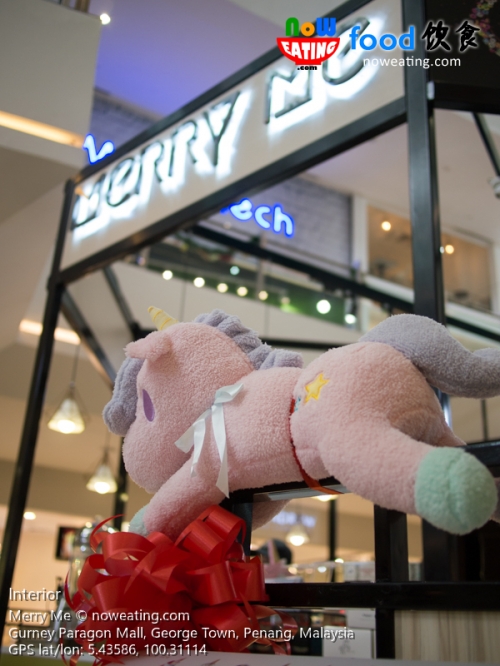 A bit history about our visit to Merry Me. Our first visit to this Penang's specialty ice cream shop was back in September 2017 at the Victoria Street's outlet (formerly known as Ice Estate). Since then, we literally falling in love with it as the non-syrupy ice cream is refreshing and is ideal to share with the love one or even alone.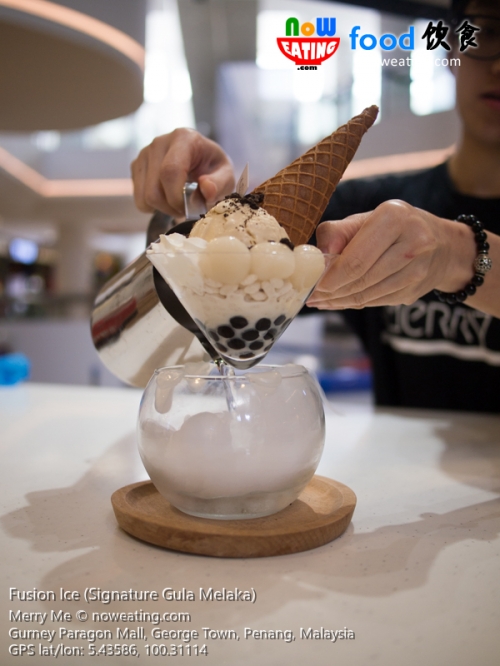 Yes, both Victory Street and Gurney Paragon outlets are now our favorite spots for studying or resting our feet under serene environment. As a side note, a new outlet will be opened at Auto-City, Juru, Penang.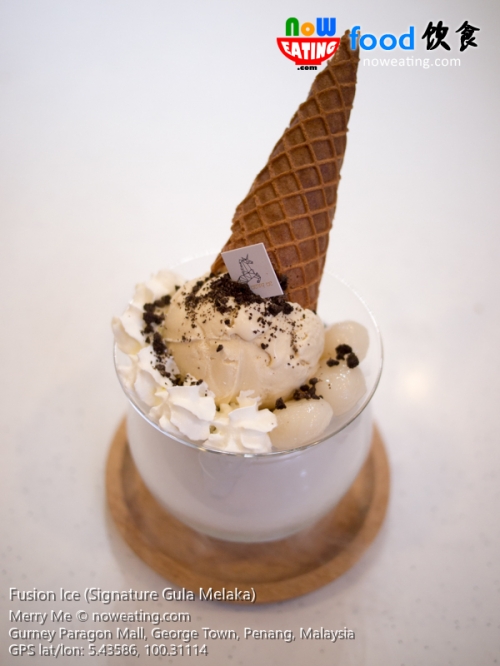 Be sure to have your camera standing by when the signature nitrogen ice cream is served for some Insta-worthy photos/videos. Do not worry if you forget to do so as you will be reminded by the friendly staff. Total of 10 types of Fusion Ice are available and the Signature Gula Melaka Fusion Ice Cream (RM18) is a must-try with Gula melaka ice cream topped with homemade mini wafer cone, chewy balls (glutinous rice ball), black pearls, rice rubbles and whipped cream.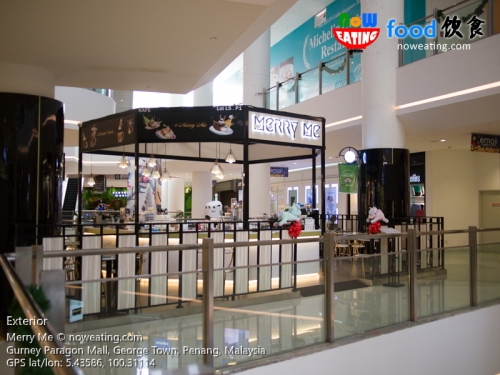 To recap, the new menu consists of the following series:
Fusion Ice
Kakigori (New)
Croffle (New)
Freakshake
Waffle
Homemade Cones
Cake
Macaron
Beverages
In addition, existing series such as Fusion Ice have some newly added items. It is also a great place for coffee lovers as the parlor serves gourmet coffee as one of their beverages.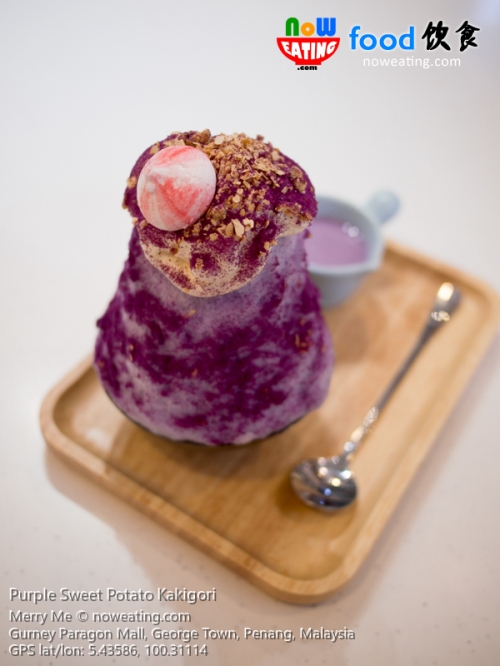 If Malaysia has Ice Kacang and Korea has Bingsu, then Japan has Kakigori. Yes, they are shaved ice desserts with added syrup and/or sweeteners. Currently, four types of Kakigori are being offered:
Tiramisu
Thai Milk Tea
Milo Dinasaur
Purple Sweet Potato
Each is priced at RM17 and the one we tried was Purple Sweet Potato Kakigori.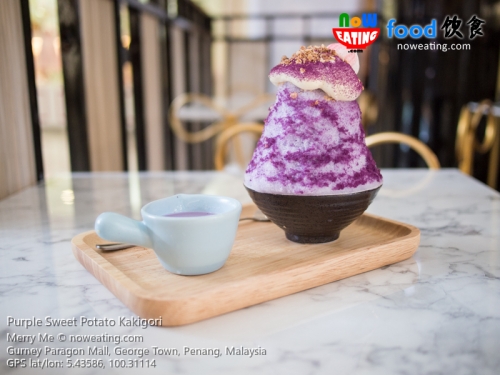 The verdict? It is one of the most natural and enjoyable shaved ice desserts we've ever tried. Similar to most customers, we scratched our head the moment the sui generis dessert arrived and the staff was kind enough to explain the way to consume it. First, scope the shaved ice with vanilla bean cream on top, and consume it. The cream will eventually depleted and it is time to dress the remaining delicacy with purple sweet potato concentrated juice from mini Japanese teapot. Get ready to be surprised with more ingredients in the shaved ice such as sweet potato chew, golden crunch and Meringue Kisses.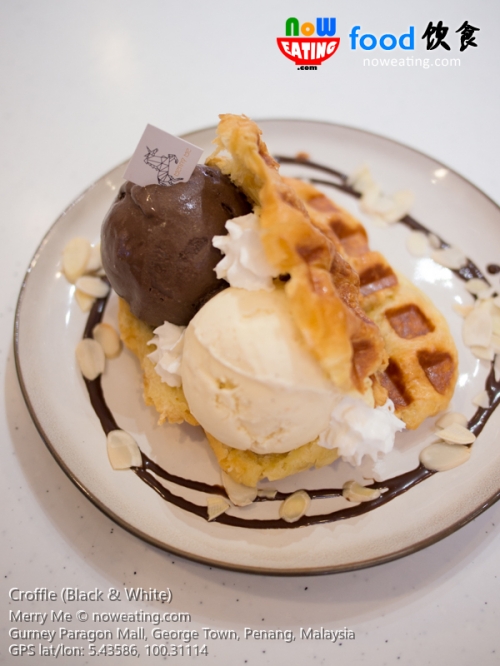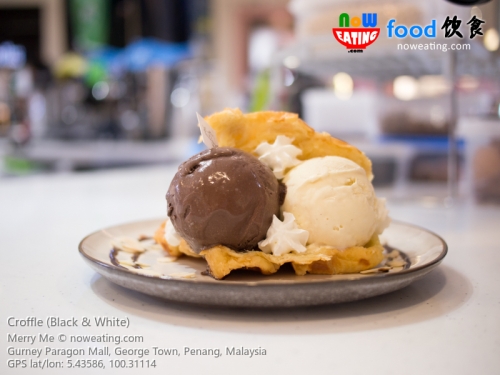 Croffle reminded us of ice cream sandwich back in good old day, except this one was stuffed with croissant. Unlike sandwich, the pre-heated croissant has unrivaled buttery taste and went well with their homemade ice cream. Total of five types of Croffle were available and our treat of the day was Black & White referring to chocolate and vanilla ice cream (RM17).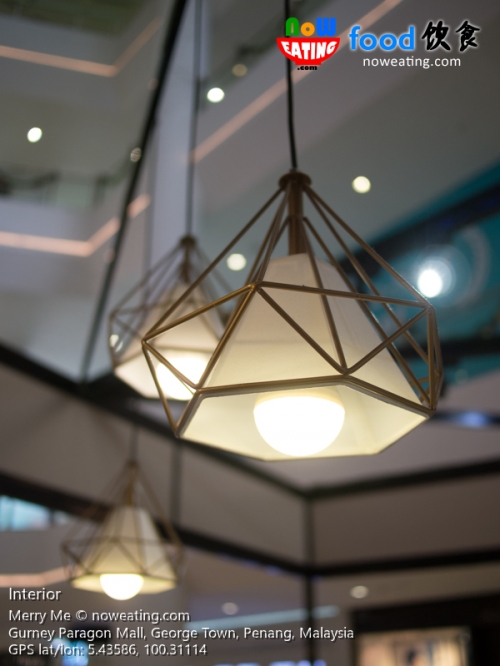 Are we going to return to Merry Me again? Definitely YES, especially when we are looking for a tranquil place for reading or in Gurney Paragon Mall case, waiting for another half to finish shopping. Things we would like to try next include Roasted Green Tea Fusion Ice and Tiramisu Kakigori (If you have tried kindly leave a comment below). Merry Me at Gurney Paragon Mall is opened daily from 10am to 10pm. For more information, kindly visit their active Facebook page.
| | |
| --- | --- |
| Place Name: | Merry Me |
| Cuisine: | Other |
| Address: | Lot L5.P1, Gurney Paragon Mall, George Town, Penang, Malaysia |
| Tel: | +6042519654 |
| Working Hour: | 10am-10pm daily. |
| Last Visit: | 20171125 |