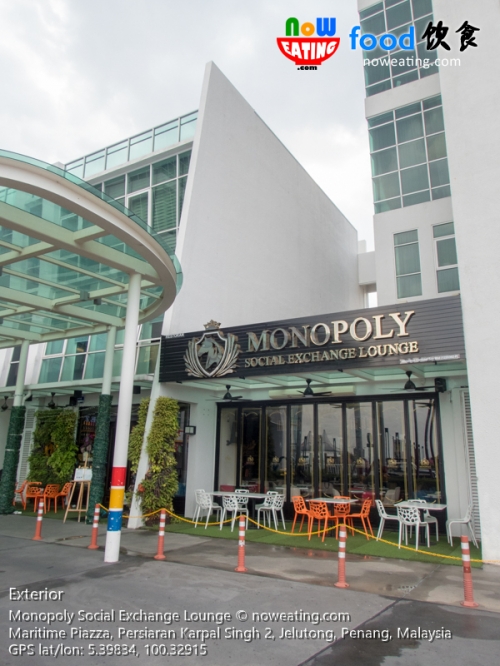 With pubs and BBQ restaurants mushrooming in Automall of Karpal Singh Drive, chances for us to have a decent coffee in a cozy cafe is minimal to an extend that Automall should be renamed to BBQMall in our opinion. Just before we decided to bid this adult playground goodbye, we bumped into Monopoly Social Exchange Lounge. (GPS: 5.39834,100.32915)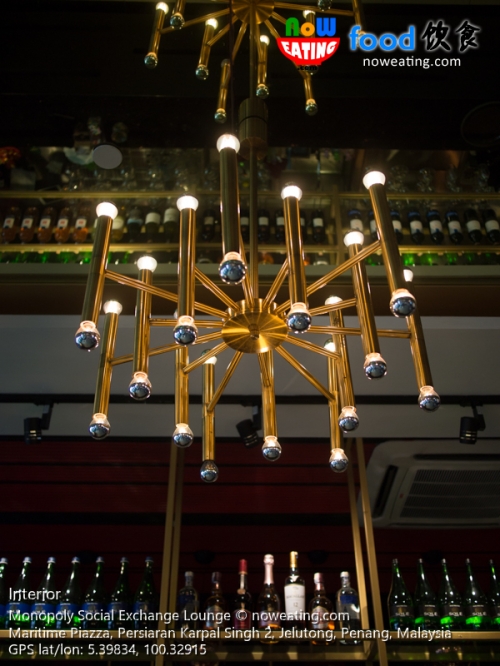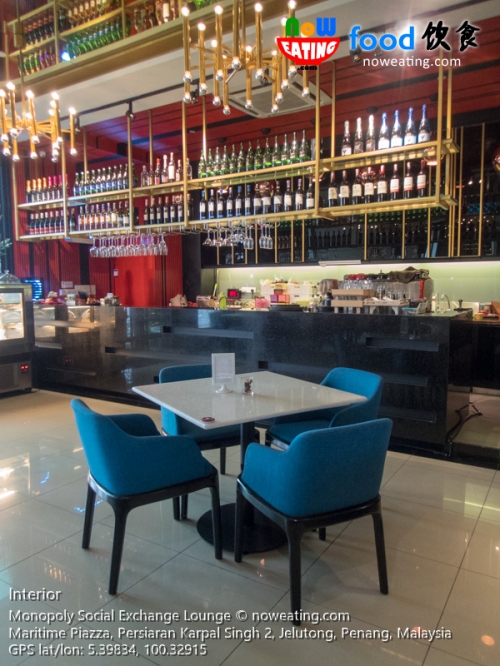 Named after a famous board game, Monopoly looks like a private club for riches judging from both exterior and interior. In fact, Monopoly used to be a hotel's restaurant until another management took over in year 2017. Today, it is a casual dining place with elegant interior on a par with fine dining restaurants. We recently visited Monopoly for its new menu.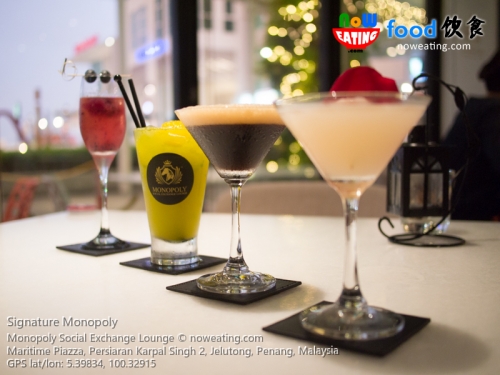 It was a humid evening after the rain. The cozy environment makes us feeling reluctant to return to outdoor again. In return, we continued chatting with friends with Monopoly's signature cocktails and mocktails, including:
Lady Be Mine (RM25.90) – Lychee, vodka, rose
Who Am I? (RM18.90) – Mango cube, sweet basil, passion fruit.
Berry Bellini (RM22.90) – Berries, house pouring white wine
Shakerato (RM13.90) – Espresso, maple syrup, bean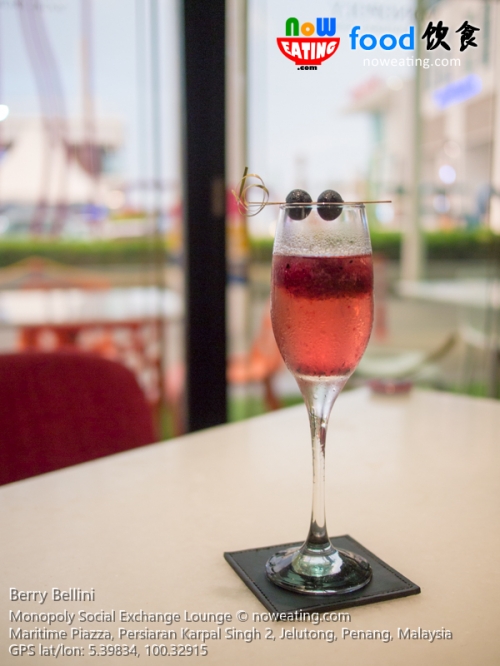 Among them, our favorite was Berry Bellini since we were alcohol taker and enjoyed the fragrant from both white wine and berries. Another signature honorably mentioned was the "Who Am I?" in which the ingredients were well mixed to an extend that we could not differentiate whether it was a mango or passion fruit drink without looking on the fine print (hence the "Who Am I?" name).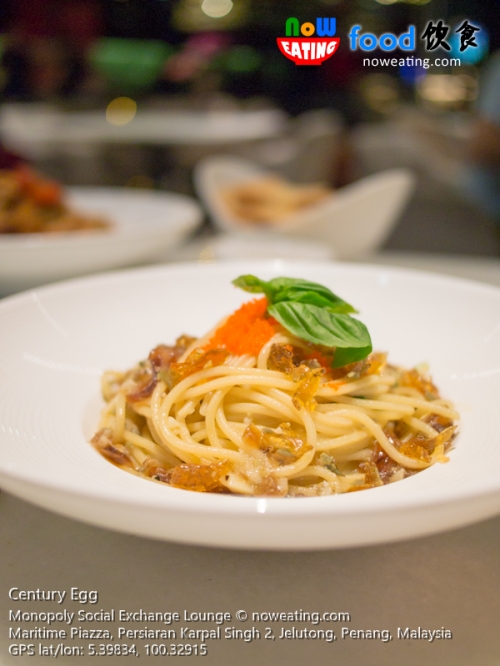 The new menu offers 18 main course items including pasta series. For pasta, other than Carbonara and Aglio Olio, Monopoly offers something different from others, including Century Egg 乾炒皮蛋意大利麵 (RM26) with Century Egg, Garlic Oil, Sweet Basil.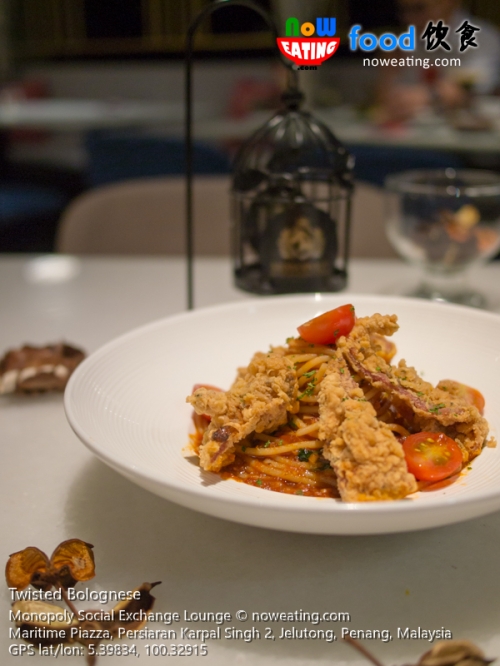 A bolognese with a twist – Twisted Bolognese 雙拼脆豬肉片紅醬意大利麵 (RM30) topped with Crispy Pork, Pronto Base, and Parmesan Cheese.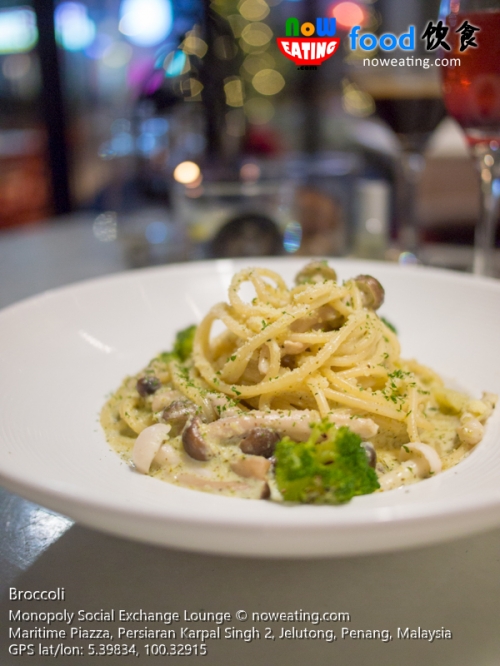 For health-conscious customers, we strongly recommend Broccoli 蒜香椰菜花意大利麵 (RM22) stir-fried with broccoli cream, Shitake mushroom and garlic oil.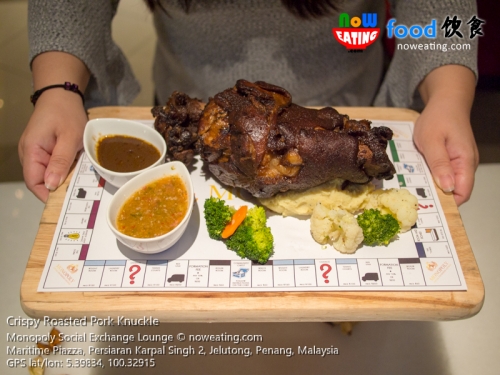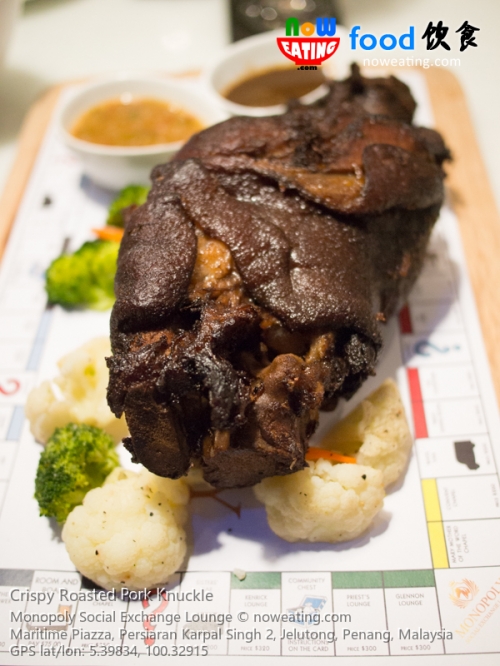 Priced at RM72, we were a bit skeptic about Crispy Roasted Pork Knuckle 脆皮豬蹄 at first but turned out that we were wrong and we were having difficulty in finishing the gigantic pork knuckle which was braised for 2 hours before crackling roasted. The portion is intended to be shared with for 2-3 persons (and they gave you a Monopoly paper to play with). Serve with mouthwatering In House Brown Sauce, Contemporary Thai Sauce, Mashed Potato and Seasonal Vegetable.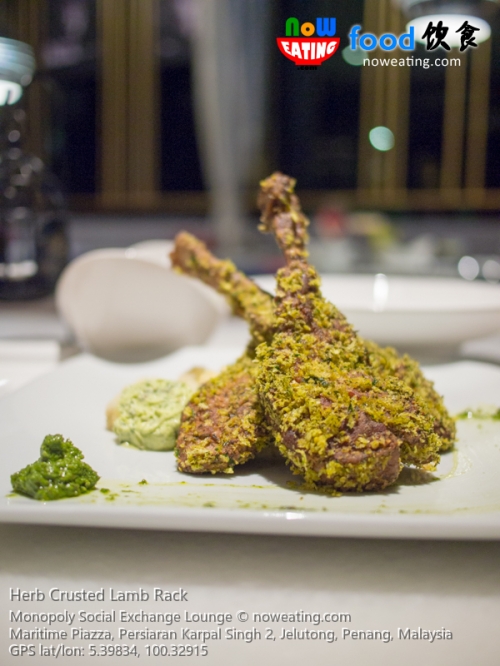 The sui generis Herb Crusted Lamb Rack 羅勒香烤羊排 (RM58) is definitely insta worthy. Served with Pesto sauce and seasonal vegetable.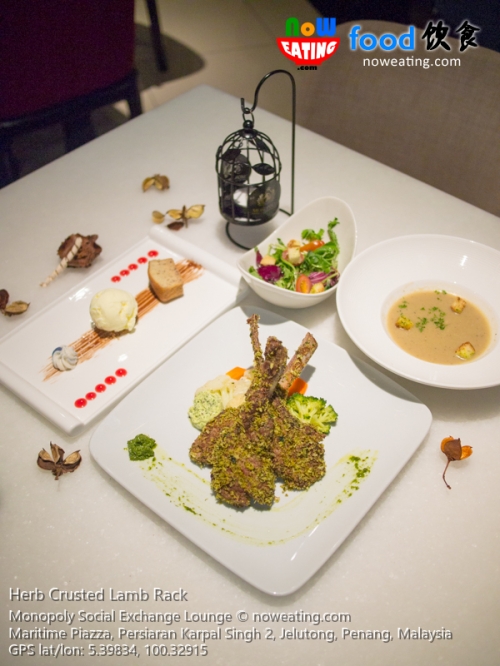 For each main course, customers are entitled to convert it into a set (a.k.a Pric Fixe).
Pric Fixe Course (Soup+Salad+Dessert) – RM18
Pric Fixe Premium Course (Soup+Salad+Dessert+House Pouring Wine/Chilled Juice) – RM28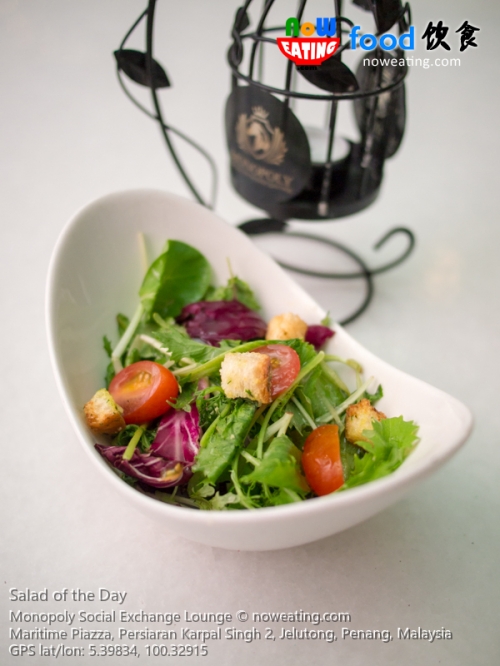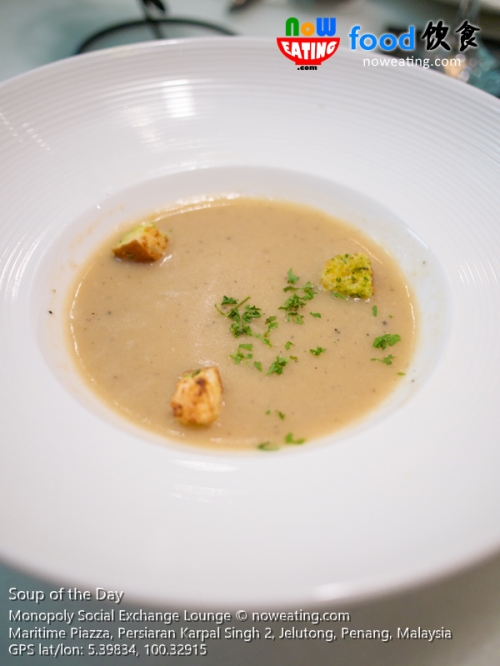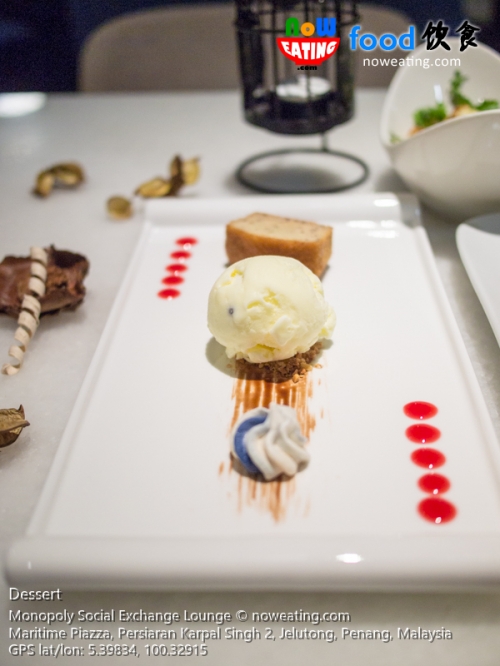 We opted for Pric Fixe Course. Despite being side dishes, Monopoly spent effort in preparing them. Three pictures win a thousand words. (Soup of the Day = Potato Chicken Soup)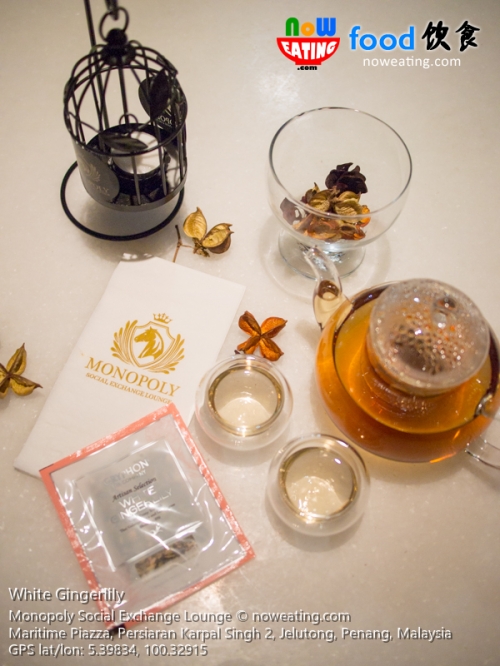 The rain continued after our hearty meal so we ended up staying back and gossiping with friends in the comfy environment with a pot of White Gingerlily (RM12.90) from Gryphon Tea Company.  We lost count on how many times we refilled the aromatic tea. Good news is, it only costs RM3 if you wish to replace the teabag.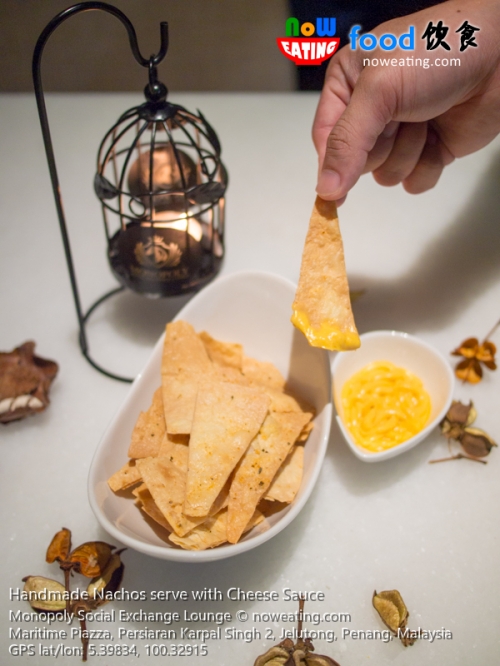 With 14 types of snacks available, Monopoly is definitely a great place for hangout. Among those snacks, we recommend Handmade Nachos serve with Cheese Sauce 墨西哥玉米片 (RM9) with one-of-its-kind multi layer Nachos.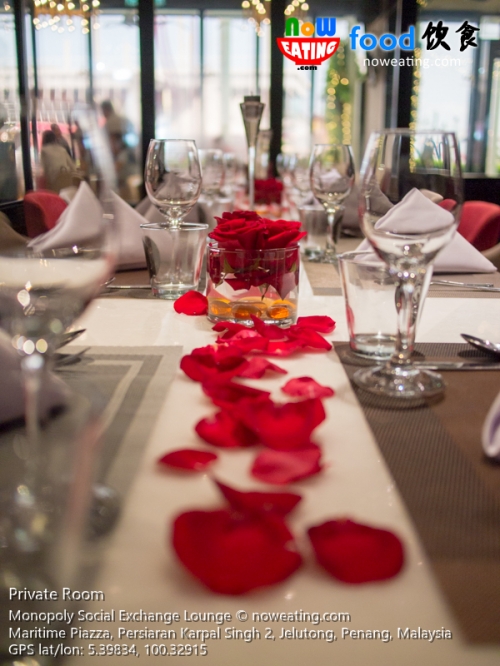 As a whole, a hidden gem in BBQ… we mean Automall. Buffet is also available for 30 pax and above. The cafe also has a private room to celebrate your special occasions. Speaking of that, if your birthday falls in the month of May, then you are in luck! In conjunction with upcoming anniversary, for any main item ordered, Monopoly is offering May's birthday babies free upgrade to Pric Fixe Premium Course consisting of soup, salad, dessert and house pouring wine or chilled juice worth RM28. Applicable throughout May 2018 for May birthday babies (showing of IC required).
Monopoly opens from Wednesday to Monday from 4pm to 12am. Closed on Tuesday. For reservation, kindly call 012-698 5138 or visit their Facebook page.
| | |
| --- | --- |
| Place Name: | Monopoly Social Exchange Lounge |
| Cuisine: | Western |
| Address: | 29C-02-10 & 11, Maritime Piazza, Persiaran Karpal Singh 2, Jelutong, 11600, Penang, Malaysia |
| Tel: | +6012-6985138 |
| Working Hour: | Wednesday to Monday from 4pm to 12am. Closed on Tuesday |
| Tax: | 10% Service Tax, 6% GST |
| Last Visit: | 20180413 |