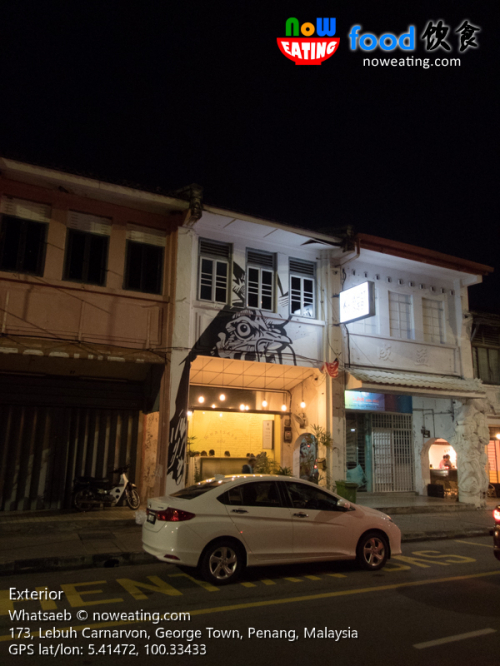 Thai boot noodle was blooming few years back but the recent trend was moving south. Whatsaeb (GPS: 5.41472,100.33433) at Carnarvon Street, George Town, Penang, made a comeback by re-inventing the traditional small dish serving on boat to a normal side noodle… at least now kitchen crews can wash lesser bowls.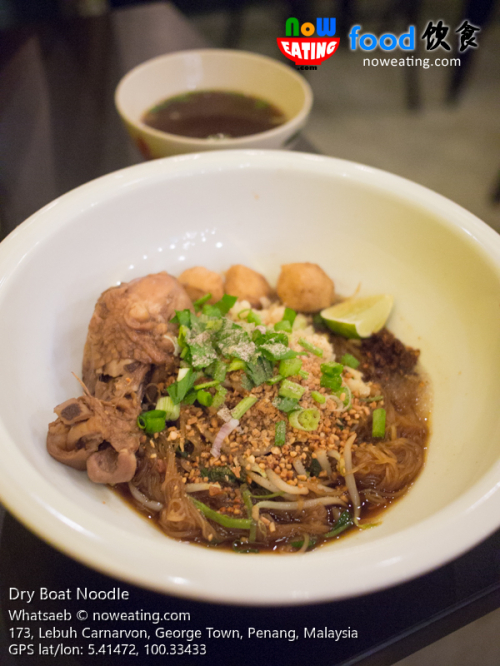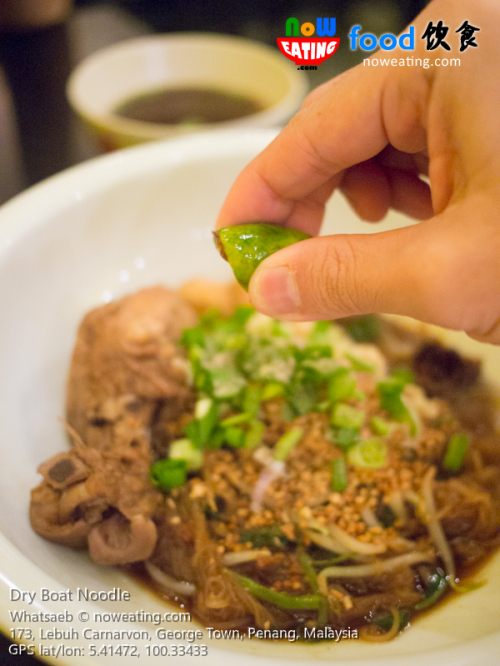 Having said that, no more fun for stacking up multiple bowls for some insta-worthy photos. Still, it is one of better Thai boat noodle shops in the region. Other than dry boat noodle available in chicken or pork version (RM13.80), the sui generis hot pot version (RM15.80) is also available and we strongly recommend the latter one.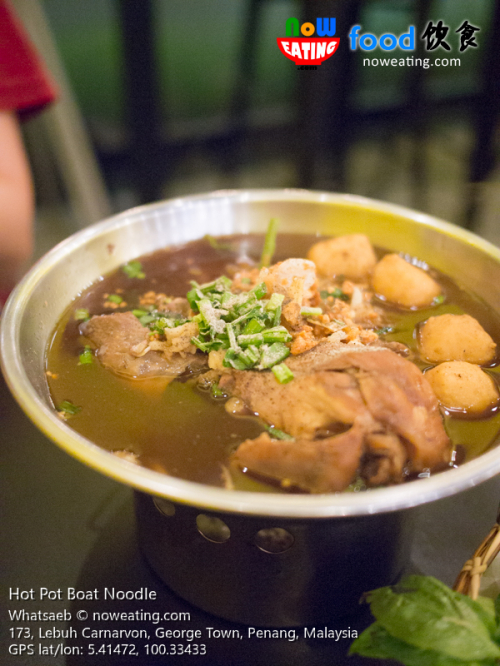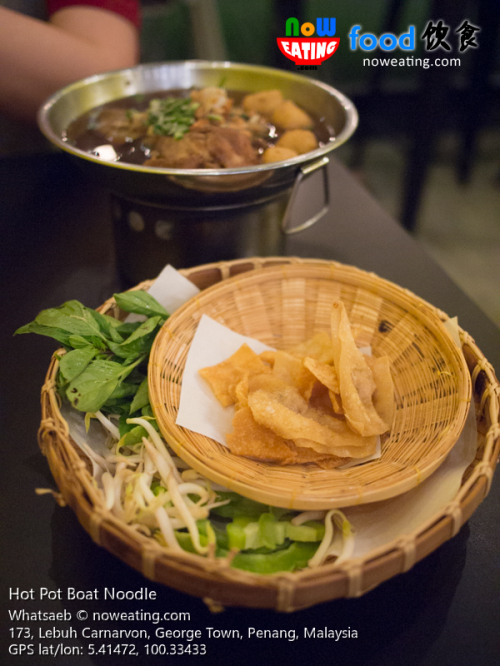 Hot pot version is basically a soup version pre-heated on wax, served with veggies and dumpling basket. For the veggies, be sure to pick the basil leaves and do not throw the whole branch into the soup. For spicy food lover, sprinkle with some chili flakes available on each table. The soup can easily associate with the herbal soup of Bak Kut Teh.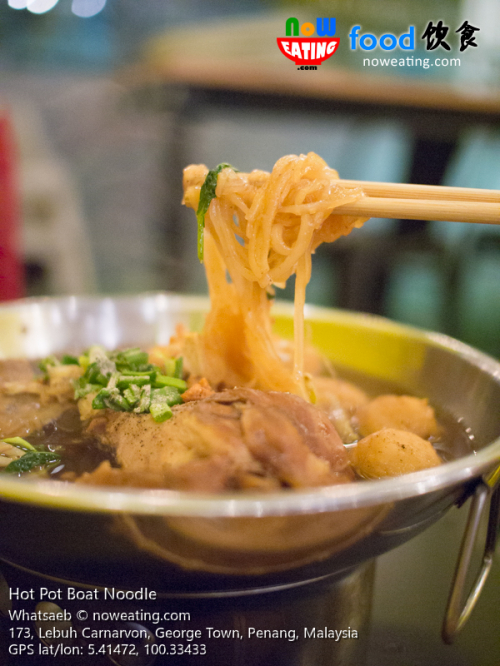 Other than boat noodle, customers may opt for MaMa (Thai instant noodle) or Mee Hun (fine rice noodle). The chicken drumstick was cooked to tender as it almost melted in your mouth effortlessly.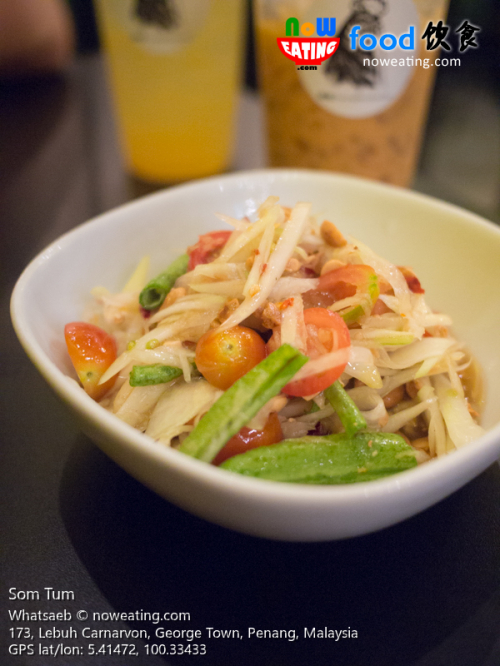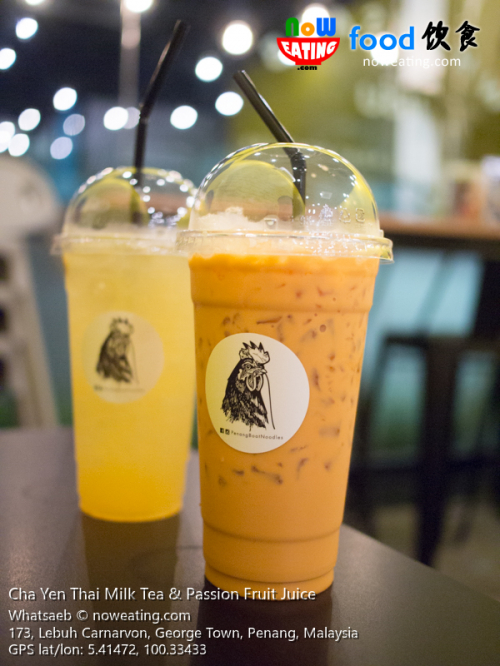 Spiciness-wise, it was not for faint-hearted, proven by our friend who accidentally bitten bird eye chili in Som Tum Thai Origin (RM10.80) and had her tongue burning for the whole night. We recommend our readers to have a tall glass of iced beverage such as Cha Yen Thai Milk Tea (RM6.80) or Passion Fruit Juice (RM6.80) standing by in case of "emergency".
As a whole, a Thai boat noodle shop to recommend with its quality boat noodle and other authentic dishes. If there is an area of improvement to nitpick, it was the service in which our order was messed up despite there were only few tables during our visit. We do hope that it can be improved over time. Whatsaeb opens daily from 12pm to 10pm and is closed on Wednesday.
| | |
| --- | --- |
| Place Name: | Whatsaeb |
| Cuisine: | Thai |
| Address: | 173, Lebuh Carnarvon, George Town, Penang, Malaysia |
| Working Hour: | 12pm-10pm (Wednesday Closed) |
| Last Visit: | 20181105 |