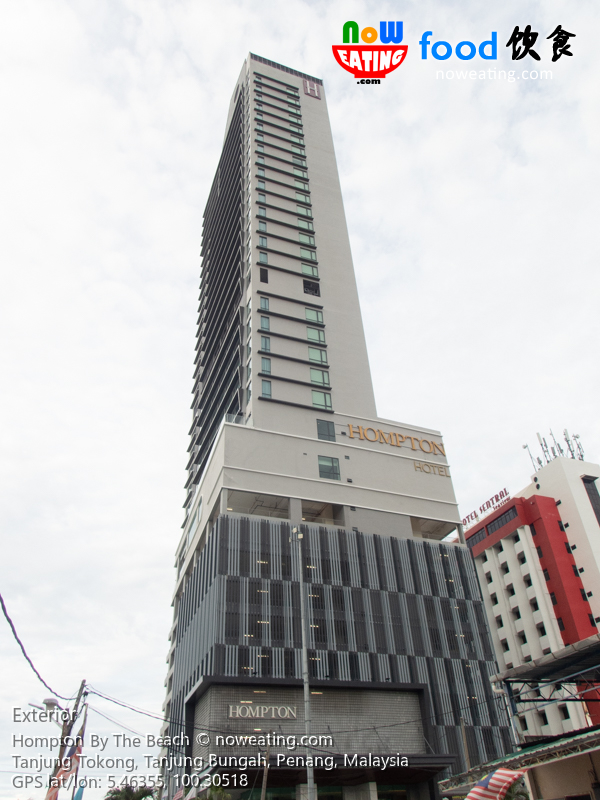 Come over and celebrate Christmas at Hompton By The Beach Penang (GPS: 5.46355,100.30518), Penang's latest shining star along Tanjung Tokong Beach.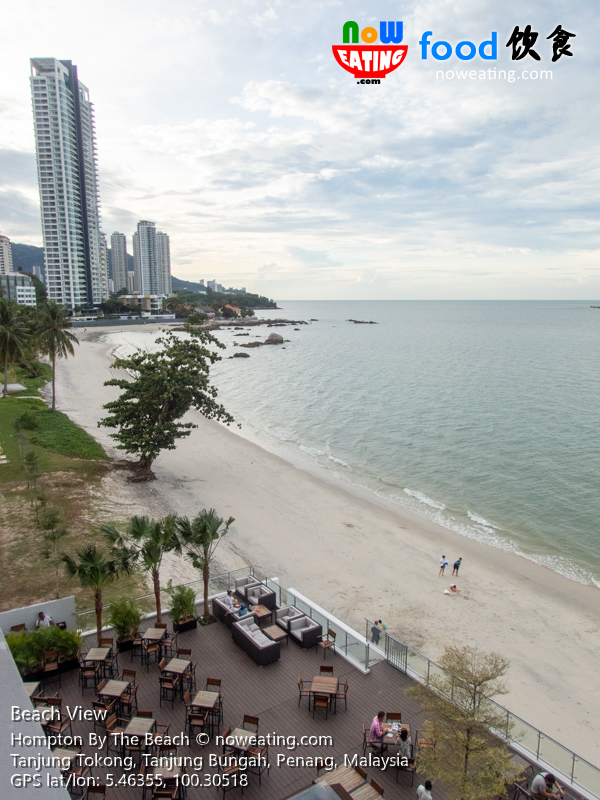 The hotel is currently the favorite hotel of our Kuala Lumpur's friends when they visited Penang due to reasonable price, easy accessible to food (a food court is just in front of the hotel), and more important, next to the beach allowing one to really call him/herself having a holiday. Parking-wise, it is not a problem as well thanks to the multistory car park albeit a slightly narrow driveway for larger vehicles such as MPV. After parking our car, we couldn't help ourselves but to notice the breathtaking seaview from the car park.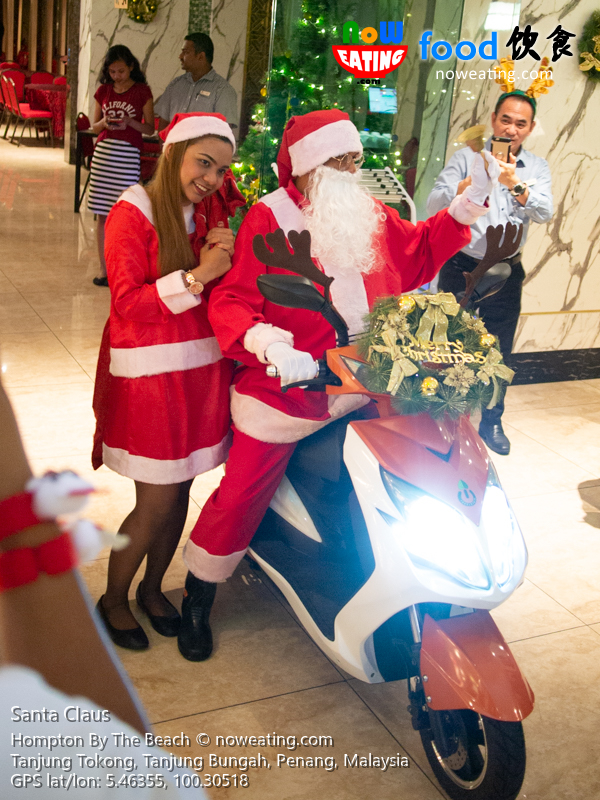 Spice Garden is located at 11 floor. Our visit back in November was to preview Christmas Eve Buffet Dinner as well as Christmas Day Buffet Lunch. Our verdict: The buffet was fairly priced with quality International cuisine. Food-wise, we particularly enjoyed the juicy and tender turkey and its desserts. You can even takeaway whole bird (more detail below).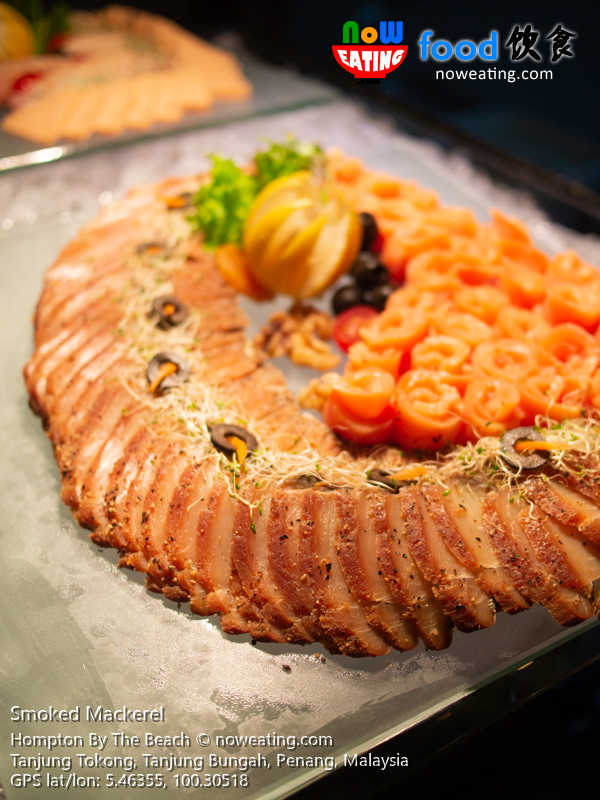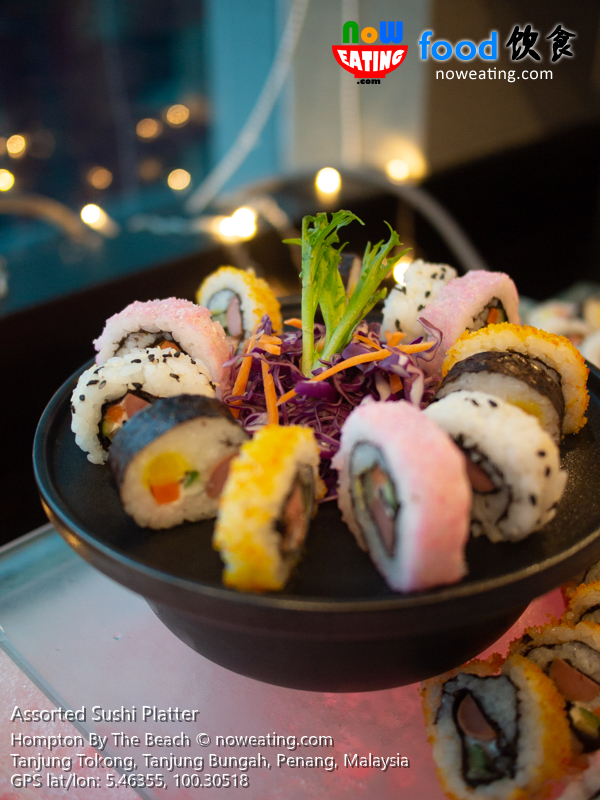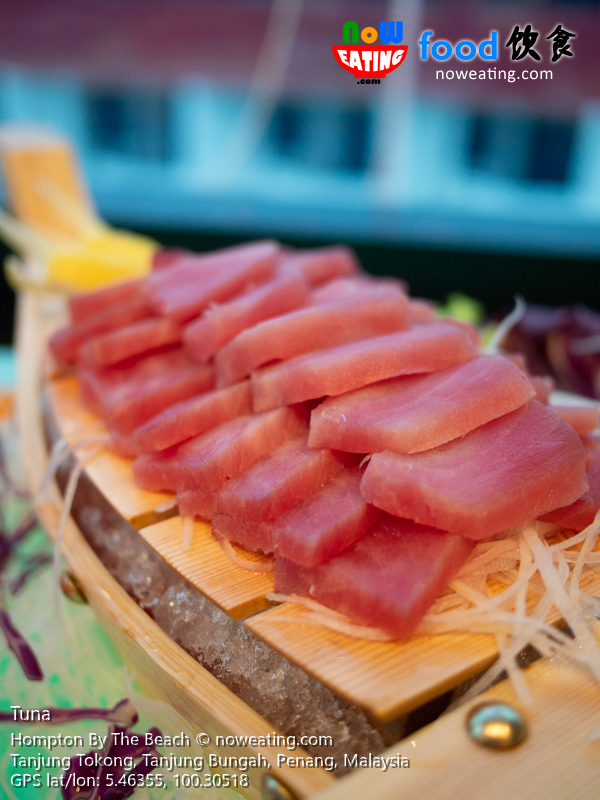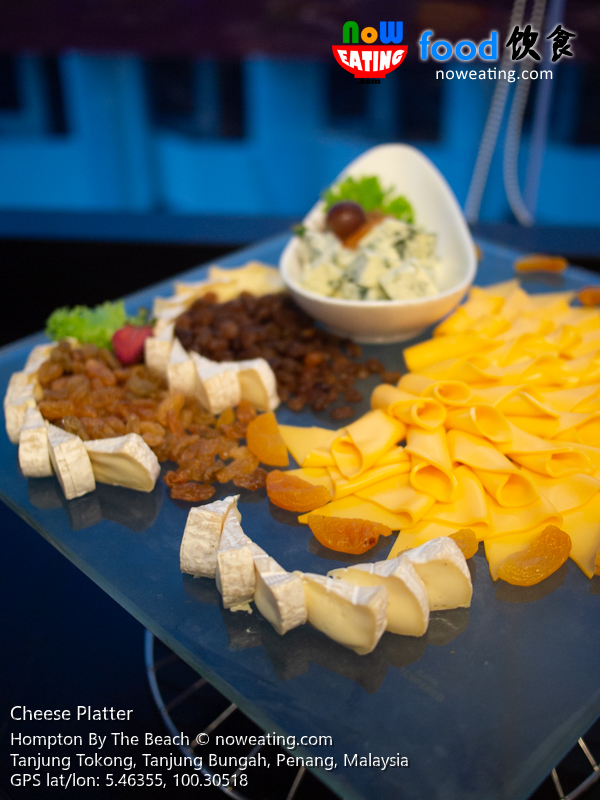 The delectable spread includes a salad bar and cold dishes. Entrée dishes include salmon gravlax, butcher platter on ice comprising of chicken terrine, chicken salami and smoked duck breast, vegetable sticks with guacamole dip, smoked fish platter on ice with a medley of smoked salmon, tuna and smoked mackerel served with a side of horseradish cream,  sushi and sashimi platter, assorted sushi platter, fresh salmon tuna, a taco platter and a cheese platter with mixed nuts and dried fruits.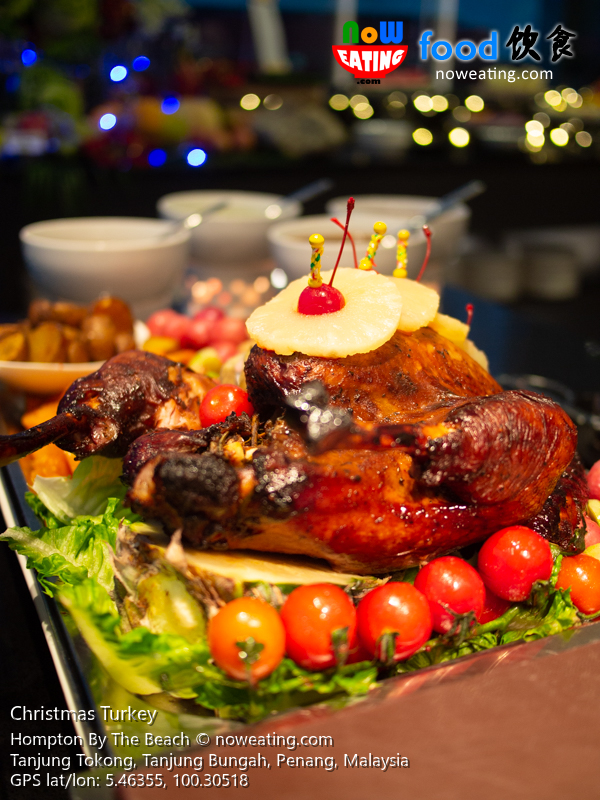 The carving station includes roasted turkey and roasted baby lamb with Christmas stuffing of roasted baby potatoes, roasted vegetables (including Brussel sprouts, trust tomatoes, pumpkin and red baby radish). The side sauces include Jus of Turkey, Cranberry sauce, Black Pepper sauce and Mint sauce.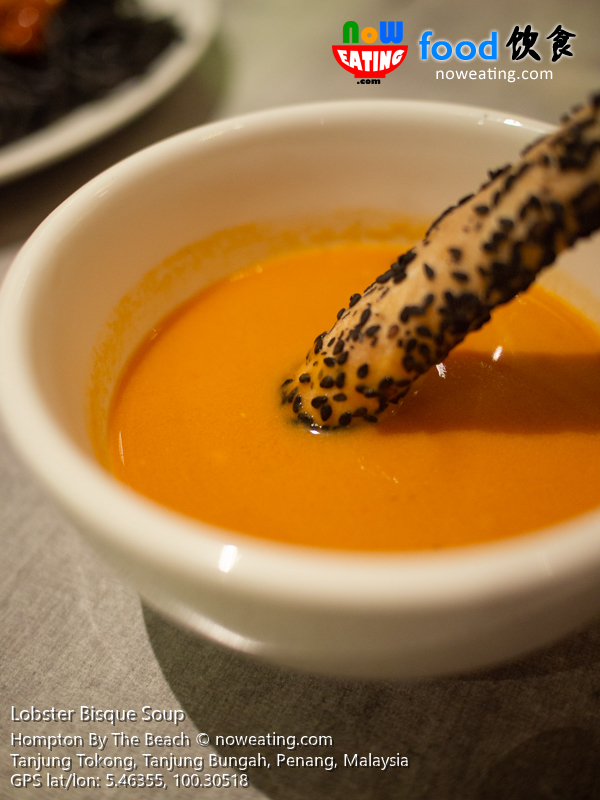 The soup section include Assie Cream Lobster Bisque Soup, Cream of Leek and Potato Soup served with cheese twists, a bread board and whole bread loaves.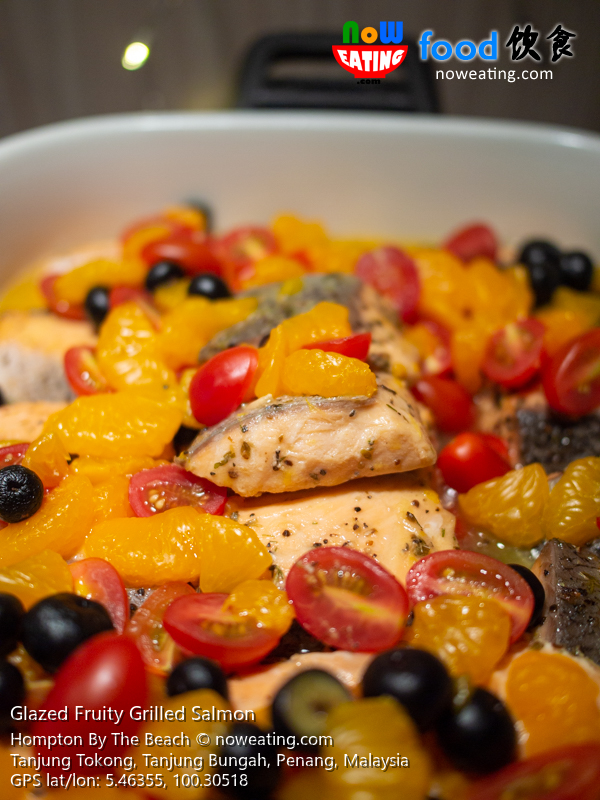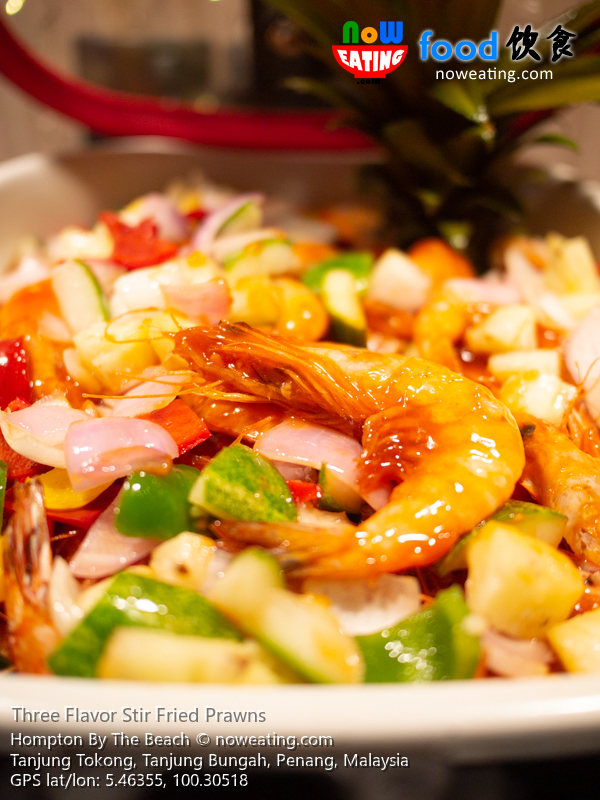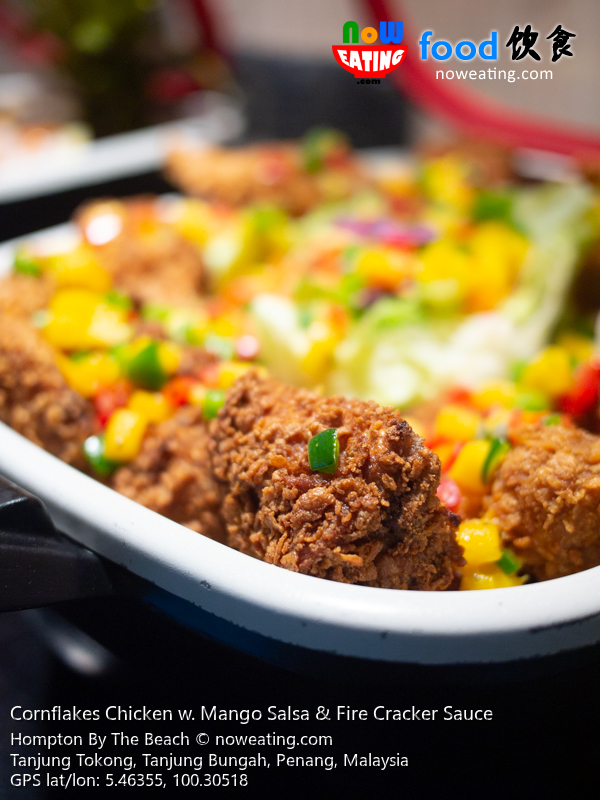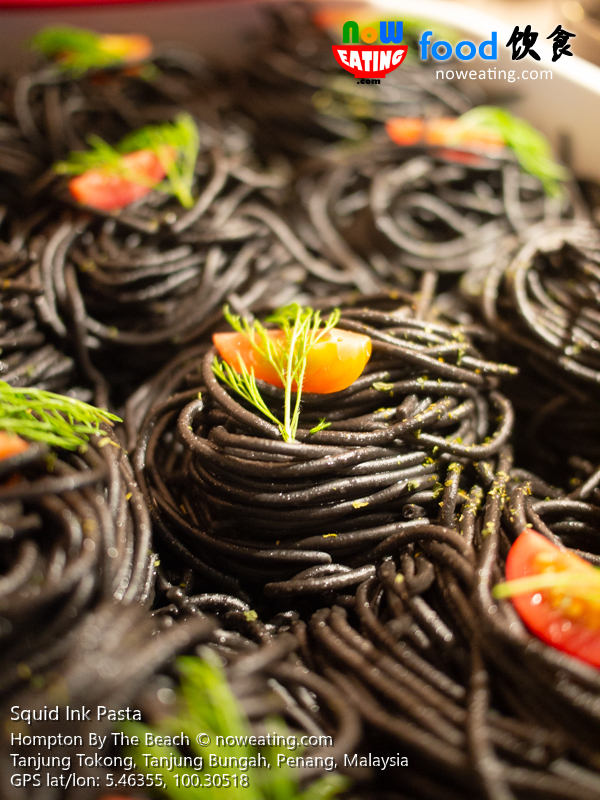 Main Courses includes corn on cob in milk, oven baked potatoes with herbs, sautéed herbed butter vegetables, grilled salmon steak in fruity glaze, slow cooker Hungarian beef goulash, roasted lamb shoulder with garlic rosemary sauce, cornflakes chicken with mango salsa and firecracker sauce, three-flavoured stir-fried prawns, squid ink pasta with chicken Bolognese sauce and herb and raisin buttered rice.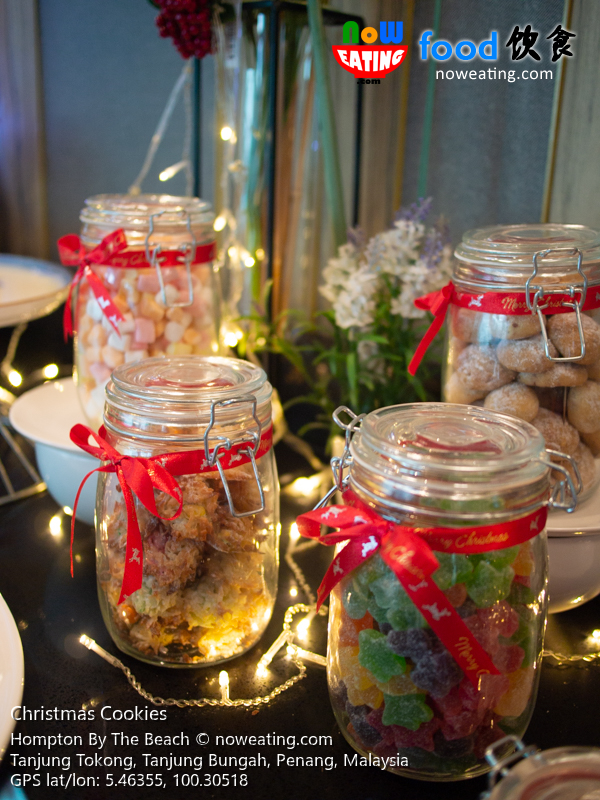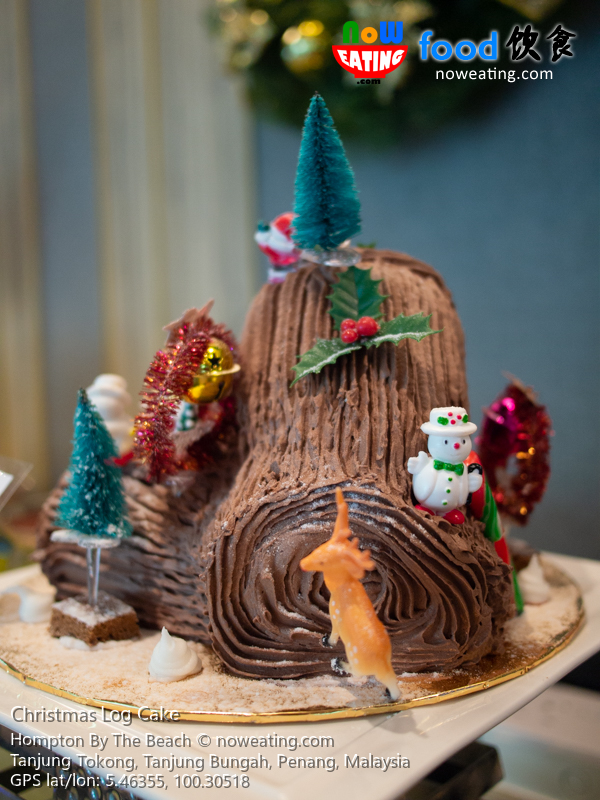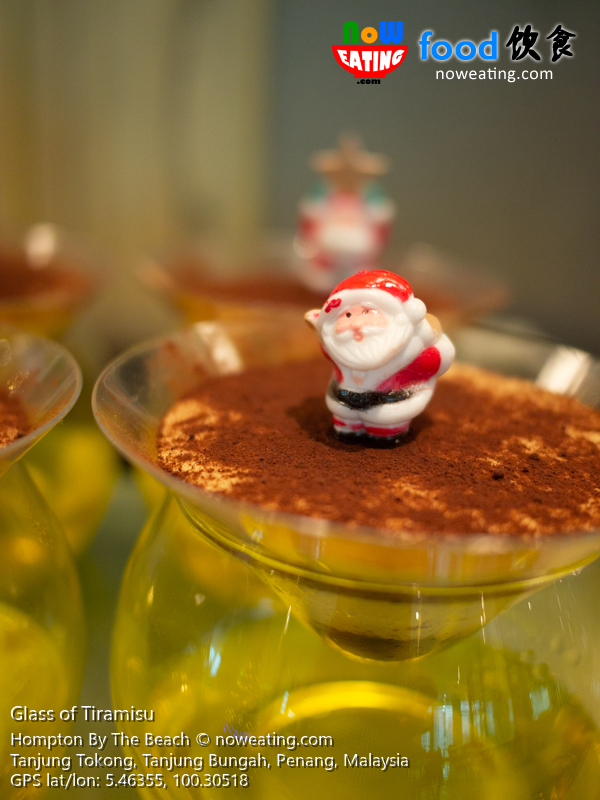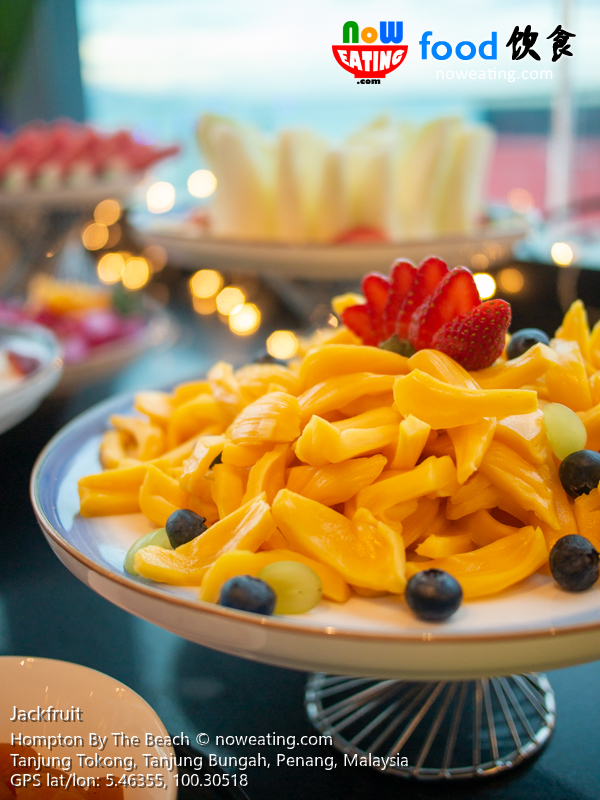 Dessert includes tropical fresh fruit platter with preserved plum powder, strawberries, green and red grapes, watermelon, honeydew, papaya, green and red applies, raspberries, blueberries, water guava and jack fruit, assorted marshmallows and dried fruits.  There is also hot chocolate pudding, Christmas pudding, Christmas log cake, Christmas spices fruit cakes, tiramisu, assorted Christmas cookies including gingerbread man cookies, New York cheese cake, red velvet cake, candy meringue pie, apple pie with vanilla sauce, fruit tartlets, stollen shortbread, panna cotta, chocolate mousse puff,  honeycomb with Christmas farm bread plus coffee and tea. Among them, Glass of Tiramisu was our top pick.
Christmas Buffet
Let's Meat Christmas Eve Buffet Dinner, Tuesday, 24 December 2019 at Spice Garden
7:00pm to 10:30pm
Adult: RM 163nett (with free flow beer and house wine) RM 123nett (buffet only)
Senior Citizen:  RM 123nett (with free flow beer and house wine) RM 83nett (buffet only) (55 years old and above)
Children:  RM 63 nett (7 to 12 years old) Children 6 years old and below (free)
Early bird offer: 20% discount for the first 100 guests
Highlights:
– Christmas carollers
– Santa Claus and Santa Rina with gingerbread giveaway
– Mr.Howard The Hompton bear meet up
– Lucky draw
Christmas Day Buffet Lunch, Wednesday, 25 December 2019, Spice Garden
12:00noon to 4:00pm
Adult: RM 138nett (with free flow beer and house wine) RM 88nett (buffet only)
Senior Citizen: RM 118nett (with free flow beer and house wine) RM 68nett (buffet only) (55 years old and above)
Children:  RM 44 nett (7 to 12 years old) Children 6 years old and below (free)
Highlights: Christmas Day Buffet Brunch offers an early bird discount of 15% off which is valid until Thursday, 12 December, 2019
– Lucky draw
Christmas Turkey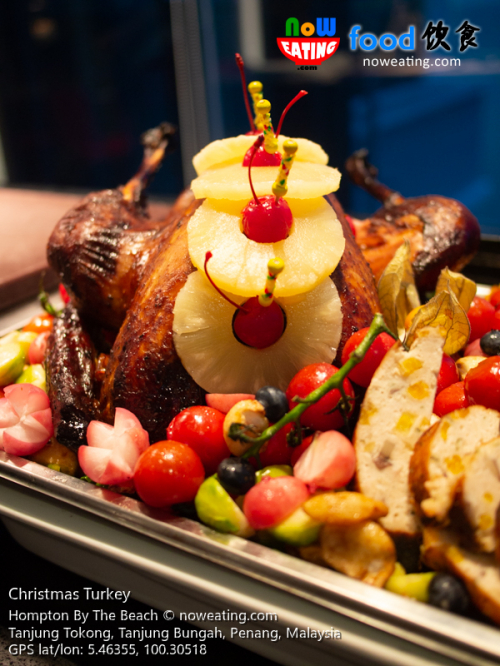 Get into the festive swing of things with a Christmas turkey. Homemade roasted turkey cooked with tender loving care with lavish trimmings of chestnut stuffing, Yorkshire pudding, roasted baby potatoes, baby carrots, Brussel sprouts, green and yellow zucchini, mushrooms and vine cherry tomatoes. Served with giblet and cranberry sauce. Original Price: RM 388 nett.
Turkey available from 12 to 25 December, 2019. Please allow pre-order of 5 days ahead. Call 04-373 3233 for pre-orders today.
D'Seven Sea Afternoon Tea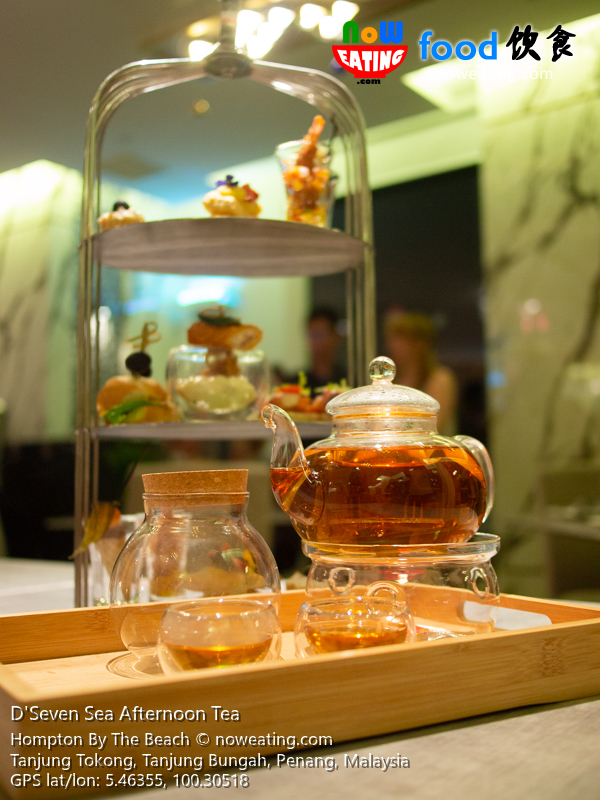 Hompton By The Beach Hotel has rolled out D' Seven Seas Afternoon Tea at Elementos Tapas & Lounge.  Tea lovers can look forward to this treat from 2pm and 6pm daily.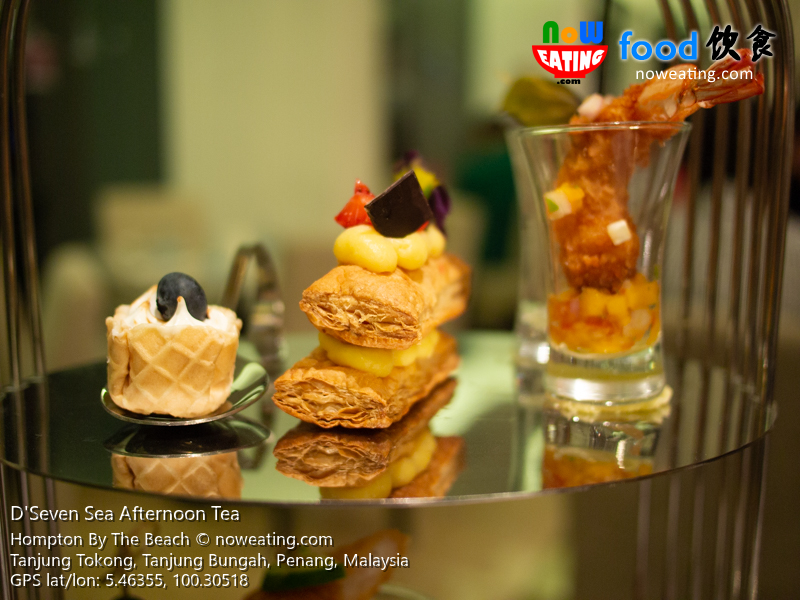 The afternoon tea set is inspired by the al fresco setting of Elementos Tapas & Lounge and tea connoisseurs can take tea amidst the dramatic backdrop of a pristine beach, briny sea breezes, clear azure skies and tropical sunlight. D'Seven Seas Afternoon Tea comprises of a hearty balance between savoury and sweets. The menu, which is priced at RM 70 nett, is substantial enough to be shared by two persons.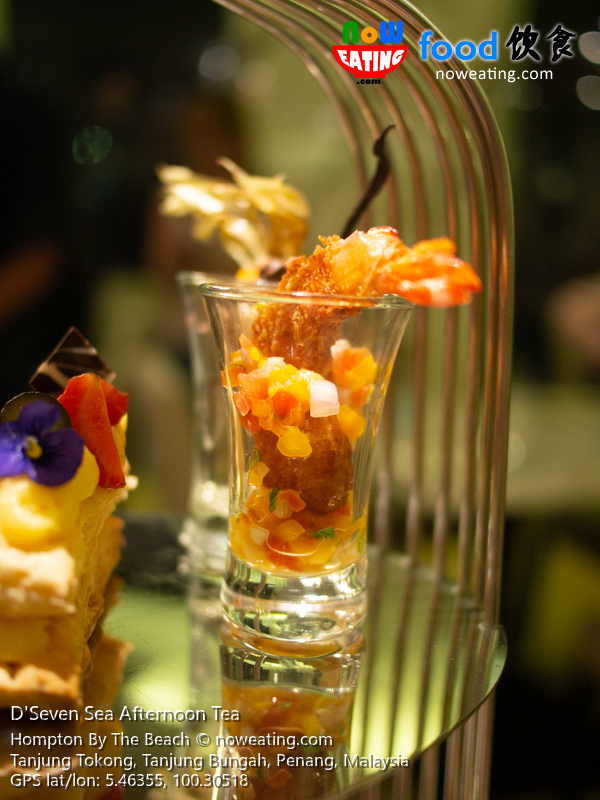 The menu includes Brown Bread Salmon Sandwiches, Deep Fried Prawns in Mango & Pineapple Salsa served in a shooter glass, Breaded Fish Finger Skewer, Lemon Meringue in Sweet & Savoury Orange Basket, Chocolate Mousse in Sweet & Savoury Mini Vanilla Cone and Mini Fruit Tarts in millefeuille custard slice. Guests can choose from either tea or coffee.  The tea selection includes soothing lavender, fragrant rose buds, astringent Kuan Yin tea for weight watchers or calming chrysanthemum tea. The choice of coffee includes latte, Americano, Cappuccino, Espresso Single or Espresso Double. Guests can add RM 8nett for an extra pot of tea or coffee at RM 8nett.
The pastries are displayed in a three-tiered steel tray and while the tea or coffee is served in a clear glass tea set. The presentation looks picture perfect enough to for social media photos.