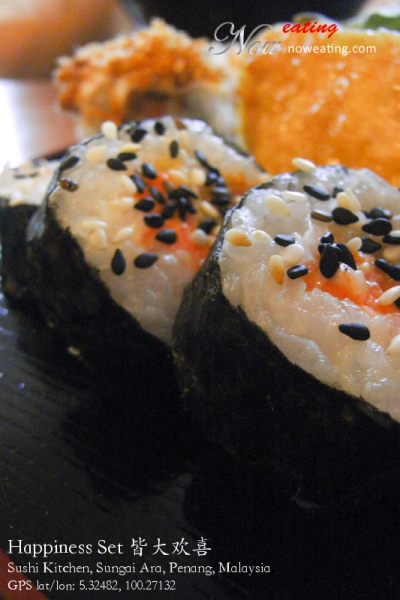 Ok, this time is not a farewell meal but also a place worth multiple visit. Hidden in Sungai Ara there's a kitchen specialized in healthy vegetarian food. Furthermore, it is Japanese vegetarian. Let's see how good the food is.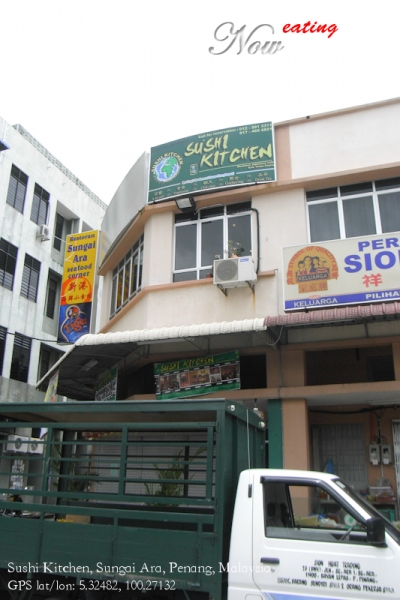 The restaurant is located at second floor. Assuming you came from Giant direction, once you reached traffic light in front of  Chong Cheng School, turn right. You will notice a row of shops on your left. Turn left (Sg. Ara Zhu Cha is on your right) and the restaurant is on your left (or refer here).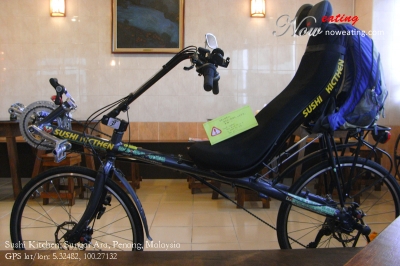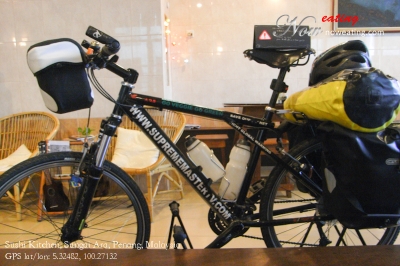 The interior is nicely decorated. The owner was actually a biker who traveled from Penang to Beijing, China using bicycles. His article and  "weapons" are displayed around the restaurant.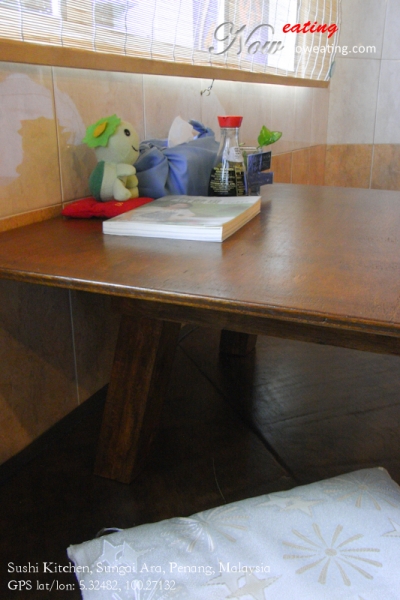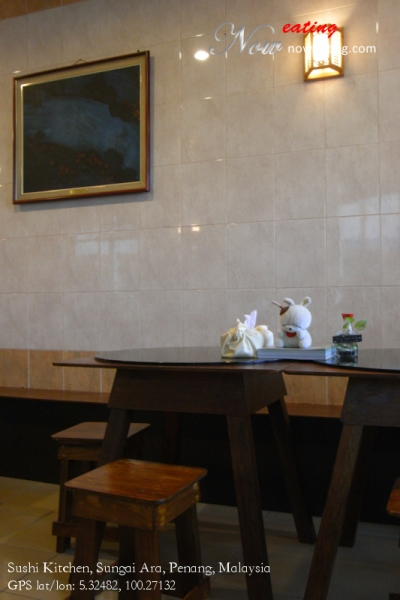 The restaurant is operated by a lovely couple and there are two type of seating – table or tatami.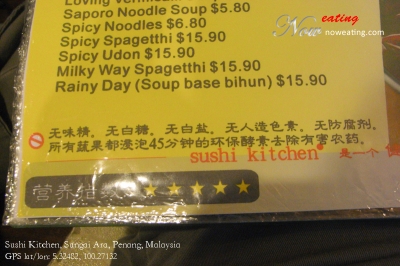 Seriously we didn't aware that this is a vegetarian shop until we actually approach the shop. The menu is handwritten. From the photos, I knew that the owner is a photo kaki. There is one statment that caught my eye:  No Ajinotmoto, no white sugar, no salt, no artificial colouring, no preservative, all vegetables are put in enzyme for 45 minutes before serving.  Definitely at healthy side. With so many "no", let's see how's the food tasted like…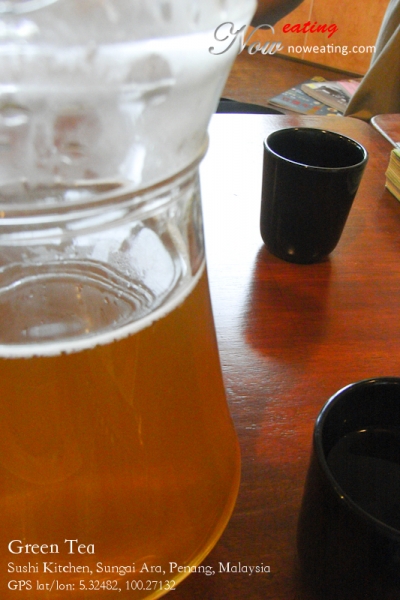 We had free-flow green tea (RM2.00 per pax) and came in jar. Speaking about tea, there is a corner for you to enjoy make and enjoy tea.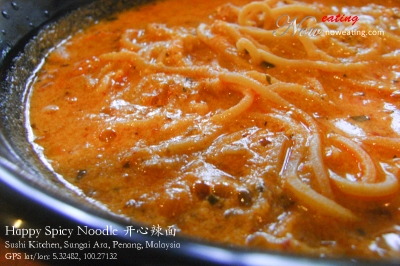 The first dish arrived was Happy Spicy Noodle (开心辣面) (RM6.80) which was prepared only occasionally. The spicy soup was crunched with bean curd, veggies, home-grown curry leaves, organic chili, and etc. No coconut milk, milk-origin, and onion added. The noodle was similar to the one in claypot noodle (伊面). It tasted unique. Some may found it lack of some topping.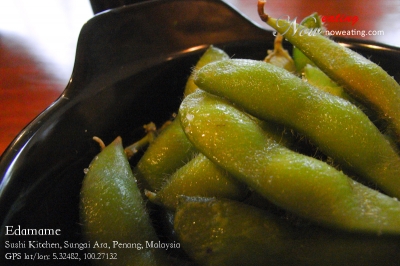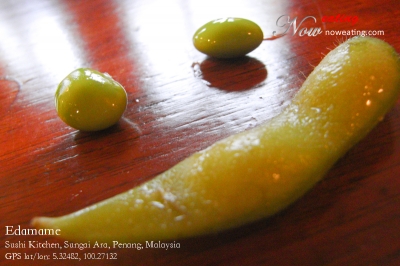 We also ordered some Edamame (RM3.00) as snack.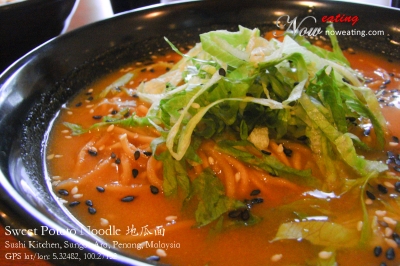 Next one is Sweet Potato Noodle (地瓜面) (RM4.00) . The base soup tasted like Jawa Mee and is crunched with sweet potato, veggies, and fruit. Definitely prepared at healthier size.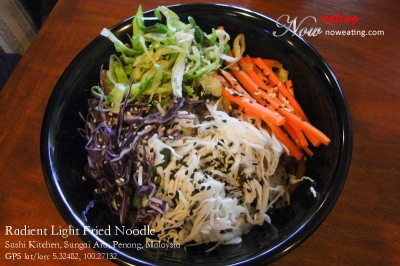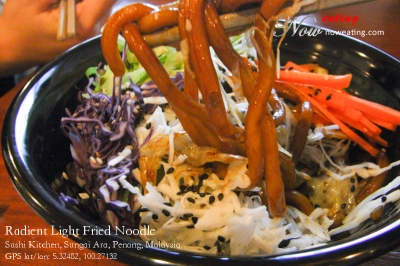 The best noodle of the day went to Radient Light Fried Udon (RM9.80) which had rich topping such as white cabbage, purple cabbage, carrot and lettuce until you can't see the udon noodle beneath it. The udon was not oily nor salty…. just perfect.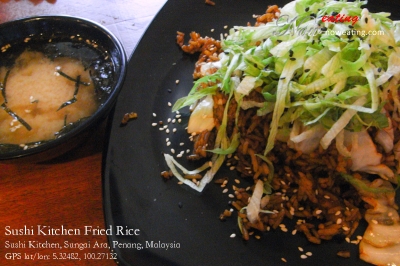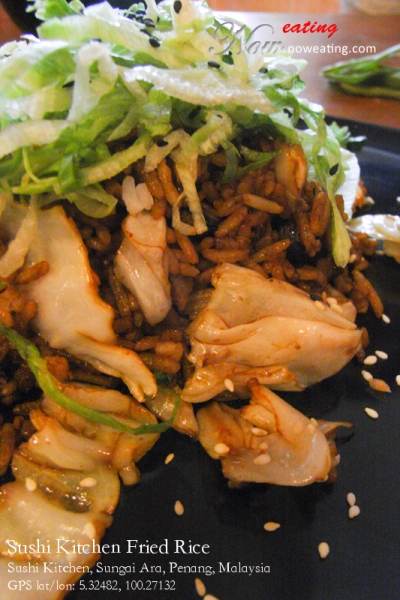 Here came best rice of the day – Sushi Kitchen Fried Rice (RM6.80). This is normal rice version and it was fried in dark sauce til fragrant. Unlike fried rices at food stalls, this one not oily nor stuffy. This is definitely the dish I going to order for next visit… with added rice.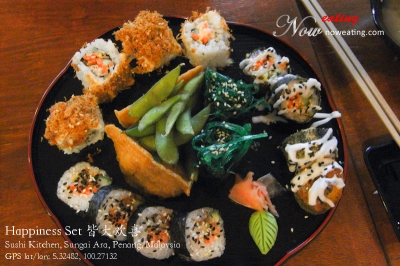 How's vegetarian sushi tasted like? At first we did not expect much but WOW~ it can fight with those sushi chain restaurants out there! Happiness Set (皆大欢喜) (RM26.80 big) is a must try. It came with various Gunkan, Maki, and Inari.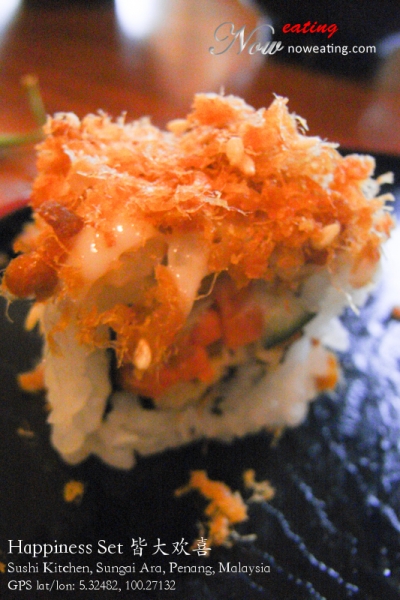 The tastiest in the set is this floss Maki. What this vegetarian floss made off is beyond my knowledge. As a whole, you won't feel the different between this vegatarian sushi set (even with the absent of salmon and tobikko) with the normal one out there.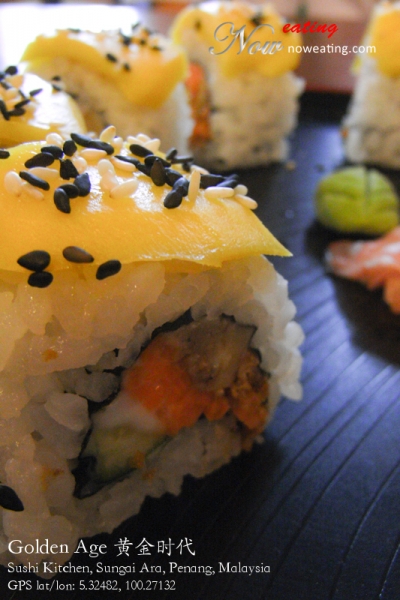 Wondering how they replace salmon for vegans, we ordered Golden Age (黄金时代) (RM12.80 big), which came with 6 Maki topped with mangoes slice (equivalent to salmon). Fortunately the mangoes were not sour. Another good sushi set.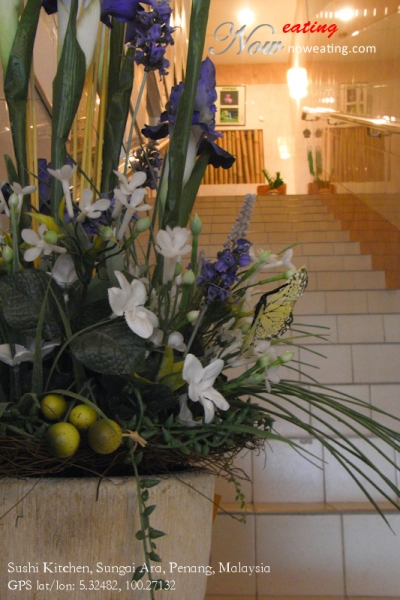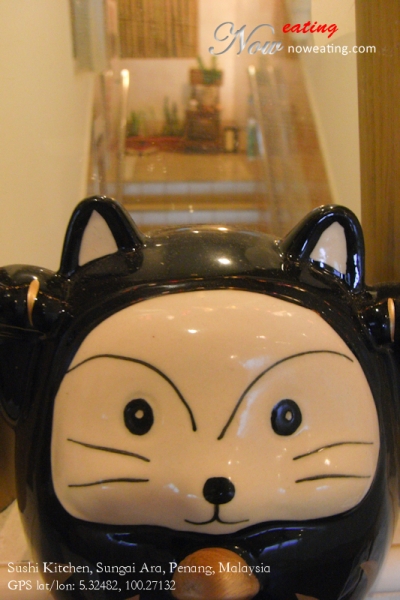 Finally, a vegetarian shop in which you can relax, chit chat, tea, read books, or even sing karaoke.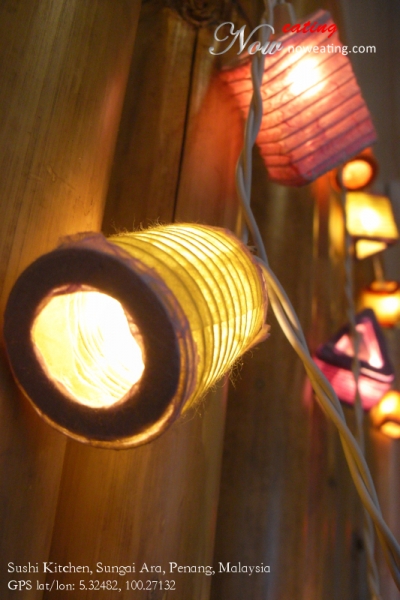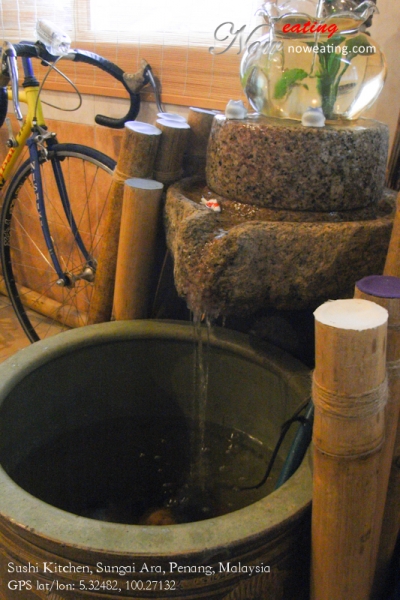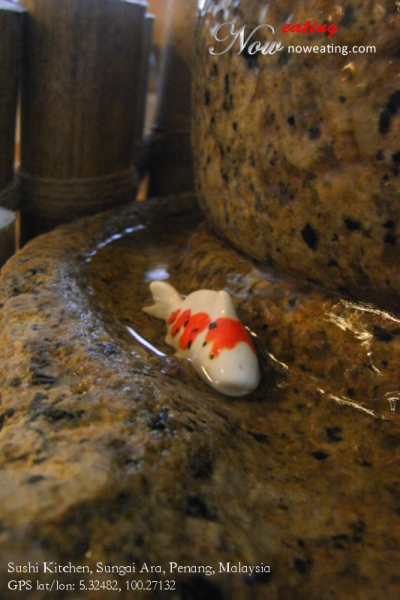 As a whole, I would recommend this restaurant. The ambient is good, the price is reasonable and the food is prepared at healthier side. However, Penangites which prefer heavier taste may find themselves difficult to adapt at first. Also, as raw materials are prepared on the spot to ensure their freshness, it takes time for the food to arrive. You can make reservation first if you are rushing back for work during lunch time. For cheap labor like me who already "looked open" and hopeless, I rather spend my second half of my working day sleeping below tatami there.
| | |
| --- | --- |
| Place Name: | Sushi Kitchen |
| Cuisine: | Japanese |
| Address: | 2A-1, Jalan Sungai Ara, Desa Ara, Sungai Ara, Bayan Lepas, 11900, Penang, Malaysia |
| Tel: | 0174656821 (Sam Yeoh) |
| Email: | [email protected] |
| Website: | http://sushi-kitchen-cafe.blogspot.com |
| Working Hour: | 11:30am - 8:00pm (Mon-Tue). 11:30am - 2:30pm, 6pm - 10pm (Fri-Sun). Close on Tue. |