In Malacca we have red houses. In Penang, we have Brown House. Located opposite of Midland (and beside Adventist hospital) is a restaurant called Brown House (previously housing Island Red Cafe) serving a number of cuisines, such as Chinese, Malay and Western. We were invited for a food review last weekend.
First on the building itself. It is a 2.5 storey building with private parking provided. The entrance is at the back so make sure you turn into Brown Road (and hence the Brown House) if you wish to park there.
For each floor, there are smoking/non-smoking areas provided.
On the 2nd floor, there are pool table …
… and performing stage as well. Should be a good place for gathering.
Let's jump into the food. Note that the food here is non-halal (I can't find any non-halal sign around). The first dish we tried was the Pork Chop with Lemon Grass Sauce (RM17.90). The dish looked plain at first. Expected it is another "chicken breast" I am going to try, surprisingly it tasted good. The pork was somewhat tender and tasted sweet.
One special thing about this cafe compared to other cafes is that they provide somewhat authentic dishes came with claypots, such as this Puff Pastry Chicken Stew (RM12.90). The puff is crispy and tasted good, especially when dunking it into the soup which was cooked with carrots, mushrooms, potatoes, and of course, the chicken.
Another special dish is Pork Leg with Coconut Juice (RM10.90) served with flat rice noodle (Koey Teow). According to the menu, the use of coconut juice is to neutralize pork fat found in pork leg. Tasted good.
Alternatively, you may try Braised Pork Ribs with Nuts (RM10.90) which is also come with flat rice noodle. Each has different taste of base soup even though they look similar from outside.
Similar to most cafe of this type, they also provide nasi lemak (RM7.20).
This is Ee Chee Loh Fun (鱼翅捞饭) (RM10.90). Tasted average and can't see a single sharkfin there. More like Hor Fun sauce for me.
Other than main dishes, they also provide some starters, from as simple as a plate of french fries (RM6.90)….
… to Potato Wedges with Paprika (RM6.90) …
… and to Potato Skin (RM11.90) – baked potatoes stuffed with bacon and cheese.
Other starters include hot & spicy chicken wings (RM11.90) …
… honey chicken wings (RM11.90) …
… Arabian Toast (RM3.60) – bread stuffed with Pandan Kaya …
… and Hanoi Rolls – warm and crispy roll of minced meat, mushrooms, egg and greens (RM11.90).
For starters, other than Arabian Toast, Potato Skins, and Hanoi Rools, the rest were quite normal appetizers we have out there. Pricing-wise, some starters could be expensive compared to some rice & noodles dishes.
Some of their drinks are quite special. I am lazy to go through them one-by-one here. You may try their Brown House Special with has a flat price of RM7.20.
They also have set lunch menu (RM12.80) which is only available during lunch hour.
The light set menu (RM7.80) is available throughout the day.
They also have delivery service provided for those living nearby. You can download the ordering list here. Note that the minimum quantity is 15 items per order.
As a whole, Brown House did provide some unique dishes other than traditional cuisine we found in most of the cafes. Other than pork, they serve beer as well. The parking is convenience. The restaurant also provides free WIFI and delivery service around that area. Probably a new gathering place at Pulau Tikus area.
Menu can be downloaded below: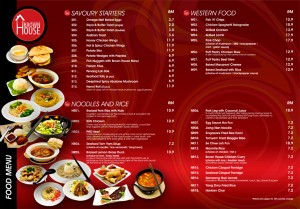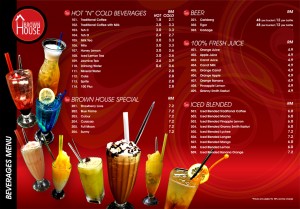 Take-Away Menu: Download
Participating bloggers:
| | |
| --- | --- |
| Place Name: | Brown House |
| Address: | 2, Brown Road, Pulau Tikus (Opp. Berjaya Hotel), 10350, Penang, Malaysia |
| Tel: | 016-4944972 (Cynthia) |
| Email: | [email protected] |
| Working Hour: | 11am-1am (weekdays), 11am-2am (weekends) |