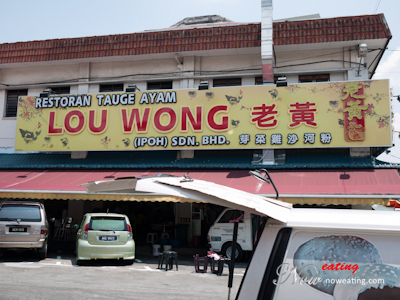 After having dim sum at Foh San restaurant, we let our food digested by walking around. We went to Gunung Lang but it was spoiled by a government event there, in which whole place was blasted with rock music. We then went to Perak Cave 霹雳洞. It was an enjoyable place (I will post its pictures in Facebook later). After that, it was time for lunch so we decided for "Nga Choi Kai" (Bean sprouts chicken) this time.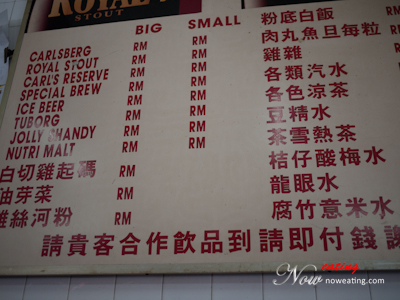 At first, my friend resisted to visit a chicken rice shop called Lou Wong (老黄) as the chicken was too oily. I was out of alternative so at the end we still stick with the above-mentioned shop. We were lucky that day as there were less customers when we arrived and we found our seats immediately.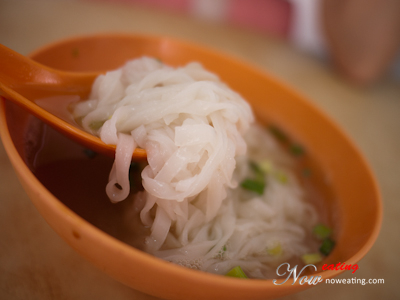 My friend ordered Chicken Koy Teow (鸡丝河粉) and luckily it tasted good and smooth.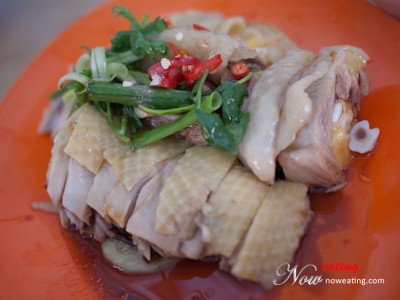 I ordered chicken portion for two persons. Yes, it was a bit oily as they put a lot of sesame oil onto the dish. It was tender anyway. Hold on, where is my bean sprouts?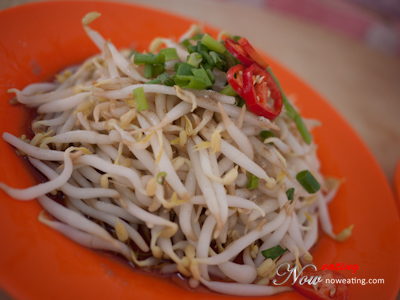 Here it is. It was prepared on another plate. I was told that the reason why Ipoh is famous with its bean sprouts is because they are fat due to better water quality here. Somehow, the bean sprouts that day were not as fat as expected.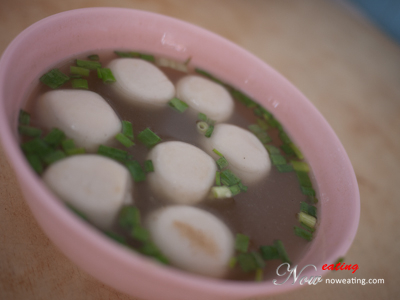 This was fish ball soup 鱼丸汤. The fish balls were kind of special as they were soft and not as springy as those commonly found in the market.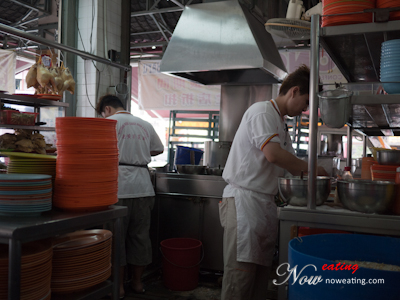 We sat next to the kitchen and I noticed that the bean sprouts were being soaked in large blue container. Whenever there was a customer order, the cook will grab one handful of bean sprouts from the container and rinse it in a bowl of hot water. Then, nicely put them on a plate and sprinkle some seasoning on it. That's it.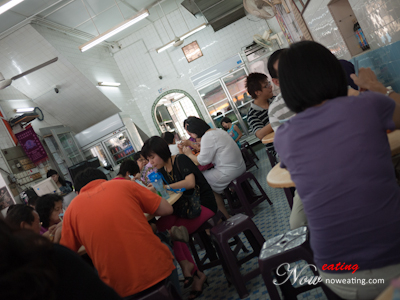 As chicken rice shops grow like mushrooms in Malaysia, I couldn't find any specialty in this shop other than its bean sprouts. Chicken could be too oily for some but I guess we can ask them not to put too much oil. Both of us spent RM21.50 in that shop. Still not too bad. One thing I was not sure about was its business hour, which stated from 10:30am – 2:30 am in business card. Wow~ they opened until 2:30am midnight?
| | |
| --- | --- |
| Place Name: | Restoran Tauge Ayam Lou Wong 老黄芽菜鸡沙河粉 |
| Cuisine: | Chinese |
| Address: | 49, Jalan Yau Tet Shin, Ipoh, 30300, Perak, Malaysia |
| Tel: | +6052544199 |
| Working Hour: | 10:30am - 2:30am |
| Tax: | No |
| Last Visit: | 05-Mar-2011 |