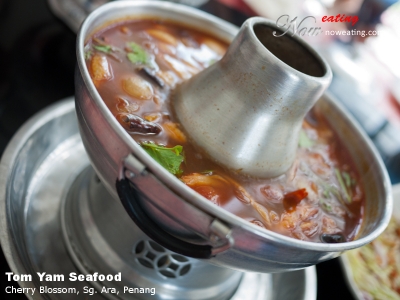 It is raining session recently and it is good to enjoy some warm soups for dinner – such as Tom Yam soup. Cherry Blossom used to be a famous Thai restaurant in town which operated more than 10 years ago. Is the Sungai Ara branch as good as before?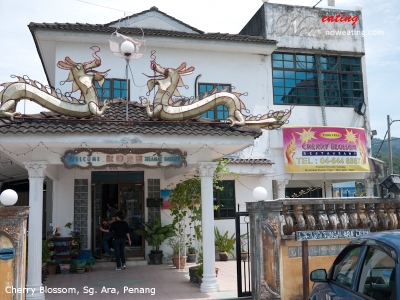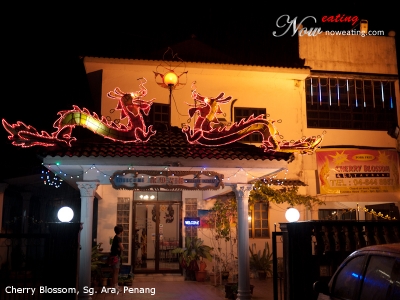 Personally I didn't visit the one in town before. Heard that the Sungai Ara branch was not bad as well. My first visit was back in April during colleague's birthday. The place is a bit hard to find as it is not at the main road. It is a resident-convert-to-commerce kind of house.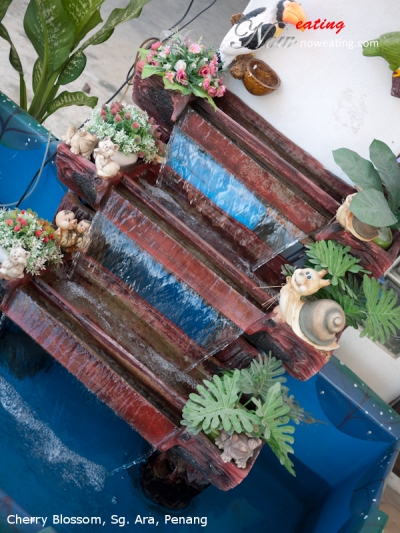 It has the same management with the Thai restaurant on top of Bukit Genting. Having said that, there are some nice decorations around.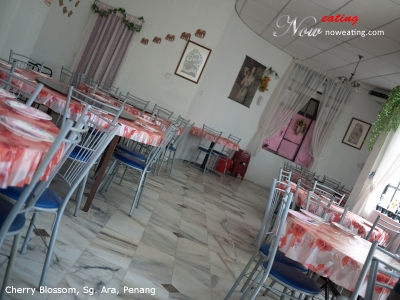 Unlike Bukit Genting, the dining area here was air-conditioned with background music.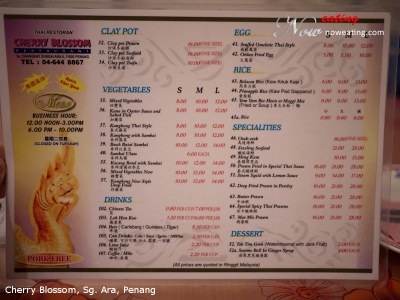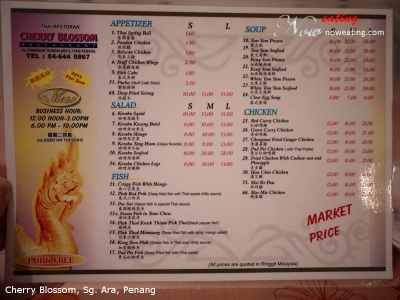 Ordering was quite straightforward. The menu only consists of two pages and most items only have three sizes (small/medium/big). Note that the portion is not big. Two of us can order four items excluding rice, drink, and dessert.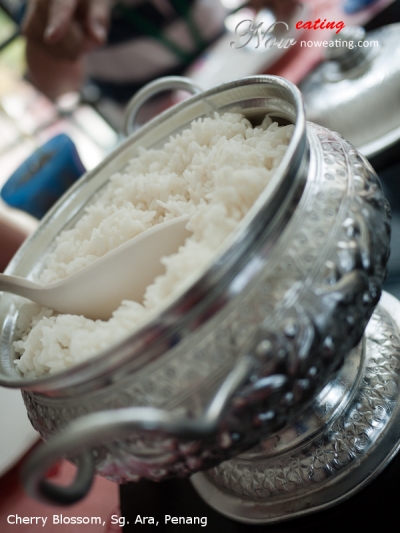 Usually rice in Thai restaurants is based on headcount. This restaurant, however, allowed you to choose between a single bowl (RM0.90) or one bucket (RM9.00). I just noticed that the single bowl price had increased 10 cents to RM1.00 compared to the one shown in menu. Huh!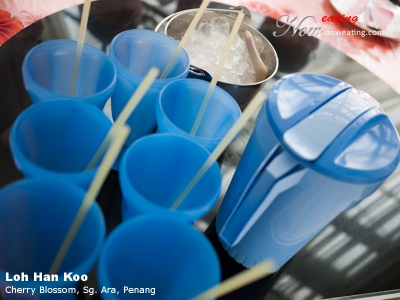 We ordered a jar of Loh Han Koo 罗汉果 (RM9.00) during one of our visits. Per cup is RM1.20.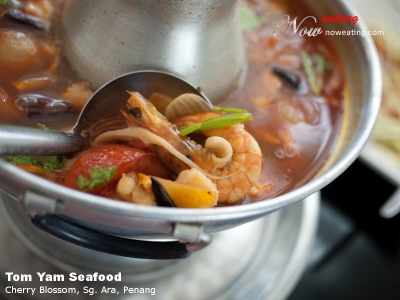 Eating in Thai restaurant without ordering Tom Yam is a sin. There are two kind of Tom Yam here – red and white, and both tasted good. We ordered (red) Tom Yam Seafood (RM16/RM21/RM29) during our first visit.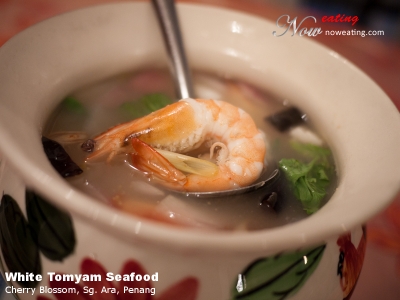 Red tom yam was spicier than white tom yam, which was more sour. Ingredients-wise, both are almost the same – lemon grass, Chinese parsley, tomato, dried chillies, small chillies, onion, mushroom, Kaffir lime leave (泰国甘叶), and blue ginger (also known as Thai Ginger). That's the reason why I like Tom Yam in Thai restaurant – fresh ingredient (rather than just using Tom Yam paste).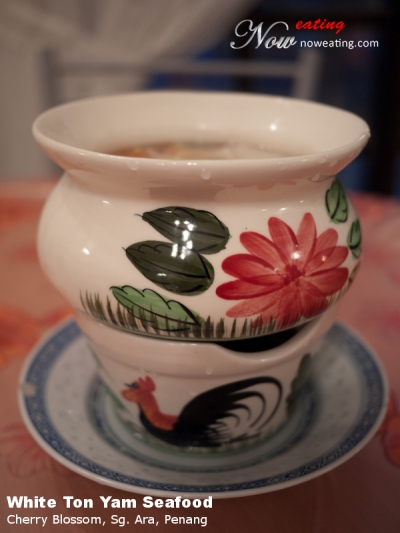 Definitely the food is presentable with nice "Chicken" bowl with little charcoal below to keep the food warm.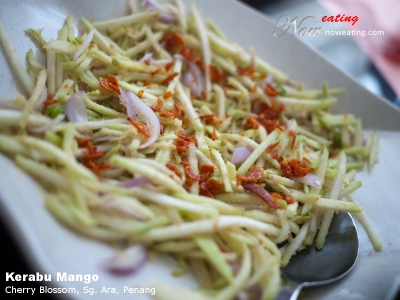 My friend like Kerabu Mango (RM8/RM10/RM13) as the onions were not strong at all.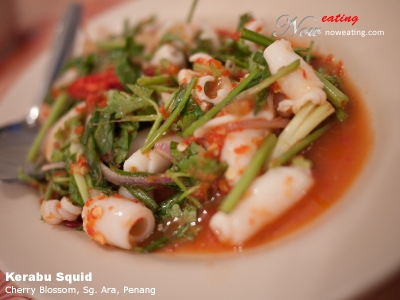 Kerabu Squid (RM10/RM13/RM15) was unfortunately too sweet (otherwise it tasted excellent). They put too much sugar and I even bit some hidden in squid. Also, beware of small chillies mixed among Chinese parsley. We carefully took them out first before enjoying it.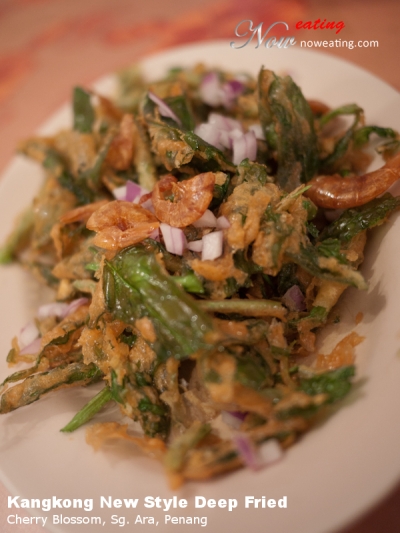 Fried Kangkong (RM10/RM12/RM14) was another famous Thai cuisine. The kangkong in this restaurant was very crispy. Again, the onion chunks on top were not strong at all. Too bad it was another sweet item (maybe it fried with sugar).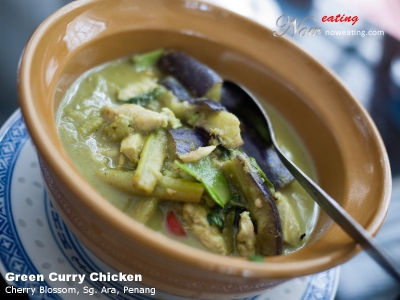 Green curry chicken (RM12/RM16/RM21) was not bad. Best served with rice.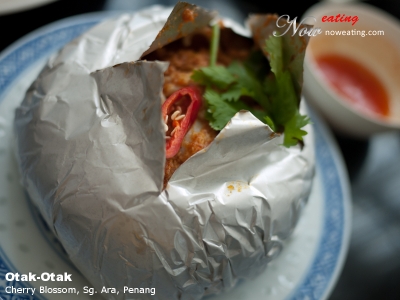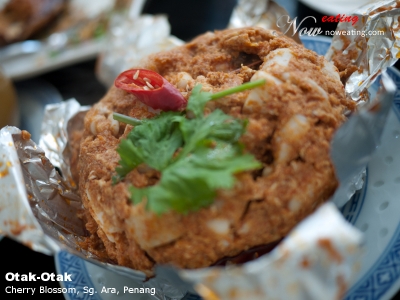 Otak-otak (RM16) only consists of one size. It was basically seafood warped in aluminium and was just plain spicy. Maybe with additional of banana leave and charcoal would be better.
Another one size item was Clay pot prawn (RM19) – consisting four prawns cooked with glass noodle (冬粉) in black pepper sauce. I had similar item back in my hometown, but it was true clay pot (instead of metal wok above) with added raw eggs. The sweetness from eggs makes the glass noodle tasted even better. With the price I'd better order Otak-Otak.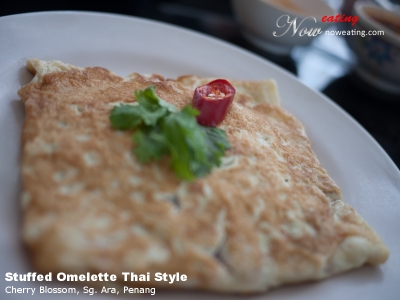 Stuffed Omelette Thai Style (RM8/RM10/RM12) tasted a bit weird. Even though it looks dry outside, it was wet inside. It was too sour to our liking.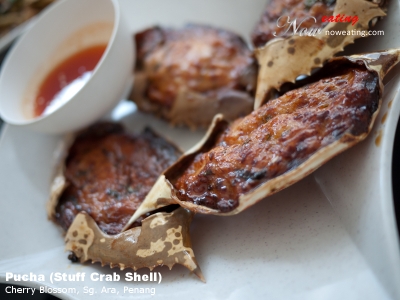 So far, items above have one thing in common – full of  herbs. It is standard Thai cooking style but  may not suitable for kids. You may order some appetizers, such as Puncha (Stuffed Crab Shell) (RM3.50 each). My friend who like "little kawaii items" said this one tasted good. Maybe they tasted like fish cake.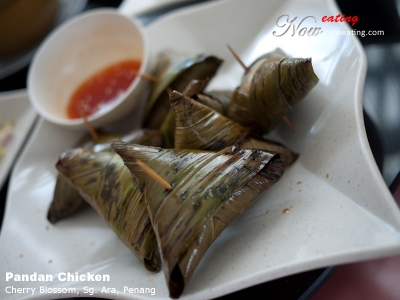 Pandan chicken (RM1.50 each) was another "jiak beh ba" dish. Fortunately, they were not too oily compared to other restaurants.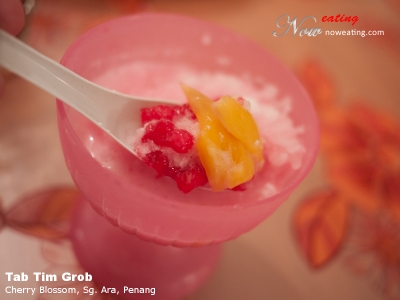 Finally, we ordered Tab Tim Grob (RM2.00) – a famous Thai dessert with water chestnut and jack fruit. Too bad, the last time we went there, the jack fruit was too old and water chestnut was tasteless. The coconut milk was also almost staled. Duh!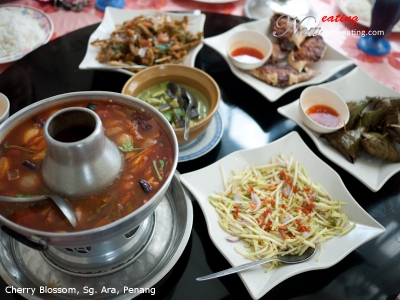 According to my friend, the quality was dropped compared to 10 years ago. Personally I feel that the food was too sweet by adding too much sugar (maybe can ask the cook to put less sugar next time). This also caused the food less authentic. Lack of customers may also cause the freshness of ingredients to drop. Other than that, prawns are basically fresh and the serving is fast. They also provide a cozy and relaxing environment to enjoy Thai cuisine near industry area. Parking is also not an issue here.  Did I mention that it is pork free as well?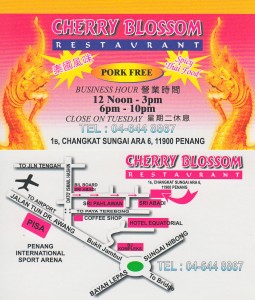 | | |
| --- | --- |
| Place Name: | Cherry Blossom Restaurant |
| Cuisine: | Thai |
| Address: | 1B, Changkat Sungai Ara 6, Bayan Lepas, 11900, Penang, Malaysia |
| Tel: | +6046448867 |
| Working Hour: | 12pm - 3pm, 6pm - 10pm (Close on Tuesday) |
| Tax: | No |
| Last Visit: | 20110825 |