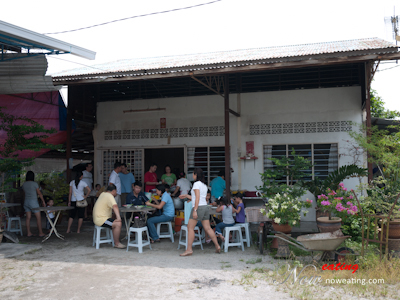 Another laksa stall I frequently visited in Balik Pulau is the one at Jalan Bahru, or better known as Laksa and Hokkien Mee house since they are selling both items at their resident house during weekend at a reasonable price of RM2.80 each.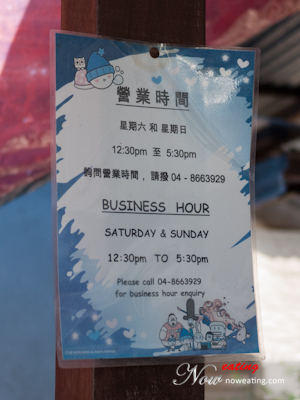 Yes, they only open on Saturday and Sunday from 12:30pm – 5:30pm. 12:30pm for me is a bit late for lunch but sometimes they do sell early if they finish setting up stall earlier.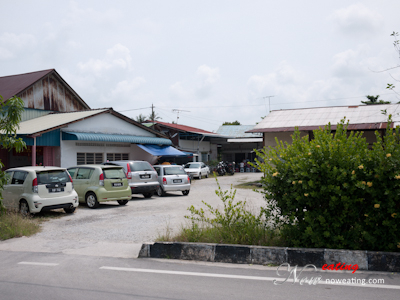 Getting there could be a bit difficult for first timer. You may use Google Map tool below this post for direction. If you have latest Malfreemaps just type in "jalan bahru" or use the coordinate on the map below. It is at the right hand side of the main road among resident houses.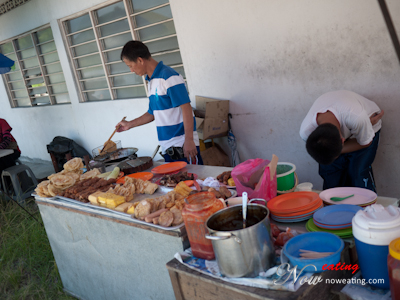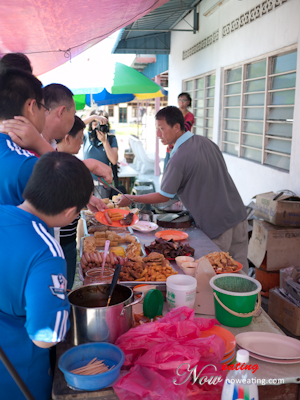 There is a stall selling loh bak (a pick 'n' mix of variety fried snacks) in front of the laksa house.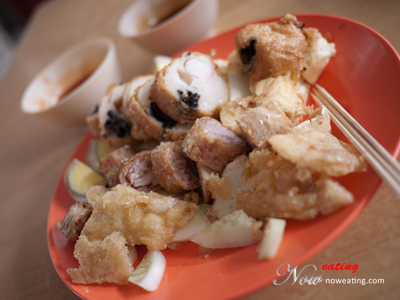 Price varies depend on the items you selected (e.g. the one you saw above is RM6.50). Personally, I like the fried prawn biscuit ("heh ji") as it is good to dip with laksa soup.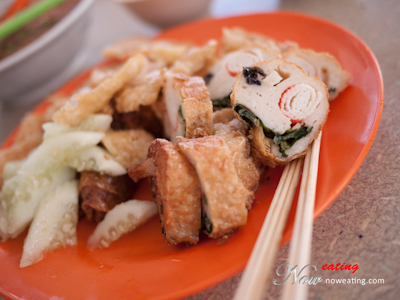 See that fish cake roll stuffed with crabmeat stick and seaweed? I like that one as well. Perhaps the only item to avoid was the "Tao Kua" (豆干) as once we tried it and it was stale.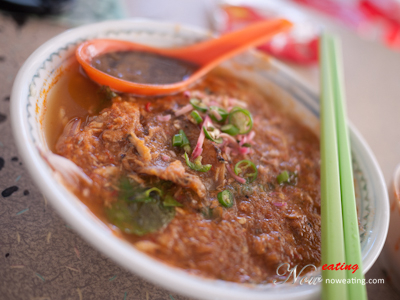 Let's go to the laksa. The laksa is quite sweet even without prawn paste. The prawn paste was separated on the soup spoon but I feel that it is unnecessary as the sweetness just perfect without the prawn paste.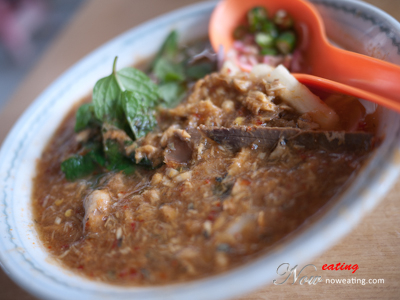 Compared to Eric's Place Laksa, the soup was thicker and richer with fish mince. Each bowl was also RM0.20 cheaper here.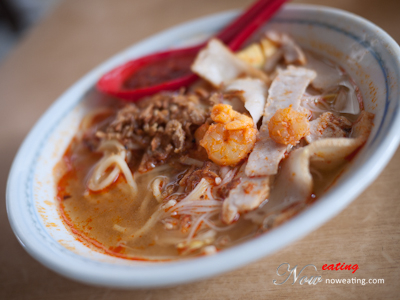 Their hokkien mee was not bad as well. Nothing fancy here. Just home cooked hokkien mee soup topped with pork slices, fish cake, frozen prawns, a slice of egg, and fried onion. More original, less Ajinomoto.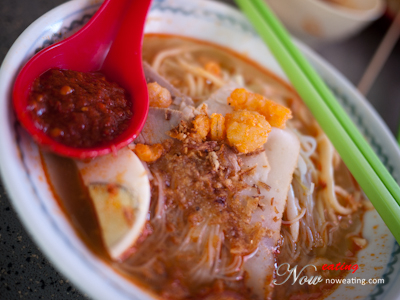 Of course, if you are used to "Hokkien cham Loh" type or like to add extra ingredients (e.g. pork legs, intestine) into hokkien mee, this stall may not suitable for you.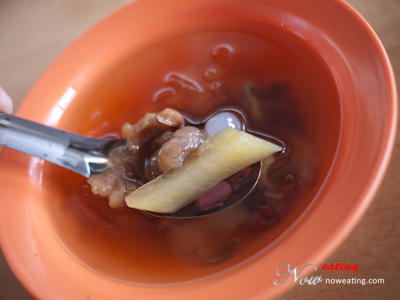 The drink was served by another household next to the laksa stall. You may see one auntie carrying a plate full of drinks from her house to dining area. During peak hour, ordering drink could be dissapointing. Either you have to take whatever auntie has on her plate, or wait for next round of "distribution". They did have "leng chee kang" also (RM2.30).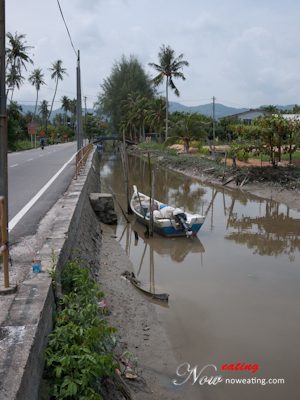 As a whole, if you are looking for one of the best laksa in Balik Pulau, you should try this stall. There are many photo shooting opportunities around as well. Make sure you arrive early to avoid disappointment.
| | |
| --- | --- |
| Place Name: | Kampung Jalan Bahru Laksa and Hokkien Mee |
| Cuisine: | Chinese |
| Address: | Kampung Jalan Bahru, Balik Pulau, Penang, Malaysia |
| Tel: | +6048663929 |
| Working Hour: | Saturday and Sunday 12:30pm - 5:30pm |
| Tax: | No |
| Last Visit: | 20110717 |