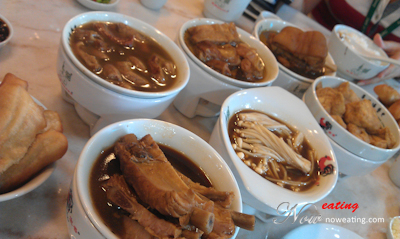 There are occasions in which you will be given tough questions, even by the restaurant's host. There were only few reasons I could think of when a Bak Kut Teh restaurant's asked you why you need more soup:
Use as holy water and put it in bath tub
Wash my car
Take it back, reverse engineer and open a new Bak Kut Teh shop.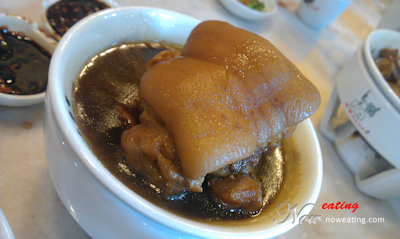 Of course asking for more soup is to drink it on the spot. We were having difficulty in finding soup to dunk two bowls of "Oil Stick" (油条) (RM3.00 each). I remembered one of the Bak Kut Teh shop in Gurney Drive would not hesitated to give you another big bowl of soup just to put those "Oil Stick" in. According to them, don't mix oil stick into the main bowl as it was… uh… oily. For this restaurant, soup is like gold.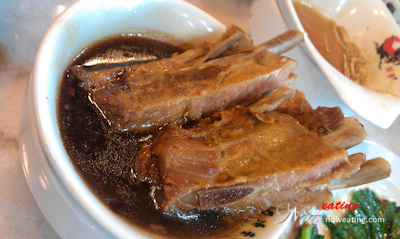 Rumour said that the soup is not made on the spot. Once, my friend saw them carrying one big plastic bag of soup into kitchen. It could be prepared at other place (and hence limited supplies). I can't stop thinking how much plastic chemicals were released into the soup during transportation. Did I mention that the soup was lack of herb essences (more like "Tao You Bak" soup)?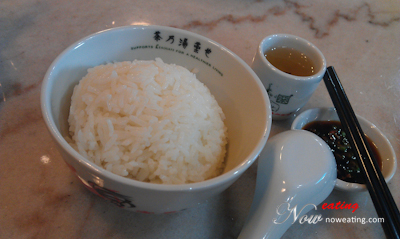 Good thing is that the food was nicely presented. Depend on which "pork part" you ordered, each part came in an invidual bowl with a little candle below to keep the food warm (temporary). Pricing-wise was at medium-to-high range (e.g. RM9.80++) per bowl. Their rice (RM1.20) was super fragrance. I could order three bowls of rice easily…. but again, where is the soup?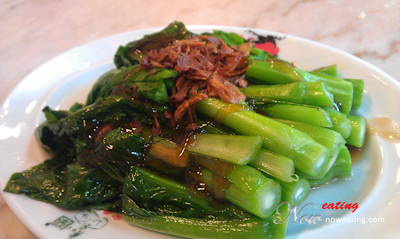 Other than bah kut teh, you may order their side dishes as well, such as this Choy Sam (菜心) (RM6.00).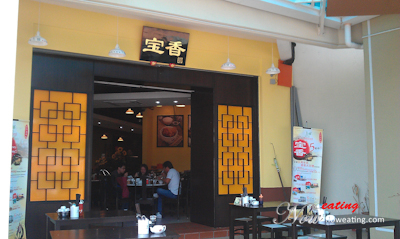 I dunno. Maybe I am a "Suah Ku" (Mountain Turtle) such that I need more soup than other people when eating Bah Kut Teh. Maybe I never been to Klang before. Located at D'Piazza, Bayan Baru, heard that the restaurant was opened by employees in an MNC nearby. Definitely Pao Xiang has great idea in repackaging Bah Kut Teh and porks are fresh in general. Six of us spent about RM78.55 that afternoon. In my opinion, they need more localization to make locals happy.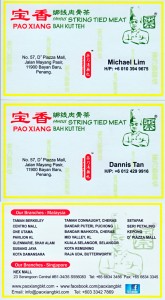 | | |
| --- | --- |
| Place Name: | 宝香绑线肉骨茶 Pao Xiang Bah Kut Teh |
| Cuisine: | Chinese |
| Address: | 57, D'Piazza Mall, Jalan Mayang Pasir, Bayan Baru, Bayan Lepas, 11900, Penang, Malaysia |
| Email: | [email protected] |
| Website: | www.paoxiangbkt.com |
| Tax: | Service Tax 5% |
| Last Visit: | 20110630 |