Oops! Since when RotiBakar imposed "No Photographing" sign? This is great disappointment especially when I wanna promote them (for free). Anyway, it had been a long time since I been there. I heard that the menu had changed and their new item – Seafood Ginger Milk 海鲜牛奶薑 (RM6.90++) was quite yummy. So, here I am again. (By the way, if you see photos here, this means I neglected the sign.)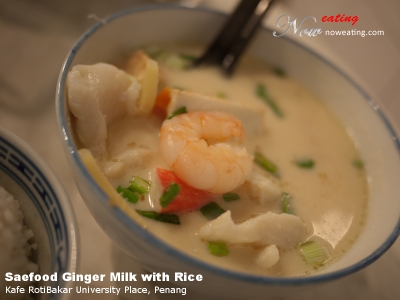 Hm~ it tasted similar to the rice wine milk base soup of Lollipot (except rice wine is not included). It came with fresh shrimp, fish fillets, fake crab stick (doh!), fish cakes, and few slices of ginger. Tasted good with rice (you may choose Mee Hun with the same price as well).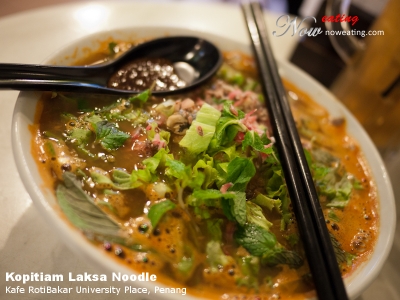 Recently I was craving for laksa and I noticed that they did offer the same thing as well (RM6.50), so I ordered one. You may choose among laksa noodle, wantan mee, or rice with the same price. I wonder how the laksa tastes like if mixed with wantan mee.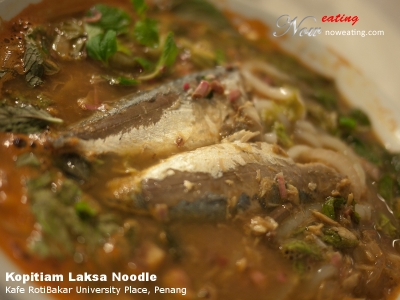 Of course it was a bit pricey compared to Balik Pulau's laksa but the ingredients were quite rich. It even came with a boneless Ikan Kembung (mackerel). The soup was toward sweet and less spicy (even though I still sweating). Tasted good. Laksa noodle was kind of soft and lack of QQ (springy) feel.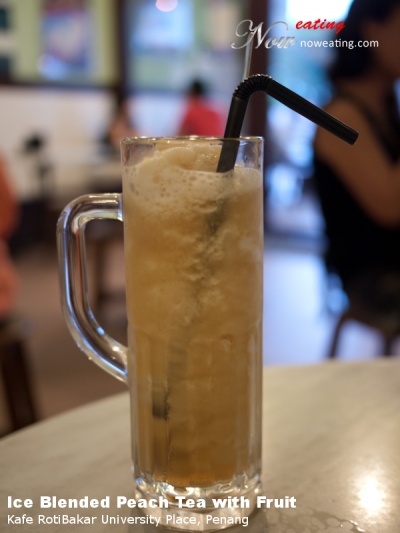 For the drink, I ordered Ice Blended Peach Tea 'w' Fruits 桃茶果实冰沙 (RM6.90).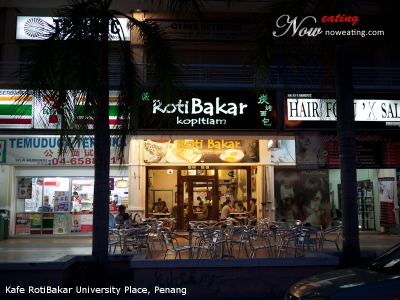 I quite enjoy the dishes that night. My friend saw me there and he saluted me of having two main courses. Well, what to do of eating alone and at the same time want to review more items.
| | |
| --- | --- |
| Place Name: | RotiBakar Kafe |
| Cuisine: | Western, Chinese |
| Address: | 1-1-5 University Place, Halaman Bukit Gambir, Gelugor, 11700, Penang, Malaysia |
| Tel: | +6046595989 |
| Email: | [email protected] |
| Website: | rotibakar.com.my |
| Tax: | Service Tax: 5% |
| Last Visit: | 20110730 |