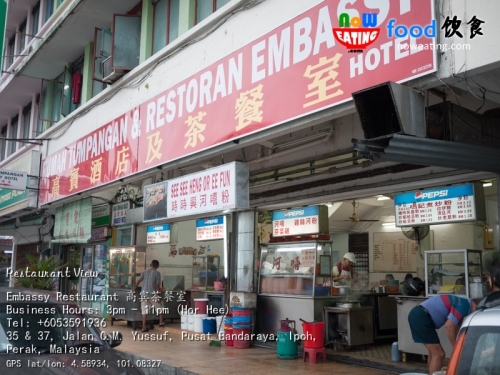 Even before the wedding dinner which I was going to attend, I was pretty full. However, there was a question troubling me – what is the different between Chicken Hor Fun 鸡丝河粉 and Hor Hee 河嘻 which was sold at some stalls? I drove around and found this Embassy Restaurant 高宾茶餐室 selling it.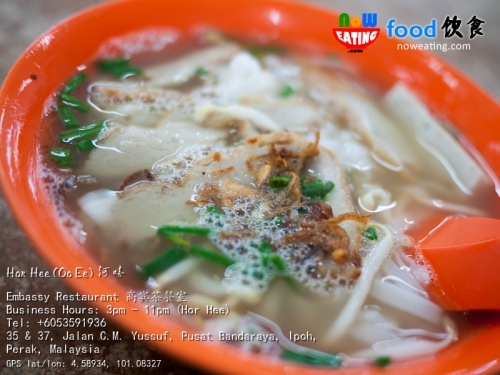 It was the second time of the day I order flat rice noodle (Koey Teow). When the bowl of Hor Hee I ordered (RM3.50) arrived, my doubt was cleared. Basically Chicken Hor Fun consists of generous amount of shredded chicken, while Hor Hee consists of various kind of fish balls, fish cakes, and fish paste. Having said that, the soup was sweeter since there were more artificial favouring from the fish products.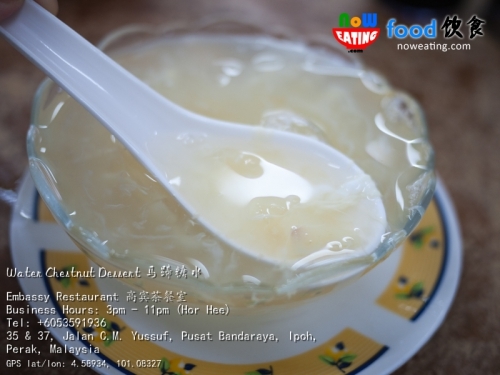 Lastly, Embassy Restaurant had this water chestnut dessert 腐竹薏米马蹄糖水. This is one dessert hard to find in Penang.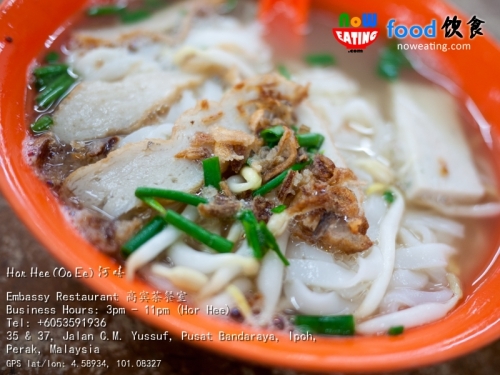 Similar to Fu Zhou Fish Ball soup 福州鱼丸汤, Hor Hee (Oo Ee/河嘻) is a bowl of noodle soup with various kind of fish balls and fish cakes. It could be found in some coffee shops in Ipoh. I was extremely full after the meal. Time to take a bath back in my hotel before attending wedding dinner, which I am going to cover in next post.
| | |
| --- | --- |
| Place Name: | Embassy Restaurant 高宾茶餐室 |
| Cuisine: | Chinese |
| Address: | 35 & 37, Jalan C.M. Yussuf, Pusat Bandaraya, Ipoh, 30250, Perak, Malaysia |
| Tel: | +6053591936 |
| Working Hour: | 3pm - 11pm (Hor Hee) |
| Tax: | No |
| Last Visit: | 20110723 |