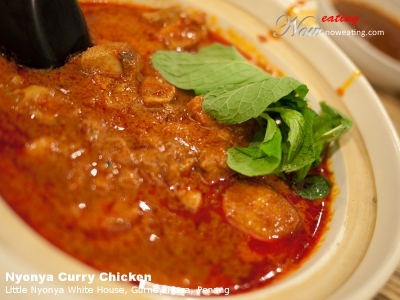 We on-hold Ipoh review for a while as a friend of mine asked me to post photos on a new restaurant I found in Gurney Plaza – The Little Nyonya Cuisine, which uses the same shop lot previously occupied by Taiwan Food at basement (Yes, they closed and moved back to Midland One Stop).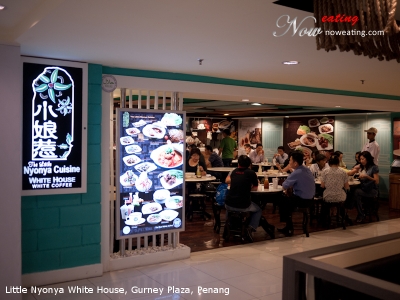 The restaurant name sounds familiar to me. Yes, it is the same restaurant I previously visited in Time Square Penang (I boycotted Time Square anyway). We went to this Gurney Plaza branch during one weekday's lunch and surprisingly the restaurant was full few minutes after our food arrived. Maybe "new toilet bowl nice to shit".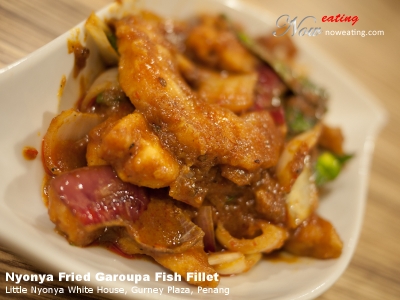 Two of us ordered a lot of food, in which we almost had difficulty in finishing them. First of all, we ordered Nyonya Fried Garoupa Fish Fillet 娘惹炒石斑鱼片 (RM18++). It tasted like Kam Heong style.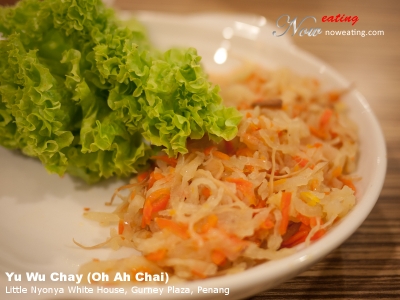 Of course, not to be missed was the Yu Wu Chay (Oh Ah Chai) 鱿鱼炒 (RM13++).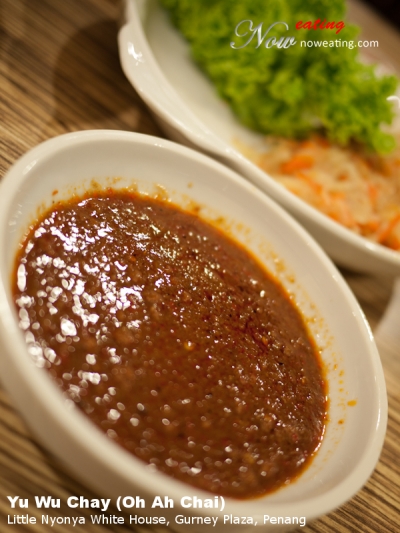 It came with lettuce and "satay sauce" for you to wrap the shredded turnips and dip with the sauce. I like this dish.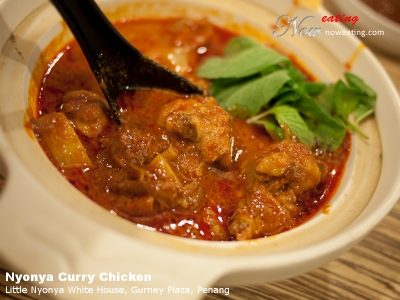 Nyonya Curry Chicken 娘惹咖哩鸡 (RM15++) seems popular here so we ordered one as well. Hmm… a bit too sweet. Tasted like those curry chicken we received during baby's full moon.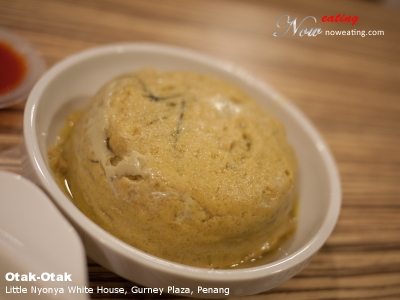 Otak-Otak 窝达 looked tempting in the menu as well so we ordered one at RM4.50++. It consisted of minced seafood in it. Again, it was a bit sweet.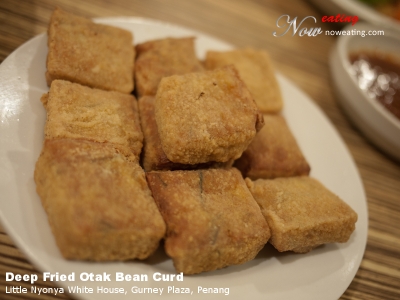 We couldn't stop ordering until we did a mistake. Thinking it was just a bean curd, we ordered another "otak-otak" instead – Deep Fried Otak Beancurd 炒特制窝达豆腐 (RM9++). The skin was fried into golden and crispy, but we were too irritated by having two "otak-otak" on the same day.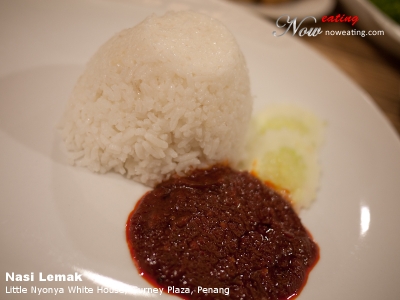 Instead of ordering plain rice, we asked for something special – Nasi Lemak 椰浆饭 (RM3++). This is a dish you can eat it on its own (Oh Gardenia~).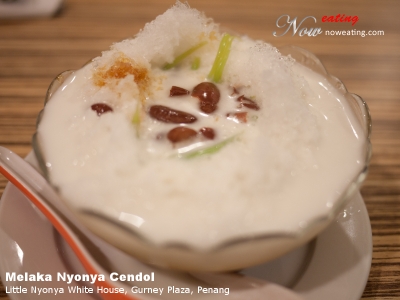 Personally I ordered another coconut milk product (another mistake) – Melaka Nyonya Cendol  马六甲娘惹煎蕊 (RM3.80++). Tasted average. I missed my Durian Cendol. Oh~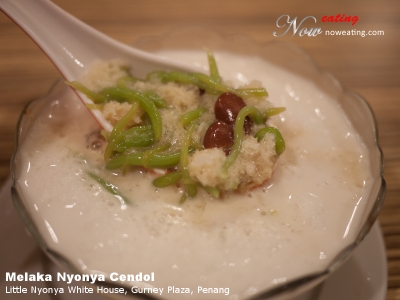 Lemak, lemak, lemak! We should order less since most items consisted of coconut milk and was too sweet, making us feel irritating quite easily. The lunch costed us RM77.10 for 2 persons. At first glance, this could be a place if you are looking for some Nyonya cuisine in shopping mall. Service-wise could be a bit messy since most waitresses were still new. Make sure you don't order too much as food could be irritating due to coconut milk and sugar.
| | |
| --- | --- |
| Place Name: | The Little Nyonya Cuisine |
| Cuisine: | Nyonya |
| Address: | 170-B1-32B, Plaza Gurney, Persiaran Gurney, Penang, 10250, Penang, Malaysia |
| Tel: | +6042270694 |
| Tax: | 10% Service Charge |
| Last Visit: | 20110908 |