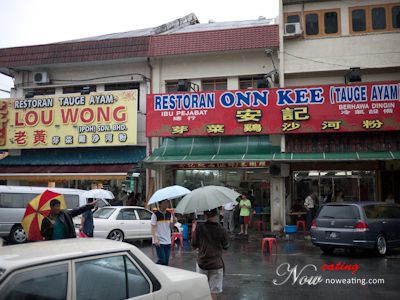 Enough of soya bean! Time for main course! Located at a walking distance were two Nga Choi Kai (Bean Sprout Chicken) shops opened side-by-side – Lou Wong (老黄) and Onn Kee (安记). I had visited Lou Wong last time so this time I paid Onn Kee a visit.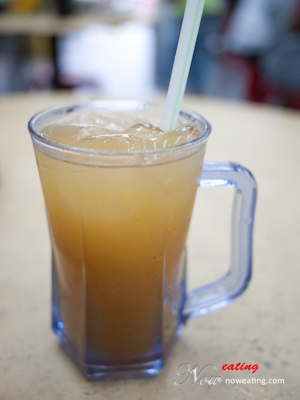 Maybe it was due to raining day or maybe it was after lunch hour, I easily found a table in the restaurant. Feeling thirsty, I ordered a kumquat (金桔) drink. Tasted good and I almost finished whole glass before my order arrived.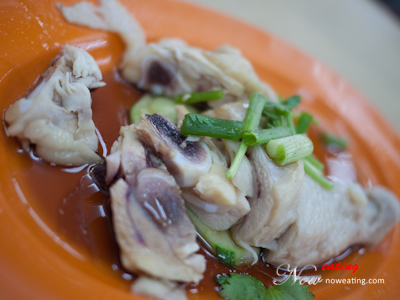 I ordered a chicken drumstick (RM9.80 overall bill). Compared to Lou Wong, it was less oily.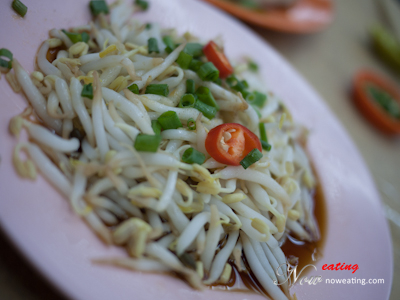 Bean sprout came in a separated plate. Sadly they were not as "fat" as I expected. Looks like almost identical with the one in Lou Wong.
According to locals, the best Nga Choi Kai is not in Ipoh town, but outside of it. I sort of agree after visiting Lou Wong and Onn Kee. They just don't stand out as "must-revisit" places. Perhaps they are too commercialized and become a tourist spot. Illegal parking boys are also an issue there.
| | |
| --- | --- |
| Place Name: | Onn Kee Bean Sprout Chicken 安记芽菜鸡 |
| Cuisine: | Chinese |
| Address: | Ipoh, Perak, Malaysia |
| Tax: | No |
| Last Visit: | 23-Jul-2011 |