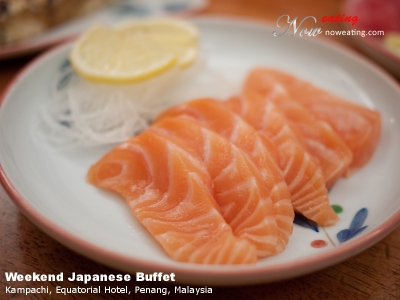 What? Another "no camera" restaurant? The door opened at 11:30am sharp so basically you don't have a chance to snap photos before customers arrival. Anyway, we took most items to our table, decorated, snapped, and shared with you here, including this salmon sashimi which I enjoyed the most.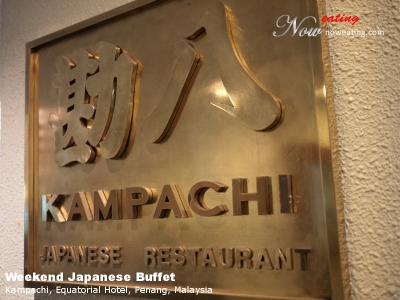 Kampachi Penang is located in Equatorial Hotel at Bukit Jambul. Parking is extremely expensive (RM5 per entry) but you can fully reimburse it when making payment in Kampachi.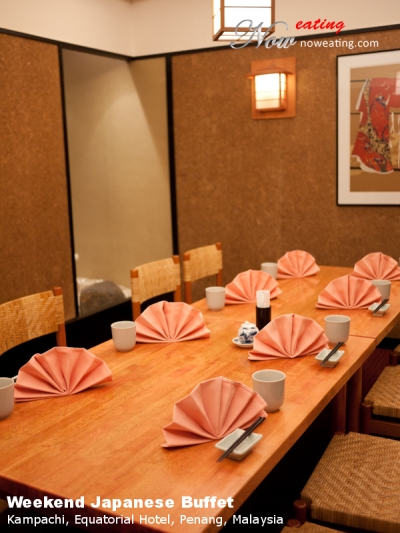 A group of friends including me went there one Saturday afternoon for a gathering. We were lucky enough to be given a VIP room for our gathering. There were tatami and normal table seating as well.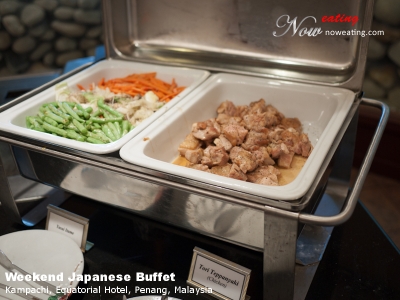 The buffet is only available during weekend (Saturday and Sunday). Lunch starts from 11:30am til 2:30pm at RM65++, while dinner from 6:30pm til 10:00pm at RM89++.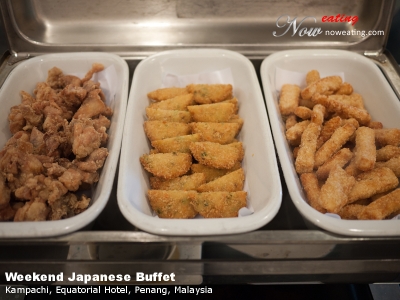 The price different is because dinner has more variety, such as oyster which is not available for lunch.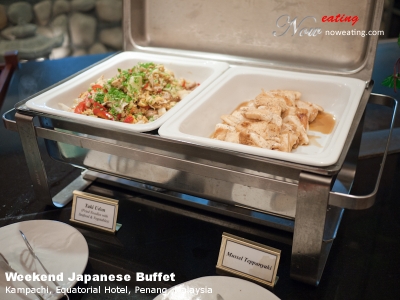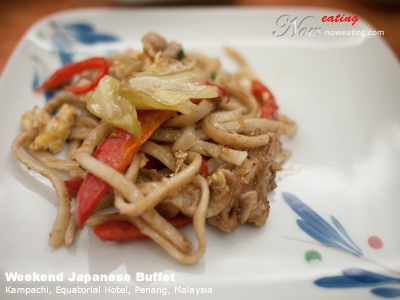 Above are Yaki Udon and Mussel Teppanyaki. If you asked me how come I got "food in tray" photos above, the simple answer is: Those are photos I took before I was told by a waitress of not taking photo in the restaurant  :noword: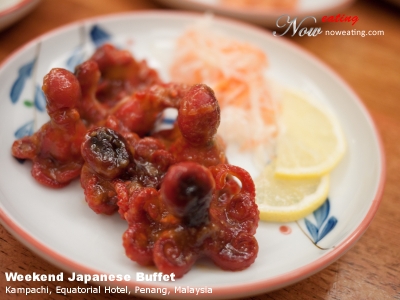 Other than Salmon Sashimi, another item I enjoyed most was Idako (Baby Octopus). In Sakae Sushi, the same item was increased to RM8.00 but in Kampachi, it was unlimited (well, sort of. It was a hot item that afternoon and gone before buffet ended).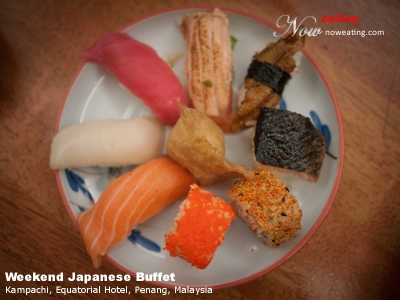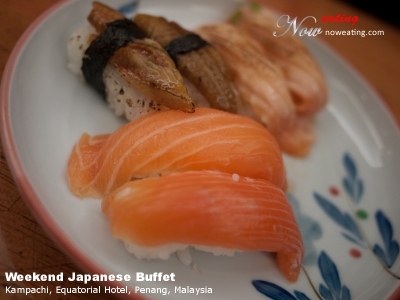 Of course there were sushi. They looked yummy but I tried to avoid them as the rice could fill your tummy very fast.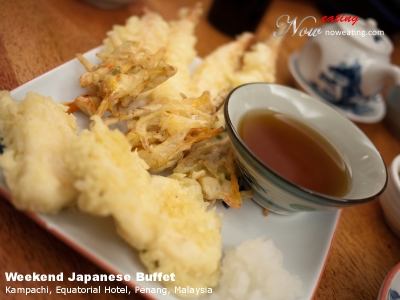 Not to forget is tempura which was fried on the spot by chef. Best dip with soy sauce provided while hot.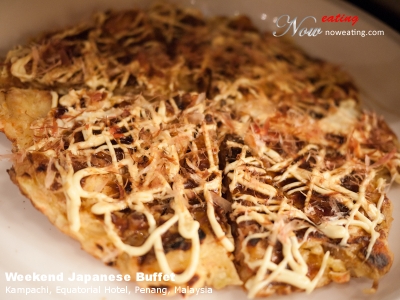 Above is Seafood Okonomiyaki (Pizza). Personally I still prefer the one in Azuma even though it was pricey there.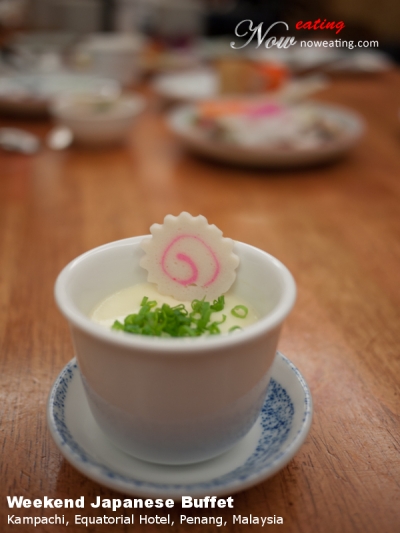 Chawan Mushi was rich and tasted good.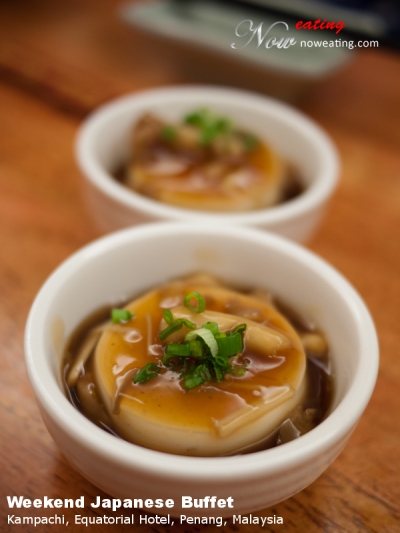 Another "main course in a cup" is Tofu Enoki Mushroom Ankake.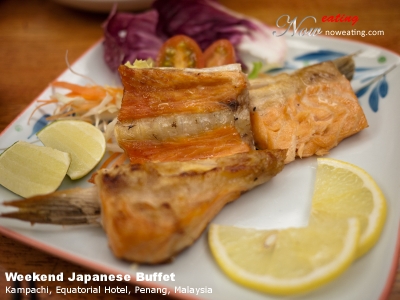 If you don't like raw salmon, there is grilled salmon fish for you as well.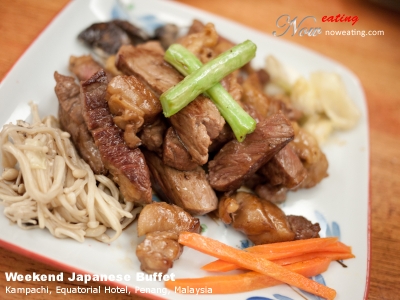 This is on-the-spot grilled Australian beef. I didn't take beef but according to my friend, it tasted good.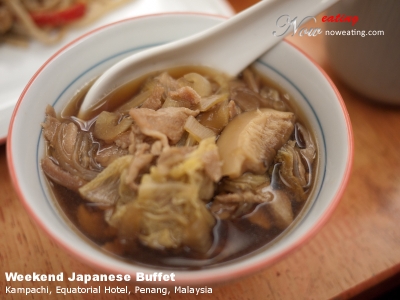 Another item prepared by chef on the spot is Sukiyaki Chicken. The mushroom, grass noodle, chicken, vegetables, and etc were well mixed by the chef.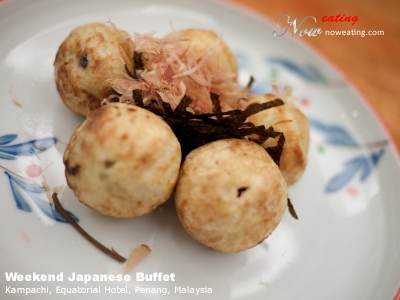 Takoyaki Octopus Ball. Too bad the filling was minimal.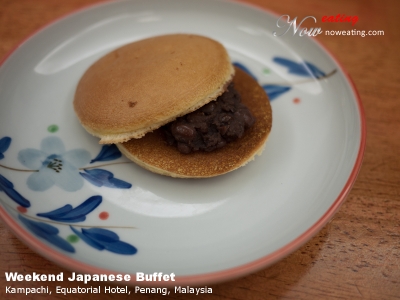 This is Doraemon's favorite – Dorayaki with Red Bean Paste or Peanut Butter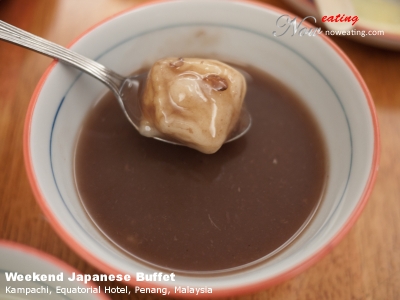 Time for some desserts. Above is Oshiruko (a.k.a Red Bean Soup).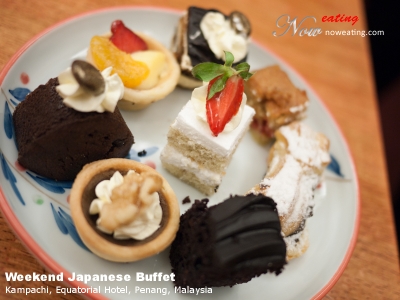 The layout in Kampachi was a bit weird such that for some desserts, you need to walk to Sake Bar next to the main dining area. Without noticing it, you may thought that the buffet did not include desserts.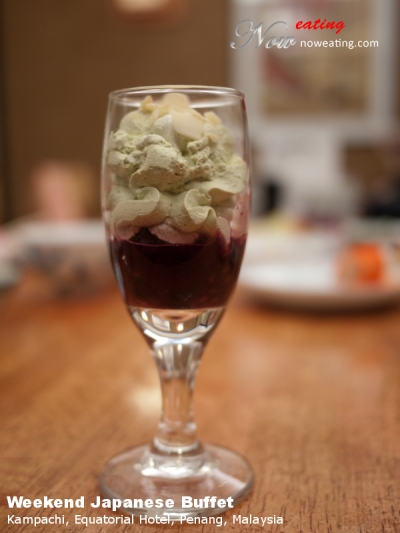 Some desserts were nicely prepared.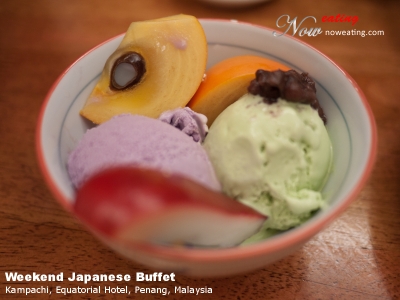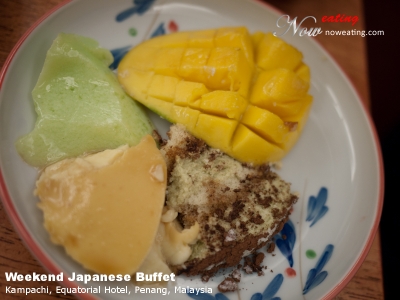 We enjoyed eating desserts, including cakes, pudding, and fruits.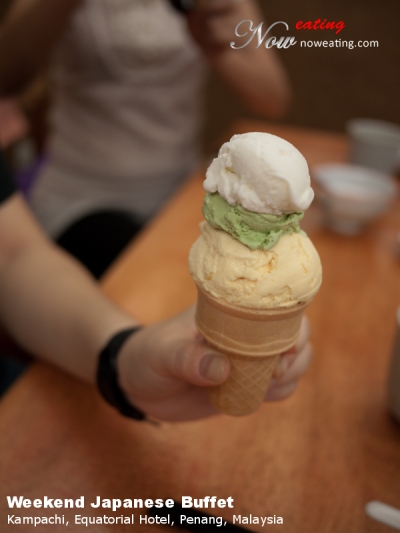 My favorite dessert was green tea ice cream, even though it was not as rich as the one in Baskin Robin. Good thing is that you can play around with your ice cream.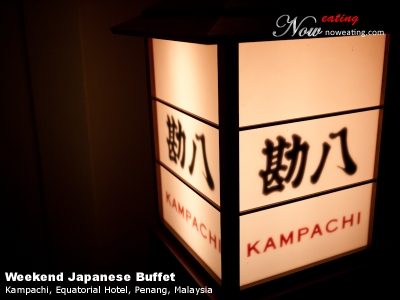 At RM65++ (lunch) with unlimited salmon sashimi, Kampachi is worth a visit in weekend afternoon. Of course there are few items which are below expectation but overall food quality is still satisfactory. Make sure you bring along CIMB credit card for 10% discount as well as parking receipt for reimbursement.
You may download one of the buffet lunch below:
| | |
| --- | --- |
| Place Name: | Kampachi |
| Cuisine: | Japanese |
| Address: | 1, Jalan Bukit Jambul, Bayan Lepas, 11900, Penang, Malaysia |
| Tel: | Tel: +6046327000 Fax: +6046327100 |
| Email: | [email protected] |
| Website: | www.equatorial.com/pen/ |
| Tax: | 10% service tax, 6% government tax |
| Last Visit: | 20111217 |