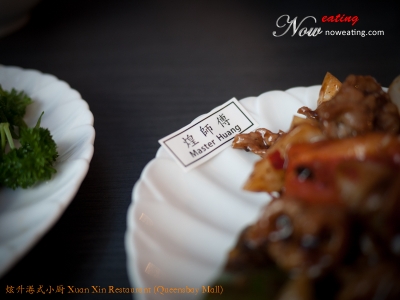 "Master Huang", a label telling you which chef prepared this dish so that you can complain to the right chef in case the food suck. This is one of the uniqueness I found in Xuan Xin – a new restaurant (opposite of SenQ store) opened in Queensbay Mall.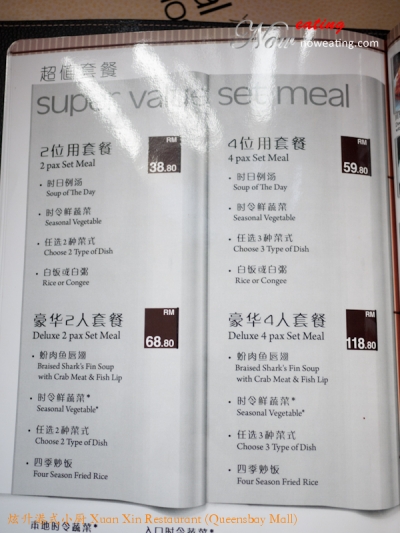 The first thing appeared in my mind was the $$ judging on the grand interior. We flipped through the menu and found out that there was set meals available for 2 or 4 persons.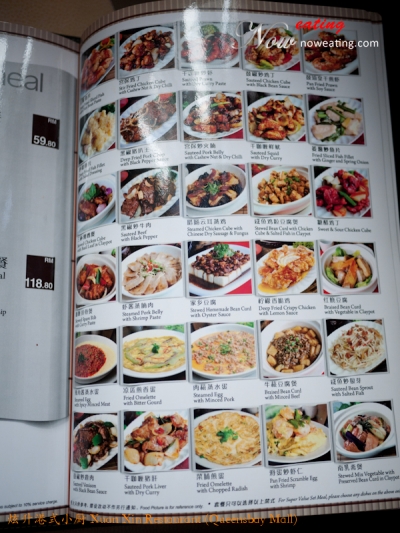 During my first visit, three of us ordered "4 pax Set Meal" (RM59.80++) which included soup of the day for each individual, 1 x vegetable, 3 x main course selectable from a page, and maximum of 8 bowls of rice. The restaurant assumed that each customer would consume two bowls of rice. Personally, I ate three bowls.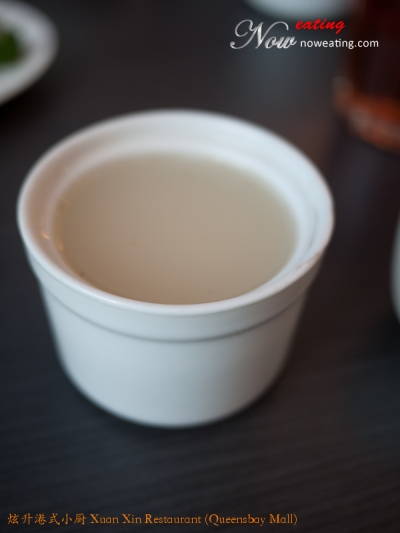 Note that even though you have only three persons, you are eligible for 4 bowls of soup of the day based on the package you ordered (e.g. 4 pax Set Meal).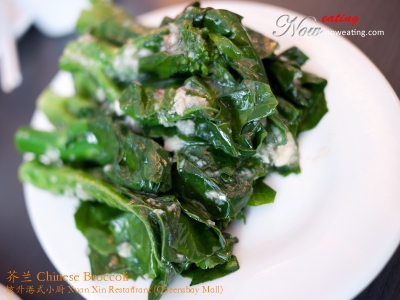 You can select one vegetable of your choice from the menu. We selected 芥兰 Chinese Broccoli during our first visit. Too bad it was kind of old and chewy.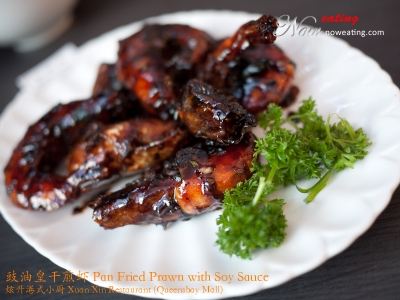 Time for some main dishes. 豉油皇干煎虾 Pan Fried Prawn with Soy Sauce – The prawns were fresh. The only thing missing is someone to peel them off for you.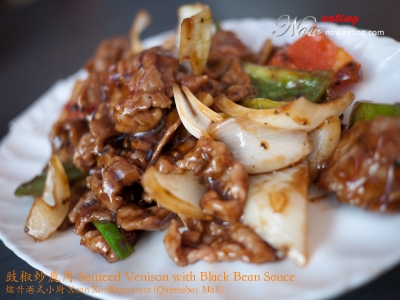 豉椒炒鹿肉 Sauteed Venison with Black Bean Sauce – Venison is famous with its tender meat. This venison even though still tasted good, was a bit old.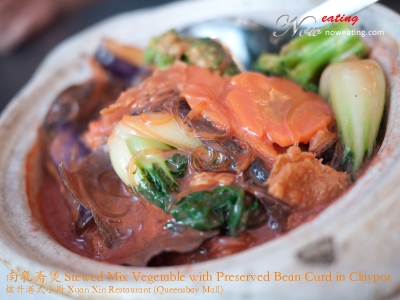 南乳斋煲 Stewed Mix Vegetable with Preserved Bean Curd in Claypot – WOW! This one was too salty! This was the only item we could not finish eating that afternoon.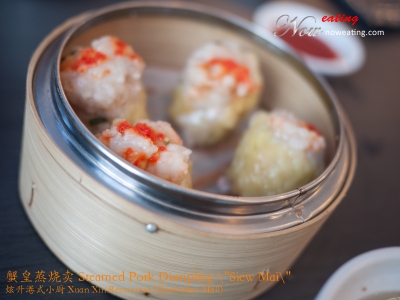 The restaurant also served dim sum. 蟹皇蒸烧卖 Steamed Pork Dumpling  "Siew Mai" (RM5.00++) tasted similar to those in morning dim sum restaurants. Note that this item is ala-carte.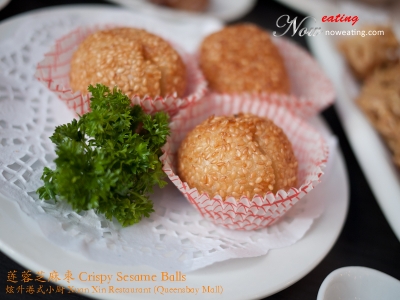 The same applied to 莲蓉芝麻枣 Crispy Sesame Balls (RM4.50++).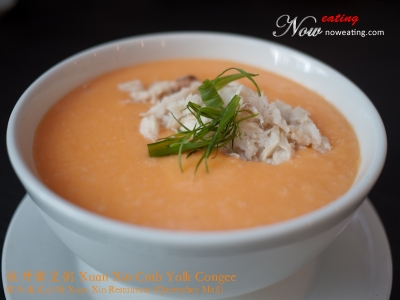 With such a price, I rather went for something special, such as this 炫升蟹皇粥 Xuan Xin Crab Yolk Congee (RM16.80++). This was one luxury porridge which was made of crab yolk and meat, making the porridge became orange colour. Tasted good but a bit sweet to my liking.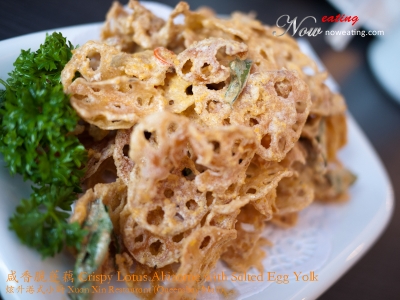 Perhaps the item we enjoyed most during our first visit was 咸香脆莲藕 Crispy Lotus Ahizome with Salted Egg Yolk (RM8.00++).  The price was reasonable as well.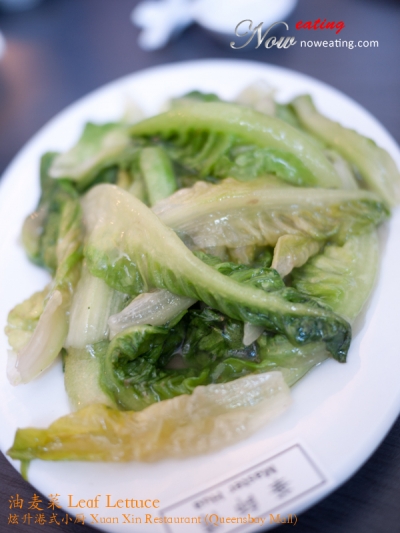 During my second visit, 7 of us order 2 x "4 pax Set Meals". This time, we had 3 big eaters (including me) and each of us consumed 3 bowls of rice (cheap labours need more energy). Other than Kailan (again), we ordered 油麦菜 Leaf Lettuce.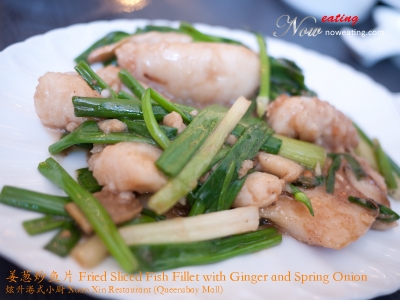 姜葱炒鱼片 Fried Sliced Fish Fillet with Ginger and Spring Onion – A common dish available in most restaurants.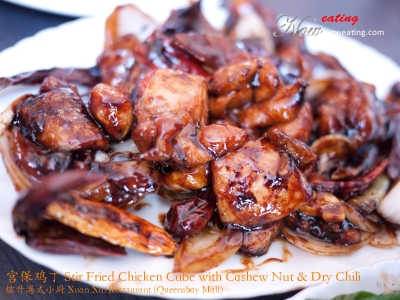 宫保鸡丁 Stir Fried Chicken Cube with Cashew Nut & Dry Chilli – Another common dish. Somehow the dry chilli was more than chicken cube.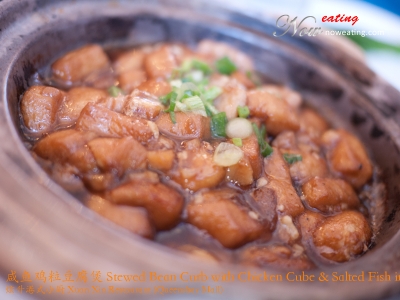 咸鱼鸡粒豆腐煲 Stewed Bean Curb with Chicken Cube & Salted Fish in Claypot – The most popular dish during my second visit. Best consumed with rice.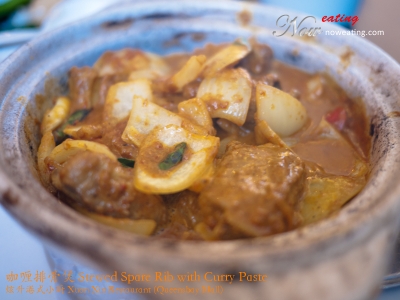 咖喱排骨煲 Stewed Spare Rib with Curry Paste – We wanted something spicy so we ordered this one. Curry tasted good.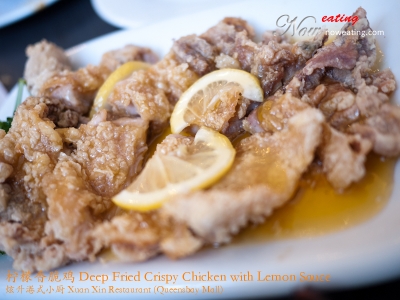 柠檬香脆鸡 Deep Fried Crispy Chicken with Lemon Sauce – De-bone chicken leg topped with lemon sauce.
川辣鱼片 Deep Fried Sliced Fish with Hot Bean Paste – Basically fish fillets topped with chilli sauce.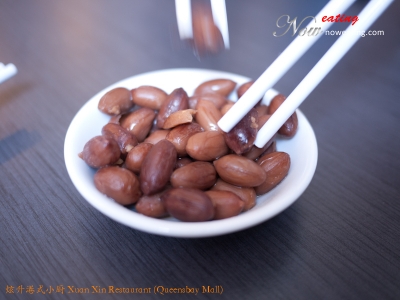 My last visit on 20-Jan entitled for 10% discount if you bring along your employee badge. This was, however, not the case when I visited it again on 9-Feb. Looks like the promotion is over. Overall the food quality is on par with those fine dining restaurants and set meal price are reasonable. You may also make reservation during peak hour to avoid disappointment.
| | |
| --- | --- |
| Place Name: | 炫升港式小厨 Xuan Xin Restaurant (Queensbay Mall) |
| Cuisine: | Chinese |
| Address: | 2F-02, Queensbay Mall, 100, Persiaran Bayan Indah, Bayan Lepas, 11900, Penang, Malaysia |
| Tel: | +6046431779 |
| Website: | www.xuanxinrestaurant.com |
| Tax: | 10% Service Tax, 6% Government Tax |
| Last Visit: | 20120120 |