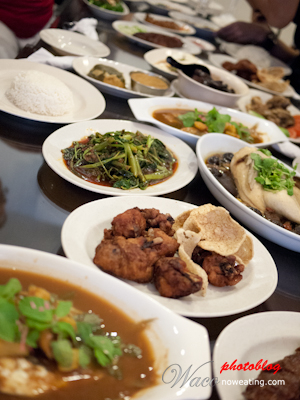 Are you visiting Penang island and looking for a place with good food, nice beers, and affordable stay? Then you should consider this 3-in-1 Malabar restaurant located at… uh… Malabar road.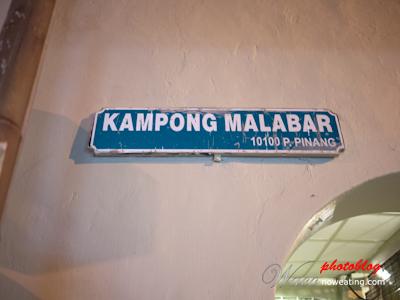 The restaurant is located at the intersection of Kampong Malabar and Lebuh Cintra. Best way to come to this place is by coming from Penang Road or Chulia Street. If you come from Chulia Street, at the end of Chulia Street you will reach Penang Road intersection. Turn left, and turn left again at the first junction. That's Kampong Malabar street and you may park your car there. The restaurant is at the end of the street (or see Google map below).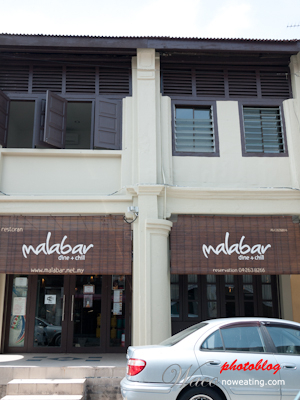 The building consists of two floors. First floor for dining while second one for accommodation.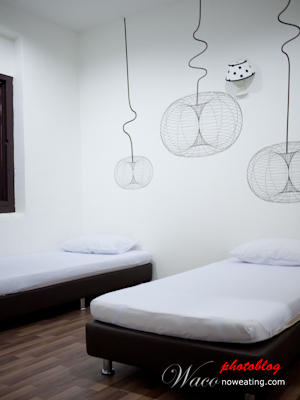 My first visit was back in January 2012 for a food review session. That time Malabar Inn at second floor was still under renovation but we couldn't help ourselves but to climb up and took some photos.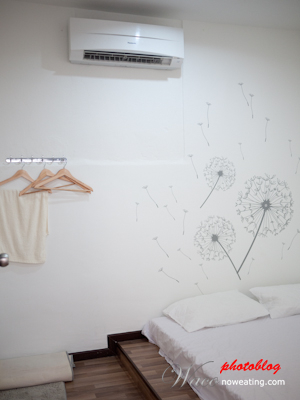 I can't remember how many rooms they have but according to Agoda, it should be 8. The rooms are clean and neat in general. However, most rooms do not have bathroom attached.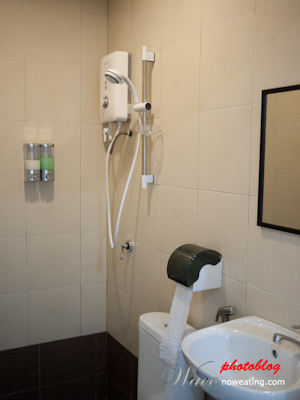 Fortunately the shared bathrooms/toilets are clean. Furthermore, they use Electrolux hot shower, not some cheap shower-and-shock water heater.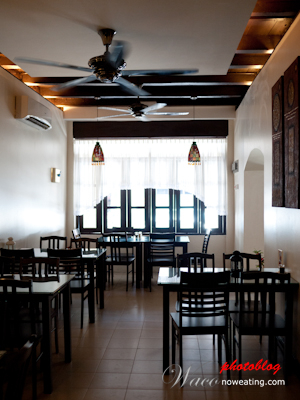 Anyway, this is a food blog so I just put Malabar Inn aside. Malabar Restaurant is air-conditioned and consist of two areas – dining area and a bar counter. Since my last visit in January, I noticed that there were some changes in their menu from Facebook. To be fair to the owner and my readers, I revisited it again on Apr-2012.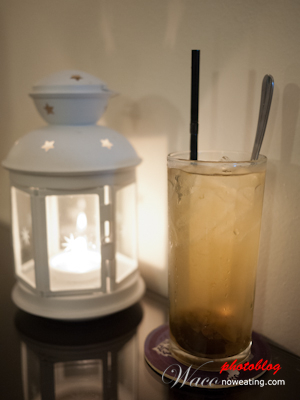 First of all, you should order its Katsuri Lime with Sour Plum juice Katsuri Lime with Sour Plum 桔子酸酶汁 (RM3.50). Both lime and sour plum are preserved, make this a refreshing drink during hot day. I can easily go for two glasses for this one.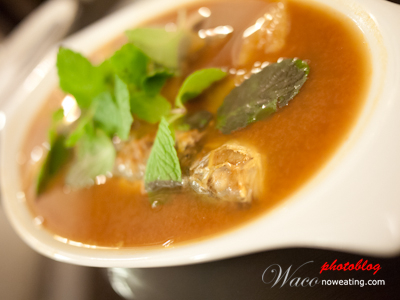 Assam Pedas (RM10.00) is sure able to open up your appetite. It comes with two mackerels in (mild) spicy and sour soup.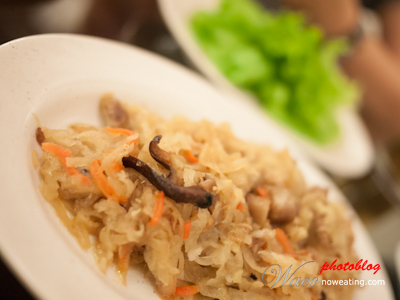 Jiu Hu Cha 鱿鱼炒 (RM15.00) is pretty common in Nyonya restaurant. It came with leaf lettuce for you to wrap with Jiu Hu Cha and dip with sauce provided. This dish is up to the standard.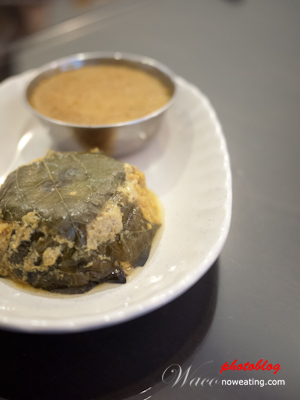 Not to be missed is its Otak-Otak 乌达乌达 (RM4.00 per bowl). This is nyonya version of otak-otak which consists of generous amount of wild betel leaves (a.k.a. daun kaduk). Tasted good.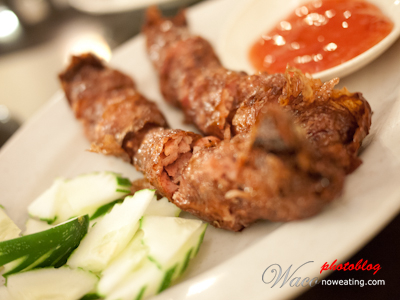 Lobak 卤肉 (RM8.00) was average. Perhaps a bit dry and "thin".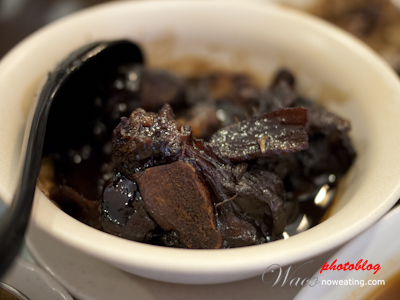 Those are items we tried during our last visit. During first visit, there were more food we tried, including this sinful Pork Trotters with Vinegar 猪脚醋 (RM16.00).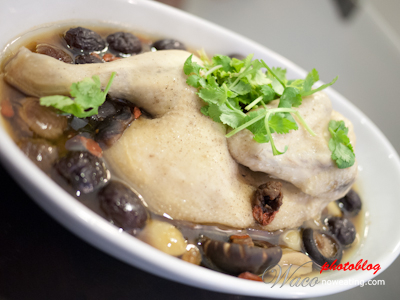 Chicken Soup with Herbs 八宝鸡汤 (RM26.00) is definitely a Chinese cuisine. The generous amount of red dates in limited soup made the soup very sweet. The chicken was a bit dry though. Maybe it should be wrapped and steamed for extensive hours.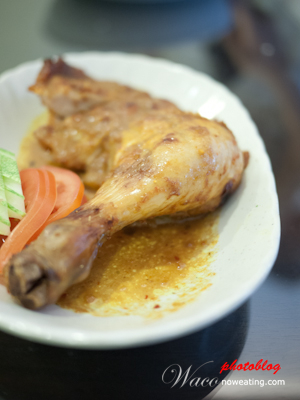 Thai-Style Roast Chicken 泰式香烤鸡 (RM11.00) was a bit sour and spicy. I prefer more sauce for this one.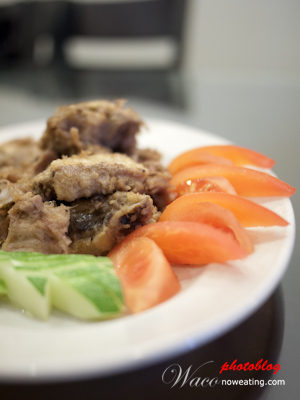 When this item arrived, I thought it was pork rib fried with yam or oats. Turn out it was Pepper Pork Ribs 胡椒排骨 (RM14.00). Seriously I couldn't taste of any pepper in it.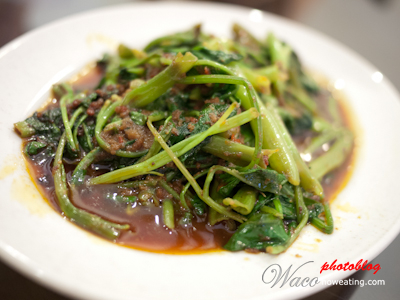 Time for some veggies. Fried Kang Kong 马来风光 (RM9.00) was average.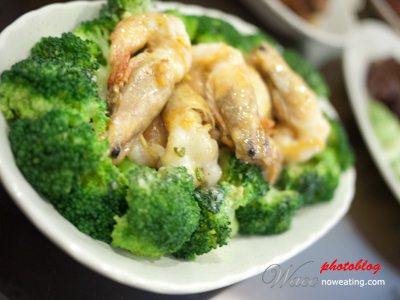 Mayonnaise Prawns with Broccoli 虾炒西兰花  (RM22.00) is a dish found in Chinese restaurant. Both prawns and brocoli were prepared separately. While prawns were tasty with mayonnaise coated, broccoli was socked in water and was a bit plain.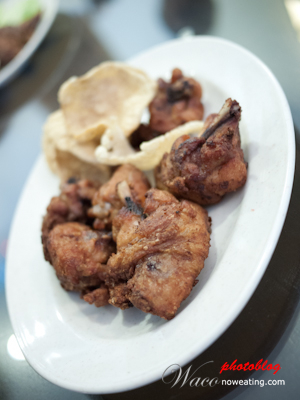 Finally, Balacan Chicken 虾酱鸡肉 (RM12.00) is something worth trying, at least it was not over-fried which was the common problem found in Choo Char restaurants especially during peak hour.
During my last visit I noticed that the restaurant managed to catch attention from foreigners, which is a plus. The price could be a bit expensive for Penangites but if you are looking for an all-in-one place (stay, dine, and chill), Malabar Inn + Restaurant is a new place worth considering.
| | |
| --- | --- |
| Place Name: | MALABAR RESTAURANT – DINE & CHILL |
| Cuisine: | Nyonya, Thai |
| Address: | 26 & 28, Lebuh Cintra, 10100, Malaysia |
| Tel: | +6042638266 |
| Website: | www.facebook.com/MalabarPenang |
| Working Hour: | 11.00am – 10.00pm (Closed on Tuesday). Happy Hours: 5.00pm – 9.00pm |
| Tax: | No |
| Last Visit: | 09-Apr-2012 |