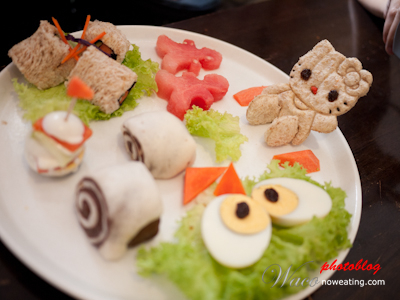 Quick Link: Download menu here
How frequent you will see this nicely crafted kid's meal for your kids (or maybe yourself as well) in restaurant? That Hello Kitty is too cute to consume! This is just one of the healthy meals served by Idealite 生命阳光.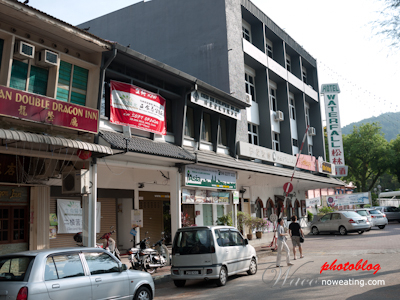 Idealite 生命阳光 is located at the same row with Waterfall Hotel at Gottlieb Road near T-junction traffic light in front of Botanic Gardens. The ground floor is under renovation and is expected to be completed in June this year.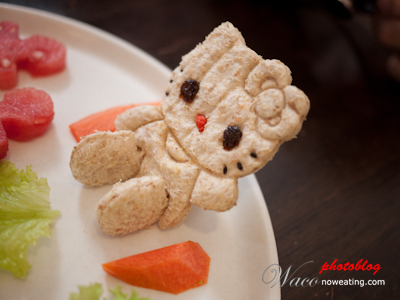 By the way, the Kiddy Meal (RM10.70) is only available for breakfast.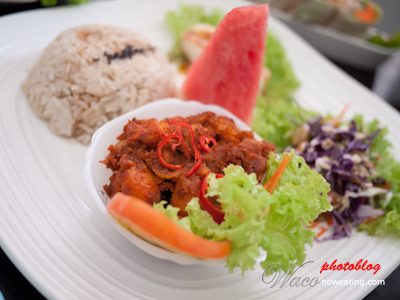 What's so special about this restaurant compared to other vegetarian restaurants? As a starter, they use high quality cooking stuff, such as ultraviolet filtered water, organic brown sugar instead of white sugar, Himalaya rock salt instead of white salt, brown rice instead of white rice, and olive/grape seed oil instead of normal cooking oil. For instance, Dry Curry Set Meal 香辣干咖喱套餐 (RM9.70) above is accompanies with brown rice by default.  The curry mainly consists of potatoes.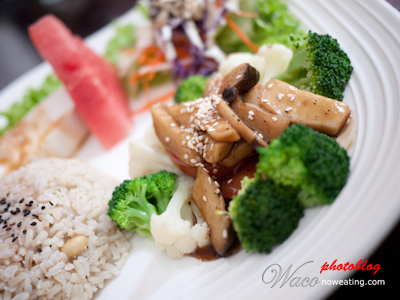 Another set meal we tried that day was Eryngii Mushroom Set Meal 特色杏鲍套餐 (RM9.70). Both set meals came with brown rice, salad, tofu, and fruit.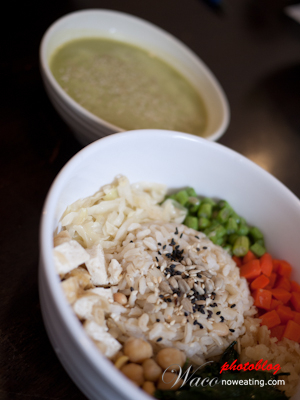 Check this out! They even have Hakka Lei Cha 客家擂茶饭 (RM12.70). It consists of Thai basil, sweet leaves, long bean, carrot, soy bean, bean curd, cabbage, and chickpeas (Phew~).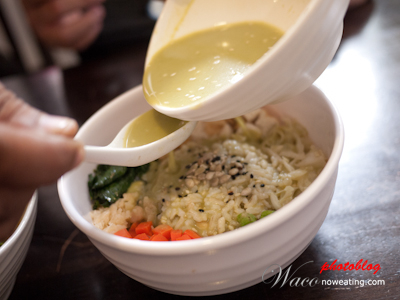 To consume this, pour the soup provided into the rice bowl. Mix it well before serving.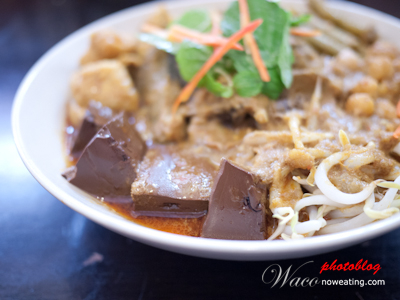 Whoa! "Coagulated pig blood" in curry noodle! What a famous yet sinful food found in Penang.  However, this is not the case for Idealite. It was made of tofu and the whole dish contains only vegetables, yet it still tastes like curry mee. Each bowl costs RM9.70.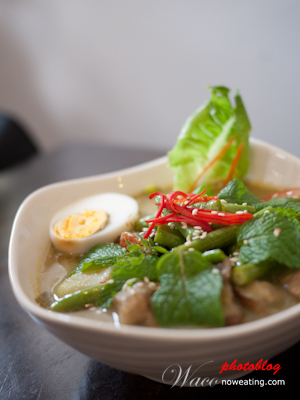 Other than traditional red curry mee, the restaurant also serves Organic Green Curry Ramen 招牌青咖喱拉面 , which tastes sweeter. Notice the egg? Yes, this is not pure vegetarian restaurant but more towards wellness restaurant. However, Idealite does not use milk and coconut milk. It also does not use peanut.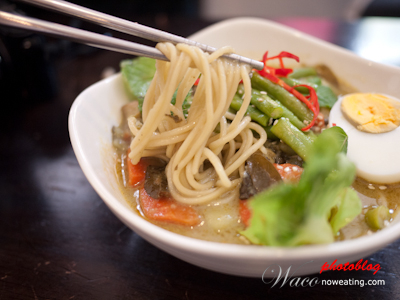 Instead of yellow noodle which usually contains alkaline or even boric acid, this restaurant uses healthy Spinach 菠菜/Pumpkin 南瓜/Buckwheat 荞麦 noodle. You can choose one of them for your noodle dish.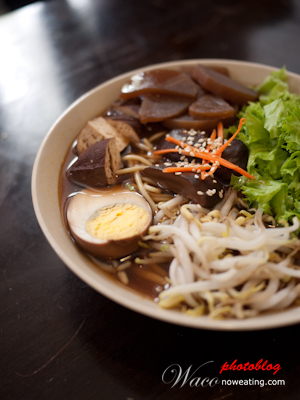 If curry is not your type, then you may try Organic Lo Ramen 有机卤味拉面 (RM9.70). Note that the soup is not thick Loh Mee type but like soy sauce with "five spices" 五香卤肉 type .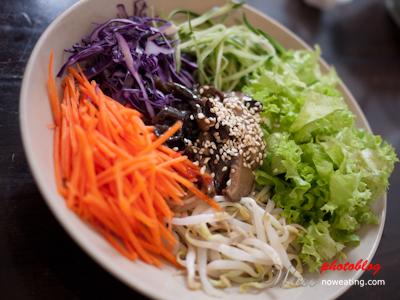 This dish reminded me of Radient Light Udon in Sushi Kitchen. Organic Dry Ramen 有机干捞拉面 (RM9.70) consists of carrot, bean sprout, cabbage, lettuce, cucumber, and mushroom slices. To certain extend, you will feel that you are a cow eating a lot of vegetables.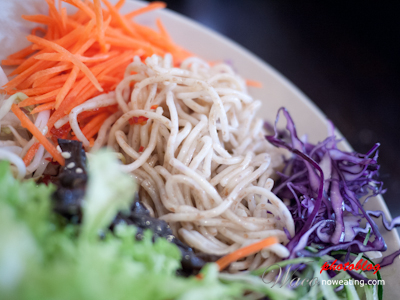 The noodle we selected for Organic Dry Ramen was Spinach noodle. Actually I was quite enjoying all three types of noodle. Not only they were something new, they were also tasted good.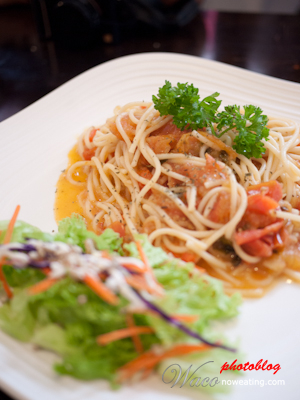 Tomato Spaghetti 蕃茄意大利面 (RM9.70) is made of… uh… tomato. Since this is "healthy version", it was lacking of the kick from aromatic herbs, meat, and cheeses.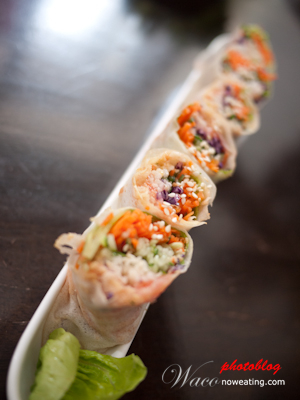 If you prefer some light meals, you may try their side orders. Vege Sushi 蔬菜寿司 (RM6.70) is wrapped with carrot, cucumber, cabbage, yum bean, and lettuce using Poh Piah skin. It is then topped with sesame seeds and sprinkled with some lime juice, making this a very refreshing appertizer.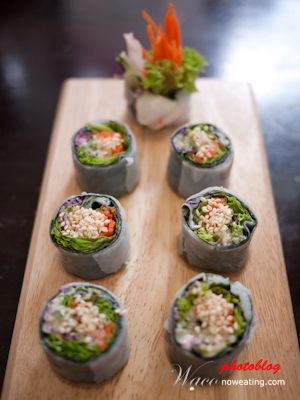 Don't like Poh Piah skin? No worry. Try this small Vietnamese rolls which have Poh Piah skin replaced with seaweed and rice wrapper. Note that this is special order which was not available in the menu… at least during our last visit.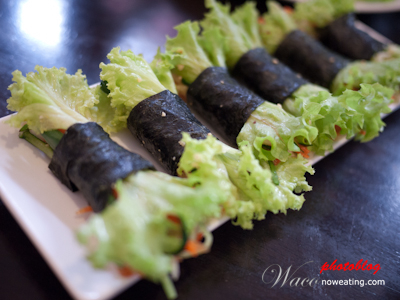 Seaweed Roll Sushi 紫菜寿司筒 (RM7.70). Similar ingredients, different way of wrapping.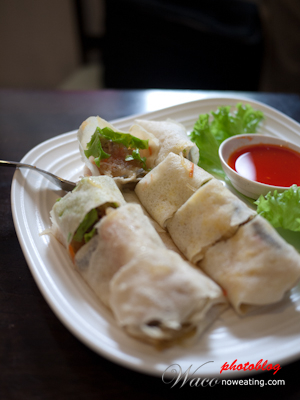 Don't like fancy stuffs? No worry (again). Try this ordinary Poh Piah 薄饼 (RM4.70). It tasted like Poh Piah out there, but at healthier side (e.g. no fried onion, prawn paste, etc).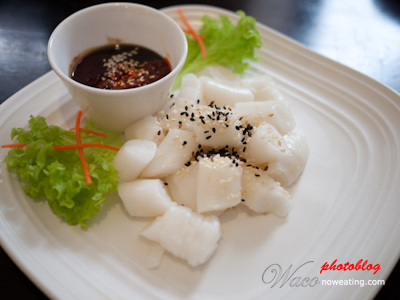 Idealite tries to prepare food suitable for different kind of customers. If you still miss hawker food out there, this Chee Cheong Fun 酵素珠常粉 (RM3.70) is a must-try. Not only that it is healthier, but also tastier. The prawn paste is replace with sago paste. Also, the Chee Cheong Fun does not contain Benzoic Acid. It feels more delightful once consumed.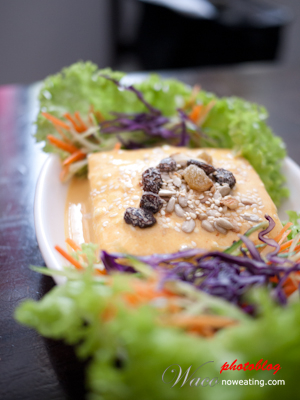 Curry Tofu Salad 咖喱豆腐沙拉 (RM5.70) is something special which may not suit all taste buds. Imagine you are eating tofu with a cup of Nestle plain yogurt. .. that's how it tastes like.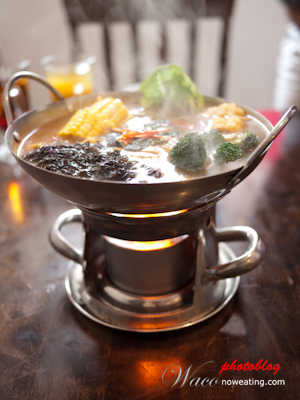 Finally, something grand – Tomyam Steamboat 营养健康东炎火锅 (RM17.70 1-pax/RM27.70 2-pax). The steamboat was served with brown rice.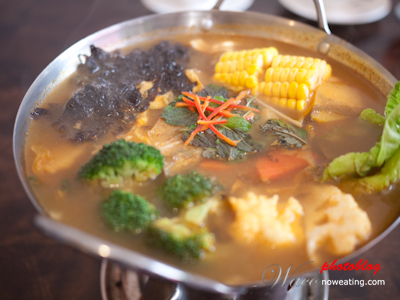 Taste-wise, it was not as kicking as those traditional Tomyam soup which consists of generous amount of Kaffir Lime Leaves, Ginger Flower, Lemon Grass, and chilies. This is "mild version" of Tomyam. If you are looking for seafood in this mini wok, then you will be disappointed.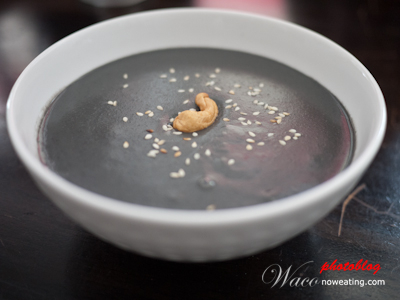 I hope I can just stop here, but here come desserts. Signature Sesame Paste 招牌黑芝麻糊 (RM5.70) is a must try. Black sesame, brown rice, and brown sugar are finely blended using secret weapon. The texture is simply amazing.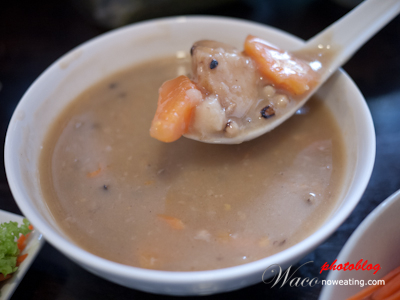 Bubur Cacar was one of the desserts of the day. It does not contain coconut milk. Taste wise was less creamy but still acceptable.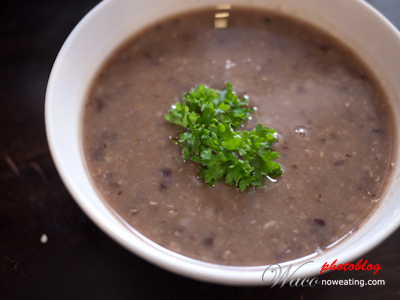 Having bladder problem? Try this 7 Colour Bean Paste 七色豆养生糊 (RM4.70) – the ultimate of all beans. It consists of white kidney bean, green (Mung) bean, black bean, red (Azuki) bean, soy bean, barley bean, and ten grain rices (十谷米), which again, consists of (deep breath): organic sorghum, organic millet, organic buckwheat, organic pearl barley, organic oats, mountain red rice, mountain black rice, unpolished brown rice, parboiled rice, and wheat.
:sweat: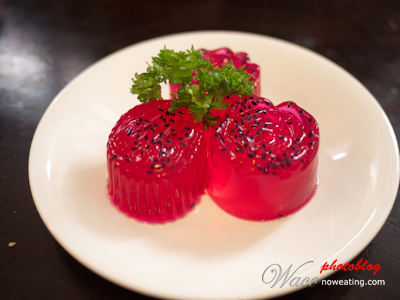 Last but not least, if you still have space in your tummy, order one Dragon Fruit Konyaku Jelly 龙珠果蒟蒻 (RM1.70).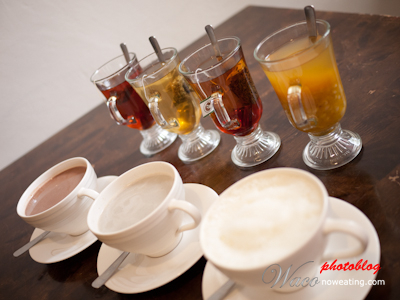 These are the drinks we tried that day (from left to right, top to bottom):
Organic Masala Chai 有机马萨拉口味茶 (RM3.70)
Organic Lemongrass Green Tea 有机柠檬香草绿茶 (RM3.70)
Organic Assam Tea 有机酸酶茶 (RM3.70)
Pumpkin Barley 金瓜薏米 (RM3.70) – My favourite
Organic Cocoa Oatmilk 有机朱古力植物奶 (RM6.70)
Organic 5 Grain Energy Oatmilk 有机五谷植物奶 (RM4.70)
Organic Soy Milk (Sugar Free) 无糖有机豆奶 (RM4.70)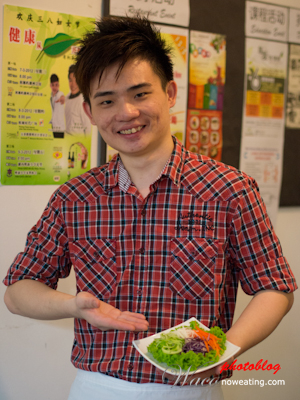 Vegan restaurants are no strangers in Penang. Idealite, however, takes one step further by using quality ingredients in which most restaurants are reluctant in using them due to higher cost. More important, they prepare all these for their tummy as well.  The owner is kind enough to explain the benefit of each item in their menu, make this restaurant not only a fun place to dine in, but also a "learning center".  If you are tired of oily and smoky coffee shops, give this restaurant a try. Special thank to Chef Hung for preparing all these nice food (by the way, he is fast in changing cloth).
| | |
| --- | --- |
| Place Name: | Idealite Wellness Educational Restaurant 生命阳光正食养生餐厅 |
| Cuisine: | Vegetarian |
| Address: | 27C, Jalan Gottlieb, George Town, 10350, Penang, Malaysia |
| Tel: | +6042263650, +6042286650 |
| Working Hour: | 8am - 8pm (Close on Monday) |
| Tax: | No |
| Last Visit: | 20120324 |