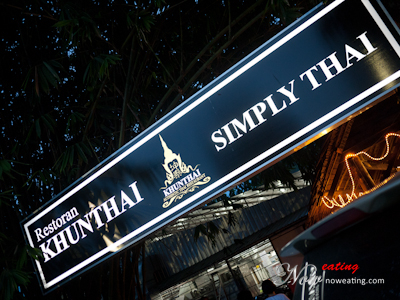 KhunThai Restaurant is no stranger to Penangites especially those staying in Butterworth. It was one evening I noticed a new branch opened in Penang island at Teluk Kumbar (right before Hai Boey restaurant). Last Sunday, we paid it a visit.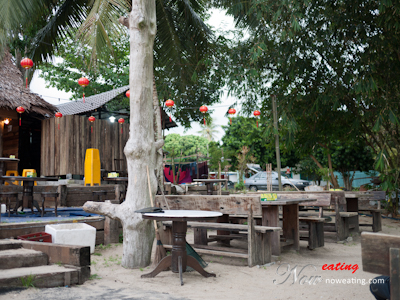 We arrived there around 6PM and surprisingly the restaurant was already 30% full. There were basically two dining area – sheltered and open air. We preferred the later one as it was cozier compared to inside (but be prepared for mosquitoes if you come late). We selected one "Feng Shui" place so that we can watch girls bouncing balls on beach while slurping Tom Yam soup.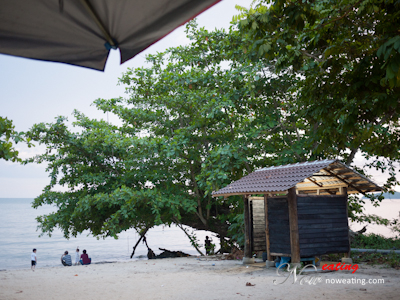 Sadly the sky caught some cold that evening and started to drizzle before our food arrival. Thinking whether to move back in or continue sitting there, a waiter quickly rush into the "store room" and grab one big umbrella for us. It was then inserted into a hole on our table. How nice! (By the way, the "store room" is also a cute little bathroom).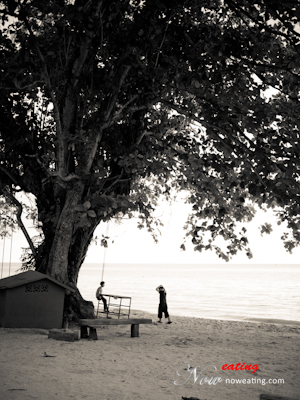 Of course, the beach is just a crawling distance from the restaurant. This photo was taken from my seat.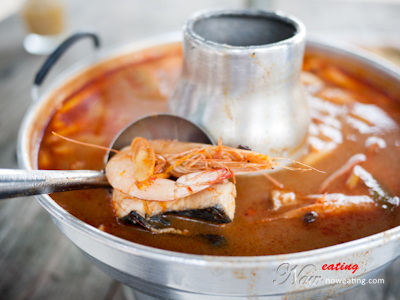 Two of us just ordered three items and were extremely full at the end of our meal. The first one was obviously (Red) Tom Yam with mixed seafood 传统东炎海鲜 (RM20.00). Compared to Bukit Genting's, this one was kept warm by charcoal and tasted nicer.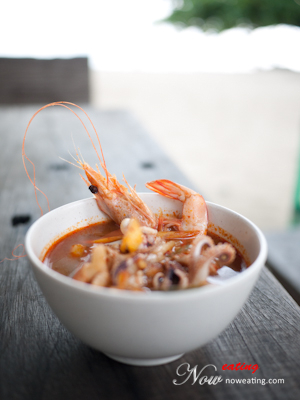 Overall, the Tom Yam was not the best we tried but at least better than most restaurants. Small version is suitable for 2-4 persons.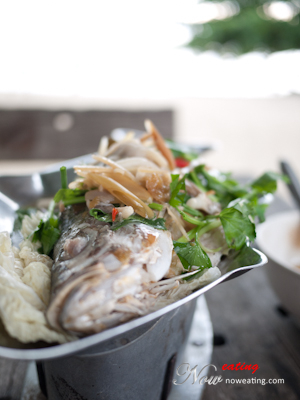 Secondly, Thai Steamed Fish 泰式蒸鱼. This is one of the popular dishes. The fish we ordered that day was Mangrove Red Snapper (Ang Cho in Hokkien) (RM39.00). One good thing about this dish is its herbal soup which was provided separately so that you can pour on the fish itself at your convenience. The soup was not too spicy nor too sour, just perfect for my taste bud. The restaurant put a lot of charcoal to keep the dish warm. As a result, the soup can dry up easily and you will get of wonderful burn smell at the end of the meal.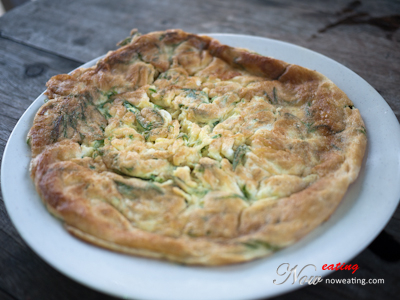 Last but not least, we ordered this Chap Oong Ommelet 泰蔬煎蛋 (RM9.00). It was a simple vegetable dish with eggs fried with Fern Leaf (Paku Pakis in Malay). We found a way to make it tastier – by dipping it with Tom Yam soup.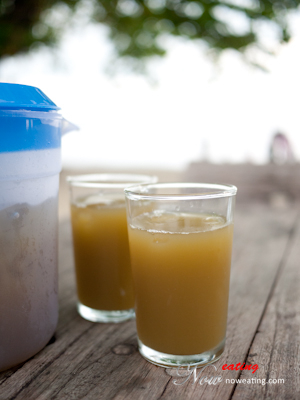 For the drink, after considering, we ordered half jug of sugar cane (RM7.00) instead of single glass at a price of RM2.00. It was a bit too much for 2 persons but should be okay if you drink along with spicy food.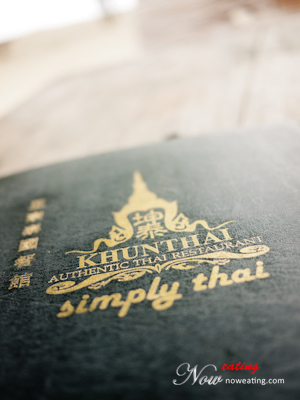 The moment we finished our dinner around 7:30pm, whole restaurant was full of people and some were waiting for tables. Perhaps distance is not an issue as long as food and environment are good. Some said that Butterworth branch is slightly better but for me, I definitely will visit this Teluk Kumbar branch again for other items (heard their steamed Lala not bad). Make sure you reach earlier to avoid disappointment.
| | |
| --- | --- |
| Place Name: | 坤泰 KhunThai Restaurant |
| Cuisine: | Thai |
| Address: | 1052, Mukim 9, Pasir Belanda, Teluk Kumbar, Bayan Lepas, 11920, Penang, Malaysia |
| Tel: | +6046251155 (Mr. John), +6046251157 (Fax) |
| Website: | www.khunthai.com/ |
| Working Hour: | 11AM onward |
| Tax: | No |
| Last Visit: | 20120311 |