Guess how much is this bowl of seafood instant noodle came with Chinese Silver Pomfret (Tao Tay), two fish balls, two bird eggs, and fish maws? This bowl of seafood was ordered at Joo Leong Cafe 裕隆茶室 at Sungai Tiram (see answer below).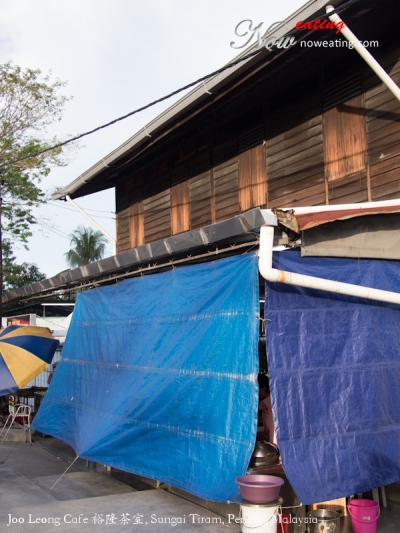 The answer is RM12.00. Joo Leong Cafe is located along the way to Penang International Airport (assuming you come from Bayan Lepas). The place is a bit difficult to find as there is no signboard at the main road. Also, parking is also an issue there as there is no parking lot provided and customers have to park illegally at the roadside.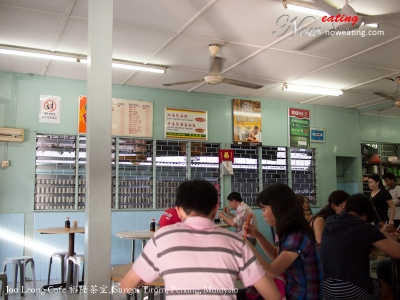 The cafe provides breakfast and dinner. I've only been there for dinner. The place can easily get crowded so make sure you arrive early (e.g. 6pm) to avoid any disappointment.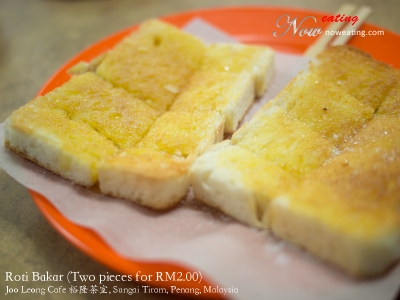 In the morning, the cafe serves classic roti bakar (toasts) at RM2.00 for two pieces, and half-boiled eggs (two for RM1.40). These are their signature dishes in which you will find them in almost every table. The breads are toasted to perfection and spread with kaya and butter. In the evening, they provided seafood porridge in which you can select a variety of seafood from the counter and make them into a bowl of porridge/rice noodle/instant noodle of your choice.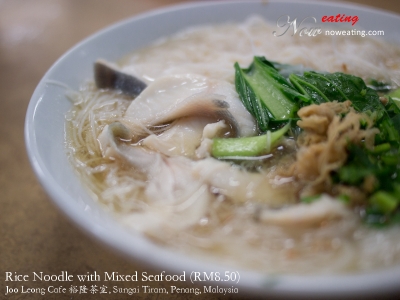 Bear in mind that the seafood is not cheap. A simple Chinese Silver Pomfret fillets and fish balls rice noodle (beehoon) cost around RM8.50.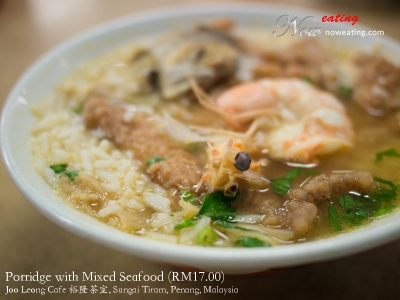 I added one big prawn during my last visit. The host peeled off the skin on the spot so that you can enjoy it easily. The porridge became slightly reddish due to prawn roe.  The soup base was delicious as the soup was similar to steamboat's base soup. This bowl costed RM17.00 (came with fried Chinese Silver Promfret head and fried fish fillets)… the most expensive porridge I ever tried.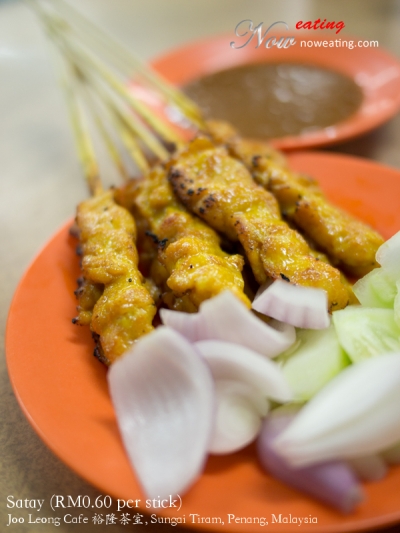 The same shop also has satay and salted chicken stalls. I like to order some chicken satays (RM0.60 per stick) along with main courses. Satays tasted okay but the dipping sauce was just average.
Still got time for breakfast/dinner before your flight? Stop by Joo Leong Cafe for a famous toast or seafood porridge but make sure you bring enough cash for seafood porridge. The soup is delicious and the serving speed is acceptable even during peak hour. Perhaps the only problem is the parking.
| | |
| --- | --- |
| Place Name: | Joo Leong Cafe 裕隆茶室 |
| Cuisine: | Chinese |
| Address: | 179-H, Sungai Tiram, Bayan Lepas, Penang, Malaysia |
| Tel: | +60104124865, +60124984865 |
| Website: | www.penangnet.com/jooleong/ |
| Working Hour: | 6:20am - 11:30am, 6:00pm - 11:30pm. Close on Monday. |
| Tax: | No |
| Last Visit: | 20120530 |