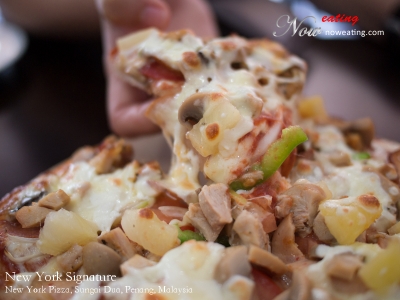 Yummy! Chicken pepperoni with cubes, topped with pineapple, mushroom, capsicum, tomato, onion, and of course – cheese. This is New York Signature pizza from newly opened New York Pizza at Yellow House, Sungai Dua, Penang. From now until 15-Jul-2012, get 2 regular pizza, 4 pcs chicken wings and garlic breads at RM35.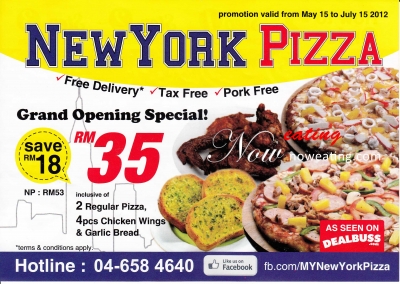 (Left-click to enlarge or right-click to save)
They provide free delivery and are also tax free and pork free. This means that RM35 is nett. Delivery area includes surrounding area such as Bayan Lepas, Bayan Baru, and Sungai Ara.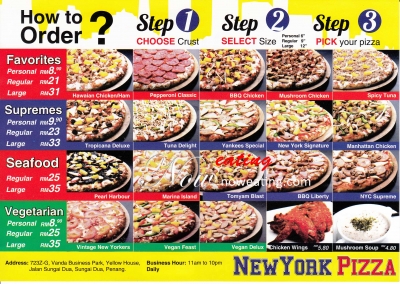 (Left-click to enlarge or right-click to save)
From the brochure, there are 18 pizzas to choose from. Seafood and vegetarian pizzas are slightly more expensive than others. Of course, if you are "smart consumer" and would like to maximize value for the RM35 promotion, just pick 2 x Regular pizza with RM25 price tag.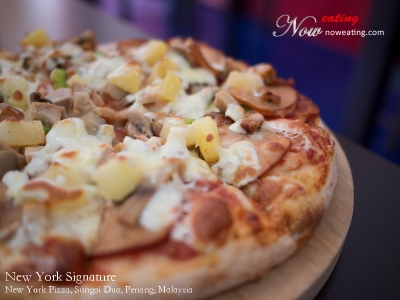 For our first visit, we selected New York Signature and NYC Supreme. There are two crusts to choose from – thin and thick. Depending on personal preference, thin crust is crispier and tastier while thick crust is more filling. Figure above is New York Signature with thick crust.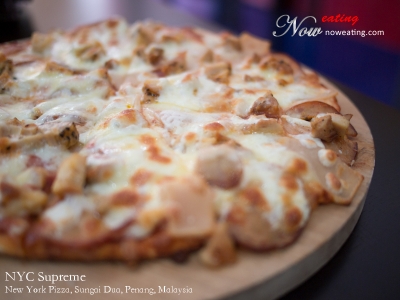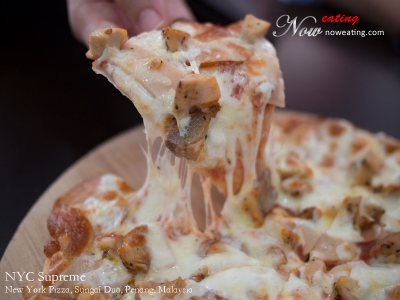 If you are meat lover, you may go for NYC Supreme which comes with chicken/beef pepperoni, cubes, and hams. Taste-wise it is similar to New York Signature except there is no vegetable for this one. NYC Supreme above comes with thin crust. By the way, you can always choose between chicken and beef for all pizzas.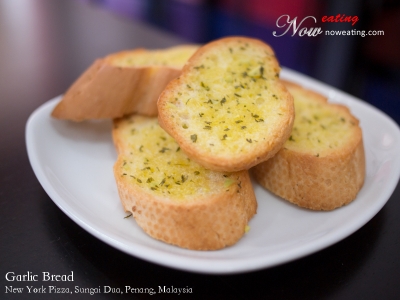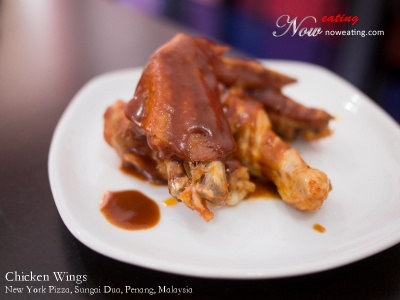 The RM35 promotion set came with garlic breads and chicken wings coated with BBQ sauce. I hope it came with a bowl of soup as well so that I can dip garlic breads in it.
:relief:
Wait hour is approximately 25 minutes and I would say that it is much depended on the number of waiting customers that time. I was very full after the meal. Luckily we didn't order any drink. My friend was thirsty after the meal. It could be due to chicken wings… not sure.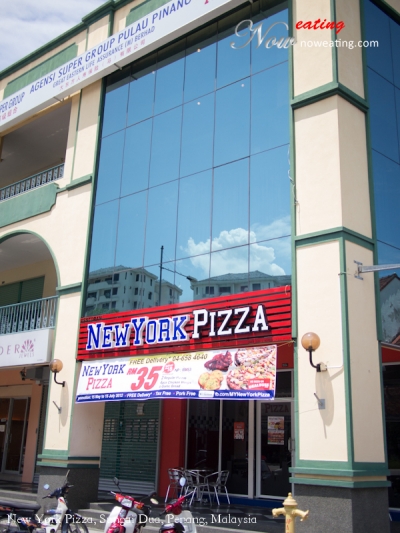 At first glance, a new pizza restaurant worth trying especially with this RM35 for 2 regular pizzas promotion which ends on 15-Jul-2012. Taste and topping-wise are much better than shitty PH and in line with DP and USP. The shop is the corner unit (towards Tesco Extra) of Yellow House (where Nasi Kandar Pelita located) at Sungai Dua, Penang.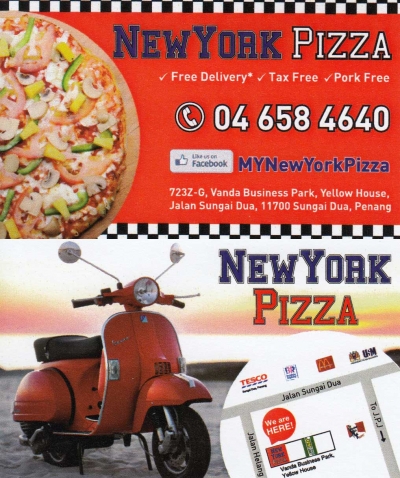 | | |
| --- | --- |
| Place Name: | New York Pizza |
| Cuisine: | Western |
| Address: | 723Z-G, Vanda Business Park, Yellow House, Jalan Sungai Dua, Sungai Dua, 11700, Penang, Malaysia |
| Tel: | +6046584640 |
| Working Hour: | 11am - 10pm daily |
| Tax: | No |
| Last Visit: | 20130608 |