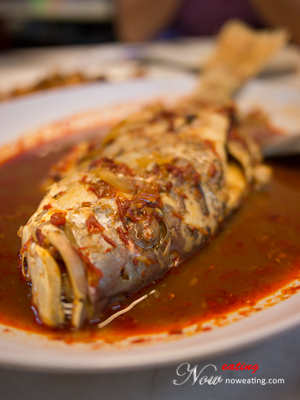 Other than Otak-Otak, another famous food in Muar is Asam Pedas – a sour and spicy stew dish. Unlike north region's version, Asam Ikan such as the one above (RM53.00 – market price) was simply sour and spicy. You will start sweating the moment you put a scope into your mouth. We went there for friend's wedding and were fortunate enough to be treated by the bride in Yu Tou Wang 麻坡鱼头王 restaurant.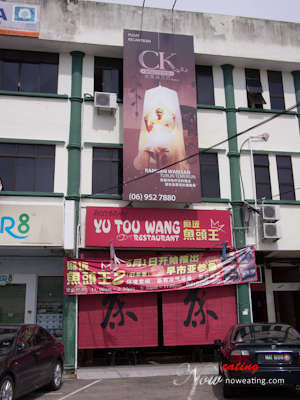 The shop is located at Jalan Khalidi. It appeared that there were two branches in Muar – one at Jalan Ibrahim while another one at Jalan Khalidi. This is probably their first shop as another one is called Yu Tou Wang 2.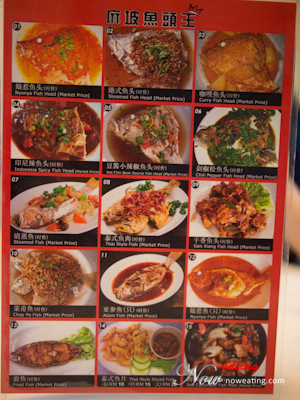 Their menu consists of four pages of items. First page was mostly fishes. One item caught my attention was Chay Po Fish 菜甫鱼. Hmm… maybe will try it next time.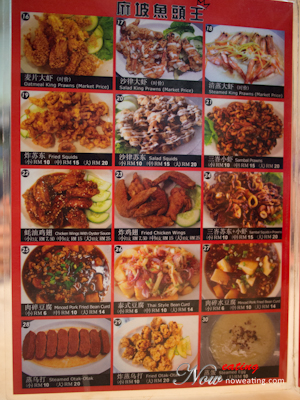 They do serve Muar specialty as well – Otak-Otak, but in steamed version.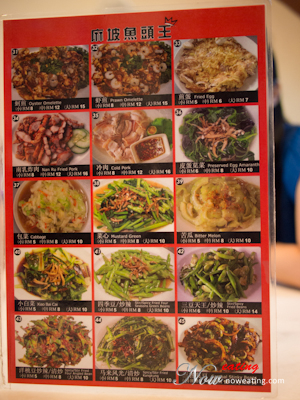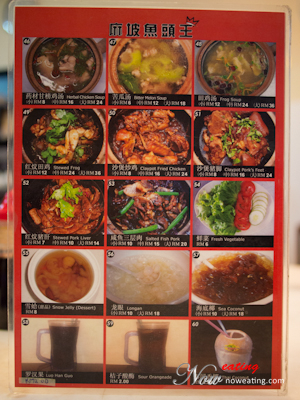 Vegetable dishes were pretty common.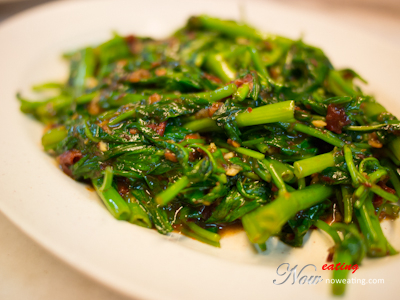 We ordered Spicy Fried Kangkong 马来风光 (RM5.00). Average.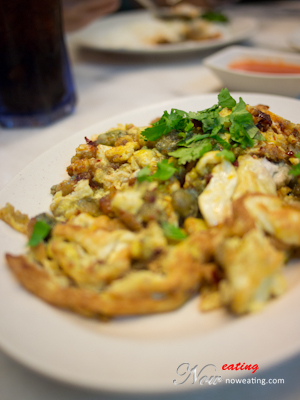 Surprisingly they did offer oyster omelette 蚵煎 (RM8.00). Tasted like the one at north region. Too bad some oysters were not properly cleaned off as there were some shell fragments mixed inside the dish.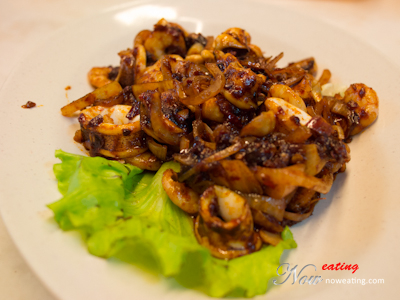 This Sambal Squids + Prawns 三峇苏东 + 小虾 (RM10.00) reminded me of similar dish back in my hometown, except this one was a bit dry. This is another spicy dish to an extend that the chili tasted bitter toward the end. A teaspoon of sugar may help.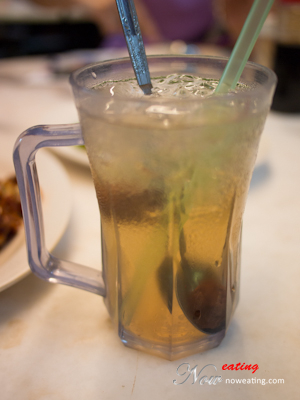 With so many spicy food, you need a fire extinguisher – Sour Orangeade 桔子酸梅 (RM2.00). Tasted good.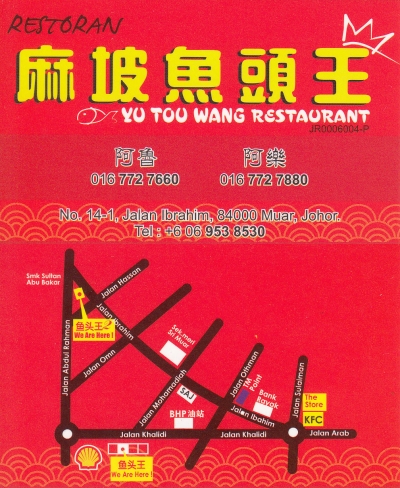 If you are in Muar, be sure to try out their Asam Pedas. There are many shops around but for Yu Tou Wang Restaurant, personally I feel that additional of tomato puree, tumeric, and ginger flower will make Asam Pedas more aromatic. Other than that the place is comfortable to dine in with air-conditioning. Special thank to SzuHui for the treat.
| | |
| --- | --- |
| Place Name: | Yu Tou Wang Restaurant 麻坡鱼头王 |
| Cuisine: | Chinese |
| Address: | No.43-4, Jalan Khalidi, Muar, 84000, Johor, Malaysia |
| Tel: | 阿鲁 0167727660, 阿乐 0167727880 |
| Tax: | No |
| Last Visit: | 01-Jun-2012 |