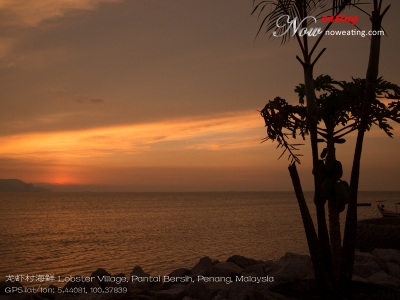 Ouch! We were a bit late for the sunset. The big red sun just disappeared from the horizon the moment we arrived at Lobster Village Seafood Restaurant at Pantai Bersih. Figure above shows the picture taken from the restaurant. The island on the left is the Penang island.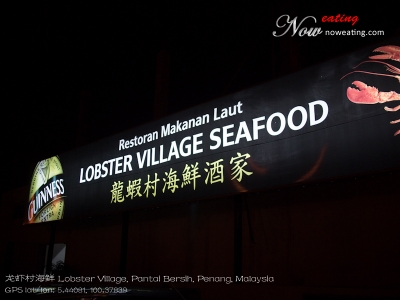 Where is Pantai Bersih? It is at the Butterworth coast with many "toll" traps. GPS usually will lead you to Holland. To avoid toll, use Raja Uda road. If you coming from North-South Highway, take the Sungai Dua exit and drive straight on Butterworth Outer Ring for about 3.6km. When reaching intersection of Jalan Telok Air Tawar, do not take the flyover but wait at the traffic light below the flyover. Turn right. Then turn left at the first junction into small Thean Hock Keong Temple road. At the end you will reach Jalan Pantai Bersih T-junction with sea view. Turn left. The restaurant is on your right with unpaved parking lot.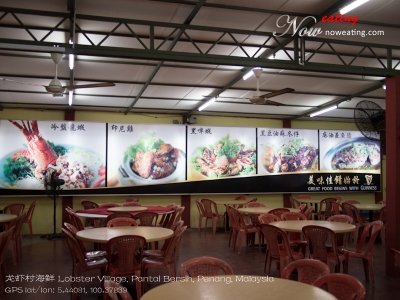 There were at least three Seafood restaurants at the same shop row. We were unsure on which one to try out. Parking seems a bit problematic such as you can only park your car in front of the restaurant you going to visit. We found a space in front of Lobster Village and to "give face", we walked into that restaurant. We were kind of regret when we saw many empty tables.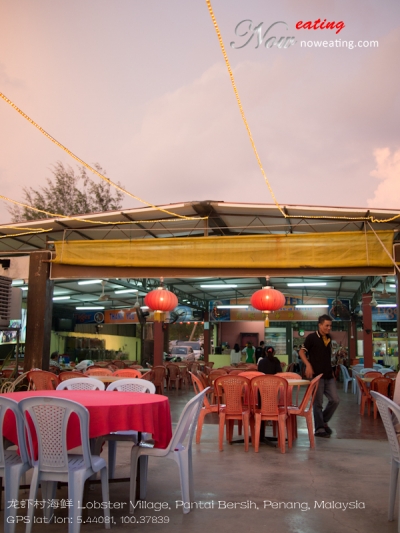 Compared to the seafood restaurant next door, customers were lesser in Lobster Village. Is it because the food not good? Too expensive? Before we were able to make up our mind, the host invited us to sit at open air area with nice sea view. Oh well…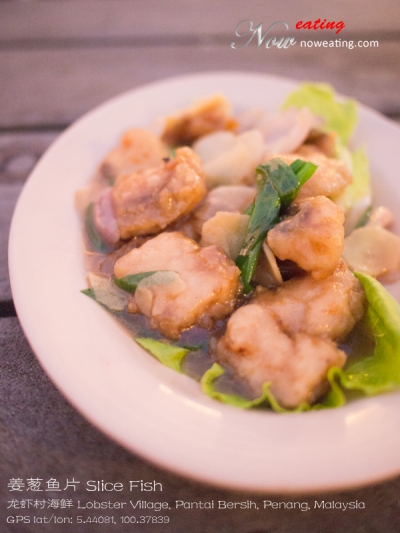 Even though the uncle host looked a bit "lansi" (cool), we managed to order three items in hoping that they would not create a hole in our pocket. The first one is a very common fish dish – Sliced Fish Fried with Ginger and Onions 姜葱鱼片 (RM15.00). The Grouper (Koay Kao) fish slices were pre-fried before adding with sauces. Satisfied.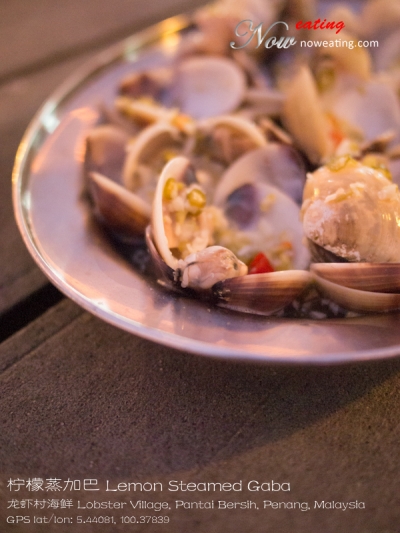 Not to be missed was their famous dish – Lemon Steamed Gaba 柠檬蒸加巴 (RM10.00). It was rather special as most restaurants steamed the shellfish with lime and garlic (酸柑蒸). The lemon was squeezed and mixed with sugar, making this dish quite appetizing that I went for second bowl of rice.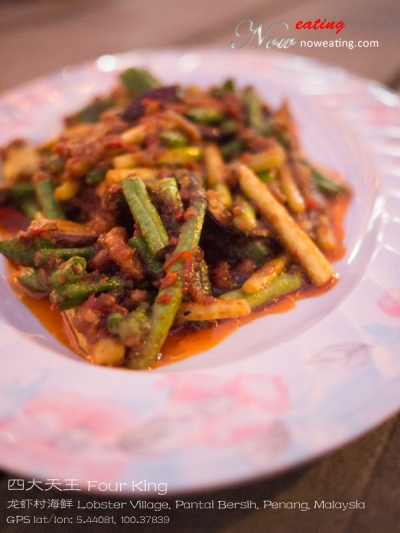 We were having hard time thinking of a yummy yet special vegetable dish for our dinner. An item suddenly crossed my mind – Four King 四大天王 which consists of four types of plants stir fried with sambal. Surprisingly they did have the same dish (RM8.00) and surprisingly it tasted delicious! It consists of Chinese long bean, lady fingers, eggplants, and asparagus, a rather unique combination. Even though the sambal looked oily, it was well blended-in with the vegetables… unlike other restaurants having super hot sambal to an extend that it covered the great taste of the vegetables.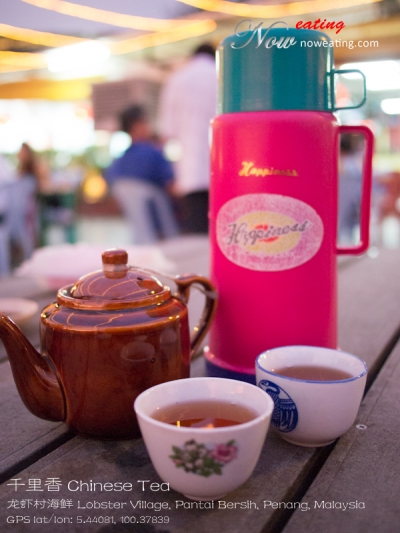 Ah~ Qian Li Xiang 千里香 chinese tea (RM3.00), my favorite. What surprised me was the vacuum flask provided. Looks like they try to avoid all the hassle of refilling our teapot. Need water? Do it yourself!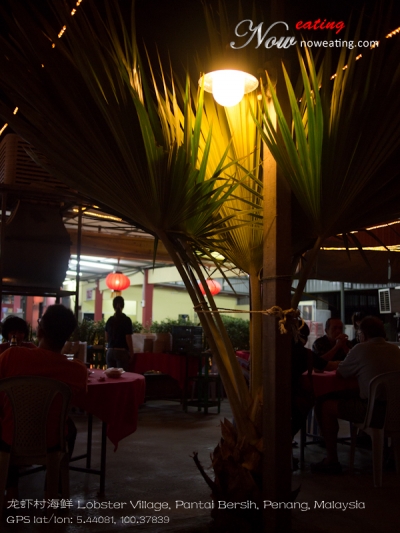 Ouch! The sky was dark the moment we finished our dinner. Remember to bring along a fast lens/flash for photo-shooting.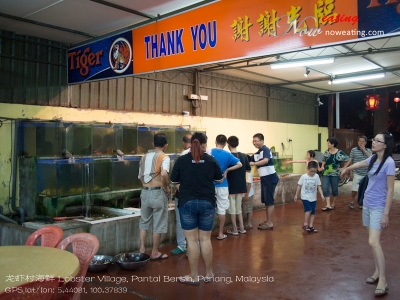 Total bill was RM38.40 for two persons. Fairly acceptable. When we left the restaurant, we noticed that customers continued to flow in. Some were selecting live stocks in front of the restaurant.
Other than Tambun, Pantai Bersih is another great place for seafood and sunset at mainland. Due to great number of seafood restaurants there, one may have hard time deciding which restaurant to go. We gave our "first time" at Pantai Bersih to Lobster Village and surprisingly it was an enjoyable moment. The price is acceptable for us. Use Sungai Dua to Raja Uda road to avoid bloodsucking toll.
| | |
| --- | --- |
| Place Name: | 龙虾村海鲜酒家 Lobster Village Seafood |
| Cuisine: | Chinese |
| Address: | Bagan Ajam Pantai Bersih, Butterworth, Penang, Malaysia |
| Tel: | +6016-432 2833, +6016-592 0229 (Annie Lim) |
| Tax: | No |
| Last Visit: | 20120721 |