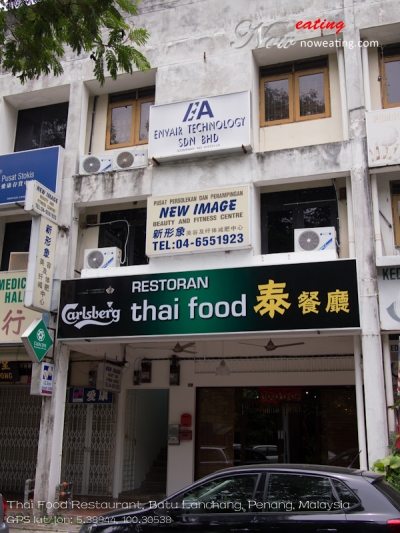 "Where to eat?". "Let's eat thai food!". "Which thai food?". "Thai food lah!". "WHERE LAH!". Having common name as restaurant name is easy to remember but at the same time hard to tell as well. Located next to Batu Lanchang's famous market food court is a newly opened Thai food restaurant called… uh… thai food restaurant.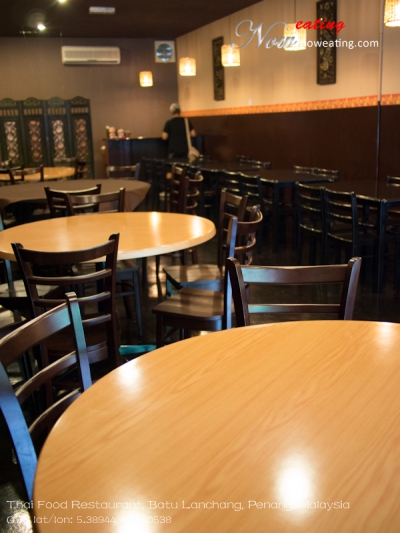 The building is more known of a famous tuition centre with KFC in front of it. The air-conditioned Thai food restaurant has about 10 tables. We went there for an invited review before the restaurant officially opened on 31-Jul-2012.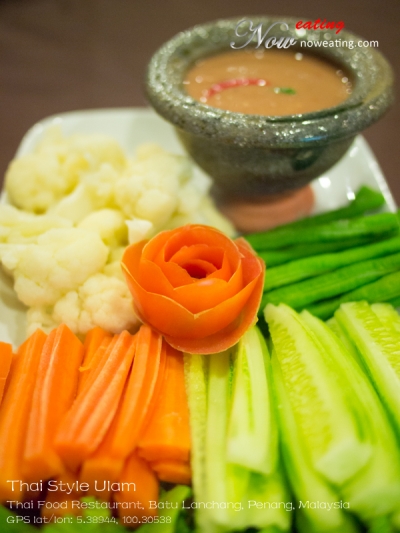 Similar to other invited review, we do hope that the quality remained consistent in future. We were presented with 13 items on that day with the first one being Thai Style Ulam (RM9.00). This reminded me of famous appetizer of a Thai restaurant back in my home town. The sambal sauce is best dipped with the crunchy vegetables.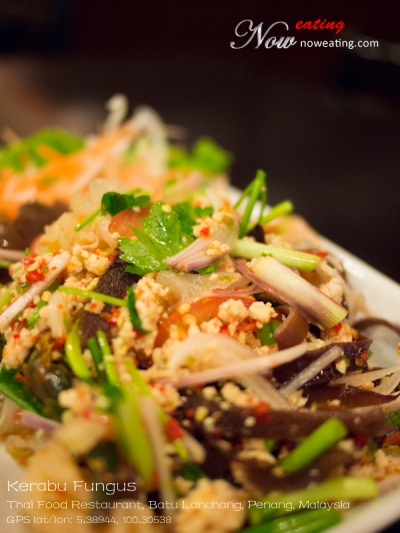 Kerabu Fungus (RM9 Small/RM12 Large) is another (very) spicy appetizer. Even though it got great taste with mixture of minced chicken, personally I prefer to have spiciness reduced a bit.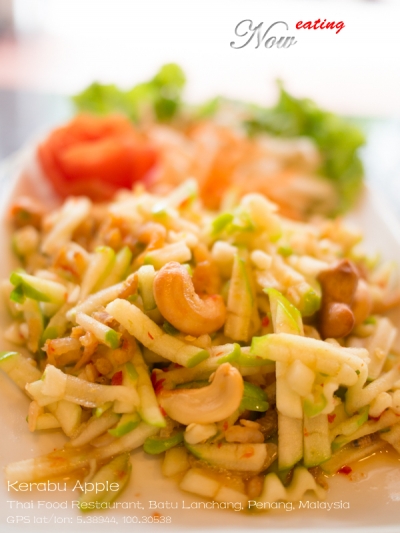 Kerabu Apple (RM9 Small/RM12 Large) is somehow special in this restaurant. The only similar item I tried was Apple Boneless Chicken back in my hometown. Be aware that even though it looks mild, it is spicy as well.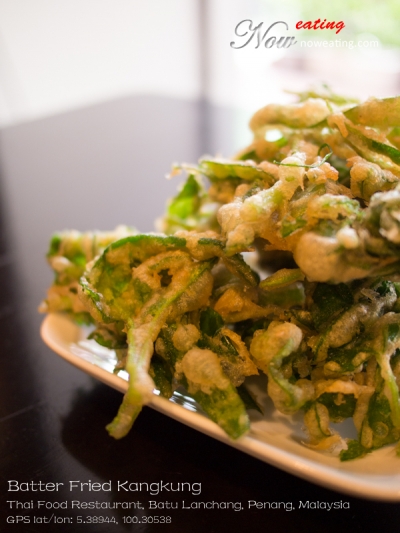 Batter Fried Kangkong (RM8) is a very common dish in any Thai restaurant. Crispy to eat on its own but I like to dip it with Tomyam soup.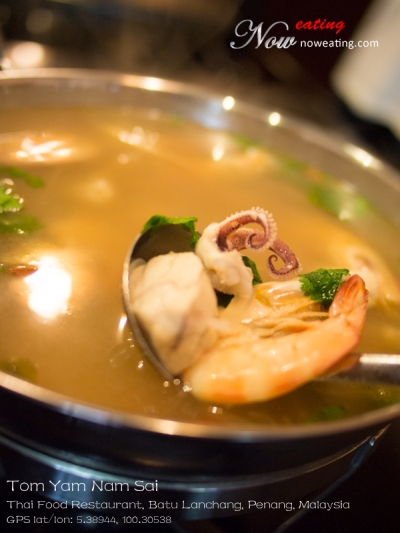 Here comes Tom Yam Nam Sai (RM18 Small/RM28 Large). Nam Sai means clear soup (without chilli paste). A bit mild. Personally I felt that it was lacking of kaffir lime leaves. They are in the midst of adjusting the taste the moment I wrote this article.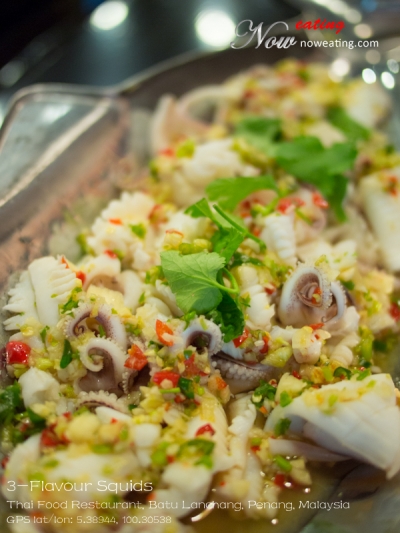 Second main course was 3-Flavour Squids (RM18 Small/RM30 Large). My guess is that "3-Flavour" means spicy, sweet, and sour. Taste-wise it is similar to those "lime steamed" shellfish, except that the gravy is more concentrated (and less).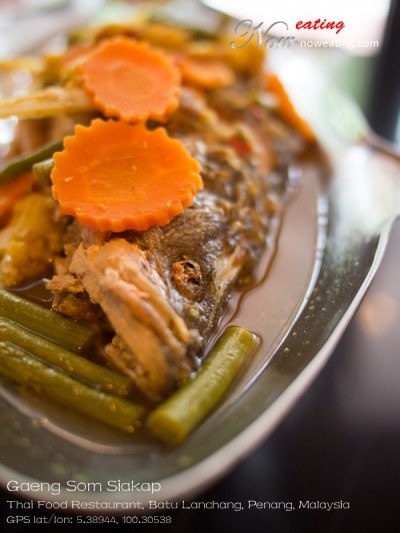 Gaeng Som Siakap (RM25), a dish not usually found in some restaurants. "Gaeng Som" means sour curry. The fish was pre-fried. A good alternative if you are tired of spicy "Steamed Fish in Thai style".
Roasted Pork Knuckle (RM18). Instead of serving whole knuckle, it was chopped into pieces to eliminate the hassle to cut and serve the whole knuckle.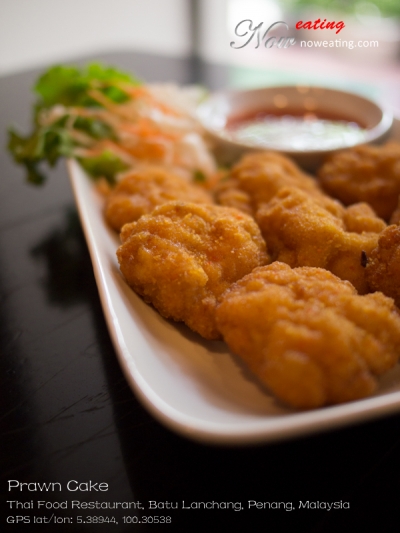 Finally, something for kids. Prawn Cake (RM3 per piece) is a delightful dish with texture of a nugget and stuffed with minced chicken and prawn. Special and tasted excellent.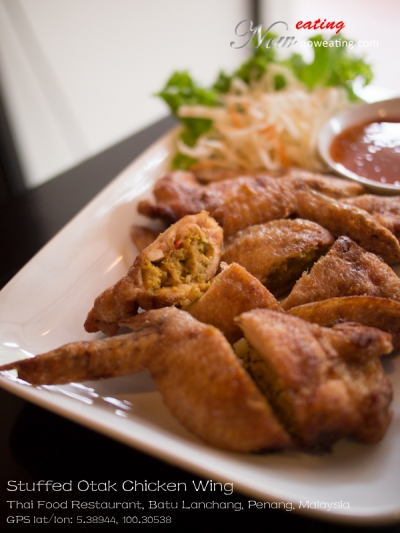 Another special and mild dish was Stuffed Otak Chicken Wing (RM3.50 per piece). Otak-otak usually is a redundant dish to order as it comes in only one size. This time, you can have both chicken wing and otak-otak at once. The otak-otak is a bit dry after frying.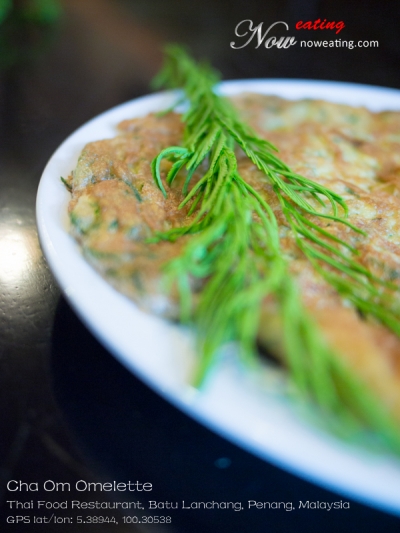 Cha Om Omelette (RM8) is the same omelette I tried at Khunthai restaurant. Compared to the later, omelette here is much thicker with generous amount of Cha Om – a vegetable commonly found in Thailand.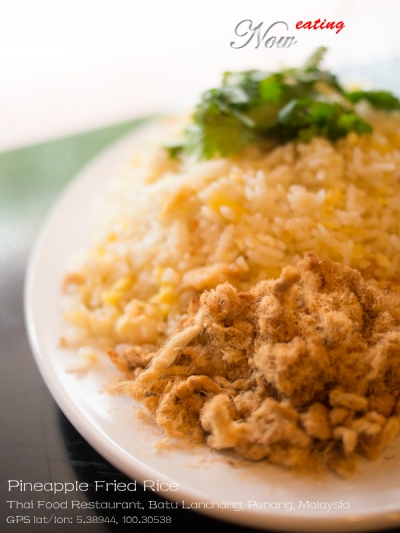 Last but not least, Pineapple Fried Rice (RM5 Small/RM12 Large) is somewhat special with the addition of chicken floss. Reminded me of good childhood time in which I liked to consume rice with chicken floss once in a blue moon. A pinch of sugar makes this a good dish for family.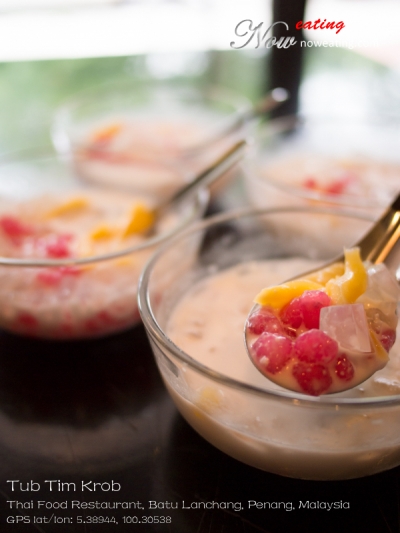 How can we miss Tub Tim Krob (RM4.50 per bowl) dessert. It was made of fresh coconut milk with addition of jelly.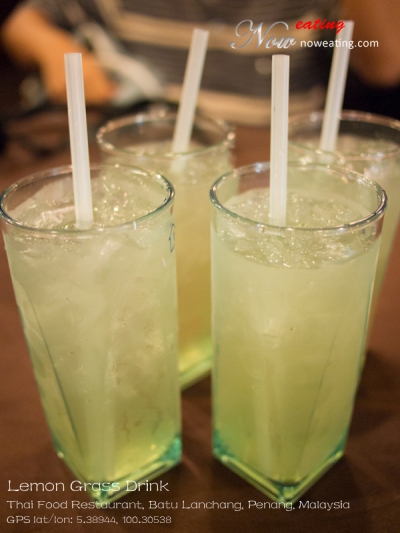 Plan to try out new thai food in Penang? Be sure to visit a thai food restaurant called… uh… thai food restaurant. Located next to famous Batu Lanchang wet market, the restaurant offers cuisine of north Thailand and definitely has its own specialities.
| | |
| --- | --- |
| Place Name: | Thai Food Restaurant |
| Cuisine: | Thai |
| Address: | 19L, Medan Batu Lanchang, Batu Lanchang, 11600, Penang, Malaysia |
| Tel: | +6012-486 9191 (Mr. Christopher Choong) |
| Working Hour: | 11.00am-3.00pm, 6.00pm-10.00pm |
| Last Visit: | 20120729 |