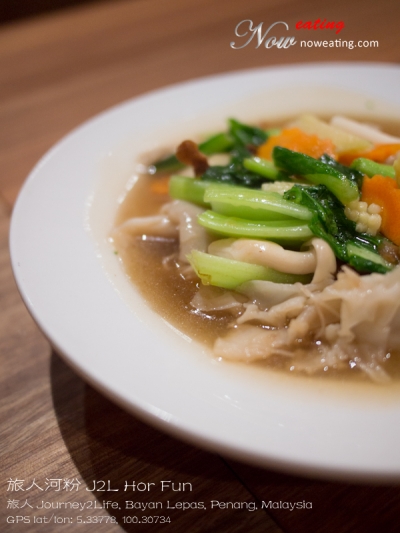 Finally, a vegetarian Hor Fun (a.k.a 旅人河粉 J2L Hor Fun @ RM8.90) with Wok Hey (elusive flavour from hot and seasoned wok) . Moreover, it was topped with organic vegetables. This is just one of the specialities from low-profile vegetarian restaurant at Queensbay Penang – 旅人 Journey2Life.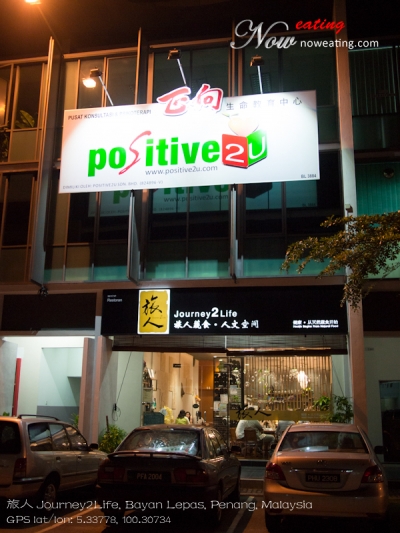 The restaurant is located same street with Lolipot restaurant at Queensbay and has been opened for about four months. It is hard to notice it without driving in to that area. The reason I knew about this restaurant was I "accidentally" bought Guan Ming newspaper during a wedding dinner (I rarely buy newspaper nowadays due to bias news) and "accidentally" saw its article. Parking there is a bit expensive (RM0.50 for first 30 minutes. RM1.00 every 30 minutes thereafter) so you may park your car at Queensbay Mall north area and walk there.
We ordered 多酚泡菜 Kimchi (RM3.90) as appetizer. Tasted rich with added sesame and vinegar, and was VERY spicy. My stomach was still complaining after the dinner.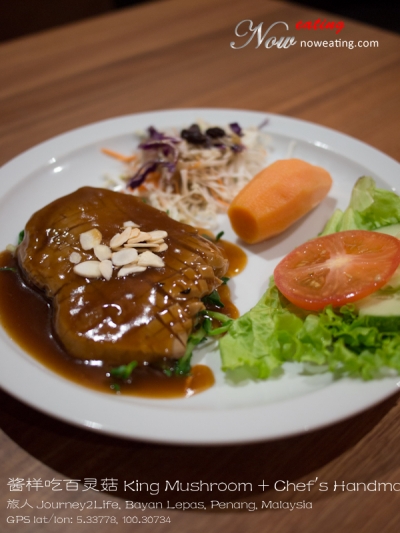 We were recommended with their "western" food, such as this 酱样吃百灵菇 King Mushroom + Chef's Handmade Sauce (RM19.90). The king mushroom was sliced and flatten to make it looks like a chicken chop (more like a pork kidney to me). There were two types of preparation – steamed or fried. We selected the "steamed" edition.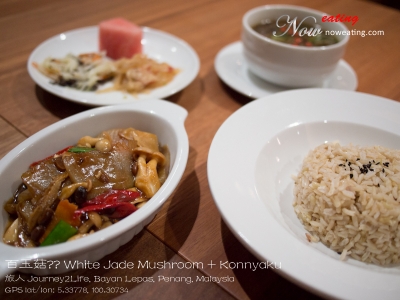 We were fortunate enough to be able to try their special menu for Nine Emperor Gods (九皇爷) Festival. From 15-Oct to 24-Oct, the restaurant is opened daily from 11:30am to 10pm. We ordered 百玉菇蒟蒻 White Jade Mushroom + Konnyaku (RM17.90) which come with 3 vegetable side dishes, herbal/vegetable soup, and a plate of brown/white rice.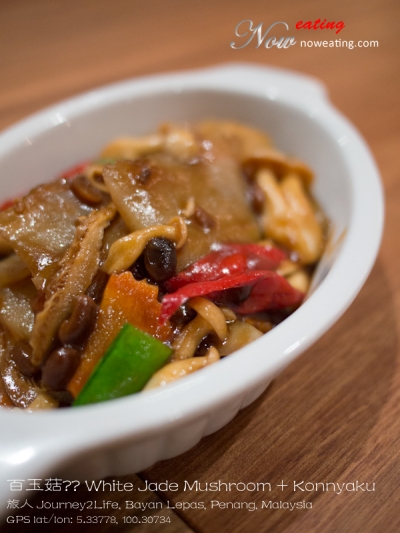 Konnyaku (蒟蒻 Konjac) is a plant and is usually used to make jelly. We were surprised that it was used to make "squid" as seen in Sotong Kangkung. The texture and taste was very similar to the none-vegetarian version. The sauce tasted like Kung Pao 公保 sauce. Love it!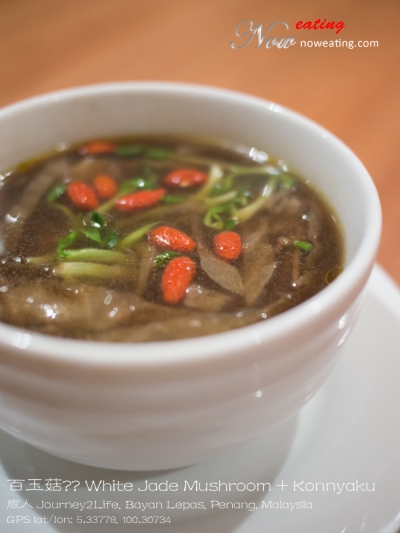 The herbal soup had rich ingredient, including pea sprout, wolfberry, cabbage, carrot, and ginseng to name a few.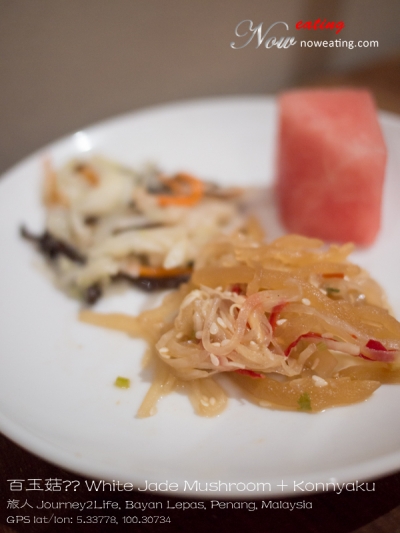 The side dishes and the brown rice were just average. The brown rice was a bit hard and should be be soaked in water for a while before cooking.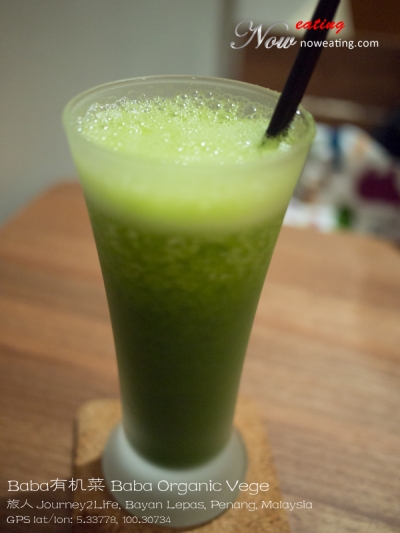 With spicy Kimchi, you need "fire extinguisher". If you don't mind on strong vegetable taste, try Baba有机菜 Baba Organic Vege (RM7.90). Definitely a healthy choice.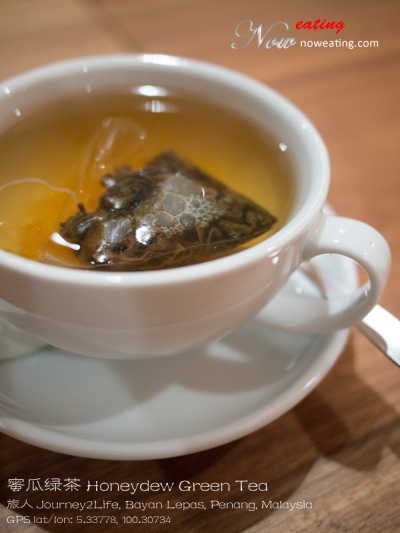 I ordered a cup of 蜜瓜绿茶 Honeydew Green Tea (RM4.90), which was rather special. The honeydew aroma filled the table the moment it arrived. I wonder what they used for that tea bag? Looks like plastic to me. Hope it won't release chemical in hot water.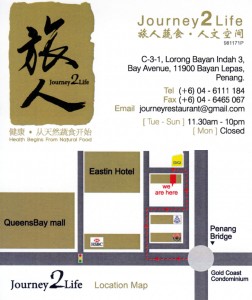 Despite of above-average price due to the use of organic and better ingredient, the low profile Journey2Life has its own food quality and specialities. In 9th lunar month, the restaurant is opened daily from Oct-15 til Oct-24 with special Nine Emperor Gods FULLY VEGAN menu.
| | |
| --- | --- |
| Place Name: | 旅人 Journey2Life |
| Cuisine: | Vegetarian |
| Address: | C-3-1, Lorong Bayan Indah 3, Bay Avenue, Bayan Lepas, 11900, Penang, Malaysia |
| Tel: | +604-611 1184, +604-646 5067 (FAX) |
| Email: | [email protected] |
| Working Hour: | 11:30am - 10pm (Tue-Sun). Close on Mon. |
| Tax: | No |
| Last Visit: | 20121017 |