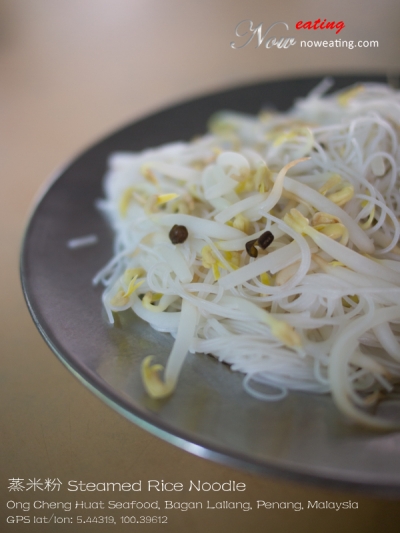 Steamed Rice Noodle (RM2.50) – it was so plain that you can't eat it on its own. Worse, no rice is provided at 王清发海鲜 Ong Cheng Huat Seafood at Bagan Lallang, Butterworth, Penang. Luckily, one of the food items we ordered was a perfect mix for this plain noodle.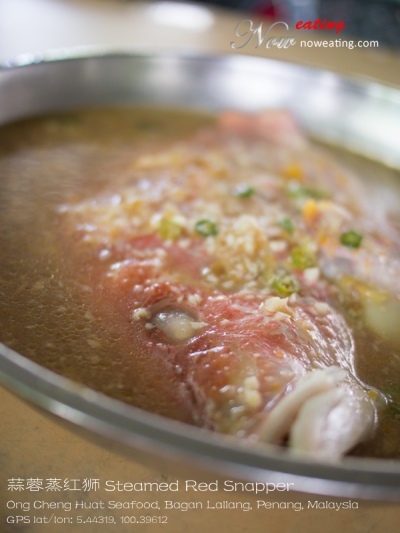 Here it is – red snapper (RM27.00 head portion) steamed to perfection. The sweet and sour with very mild spiciness sauce is best mixed with steam rice noodle (Beehoon), which immediately turns the plain noodle into yummy noodle soup. This is a must-try in Ong Cheng Huat Seafood. Fried Beehoon is also available but we opted for this healthier choice due to my high cholesterol (mean less oily food starting now).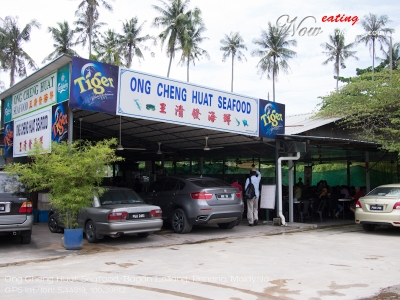 王清发海鲜 Ong Cheng Huat Seafood is located at the mainland and can be hard to find for first timer. Assuming you coming from Penang island, travel all the way to Sungai Dua toll of mainland. Don't get into the toll but turn left to Sungai Dua exit before it. Go straight to a ramp and after the first ramp, keep to your left and turn left below the flyover when you see "Bagan Lallang" signboard. Go straight a bit and you will see "Ong Cheng Huat" signboard on your right. Turn right at that signboard into a small alley. Turn left into some tight corners and you are there!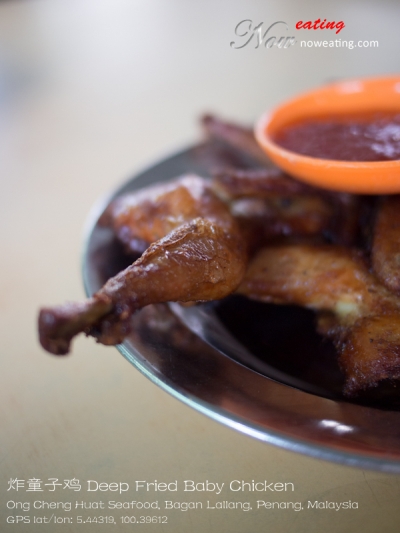 This is my second visit to the restaurant. My first visit was about 7 years back. Their food selection is limited but in turn, the serving speed is extremely fast. One of their specialties is Deep Fried Baby Chicken 炸童子鸡 (RM6.00 per piece) and even Penangites will travel all the way from island to enjoy this item.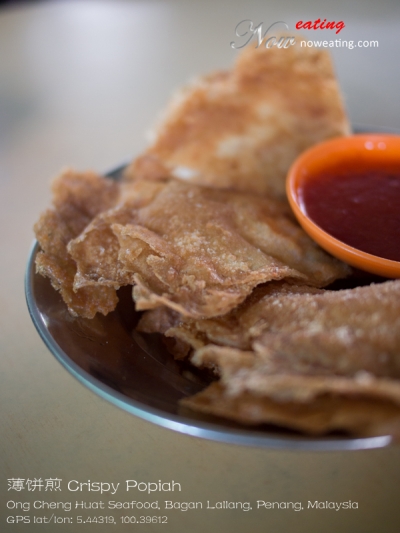 Crispy Popiah 薄饼煎 (RM5.50)  is another common item found in almost every single table. It looks like those crackers in Pasembur or Jawa Mee, but if you take a closer look…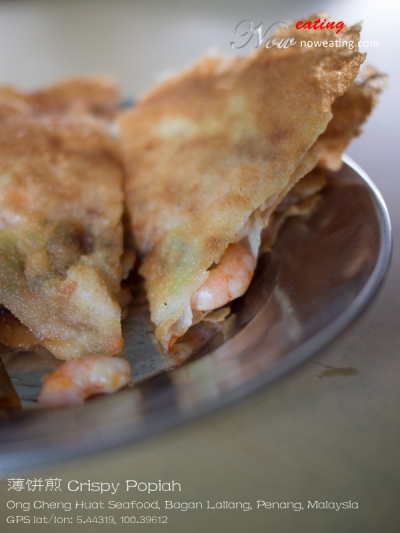 … this is more like prawn fritters with prawn stuffed in it. Best dip with chilli sauce provided or if you are like me, you may also dunk it into the steamed fish's sauce.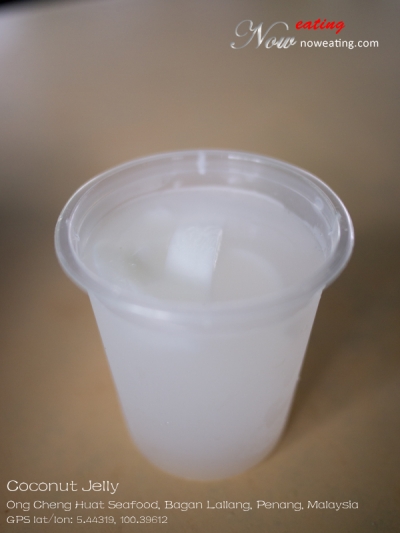 Last but not least, a cup of coconut jelly (RM2.50) to cool ourselves down. It would be better if it was served in real coconut shell. They also have fried ice cream as dessert.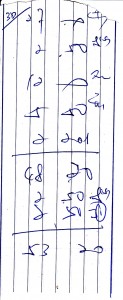 We asked for a receipt but in turn we received a "talisman". It took us a while to decode.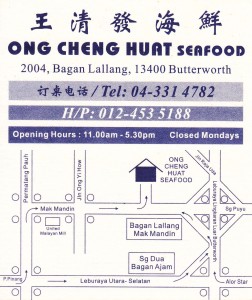 Ong Cheng Huat Seafood is famous with its baby chicken and steamed fish (and coconut rum) in which customers from far are thrilled for a visit . They have limited menu items but in turn provide fast serving. Only operating in the afternoon, make sure you arrive early to avoid any disappointment.
Place Name:
王清发海鲜 Ong Cheng Huat Seafood
Cuisine:
Chinese
Address:
2004, Bagan Lallang, Butterworth, 13400, Penang, Malaysia
Tel:
Reservation: +604-331 4782
H/P: +6012-453 5188
Working Hour:
11:00am - 5:30pm. Close on Monday.
Tax:
No
Last Visit:
20121021