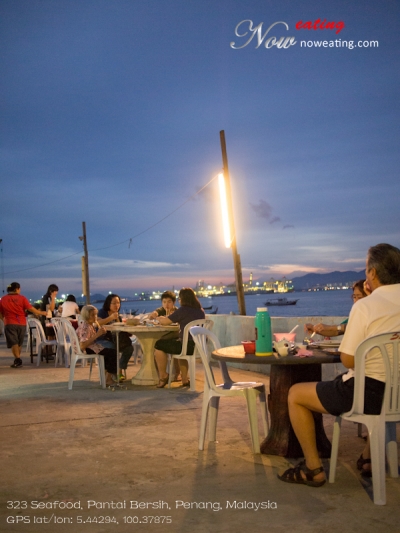 Previously, we visited a seafood restaurant at Pantai Bersih – Lobster Village. It had only a few customers that time and  made us worry at first but turned out to be a good experience. Thinking of trying other restaurants there, we visited 323 Seafood Restaurant this time.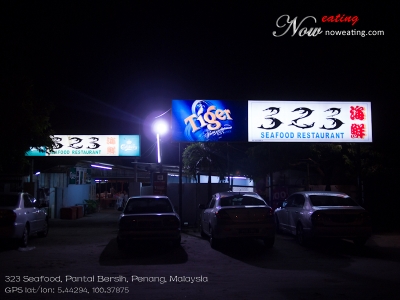 323 Seafood Restaurant is located at the same road with other famous Pantai Bersih's seafood restaurants. We were smarter this time by avoiding toll road and took Sungai Dua exit before Sungai Dua toll and drove all the way to Raja Uda. Under a flyover, turn right at the traffic light and immediately turn left into an alley with big Chinese temple on the right. You will reach Pantai Bersih T-junction. Turn left. Drive a while and you will see 323 signboard on your right.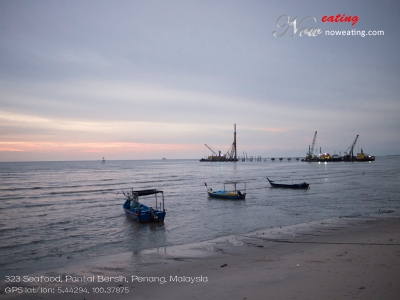 The place, again, is a great place to watch sunset. We arrived a bit late so the sun went back home without us.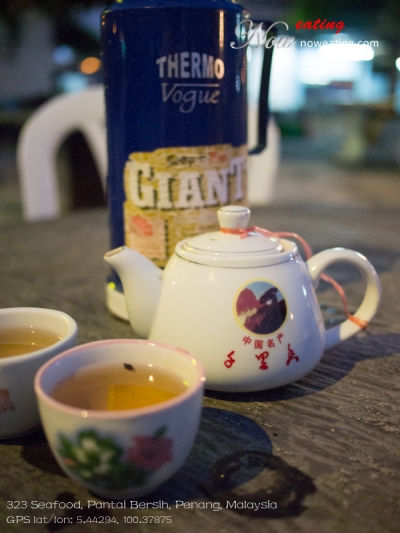 I was not sure whether or not this is a trend in Pantai Bersih but restaurants there including 323 like to provide customers a Thermos when ordering Chinese tea so that you no need to ask waitresses for water refill. 323 also has Qian Li Xiang 千里香 (RM3.00 per pack) Chinese tea, my family's favourite.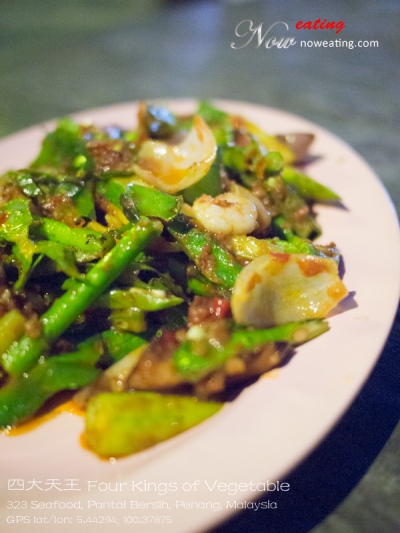 We tried ordering something similar to Lobster Village, such as The Four Kings 四大天王 (RM10). Too bad the sauce was too spicy to an extend that it tasted bitter. The sauce was not blended well with the vegetables also.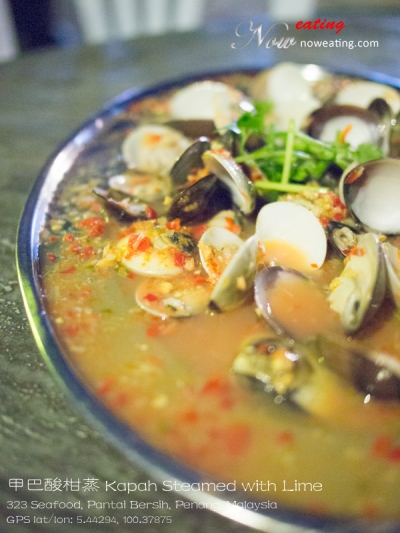 Kapah Steamed with Lime Sauce 甲巴酸柑蒸 (RM12) was nothing special as the same dish can be found in other seafood restaurants. I still prefer the lemon sauce version in Lobster Village.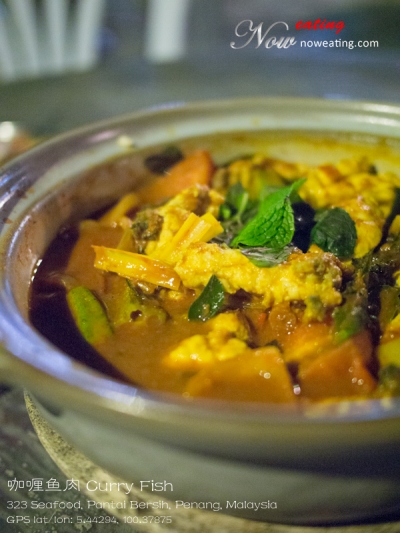 We didn't aware that we already had two spicy items and ordered a claypot of curry fish (RM22). This is the most "beh tahan" (cannot withstand) dish as the fish was so old that it was as hard as stone and very difficult to chew. Even chicken breast was tender than it.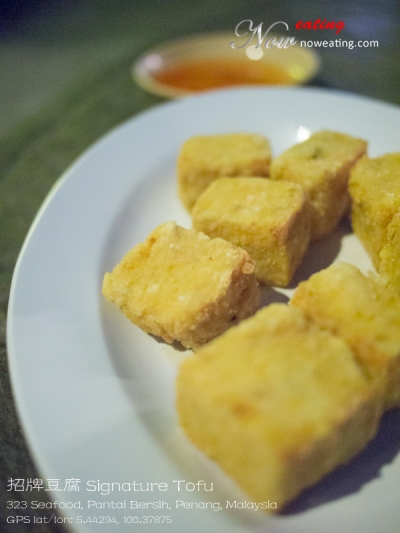 Perhaps the best item of the evening was 323's Signature Tofu (RM6). Stuffed with minced seafood, they were best dipped with chilli sauce provided.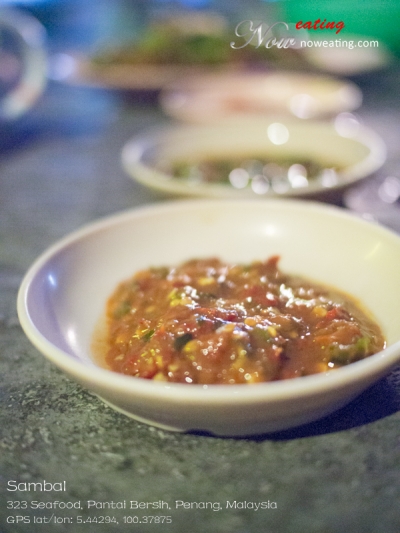 Of course, if you want to challenge yourself, you may try their sambal, which tasted not bad IMHO.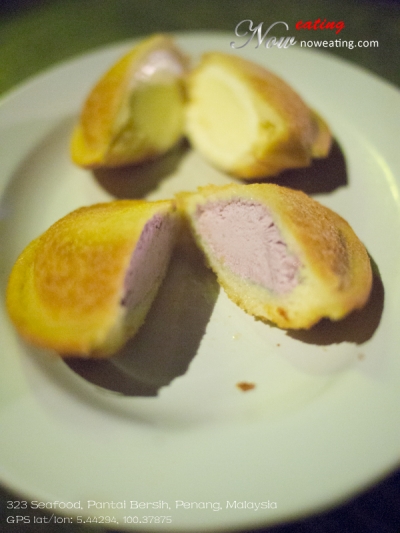 We ended up ordering another item – fried ice cream (RM3 per piece) as "fire extinguisher".  It had been a while since I enjoyed this dessert.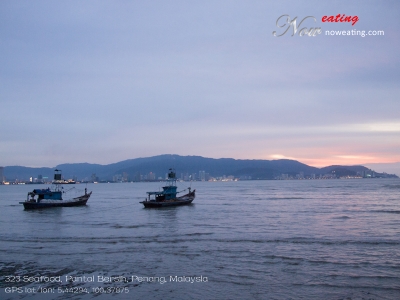 At the end of our meal, we noticed a family of 20 peoples with kids and grandparents occupying two tables. The son made the order before everyone else arrived. I felt sympathy seeing them sweating eating spicy food they ordered. Even the son also had two sausages hanging on his face. Where is the enjoyment when all food are so spicy?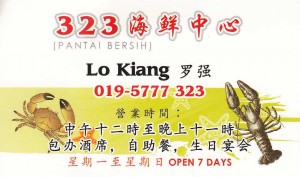 Pantai Bersih restaurants more or less have some similarity. While the environment is cozy with sea breeze, 323 Seafood still has room for improvement especially on their food itself (Try to avoid their curry fish).
| | |
| --- | --- |
| Place Name: | 323 Seafood Restaurant |
| Cuisine: | Chinese |
| Address: | Pantai Bersih, Butterworth, Penang, Malaysia |
| Tel: | +6019-5777 323 (Lo Kiang 罗强) |
| Working Hour: | 12pm - 11pm daily. |
| Tax: | No |
| Last Visit: | 20120915 |