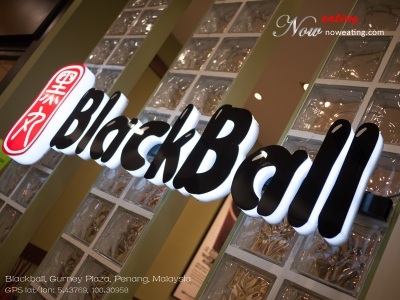 Taiwanese desserts enter Malaysia like a convoy of army. In some shopping malls, you may find yourself having too many choices for a dessert/drink shop. One of them is Blackball 黑丸 which is mushrooming in Penang, with the latest one opened in Nov-2-2012 in Gurney Plaza. Let's see what's so special about Blackball.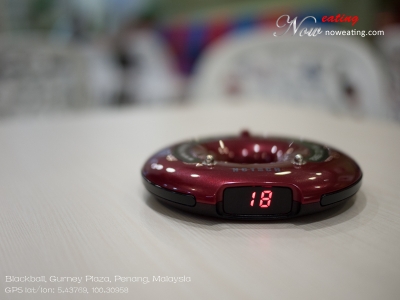 In most shopping malls, basically you will find dessert shops from 3 different origins – Taiwan, Hong Kong and Malaysia. Blackball is from Taiwan. Their ingredients are from Taiwan as well and are 100% plant origin (note that some items contain milk which may not suitable for pure vegetarians). Similar to most dessert shops, you make order at the counter and given a UFO. When the UFO vibrates, it means your food is ready and can be collected from the counter.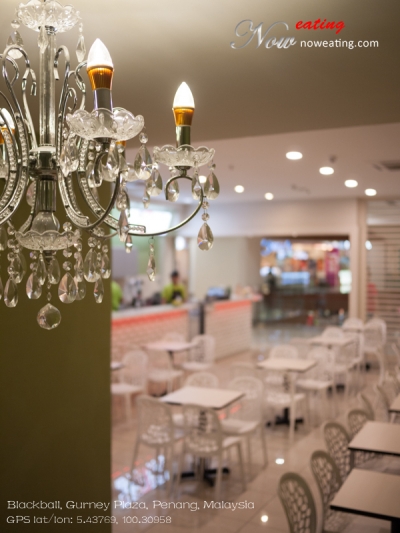 Why Blackball? Why not Whiteball or Redball (红丸)? According to one of the staffs, "Black" refers to their signature ingredient – Grass Jelly 仙草 (a.k.a Leong Fun 凉粉 for locals). "ball" means their signature yam/sweet potato balls. Blackball shop in Gurney Plaza is located at 6th floor with spacious dining area, too good for just a dessert and drink shop.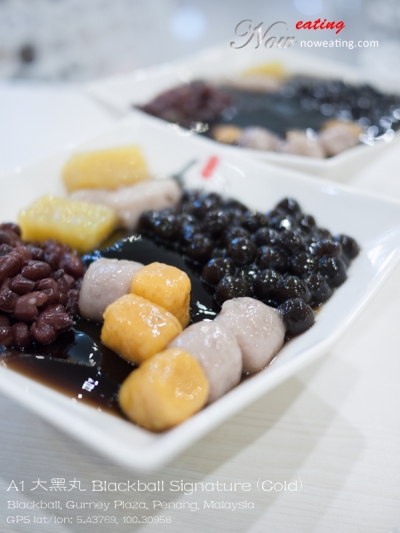 Before visiting Blackball and just to be fair, I actually paid a visit to another similar shop in the same shopping mall and ordered their signature grass jelly dessert as well. My conclusion is that Blackball's grass jelly is more soft and their balls (I mean those in the dessert) are slightly tastier. Blackball Signature 大黑丸 (RM6.90) is their… uh.. signature dish consisting of grass jelly 嫩仙草, yam balls 芋丸, sweet potato balls 地瓜丸, Taro Q 芋Q, Pearl 珍珠 and Red Bean 红豆.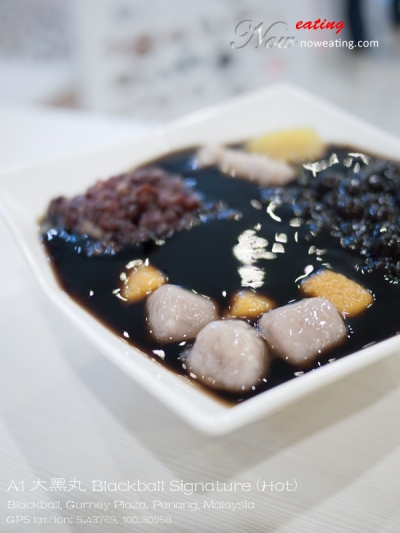 Blackball Signature comes in either hot or cold. For cold one, you will find grass jelly snow ice beneath those ingredients. For hot one, you will find generous amount of grass jelly at the bottom.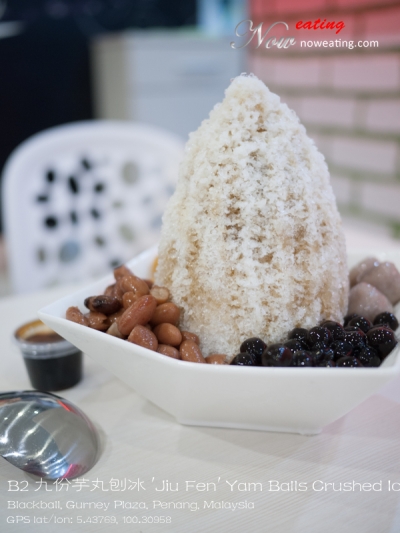 Similar to Malaysia, food from different regions is prepared in different way (e.g. Laksa in north region is different from laksa in south region). Jiu Fen 九份 is a place in north Taiwan and is famous with Yam Balls as well. The different is that, it uses crushed ice (thicker ice), big red bean, and brown sugar. Almost like cendol here except it is non-creamy version and of course, without cendol.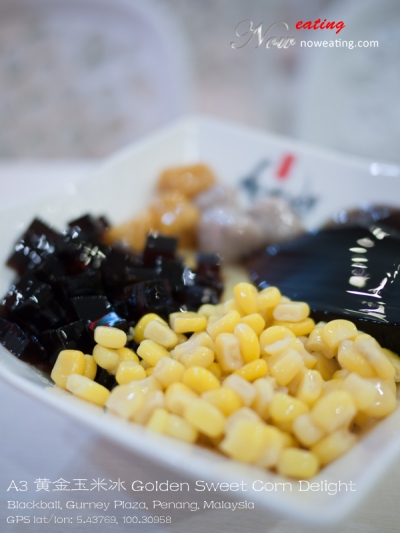 Youngsters like me should find themselves fall in love with this Golden Sweet Corn Delight 黄金玉米冰 (RM6.90). The smoothie beneath it is made of sweet corn and topped with yam balls, grass jelly, Kanten Jelly 寒天, and sweet corn.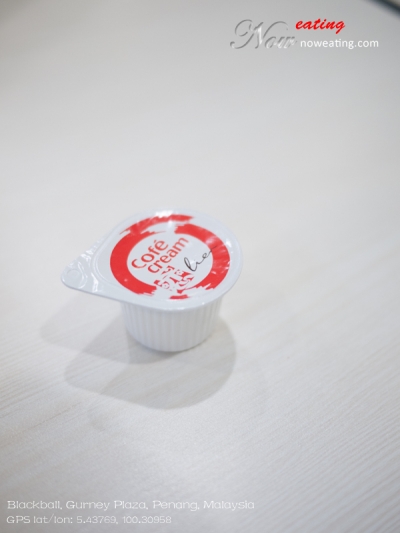 Similar to most Taiwanese dessert shops, you will be provided with a cute little coffee cream on some desserts. You may pour the whole thing on your dessert and stir it well. To certain extend, it is able to bring down the sweetness and make the base tastes richer.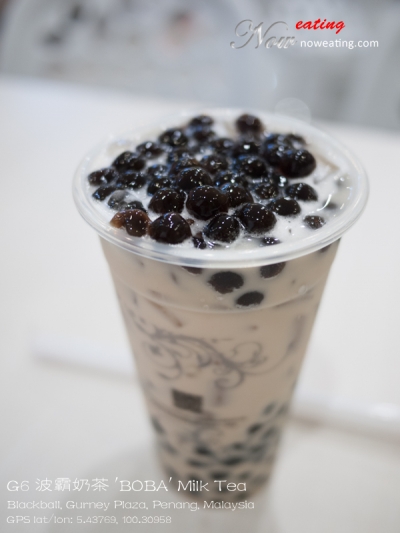 Time for some drinks. 'BOBA' Milk Tea 波霸奶茶 (RM5.90) is my favourite. I like the taste of roasted tea taste together with the black pearl. The sweetness is just perfect.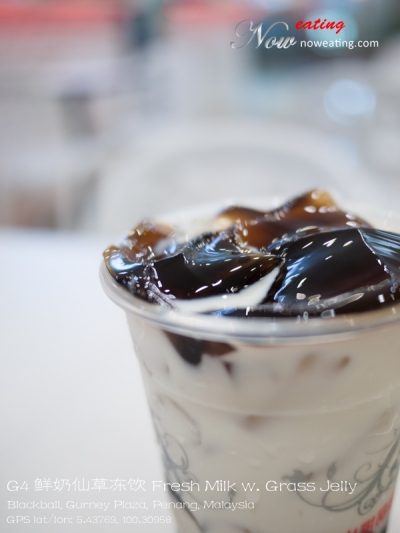 Like milk? Try their Fresh Milk with Grass Jelly 鲜奶仙草冻饮 (RM5.90). Speaking of that, I tried to search for "Soy Milk with Grass Jelly" – a classic roadside drink in Malaysia, in the menu but sadly it is not there. Blackball is purely from Taiwan which bring you some authentic Taiwanese desserts to you without flying to Taiwan.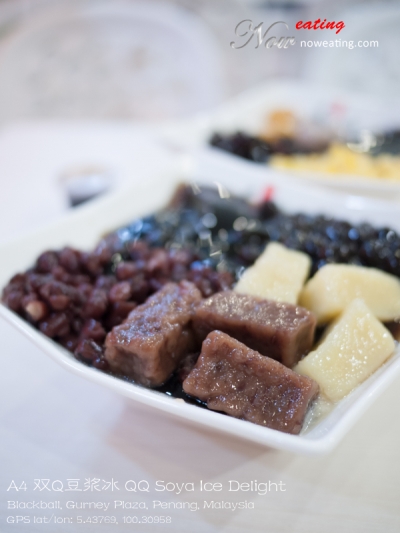 However, they did have Soya Ice Delight 双Q豆浆冰 (RM6.90). Beneath the common toppings are soya bean smoothie. The soya bean is made fresh daily. A small cup of brown sugar syrup will be provided so that you can make your white sugar soya bean into brown sugar version.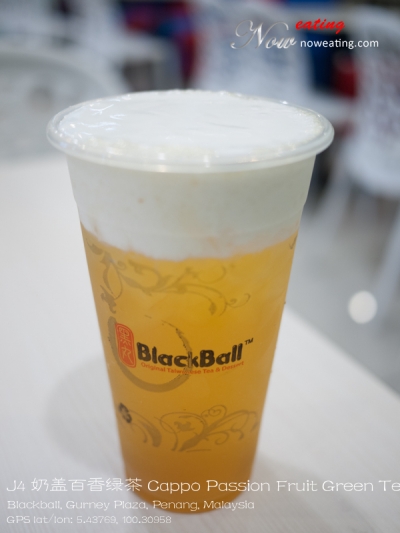 Cappo Passion Fruit Green Tea 奶盖百香果绿茶 (RM5.90) is a new item in their menu. Cappo is famous in Taiwan and is made of whipping cream + fresh milk + and bubble stabilizer 奶盖粉.  There are two versions of bubble stabilizer – sweet and salty. The one used in Blackball is salty. To enjoy the drink, you need to stir it well. First timer may find the drink a bit salty.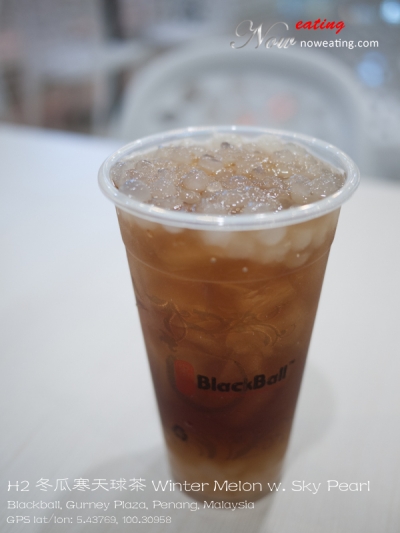 Winter Melon Tea with Sky Pearl 冬瓜寒天球茶 (RM5.90) is another best selling product. Sky Pearl is made of seaweeds and is rich in fibre. Texture-wise it is like Nata de coco.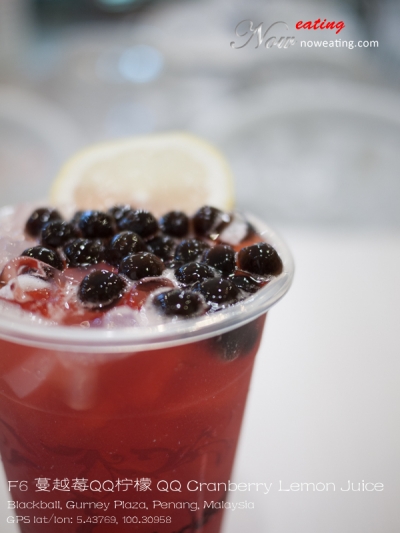 QQ Cranberry Lemon Juice 蔓越莓QQ柠檬 (RM5.90) is a signature drink. It is refreshing.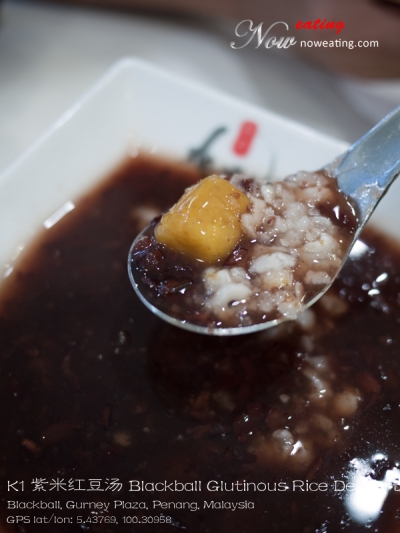 During our last visit, we were introduced with two new items – Blackball Glutinous Rice Dessert 紫米红豆汤. Finally, somethings which remind of good old day desserts. This dessert, however, was a bit too sweet and best stirred with cream provided.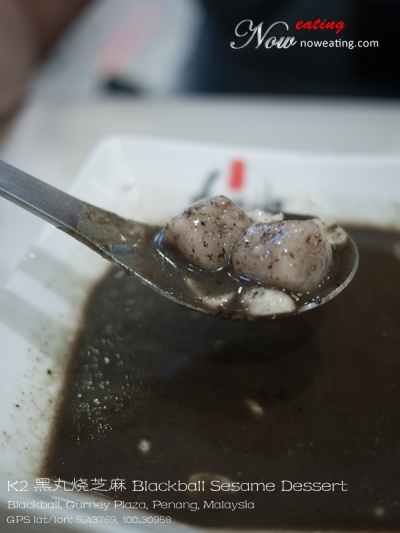 Another new dessert was Blackball Sesame Dessert 黑丸烧芝麻. It was almost perfect except it was a bit watery the time we ate it.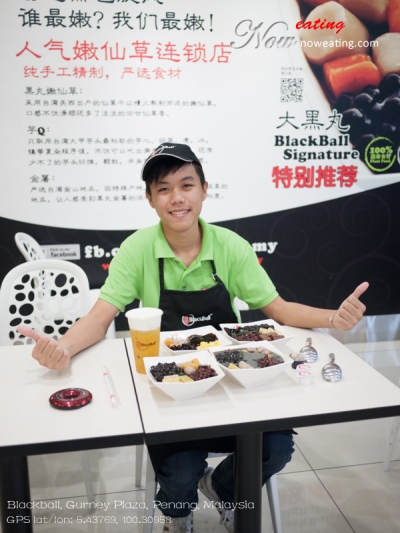 To be honest, I seldom take desserts after meal due to the fact that most desserts are too sweet for my liking. Surprisingly, Blackball is not the case. I myself found that the sweetness is just perfect for most items. Of course, you can ask for less sugar and ice as well. With so many Taiwanese dessert shops blooming in Malaysia, Blackball is perhaps one of the best Taiwanese dessert shops with better ingredients and better taste.
| | |
| --- | --- |
| Place Name: | Blackball |
| Cuisine: | Chinese |
| Address: | 170-06-02, Plaza Gurney, Persiaran Gurney, Pulau Pinang, 10250, Penang, Malaysia |
| Tel: | +604-2260400 |
| Website: | www.blackball.com.my |
| Working Hour: | 10.30am - 10.00pm |
| Tax: | No |
| Last Visit: | 20130102 |