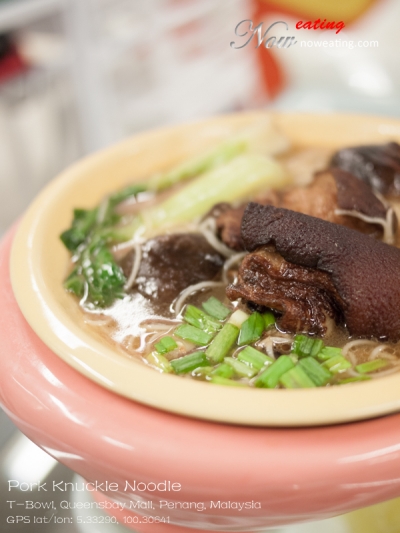 Pork Knuckle Noodle 猪脚面线 (RM12.90) – Cooked for extended hours, the juicy and sinful pork knuckle tastes like those in fine dining restaurant to an extend that you forget that you are dining in T-Bowl, a concept restaurant with toilet as the theme.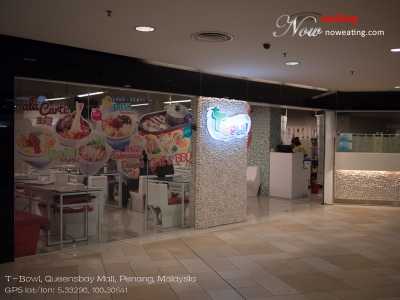 T-Bowl is located at 3rd floor and is just next to cinema. It is operating for about 5 years (time flies) and is renovated in June 2012. I just started visiting it recently. Previously, there was a rumour saying that the restaurant comes with toilet smell but after a few visits, there is no such thing. It is just a restaurant with some toilet decoration.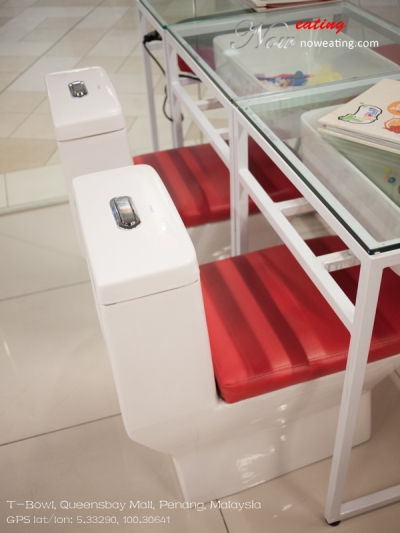 The most obvious one is toilet bowl seats. It is made of ceramic and is extremely heavy. Personally I don't like the design as the gap between the bowl and the table can be too small for big-sized persons.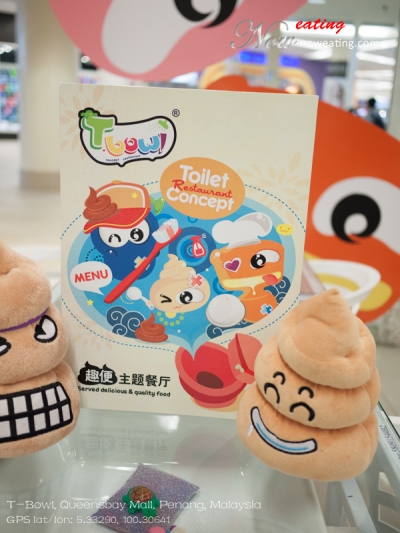 Good news is that starting 6-January-2013, there is a new menu for T-bowl with few new items. Sizzling BBQ hotplate items are removed and replaced with DIY steamboats. Shabu-shabu is "downgraded" to smaller bowl with pre-cooked ingredients. Now all branches are using the same menu (Penang has different menu last time).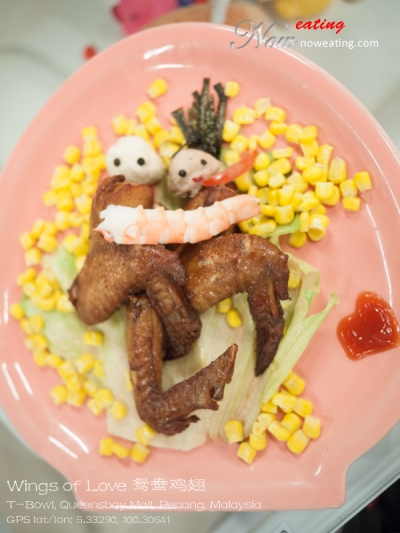 Wings of Love 鸳鸯鸡翅 (RM9.90) – First, let's start with a cute item – two chicken wings and a de-skinned shrimp decorated like a couple hugging together. The "heads" are made of meat ball. Beware of the "eyes" as they are made of black peppers.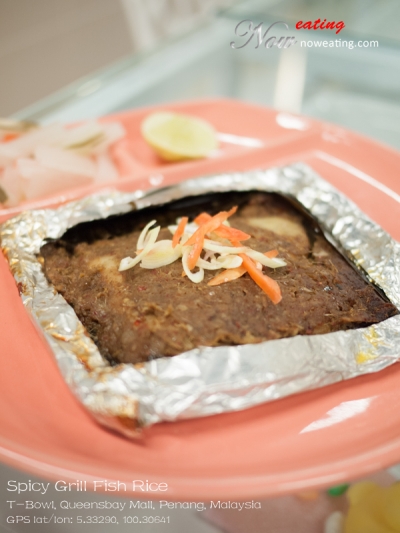 Spicy Grill Fish 香辣烧鱼饭 (RM13.90) – New item! Don't be fooled by its name. It tastes like otak-otak, except it has mild spiciness and is suitable for kids.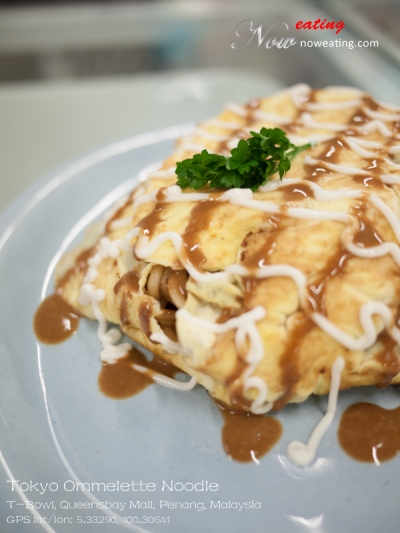 Tokyo Ommelette Noodle 东京蛋包面 (RM12.90) – It looks like Pattaya Fried Rice at first glance, except this one is fried noodle coated with thick sauce and pork belly slices before wrapping them up with egg "skin". Definitely not something you will find in other restaurants.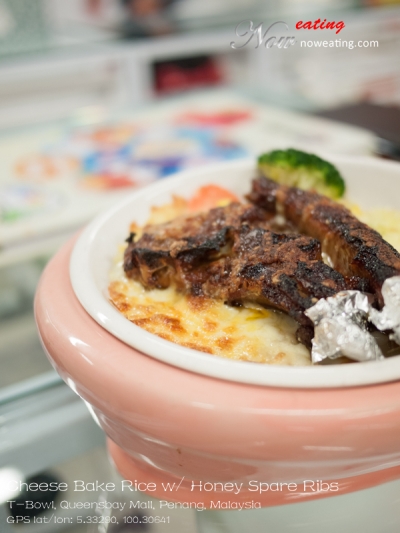 Cheese Bake Rice with Honey Spare Ribs 芝士蜜汁烧焗排骨菜饭 (RM14.90) – This is one of the best food in T-Bowl. The grilled pork ribs are grilled and coated with honey. To consume, use your hand by holding the aluminium wrapping and chew. Did I mention that it is fried rice beneath the cheese coating?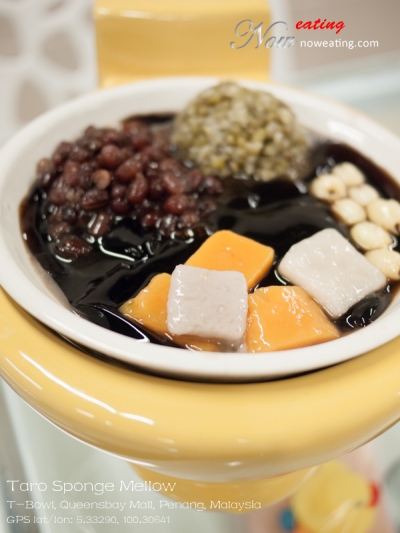 Taro Sponge Mellow 芋香棉冰 (RM9.90) – Time for some desserts. Blackball faced a serious competitor here. Jelly grass here is even softer than Blackball like it can melt in your mouth the moment you put it in. The different is that T-Bowl use yam snow ice instead of grass jelly snow ice as the base.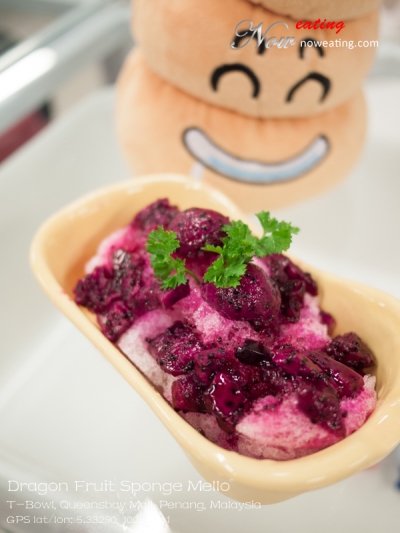 Dragon Fruit Sponge Mellow 火龙果海绵冰 (RM9.90) – Snow ice topped real red dragon fruit. Somehow it is a bit too sweet.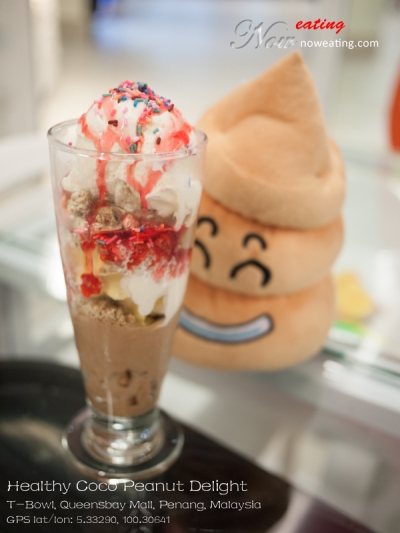 Healthy Coco Peanut Delight 健康可可刷刷膏 (RM9.90) – The mixture of chocolate and vanilla ice cream topped with strawberry syrup is yummy. At the bottom, you will find some cornflakes and peanuts, lots of peanuts. I was tired chewing them.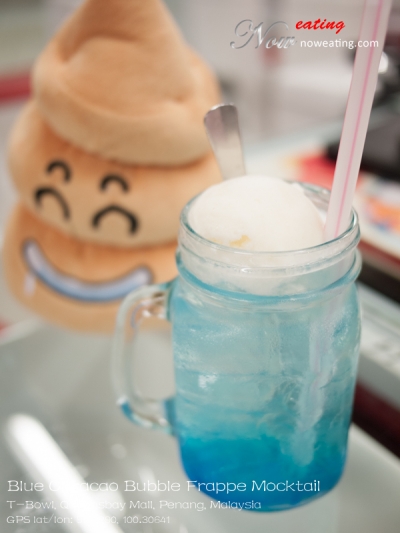 Blue Curacao Bubble Frappe Mocktail 蓝甘气泡肥皂水 (RM6.90) – As for the drinks, this is one of the famous drinks. Tasted like ice-cream soda.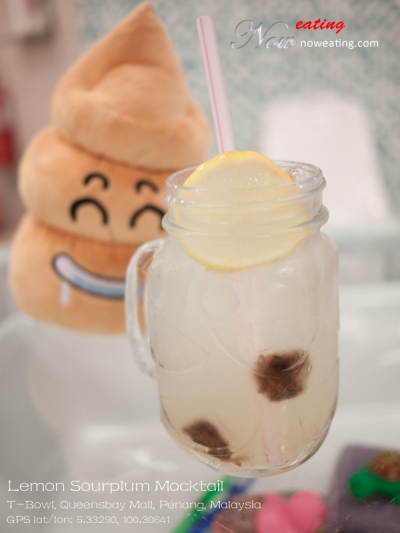 Lemon Sourplum Mocktail 柠檬酸梅肥皂水 (RM6.90) – A thirst quencher. Sour plum and lemon juice are squeezed together with a glass of Sprite.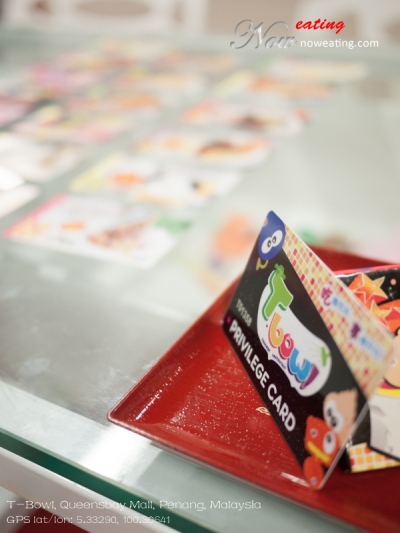 Apply for their member card for RM12 (no expiration) and you will be given vouchers for each month and special occasions. Most vouchers will give you free food with minimum spending of e.g. RM30. For coming years, you can simply purchase a set of vouchers for RM5.00.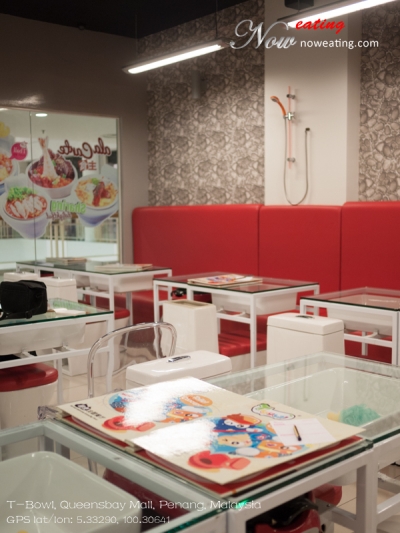 Theme restaurant is proven to be challenging compared to normal restaurant as not only they need to compete with others in term of food quality, but also to convince customers to accept the new dining concept. T-Bowl is one of the successful cases thanks to its food selection and quality. With menu update in Jan 2013, things are getting better. And no, there is no toilet smell!
| | |
| --- | --- |
| Place Name: | T-Bowl Concept Restaurant |
| Cuisine: | Chinese |
| Address: | 3F-43, 43A, 45, 100, Persiaran Bayan Indah, Bayan Lepas, 11900, Penang, Malaysia |
| Tel: | +604-6433529/+6017-5689297 |
| Website: | http://www.t-bowl.com/ |
| Working Hour: | 10:30am - 10:00pm |
| Last Visit: | 20130108 |