It has been a while since I entered a fine dining restaurant. Recently, I had an opportunity to travel to Batu Ferringhi and visited a Japanese restaurant in a high class hotel – Matsu @ Lone Pine Hotel.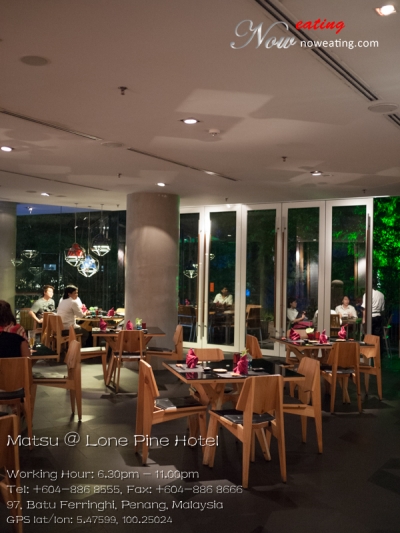 Lone Pine Hotel is located nearby Rasa Sayang Hotel with access to public beach. It is one of the three hotels under E&O management. I will cover more on Lone Pine Hotel in coming post.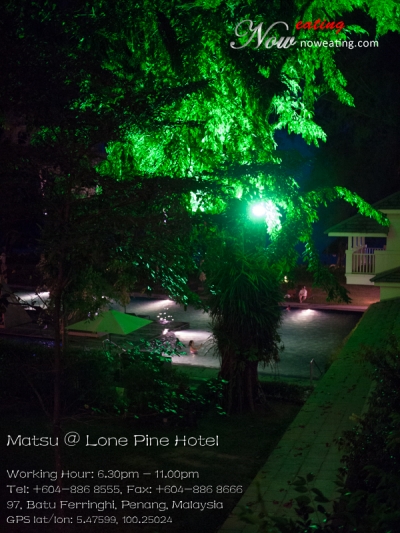 As for the Matsu, it is located opposite of lobby and at the upper floor of Batubar – the bar of Lone Pine Hotel. You can either sit in air-conditioned dining hall or at the balcony with swimming pool view.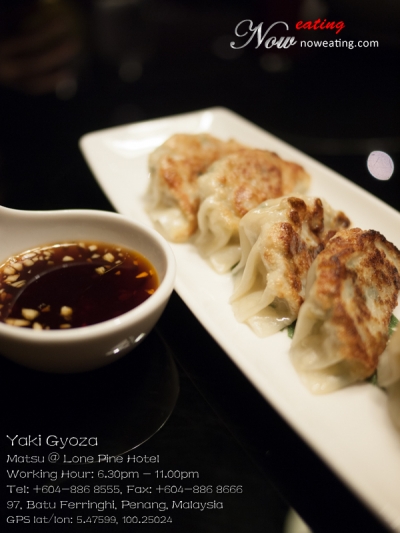 Yaki Gyoza (RM16) – Let's begin with some appetizers. This is Japanese fried dumplings. A snack item commonly found in Japanese/Taiwanese restaurants. The filling is generous and best consumed when hot together with vinegar provided.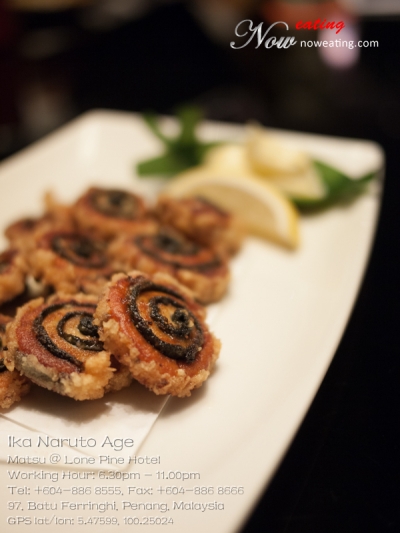 Ika Naruto Age (RM28) – Deep fried calamari seaweed rolls with lemon mayonnaise. A unique appetizer which tasted good. I hope the portion can be bigger.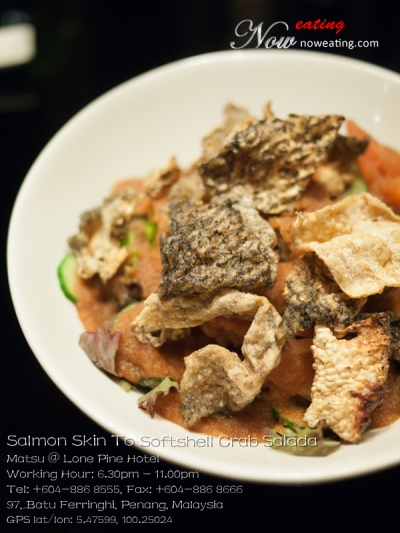 Salmon Skin To Soft Shell Crab Salada (RM28) – A special salad not usually found in Japanese restaurant. The salmon skin is fried to golden while the soft shell crab is juice.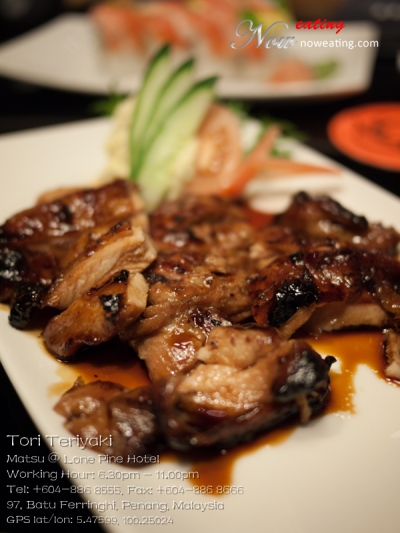 Tori Teriyaki (RM25) – Grilled chicken with teriyaki sauce. The chicken is tender.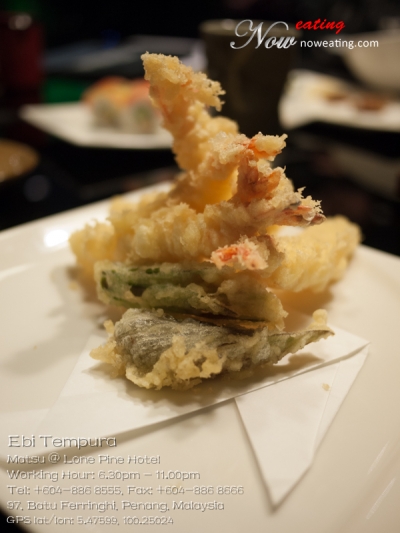 Ebi Tempura (RM30) – A common item found in Japanese restaurant. Good news is that Matsu's version is less oily.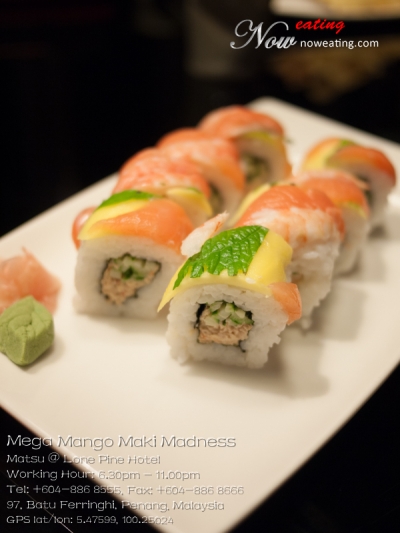 Mega Mango Maki Madness (RM38) – Mango with assorted raw fish reversed roll. A dish recommended by the host. The mango is sweet.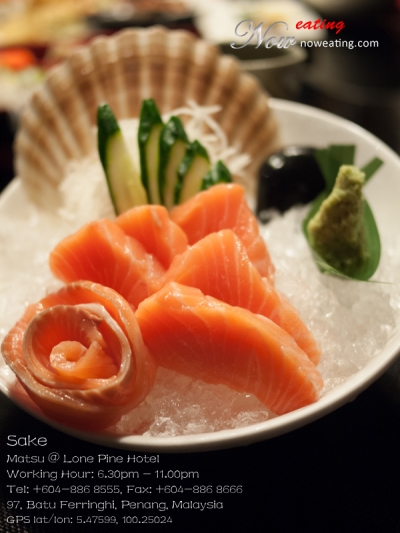 Sake (RM32) – The raw salmon slices are fresh. Something you would expect in fine dining restaurant.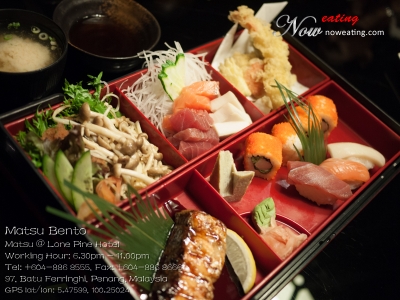 Matsu Bento (RM68) – Honest speaking, while most items in ala-carte menu are satisfactory, they were also burning a hole in my pocket. However, there was a promotion menu which caught my attention, namely 4 sets of bento at reasonable price. Among them, Matsu Bento looks good, tastes good, and feels good.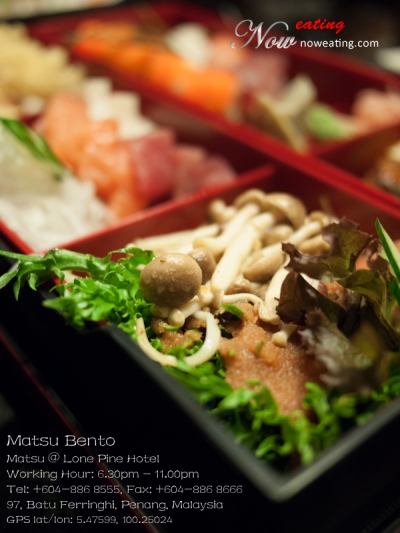 Matsu Bento comes with the following items:
Kinoko Salad (Mushroom Salad) – I like it very much.
Sashimi (Chef's selection of raw slices)
Tempura (Deep-fried seafood & Vegetables in light & lacy butter)
Salmon Teriyaki (Grilled Salmon fillet with Teriyaki Sauce)
California Uramaki to Nigiri Sauce (California reversed roll & 3 pieces of sushi)
Tamagoyaki (Egg omelette)
Misoshiru (Bean-paste soup)
Dessert of the day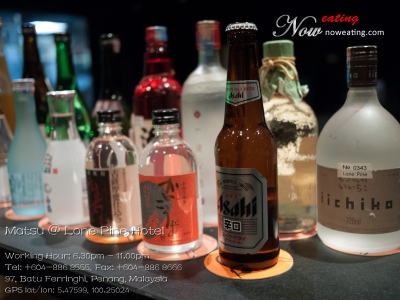 Last but not least, Matsu also serves a series of Japanese liquors.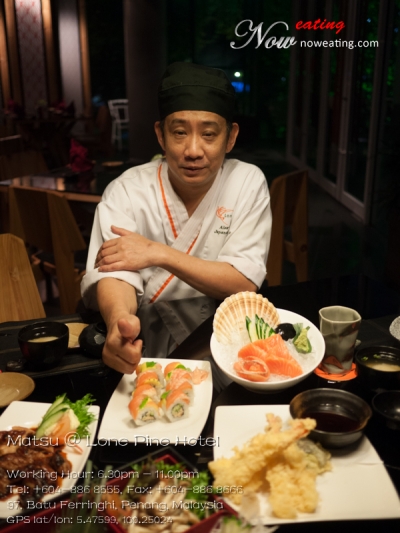 Matsu @ Lone Pine Hotel is perhaps the only authentic Japanese restaurant in Batu Ferringhi. We enjoyed dining there thanks to its spacious environment with stone interior design. The food is fresh and definitely up to the fine dining standard. Bento set is value for money.
| | |
| --- | --- |
| Place Name: | Matsu |
| Cuisine: | Japanese |
| Address: | 97, Lone Pine Hotel, Batu Ferringhi, 11100, Penang, Malaysia |
| Tel: | Tel: +604-886 8555, Fax: +604-886 8666 |
| Email: | [email protected] |
| Website: | www.lonepinehotel.com |
| Working Hour: | 6:30pm - 11:00pm |
| Tax: | 10% Government Tax, 6% Service Tax |
| Last Visit: | 20130109 |