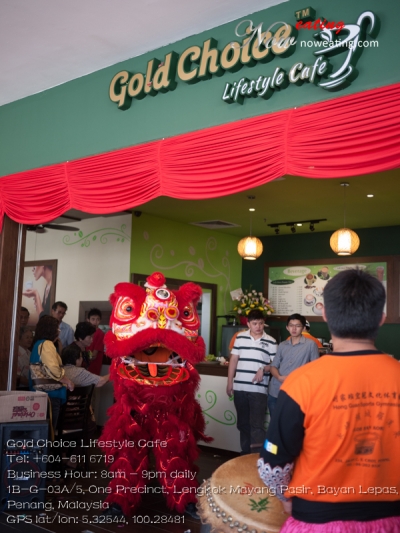 Gold Choice, this brand sounds so familiar when I was invited to attend its open ceremony on 06-Mar-2013. Yes, it is one of the famous instant coffee brands in Malaysia, with gold fish as it "mascot". Now, it has its very first cafe in Malaysia.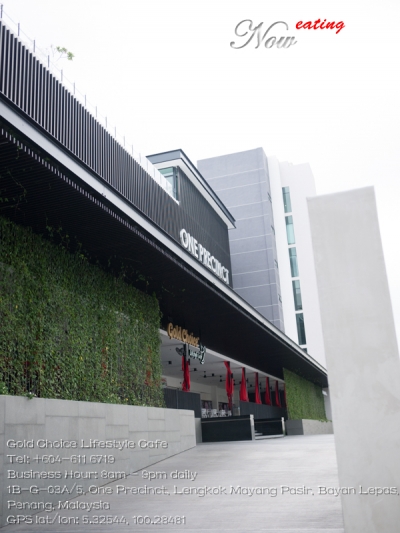 The cafe is located at One Precinct – a new office and commercial mall in Bayan Baru, Penang. Citibank will be its main tenant. The building construction went through economic crisis and took many years to complete. Now it has few shops opened, including Gold Choice Lifestyle Cafe. Many people confused between One Precinct and Precinct 10 which is located at Tanjung Tokong. Below is introduction to Gold Choice: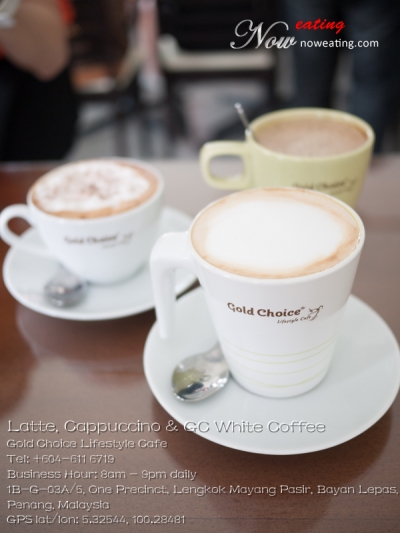 Golden Milestone
Established in 1994, Gold Choice is now one of the leading instant beverage product manufacturers in Malaysia.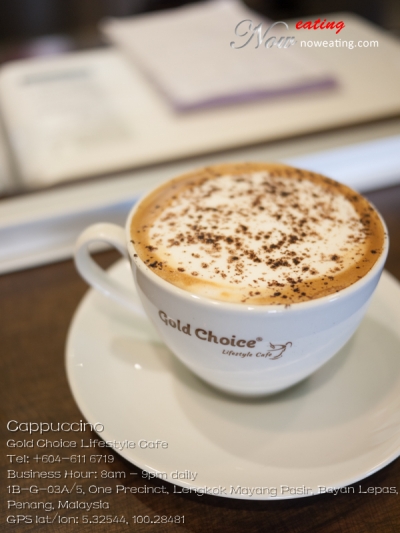 Through the latest technology and formulas unique to Gold Choice, we have become a quality food and beverage company with savvy observation of consumer trends and market demands. Our staffs regularly receive training that educates them on quality and food safety systems.
Gold Choice's milestones include being awarded Global Corporate Leader and the Global Excellent Products Golden Solid Award by the Medium Business Development Association of China, Asia Pacific E- Entrepreneur Excellent Award, International Honesty Enterprise Keris Award, Superbrands and Golden Bull Award. Golden Choice is a recipient of the internationally recognised HACCP and ISO22000 Food Safety Management Systems certification.
Gold Choice Lifestyle Cafe
Good coffee always leaves us with good memories. We are here to offer coffee lovers with original fresh and exquisite coffee in the town. All hot coffee are freshly brewed, and the recipe was specially designed.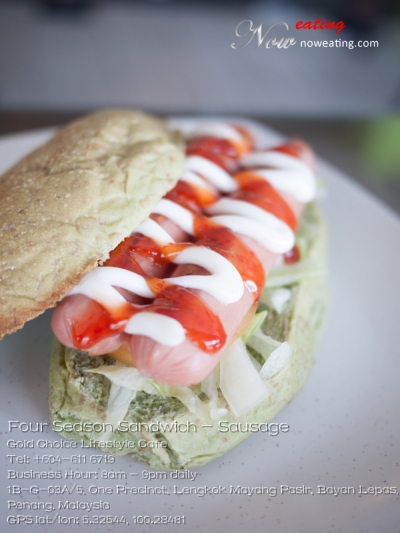 Besides, We are offering tantalizing meals and delicacies which include of FOUR SEASONS ramen and FOUR SEASONS sandwiches. Sit back and relax while enjoying the superb taste of our GOLD CHOICE coffee.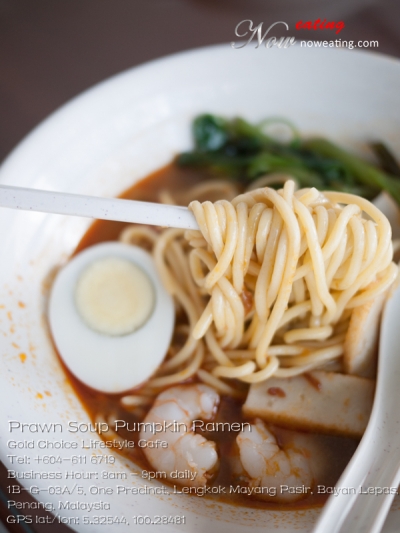 Enough of introduction. Speaking of Four Seasons ramen/sandwich, this is one of their specialties. Instead of common yellow noodle, Four Seasons ramen comes in four flavours:
Spring: Spinach
Summer: Pumpkin
Autumn: Red Yeast Rice
Winter: Egg Noodle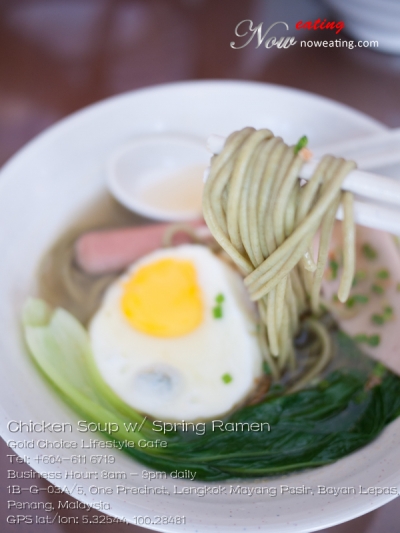 While Summer and Winter noodles are difficult to distinguish, you can easily tell between Spring and Autumn noodle. Spring noodle is green.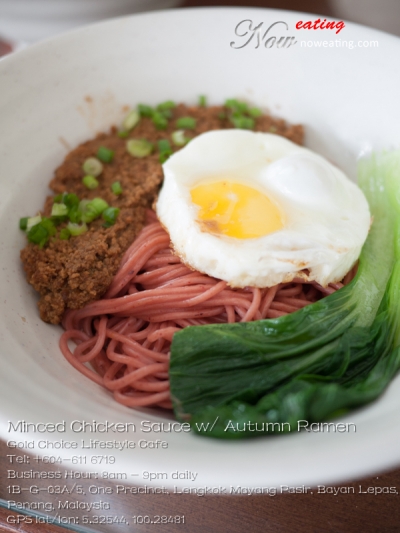 … and Autumn ramen is red in colour.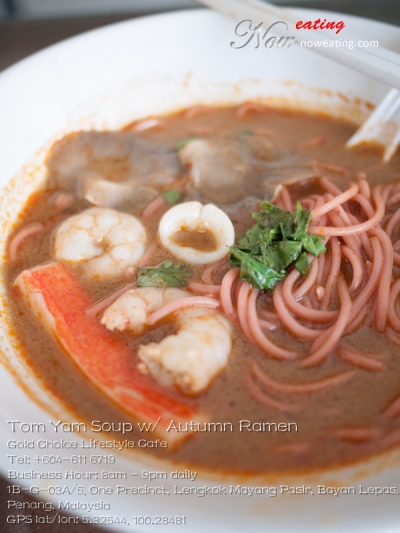 If you would like to try out their ramen series, you may consider Tom Yam Soup. It looks not as tempting as others but tastes good. Each ramen is priced at RM8.90.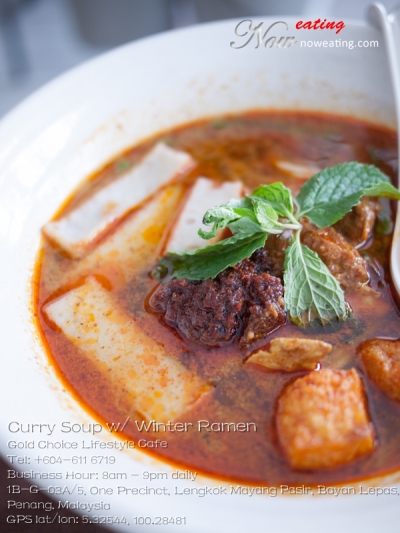 Another spicy item is Curry Soup (RM8.90). Since this is pork-free restaurant, it is lacking of coagulated pig blood and clam, which are sinful but are ingredients to make Curry Mee tasty.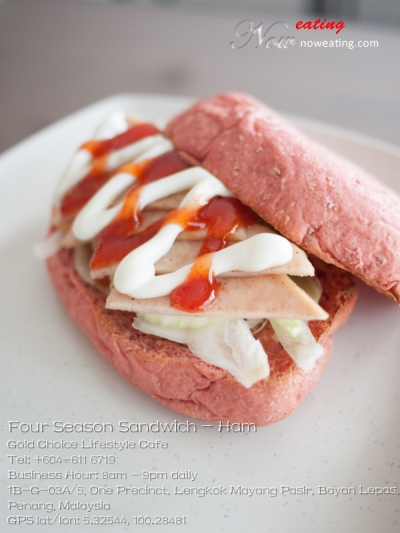 Anyway, the recommended item in Gold Choice Lifestyle Cafe is their Four Season sandwiches, which consists of four types of filling:
Sausage
Tuna
Ham
Ikan Bilis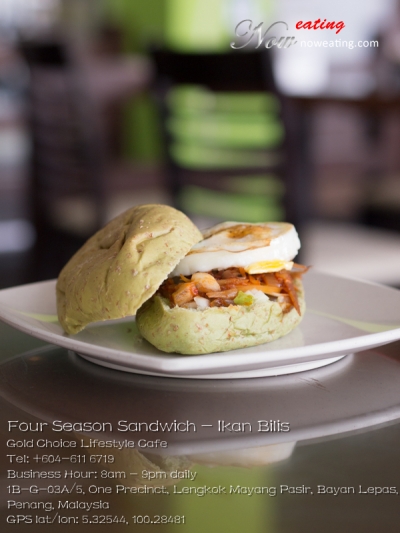 As for the buns, they are similar to ramen except Spring is replaced with green tea and Winter replaced with normal bun.
Spring: Green Tea
Summer: Pumpkin
Autumn: Red Yeast Rice
Winter: Normal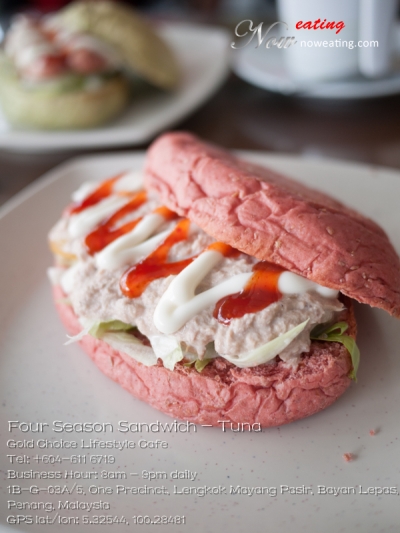 If you order from the menu, each sandwich comes with fixed Four Seasons bun. Anyway, you can further customise by telling the crew which bun you prefer. Personally, I prefer Tuna with Red Yeast Rice. Each Four Seasons sandwich is priced at RM5.50.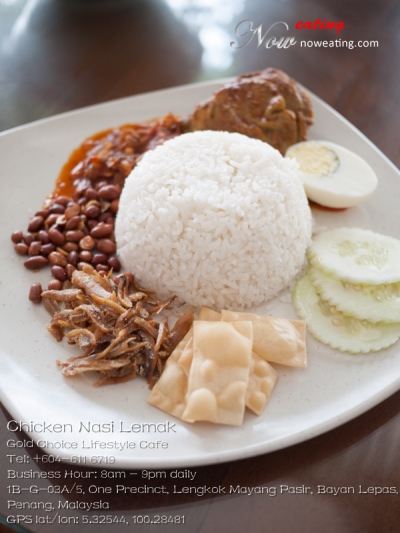 Other than ramen and sandwich, Gold Choice also serves some local cuisines, such as Chicken Nasi Lemak (RM8.90). The curry chicken was well-cooked.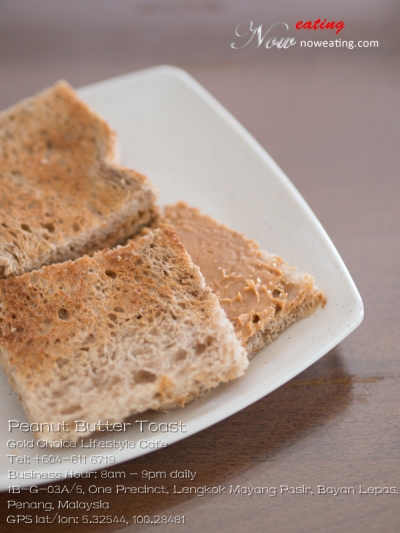 Gold Choice Lifestyle Cafe opens at 8am daily so that you can have your breakfast there as well. Some breakfast items you will find are:
Peanut Butter Toast (RM1.70/Single)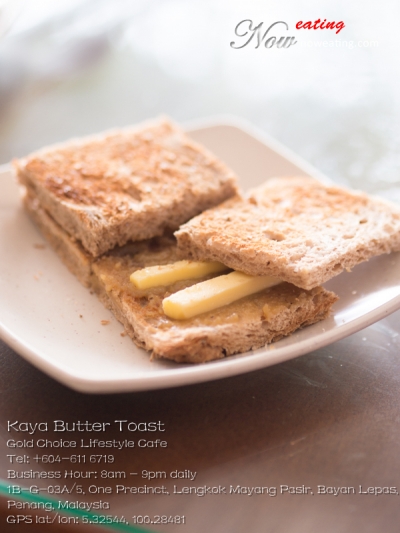 Kaya Butter Toast (RM1.70/Single)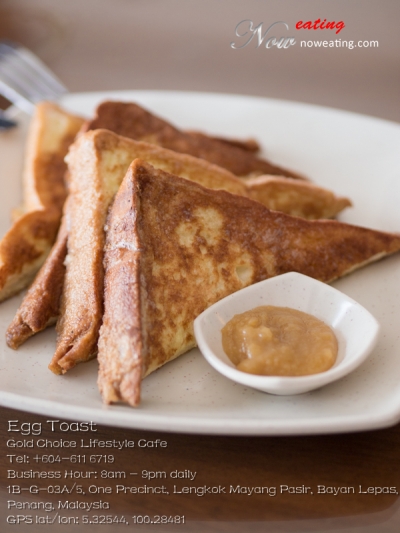 Egg Toast (RM4.90)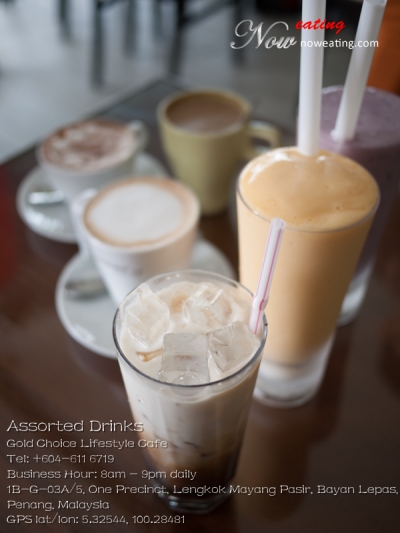 As for the beverage, personally I like their Mango Sweeties Milk Konnyaku (RM8.90) and Cappuccino (RM6.90). The mango tasted rich and the coffee was smooth. The coffee bean was carefully selected and brewed by a famous Thai Sifu. Some commented that Iced Premier Coffee Extra Rich (RM7.90) tasted exceptionally good, even though I haven't try it yet.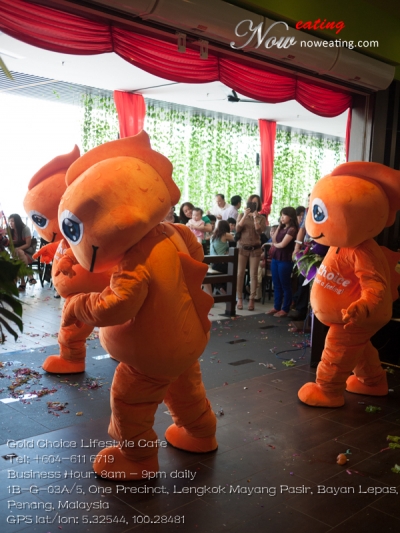 From instant coffee to lifestyle cafe, Gold Choice's intention is to position itself between Old Town White Coffee and Starbuck, that is, enjoying quality coffee at a reasonable price. Opened since 6-Mar-2013, do visit the very first Gold Choice outlet at One Precinct, Bayan Baru and try their Four Seasons sandwich and premier coffee.
| | |
| --- | --- |
| Place Name: | Gold Choice Lifestyle Cafe |
| Cuisine: | Chinese |
| Address: | 1B-G-03A/5, One Precinct, Lengkok Mayang Pasir, Bayan Lepas, 11950, Penang, Malaysia |
| Tel: | +604-611 6719 |
| Website: | www.goldchoicecafe.com |
| Working Hour: | 8am - 9pm daily |
| Last Visit: | 20130324 |