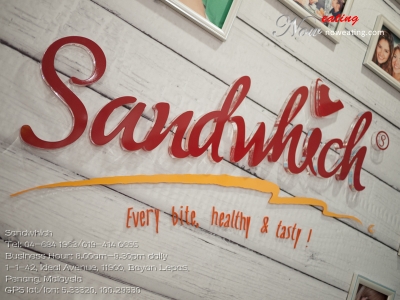 As people are getting more concern on healthy food, sandwich bar quickly becomes an alternative to chain fast food restaurants. As a starter, we have Subway chain sandwich bar. Then, we have O'Briens which is a bit pricey. Now, we have Sandwhich offering some quality ingredients you won't find in any other sandwich bars.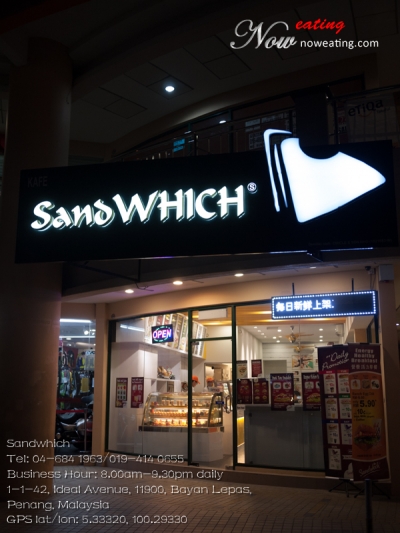 Sandwhich sandwich bar is located at i-Avenue, a famous commercial building (but hard to find parking) near Bukit Jambul. It is the very first outlet and is opened in 19-Jan-2013. Coincidentally, a Subway outlet is recently opened as well and is just a crawling distance away.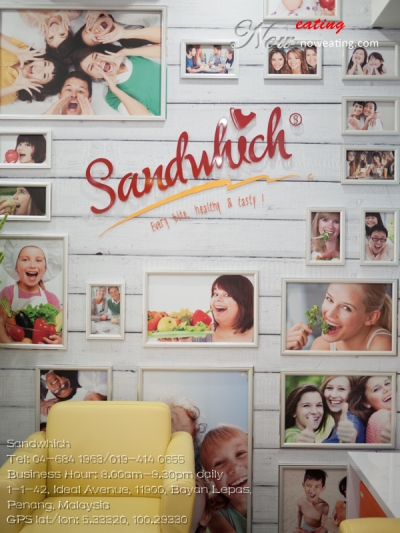 One thing I would like to point out is that, Sandwhich is a non-halal sandwich bar. You will find pork sandwich there.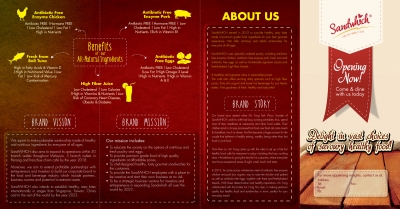 What's so special about Sandwhich? Sandwhich has 3 selling points on its sandwiches:
1. Chicken is fed with enzyme and is antibiotic free. It also has lower cholesterol/fat and higher nutrients compared to commercial chicken.
2. Eggs used are Omega Eggs. Again, antibiotic-free, lower cholesterol, Omega 3 enriched, and high in Vitamin E.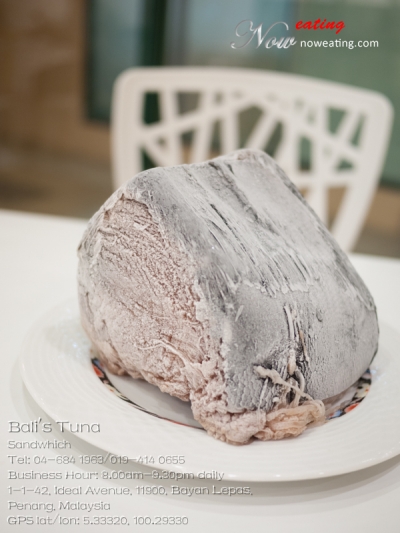 3. Tuna used is from non-processed meat and not from canned tuna. It is high in fatty acids, Vitamin D, and nutrients. Tuna is imported from Bali.
4. Yogurt is made of fresh milk, not milk powder.
5. Fine fiber fruit juice (use powerful high speed blender to make it).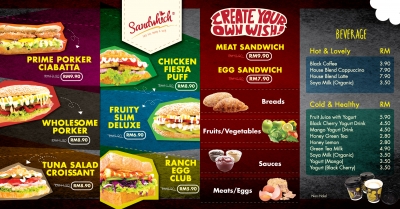 For peace of mind, there are four pre-configured sandwiches for you to choose from: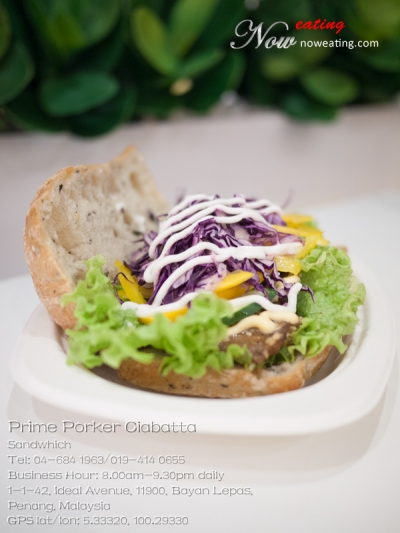 1. Prime Porker Ciabatta (RM9.90) – Real baked pork in hot and crunchy ciabatta, topped with home secret sauce, garnished with coral lettuce, zucchini, capsicum & purple cabbage. Ciabatta is an Italian bread made from wheat flour, yeast, and olive.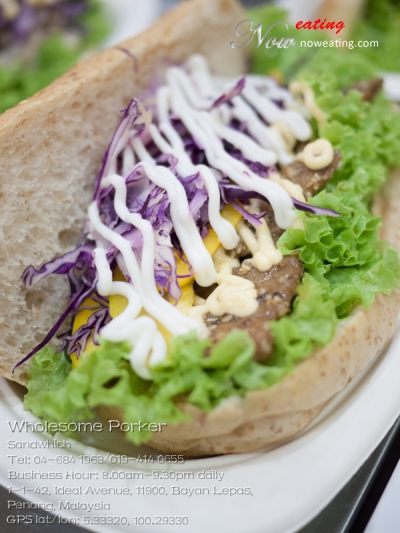 2. Wholesome Porker (RM8.90) – Baked slices of pork in warm wholemeal bun, topped with yummy homemade mayo sauce & garnished with coral lettuce.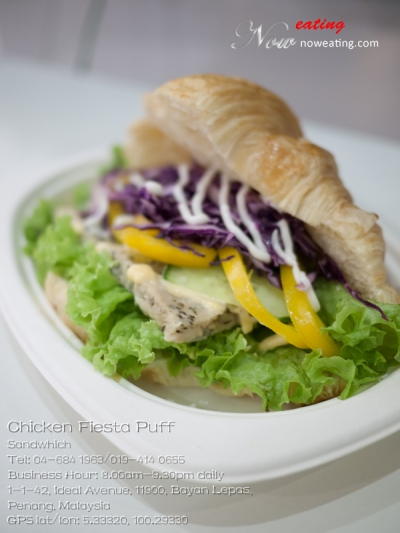 3. Chicken Fiesta Puff (RM8.90) – Steamed chicken breasts in heated croissant, topped with homemade cheese sauces, coral lettuce, zucchini, capsicum & purple cabbage.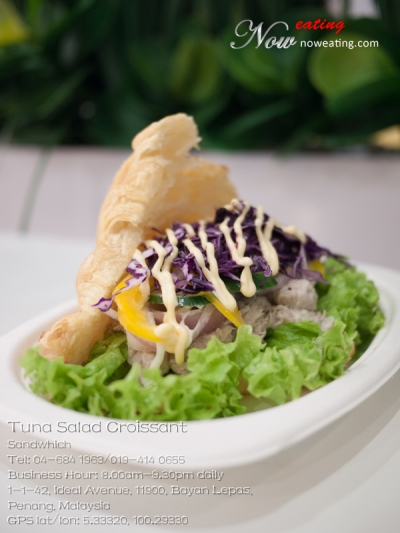 4. Tuna Salad Croissant (RM8.90) – Fresh & steamed tuna in heated croissant with tasty mayo sauce, coral lettuce, zucchini, capsicum and purple cabbage. This is recommended by the owner. Taste-wise it is much better than canned tuna.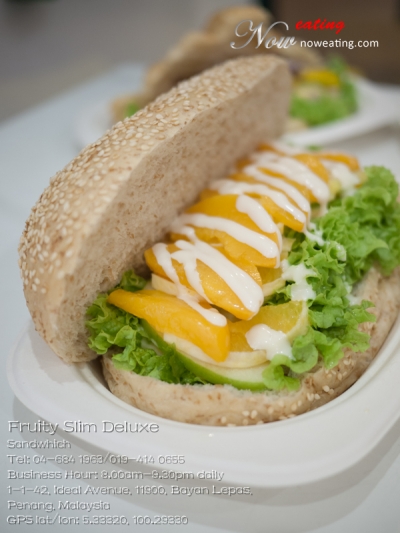 5. Fruity Slim Deluxe (RM6.90) – Layers of peach, green apple & orange topped with coleslaw sauce & coral lettuce in a warm wholemeal bun. Personally I like this one as it is added with yogurt, making it a juicy sandwich.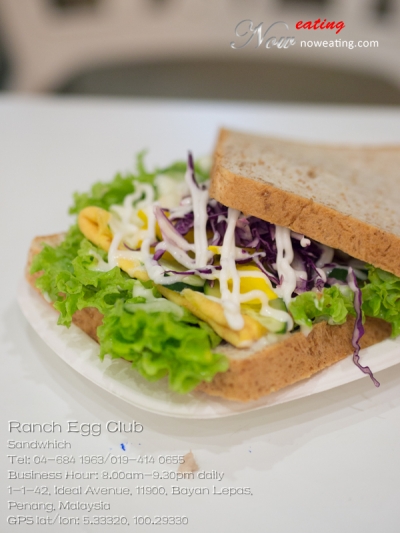 6. Ranch Egg Club (RM5.90) – Antibiotic-free fried eggs, homemade mayo, coral lettuce, zucchini, capsicum and purple cabbage in steamed hot slices of bread.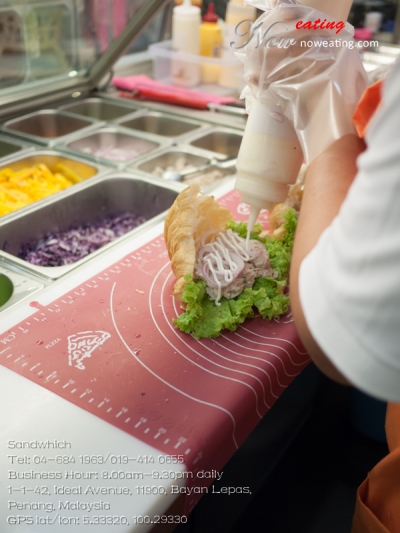 Of course, you can customise your own sandwich:
Meat Sandwich (RM9.90)
Vegetables Sandwich (RM6.90)
Egg Sandwich (RM7.90)
Egg+Meat Sandwich (RM11.90)
What it means is that, Below are items you can select from: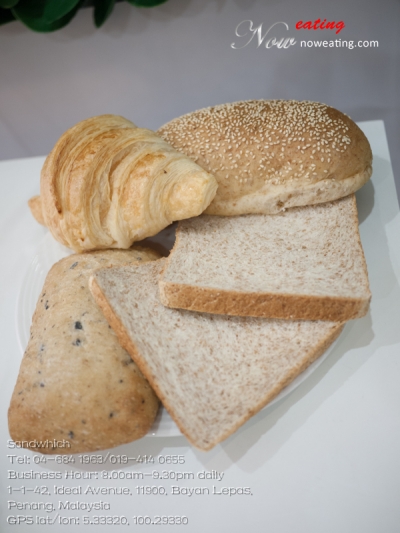 Breads:
Olive Ciabatta
Wholemeal
Wholemeal Loaf
Croissant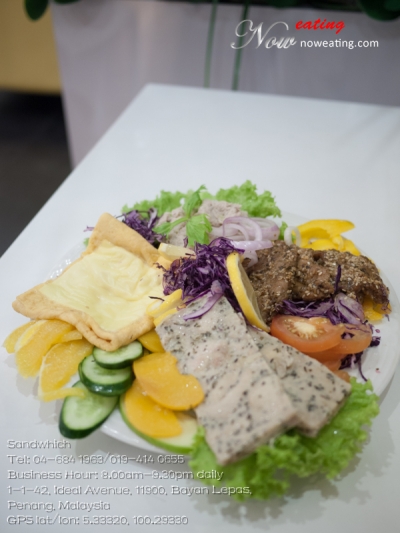 Meats and Eggs:
Enzyme Pork
Enzyme Chicken
Fresh Tuna
Omega Eggs
Vegetables:
Coral Lettuce
Zucchini
Capsicum
Purple Cabbage
Tomato
Onion
Fruits:
Green Apple
Red Apple
Orange
Peach
Sauces:
Homemade Mayonnaise
Cheesy Mayonnaise
Coleslaw Sauce
All breads are carefully selected by the owner – Mr. Foong. Croissant, for example, is at hotel quality and is usually out-of-stock towards evening. Ciabatta is a must-try if you are tired of normal breads. Their breads are so tasty that some customers just come to buy their breads.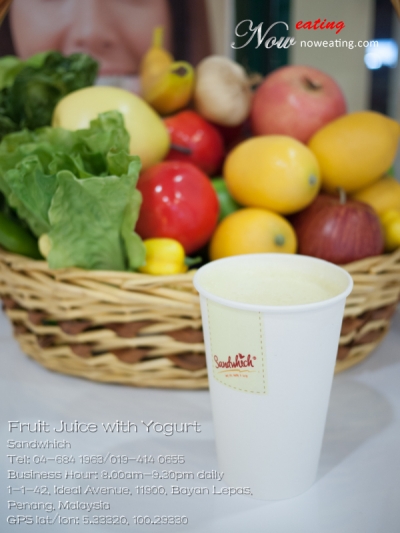 Sandwhich is not only providing healthy sandwiches, but also healthy beverages. Fruit Juice with Yogurt (RM5.90) is a must-try. It consists of 5 fruits – apple, orange, pineapple, lychee, and lemon, mixed with yogurt.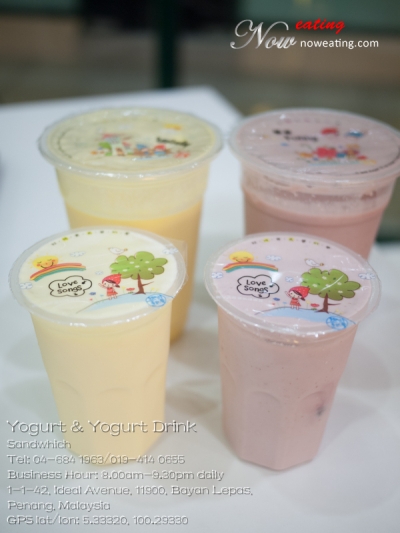 Sandwhich also serves Mango and Black Berry Yogurt (RM3.50) and Yogurt Drink (RM4.50). What's the different? Yogurt is thick yogurt which tastes a bit sour. Yogurt drink is a … uh… drink. They are produced daily.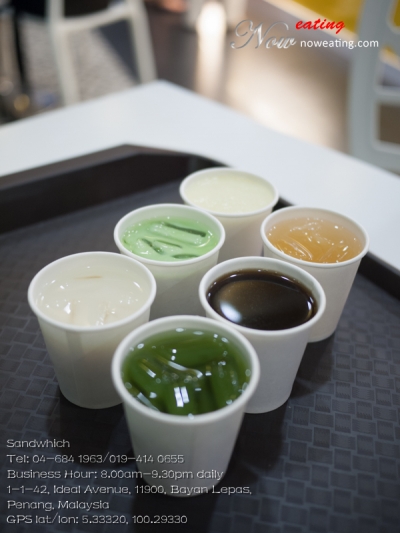 Other beverages included:
Honey Green Tea (RM2.80)
Honey Lemon (RM2.80)
Green Tea Milk (RM4.90) – Recommended
Soya Milk (Organic) (RM3.50) – Recommended
Black Coffee (RM3.90)
House Blend Cappuccino (RM7.90)
House Blend Latte (RM7.90)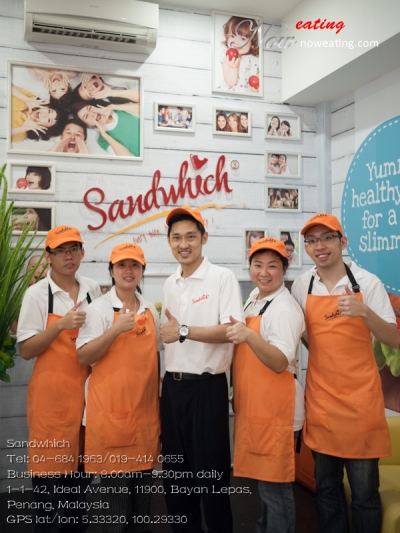 Unlike other sandwich bars, Sandwhich is probably one of the healthiest sandwich bars in Penang serving antibiotic-free sandwiches and delicious yogurts. All ingredients are carefully selected by the owner. Opened in Jan/19/2013, do pay them a visit at i-Avenue, Penang.
| | |
| --- | --- |
| Place Name: | Sandwhich |
| Cuisine: | Western |
| Address: | 1-1-42, Ideal Avenue, Medan Kampong Relau 1, Bayan Lepas, 11900, Penang, Malaysia |
| Tel: | Hotline: 019-414 0655, Tel: 04-684 1963 |
| Email: | [email protected] |
| Website: | www.sandwhich.my |
| Working Hour: | 8am-9.30pm daily |
| Tax: | No |
| Last Visit: | 20130324 |