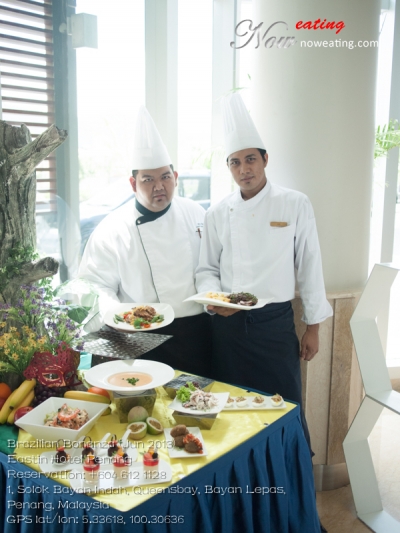 In conjunction with the upcoming June promotion, Eastin Hotel Penang is pleased to offer you in the unique Brazilian cuisine and enjoy a wonderful culinary journey into the exotic Amazon.
Among the unique dishes to look for are:
Appetizers 开胃菜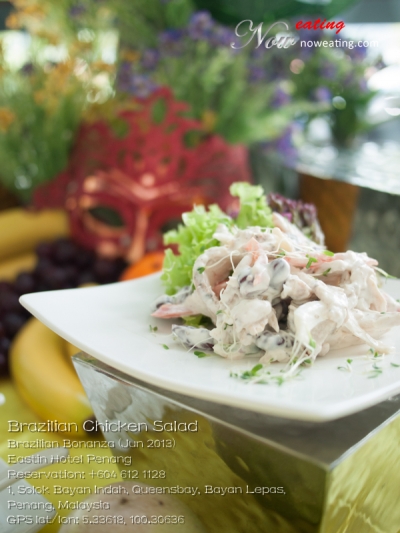 Brazilian chicken salad (Salpicao) 巴西式鸡肉沙拉 – consists of kidney red beans, chicken breast, capsicum, and onions.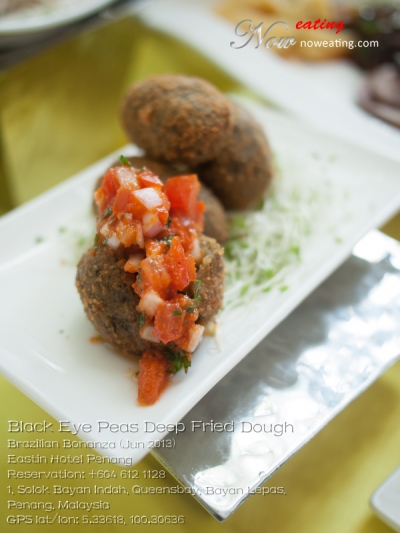 Black eye peas deep fried dough (Acaraje) 黑豌豆油炸面团 – the pealed black eye peas are formed into ball and mixed with black pepper, beans, and garlic.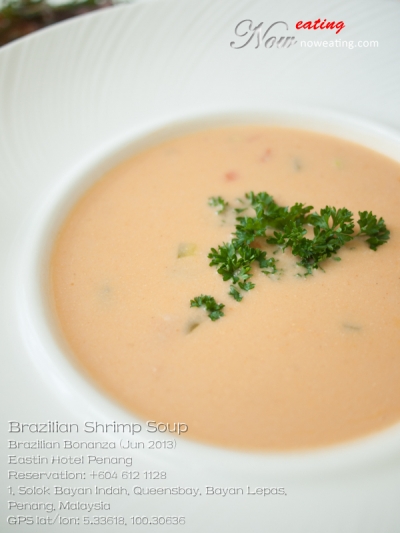 Brazilian shrimp soup 巴西式鲜虾浓汤 – this is perhaps the best item of the day. It is made of coconut milk, lemon juice, parsley, and coriander.
Main Course 主菜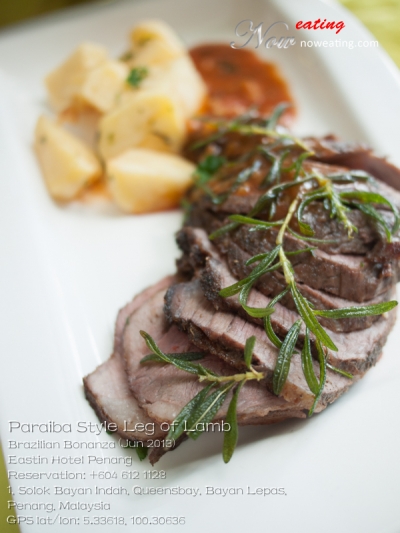 Paraiba Style leg of lamb (Pernil De Cordeiro) 帕拉伊巴风格羊腿 – the sauce is rather special and made of onion, garlic, tomato, mustard, honey, parsley, and rosemary.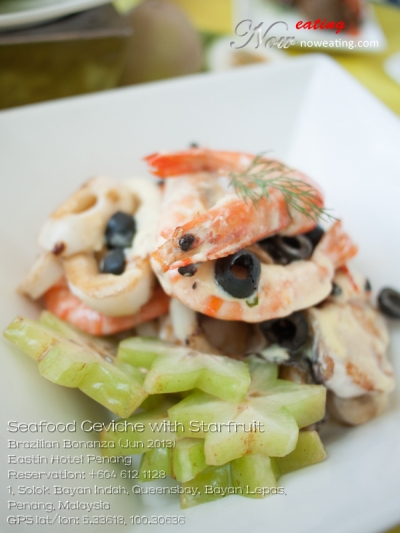 Seafood ceviche with starfruit (Ceviche de Peixe e Camarao Com Carambola) 杨桃海鲜酸橘汁腌鱼 – the starfruit will be blended into white sauce together with red onion, tomato and coriander. It tastes a bit like carbonara sauce except this one is sweeter. The seafood consists of calamari, prawns, and fishes.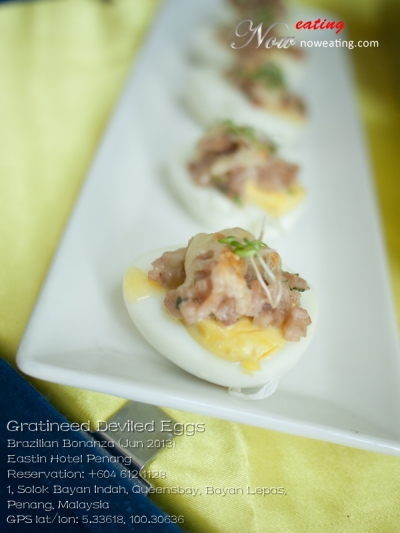 Gratineed deviled eggs (Ovos Recheados Gratinados) 巴西式焗蛋 – The egg is topped with turkey ham and cheeses.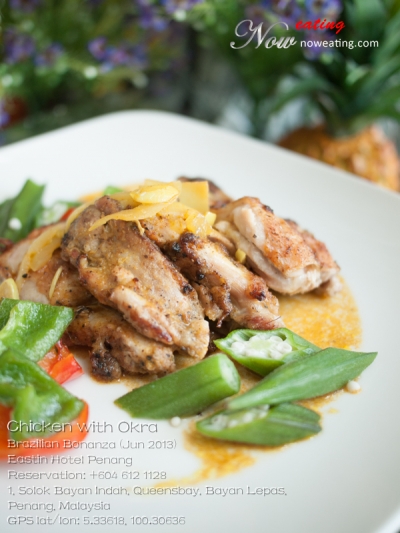 Chicken with okra (Frango Com Quiabo Mineiro) 秋葵鸡肉 – the sauce, which made of garlic, onion, paprika, parsley, and chicken stock tastes like satay sauce.
Semi Buffet Dinner Main Course 半自助晚餐主菜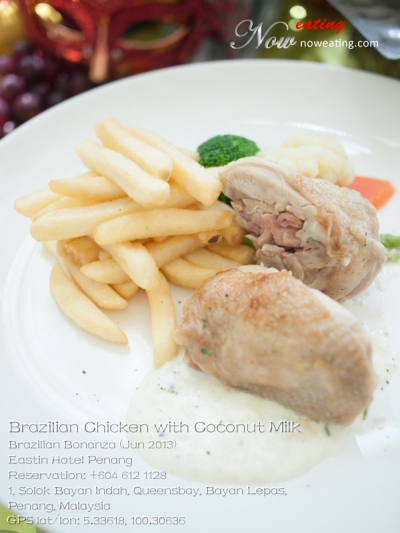 Brazilian chicken with coconut milk (Fango Com Leite de Coco Brasileira) 巴西式椰奶鸡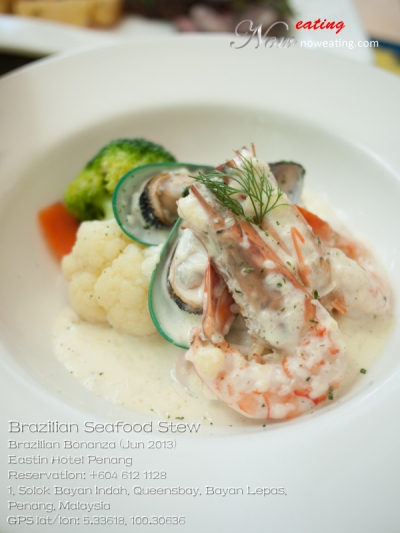 Brazilian seafood stew (Moqueca Do Frutos Del Mar) 巴西式焖海鲜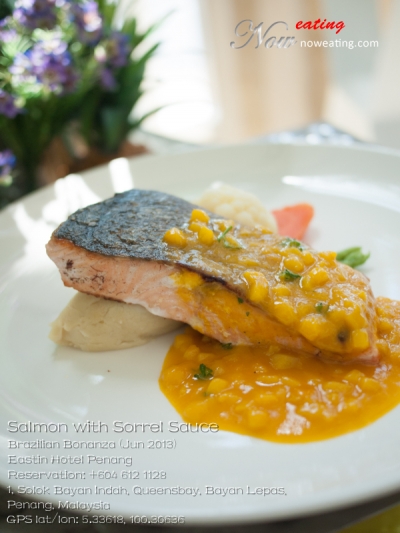 Salmon with sorrel sauce (Salmon Ao Molho de Azedinha) 酸模酱鲑鱼
Desserts 甜点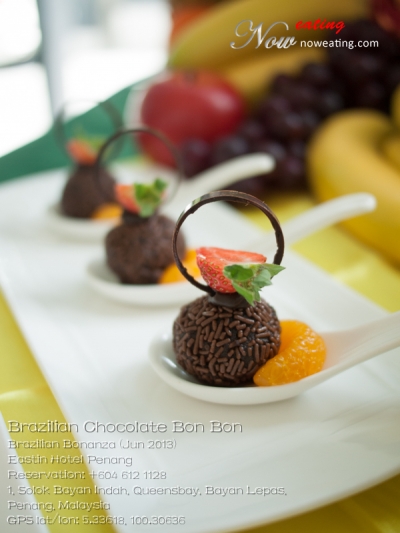 Brazilian Chocolate Bon Bon (Brigadeiro) 巴西式棒棒巧克力 – chocolate fudge ball.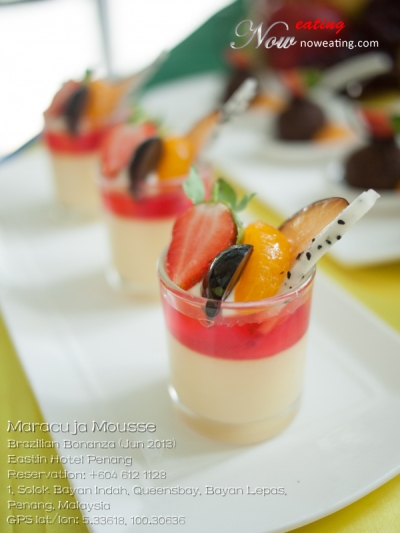 Maracuja mousse 西番莲果慕斯 – One of the best desserts. It tastes sweet and sour.
Brazilian Bonanza is available during lunch, hi-tea and dinner at Swez Brasserie from 1 – 30 June 2013:
Lunch: Monday – Friday
12.00 pm – 2.30 pm
RM48++ (adult) RM24++ (child)
Hi-Tea: Saturday and Sunday
12.00 pm – 3.00 pm
RM55++ (adult) RM28++ (child)
Hi-Tea: Festive Occasions
12.00 pm – 3.00 pm
RM68++ (adult) RM34++ (child)
Semi Buffet Dinner: Sunday – Thursday
6.30 pm – 10.00 pm
From RM48++ per person
June Credit Card Promotions
MAYBANKARD, Standard Chartered Bank, OCBC Bank, CIMB Bank and Citibank card members, guests can enjoy 15% discount for Brazilian Bonanza Semi Buffet Dinner (Monday to Thursday) and Weekend Buffet Dinner (Friday & Saturday) from 6.30pm – 10.00pm.
For inquiries or reservations, please call Eastin Hotel Penang, Swez Brasserie at +04 612 1128