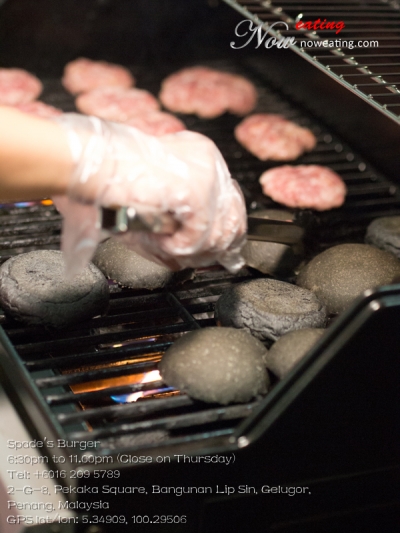 If you asked me what's hot in Penang nowadays, I would say not Laksa, not Char Koay Teow, but burgers. Cafe 43, Marshall, Zul's Burger, Ric's Burger, and New York Pizza's Charcoal Burger are just a few examples. Now, we have another Charcoal Burger stall – Spade's Burger.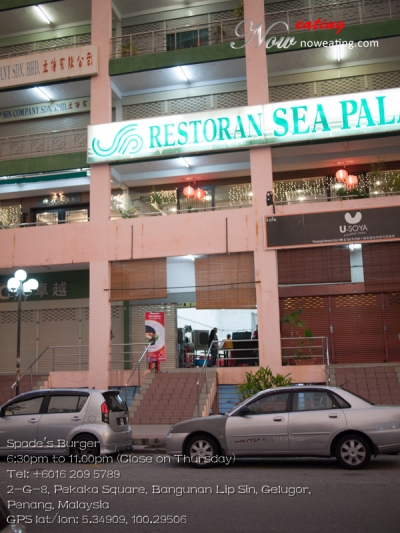 Spade is one of the four suits in a conventional deck of playing cards, denoted by a black inverted heart-shaped figure with a small stalk. Spade's Burger starts its business since early of May 2013 and is located at Pekaka Square opposite of Tesco Extra Sungai Dua, same row with Maxim Dim Sum. In fact, the owner rented a shop lot from Maxim's Dim Sum and used it to sell their burgers in the evening. The shop, however, is temporary according to the owner and they will be moving out once they found a better location.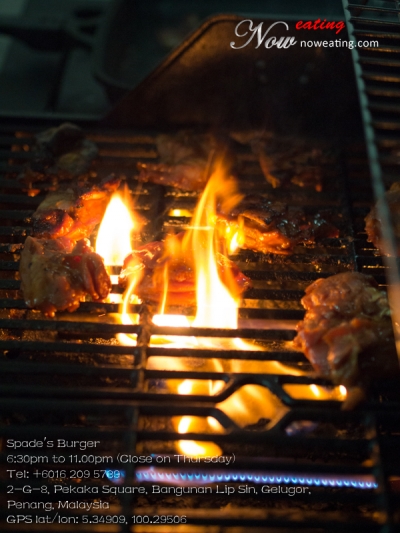 Similar to most burger stalls, patties are grilled on the spot using a gas grill. It does not offer any side dishes at the moment and drinks are mostly canned. Sadly, the ventilation of the shop was poor. Even my camera bag was stained with smoke. Make sure you come here "unbathed" or else you may end up taking another shower when returning home.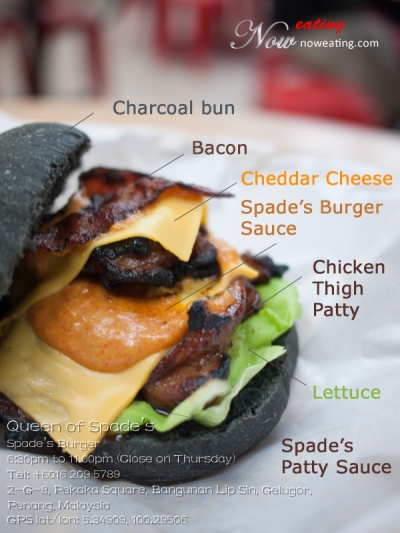 So what are the selling points compared to other competitors? Firstly, it is their ingredients. Most ingredients, including bun and patties, are home-made. Their Spade sauce is also home-made and is remained as a secret when asked. Secondly, their buns are all made of charcoal. I was not sure how black bun appears to you but I have some friends who don't like black colour food, such as Rojak, Kung Pao Chicken, dark soup, etc. For them, black = dirty.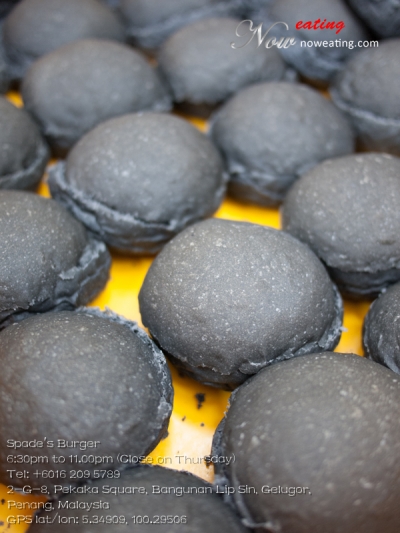 Anyway, the charcoal buns here are prepared daily and we are quite enjoying it as it tastes better than normal bun.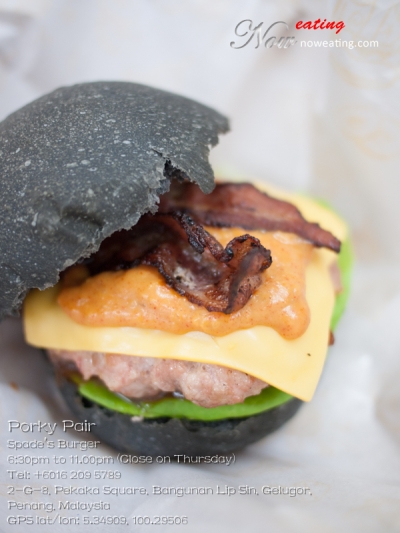 Note that this is a non-halal shop. One of the best sellers is Pork Pair (RM9.90) – named after pairing the pork patty with pork bacon (and also the poker hand of a "Pair"). While the bacon tasted good and the patty was fresh, the patty was a bit loose and lack of marination. It would be a perfect burger if the patty was firm and with added herbs.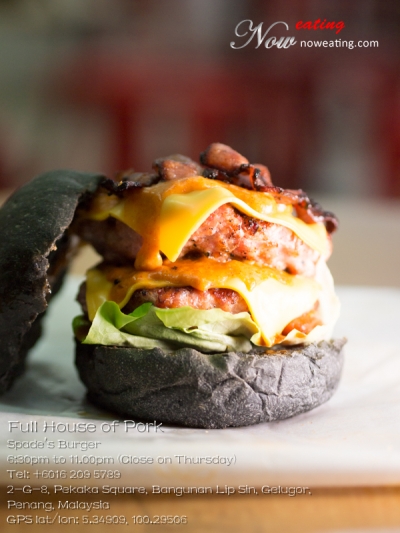 For big eater like me, single patty is not enough. In this case, you may opt for Full House of Pork (RM15.90) which features double pork patty, double cheddar and double bacon strips. It is named after the poker hand "Full House".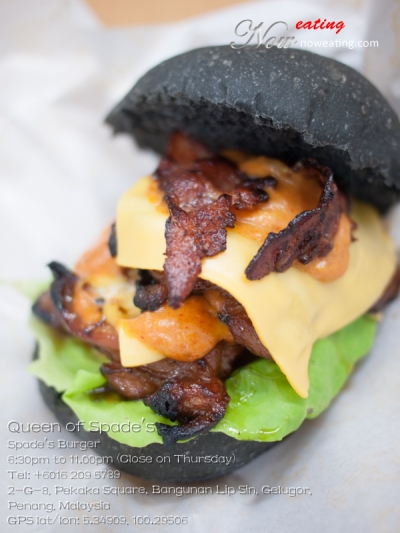 Other than pork, chicken burger is another option. Queen of Spade's (RM15.90) will melts your heart upon consuming. It features double chicken thigh, double cheddar and double bacon strips. This burger is usually recommended for big eater. A scaled down version is available and is called "Spade's Hot Chick" which features only a single chicken thigh, single cheddar and double bacon strips. It is another best seller.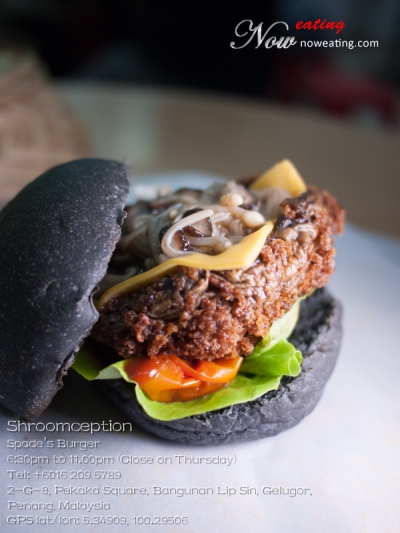 To be honest, the competition is rather strong considering that many burger shops are offering similar items. Plus with ten minutes walk, you can enjoy another charcoal burger in air-conditional environment. Fortunately for Spade's Burger, they "invented" a new burger, which is also the juiciest and the "greenest" burger – Shroomception.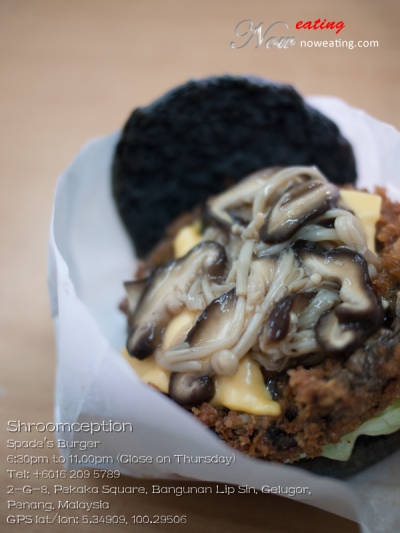 It features two (2) types of mushrooms, shiitake and enoki that is generously scooped into an upside down, deep fried panko-crusted portobello mushroom, sealed with a layer of cheddar. This item is not recommended to take away as the panko crust will turn soggy after some time, thus ruining its original taste and texture. Note that this burger is to be released soon and pricing-wise remained unknown (but should be less than RM10).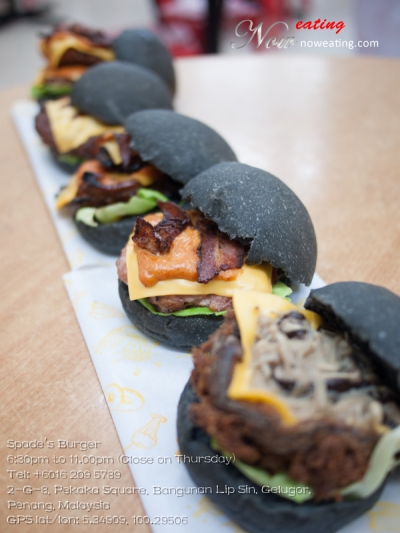 Spade's Burger is a new burger shop at Pekaka Square, Penang offering homemade pork and chicken charcoal burgers. Even though there are still items to iron out such as patty quality, ventilation and wait time, we look forward for its new burger variant – mushroom burger a.k.a Shroomception, which is rather unique and juicy.
| | |
| --- | --- |
| Place Name: | Spade's Burger |
| Cuisine: | Western |
| Address: | 2-G-8, Pekaka Square, Bangunan Lip Sin, Sungai Dua, 11700, Penang, Malaysia |
| Tel: | 016-209 5789 |
| Website: | https://www.facebook.com/SpadesBurger |
| Working Hour: | 6:30pm - 11:00pm. Close on Thursday. |
| Tax: | No |
| Last Visit: | 20130515 |