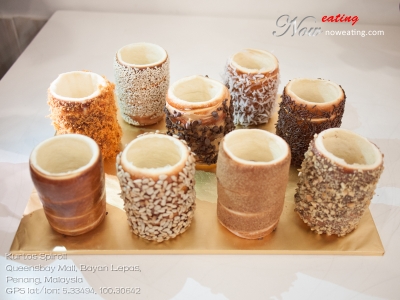 What's this? Pen holders? This is Hungarian Chimney Cakes, freshly baked from oven in Kurtos Spiroll, Queensbay Mall, Penang. Yes, they are edible.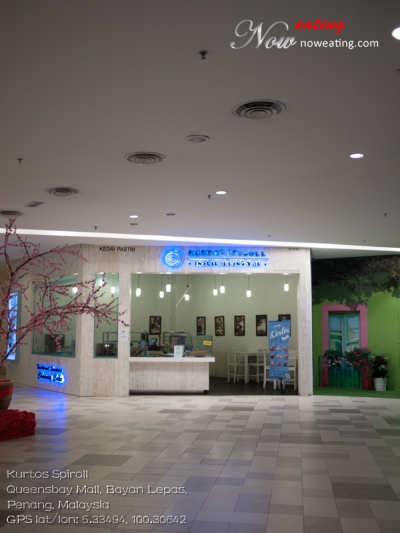 Kurtos Spiroll is a new bakery shop opened at north wing of Queensbay Mall (also known as Queens Street), on top of SenQ electric shop. It is the very first outlet in Malaysia.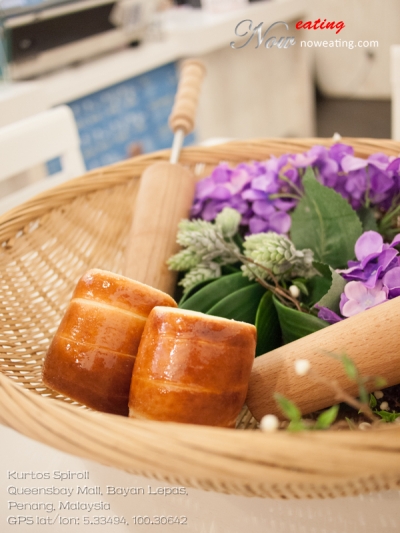 First, a bit history of this chimney cake. It is named chimney cake because it looks like… uh… chimney. It is originated from Hungary with more than 400 years of history. In Hungary, it is called Kürtőskalács or Kurtos Spiroll. It is more known as chimney cakes outside of Hungary. Today, Penang is fortunate enough to enjoy this Hungarian cuisine without flying to this central Europe country.
Preparing a chimney cake is not easy. Here's the procedures:
1. Dough is carefully prepared and rest for 3 hours once done.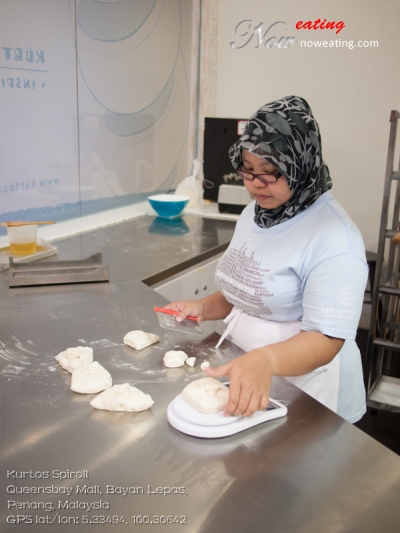 2. The dough is then cut into pieces using a digital scale. Again, they are left for fermentation for  3 hours.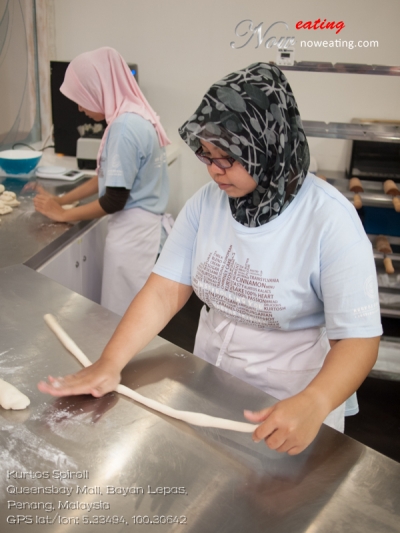 3. The dough is rolled by hand into a rope shape.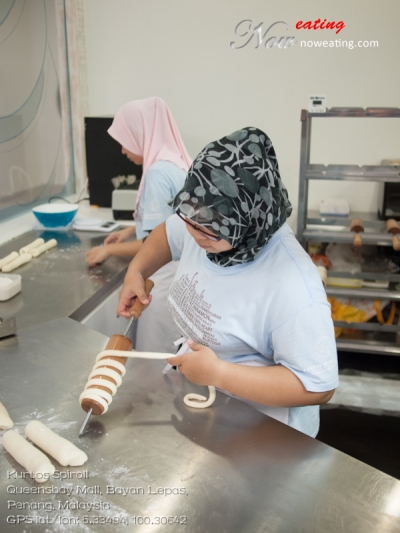 4. A wooden cylinder is coated with sunflower oil before the dough is ribbon wound onto it.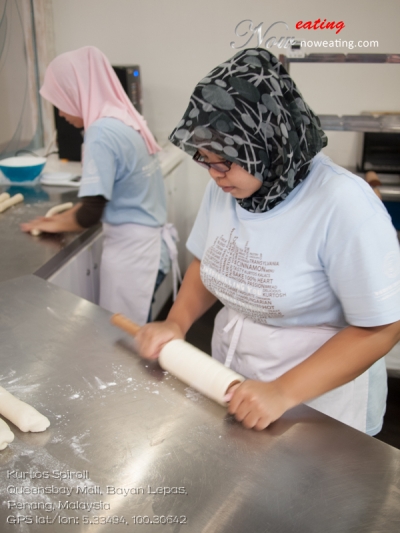 5. Roll the wooden cylinder to flatten the dough.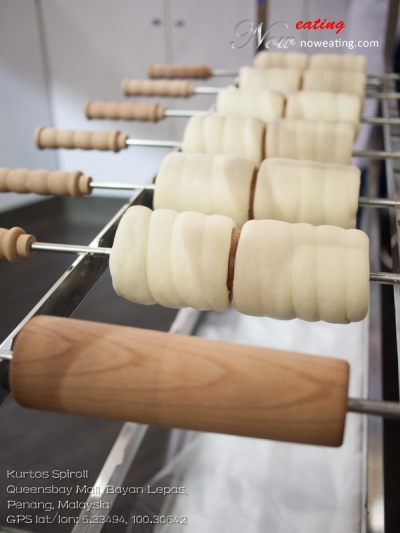 6. Let it rests on a tray for at least 15 minutes before the next step. Each wooden cylinder can make 2 chimney cakes.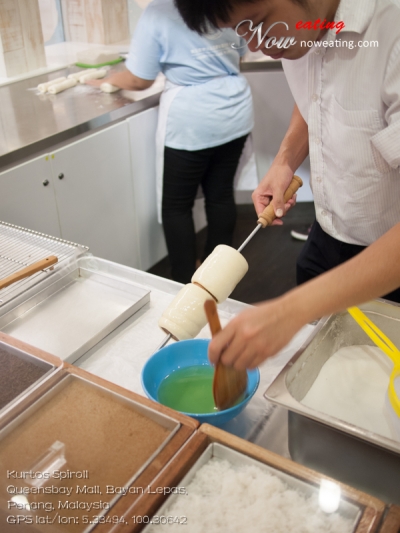 7. The outer layer of dough is coated with sunflower oil.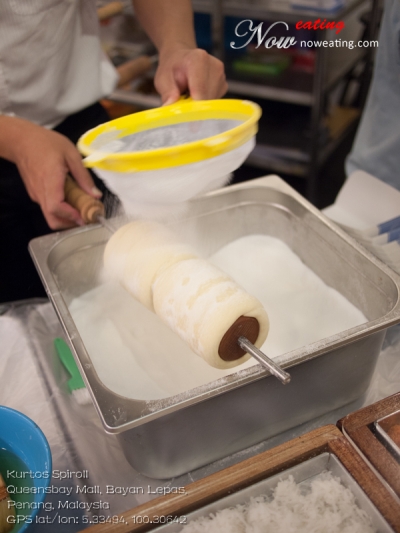 8. The dough is then heavily sprinkled by sugar.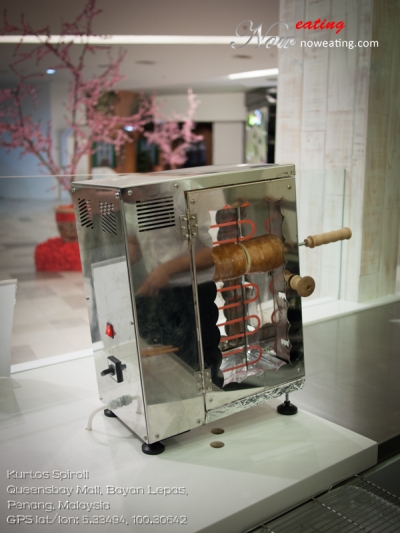 9. The whole wooden cylinder is inserted into an electric oven and baked until golden. Note that it is usually baked using open fire but since the shop is in a shopping mall, hazardous activities are not allowed so they have to use this electric oven.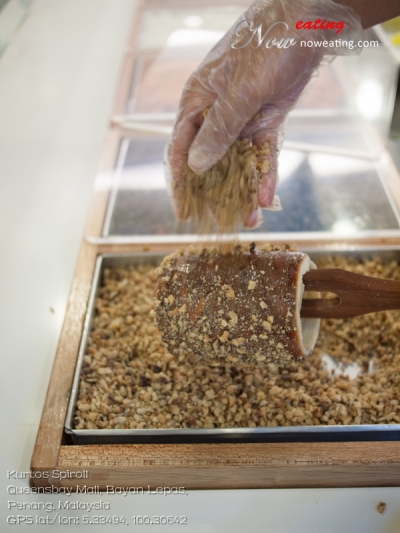 10. Finally, it is flavoured with one out of nine toppings depend on customer's order.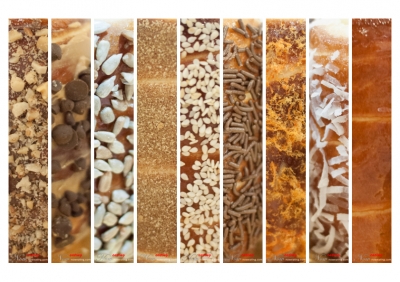 Original Kurtos (RM3.70):
Favourite Kurtos (RM4.50):
Sunflower Seeds
Hawaiian Coconut
Sesame Seeds
Cinnamon Sugar
Chocolate Rice
Premium Kurto (RM5.90):
Nutella Walnut
Peanut Butter & Choc Chips
Premium Chicken Floss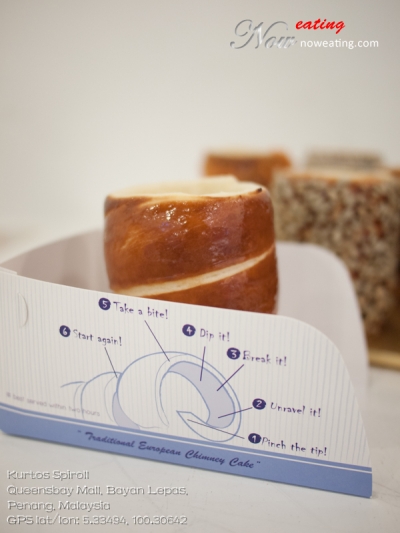 The hot chimney cake is served in a "paper tray" with instructions printed on it. The sugar is caramelised on the chimney cake surface, creating a crispy and sweet exterior, and soft and smooth interior. Note that it could be too sweet for some.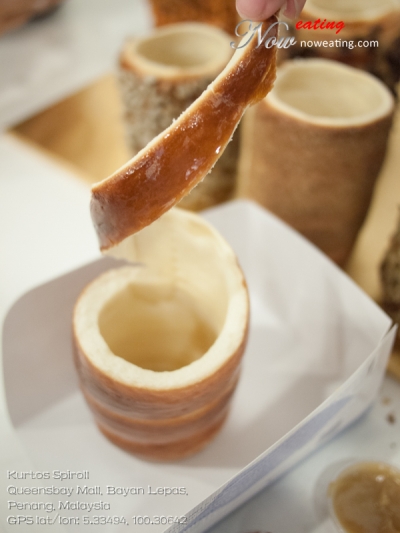 To enjoy it, pinch the tip, unravel it, break it, and put inside your mouth. Personally, I like original version and premium chicken floss.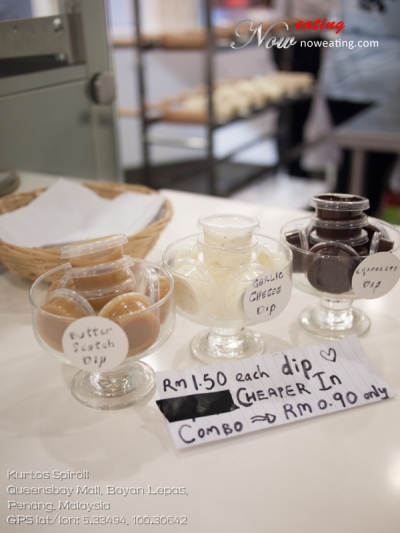 Last but not least, don't forget their special dipping sauces: 1) butter scotch dip, 2) garlic cheese dip, 3) chocolate dip. Personally I like the garlic cheese dip very much. It will be cheaper (RM0.90) if you purchase together with the kurtos spiroll.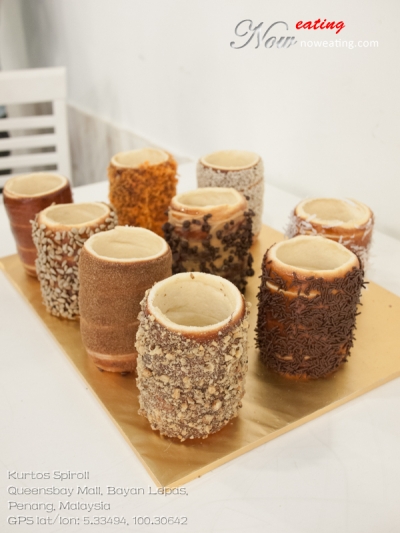 Kurtos Spiroll is a special bakery shop in which the Hungarian chimney cakes are "built to order" and arrived hot and crispy on your palms. Come in 9 different flavours, the price starts at RM3.70. Definitely a new experience if you are tired of traditional bun.
| | |
| --- | --- |
| Place Name: | Kurtos Spiroll |
| Cuisine: | Other |
| Address: | Queensbay Mall, Bayan Lepas, 11900, Penang, Malaysia |
| Tel: | 012-502 0331 |
| Last Visit: | 20130419 |