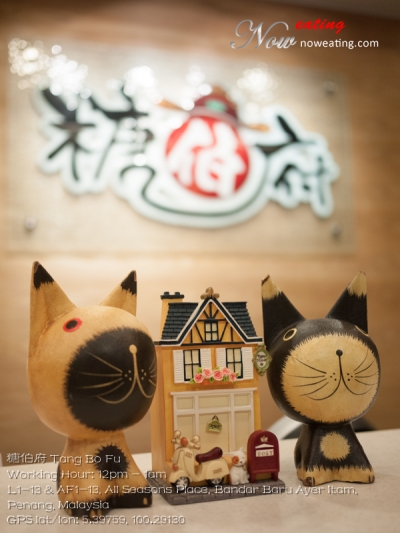 Other than Taiwanese dessert shops, Hong Kong dessert shops are also mushrooming in major cities of Malaysia. One of the examples is 糖伯府 Tang Bo Fu which is also known as "local" Tang Bo Fu.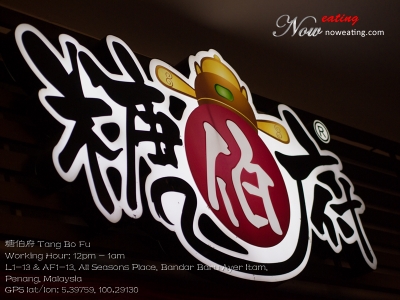 How to differentiate local and Hong Kong Tong Bo Fu? Easy. If you see the signboard above, it is locally registered dessert shop serving mostly Hong Kong desserts. If you see TONG PAK FU 糖百府, then it is imported version (franchise) from Hong Kong. So basically 伯 = local, 百 = HK.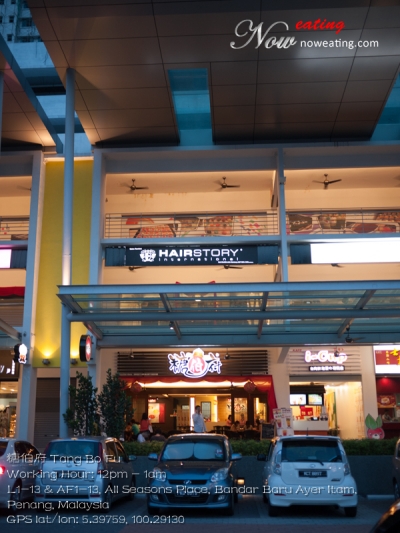 Time to promote local business. We are recently invited for Tang Bo Fu review at All Seasons Place of Farlim. There are currently 6 outlets in Penang mainland and island, including Bukit Mertajam, Pulau Tikus, Farlim, D'Piazza @ Bayan Baru, Straits Quay, and 1st Avenue. There used to be one in Sungai Petani but sadly it was closed due to partnership issue.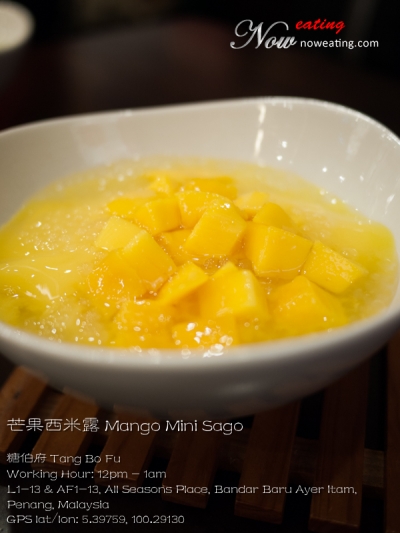 I will split this review into four posts. For this first post, I will introduce the most popular Hong Kong dessert in Malaysia – Mango. A quick Google search showed that Hong Kong desserts are not purely mango-centric but consist of other variants as well. Perhaps Mangoes can be easily obtained from Malaysia and Thailand and thus it quickly becomes the main item in HK dessert shops here.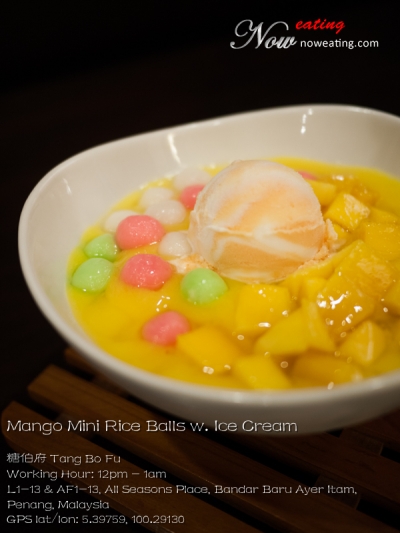 When I first visited Tang Bo Fu at Pulau Tikus in year 2011, Mango Mini Sago 芒果西米露 (RM7.80) was the one I tried. I actually ordered Mango Mini Rice Balls with Ice Cream 多芒小丸子 (RM12.80) but there were two problems with it at that time: 1) New Zealand Natural Ice Cream was not available and replaced with local brand's, 2) Mini Rice Balls were not available as well. So, we ended up ordering Mango Mini Sago.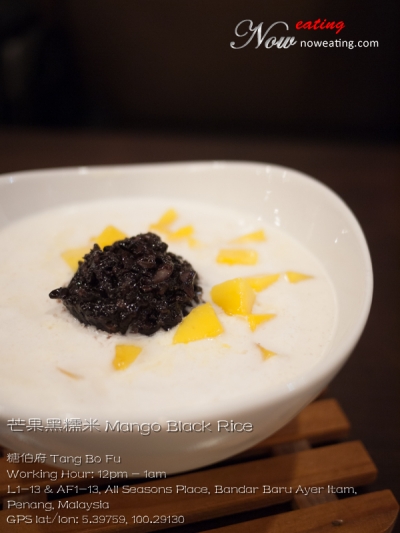 Personally, both are not the best desserts I tried in Tang Bo Fu as the mango taste was too overwhelming. The best goes to Mango Black Rice 芒果黑糯米 (RM7.80). Imagine it as a black glutinous rice traditional Chinese dessert but  in "smoothie" version, topped with delightful mango cubes. The combination is just perfect.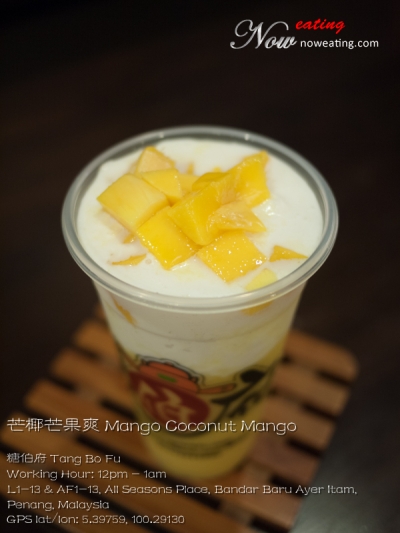 Speaking of coconut milk, I believe that not all people like it, especially those with stomach problem after consuming it. Note that some of Tang Bo Fu's drinks consist of fresh coconut milk as well, such as Mango Coconut Mango 芒椰芒果爽 (RM7.80). Compared to mango desserts, the drink is more "watery" (just like yogurt and yogurt drink).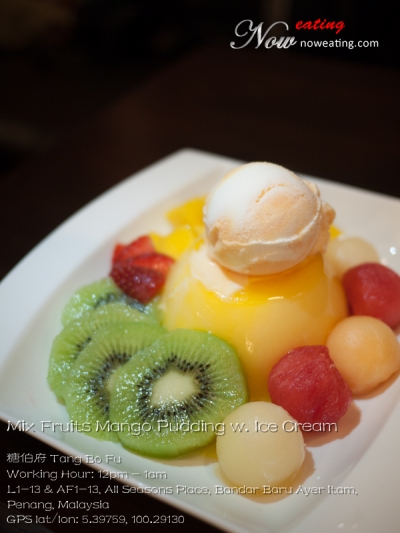 Too many drinks make one rushing for toilet. If you prefer something dry, try their Mix Fruits Mango Pudding with Ice Cream 鲜果芒果布丁 (RM9.80). It consists of fresh mango, strawberry, kiwi, honeydew, and watermelon balls. The ice cream of the day is Coconut Mango.
That's all for now. In next posts, I will continue introducing other desserts and hopefully some new items as well. In a nutshell, despite tough face-to-face competition, Tang Bo Fu serves some delicious Hong Kong style desserts and is a good place for hangout.
| | |
| --- | --- |
| Place Name: | 糖伯府 Tang Bo Fu |
| Cuisine: | Chinese |
| Address: | L1-13 and AF1-13, Level 1, All Seasons Place, Lebuhraya Thean Teik, Bandar Baru Ayer Itam, 11500, Penang, Malaysia |
| Tel: | +604-826 9961 |
| Website: | www.tongparkfu.com |
| Working Hour: | 12pm-1am |
| Last Visit: | 20130611 |