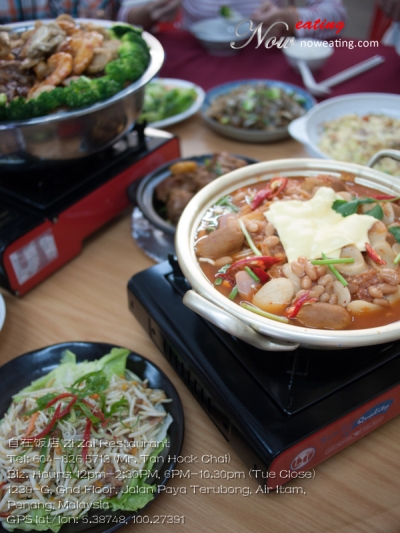 Previously, I reviewed about a Paya Terubong's Chinese restaurant called Zi Zai 自在饭店 (Click here for previous article).  The chef, Hock Chai, was friendly and kind enough to treat us his ultimate dish – Poon Choi 盆菜. Recently, I became his guinea pig to try some of his new inventions.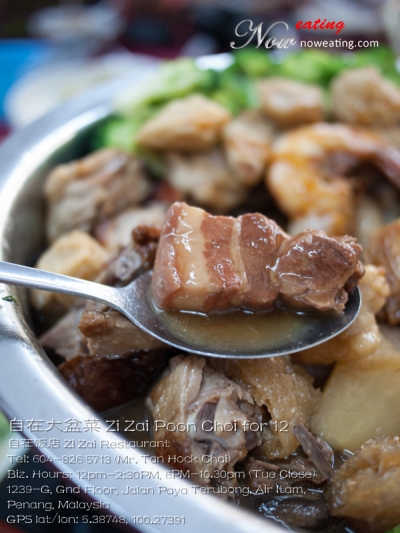 According to Hock Chai, things went well after our initial review. The restaurant was able to gain profit and popularity among locals. It quickly became a family restaurant especially during special events. Now is a good time to invent something new in hoping to attract different customer groups.
The Best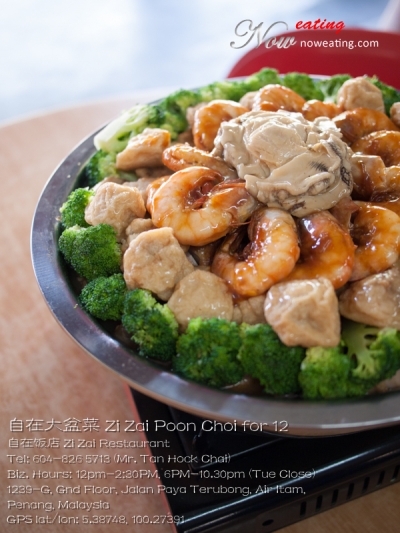 Before I proceed, allow me to re-introduce their signature dish – "Rakyat" (Citizen) Poon Choi at the price of RM418 for 12 adults. For more information about it, please read my previous post. Hock Chai did some improvement on it since my last visit in year 2011. Reservation and full payment are required one day in advance. Takeaway is also available.
The Hidden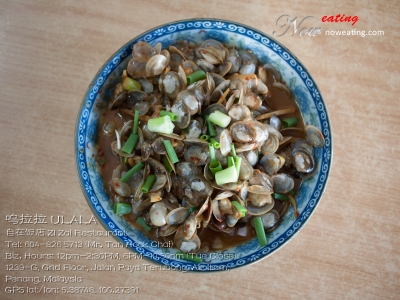 Before introducing the hidden Uhaha, allow me to re-introduce the good-old dish in Zi Zai – the seasonal Ulala. Again, the recipe was changed. This time, it was a bit salty instead of sweet and sour version previously tried.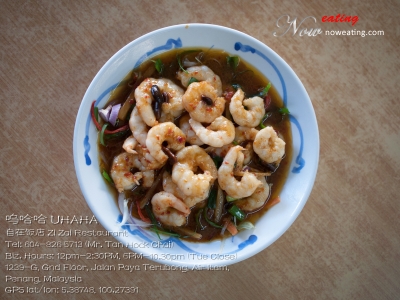 However, not all customers like La La. With that, Hock Chai created a new variant – Uhaha 呜哈哈 (RM12 small).  Instead of La La, fresh peeled prawns are used instead. The same homemade La La sauce is used. Peeled prawn is always a good choice for those who lazy to peel prawns, including me.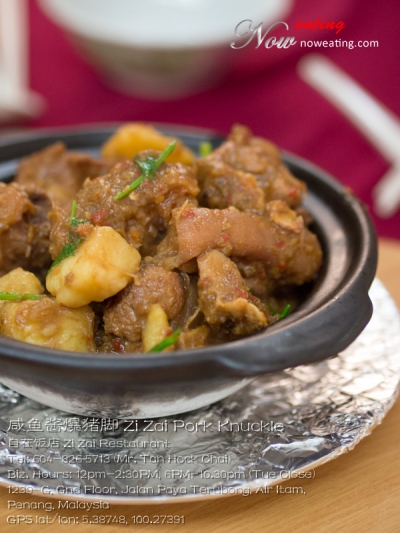 One of the best items is Zi Zai Pork Knuckle 咸鱼酱爆猪脚 (RM20 small). Only meaty and less oily knuckle is selected and gone through a series of marination, deep fried, rinse, and stew processes. The knuckle is even tastier with the penetration of the special salted fish sauce.  It looks fat but actually not irritating at all and is quite appetising. Currently, this item is seasonal and is subjected to market demand.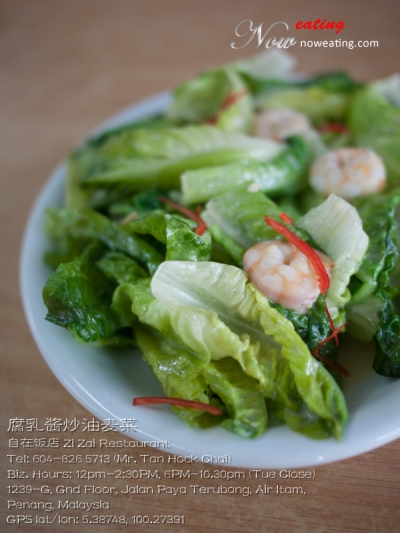 Another low profile item was 腐乳酱炒油麦菜 Stir Fried Romaine Lettuce with Chinese Cheese Sauce (RM10 medium). If plain stir fried Romaine Lettuce is too plain for you, this is an alternative.
The New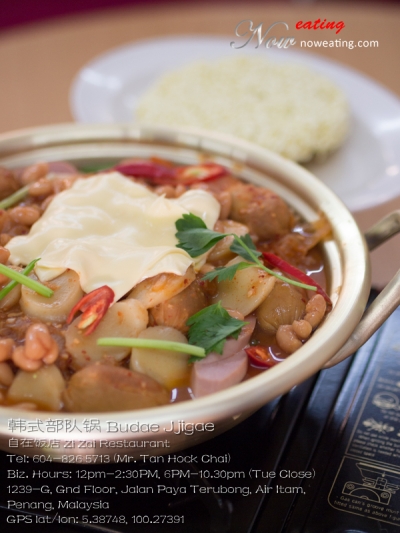 Perhaps the dish of the day was this brand new Budae Jjigae (韩式部队锅) for 2-3 persons. This dish originated from Korea during Korean War. People had little to eat and thus combining their food with US Army's leftover such as SPAM and sausages. Then, it was added with water and boiled in a large pot or even using army helmet to do so. This dish, however, was hardly found in Malaysia. Hock Chai was perhaps one of the pioneers in Penang to study the original recipe and further modify it to make it not only looks appetising, but also tastes heavenly good especially towards the end of the meal in which the spicy soup becomes thickened. Budae Jjigae consists of baked bean, sausages, Tteok (Korean Rice Cake), cheese, Kimchi, and chilies to name a few. A mixture of Korean and American cuisine. An instant noodle will be provided as well for you to cook with. This item was not available in the menu the time we tried it as Hock Chai was still sourcing for the right pot. Price is estimated below RM50.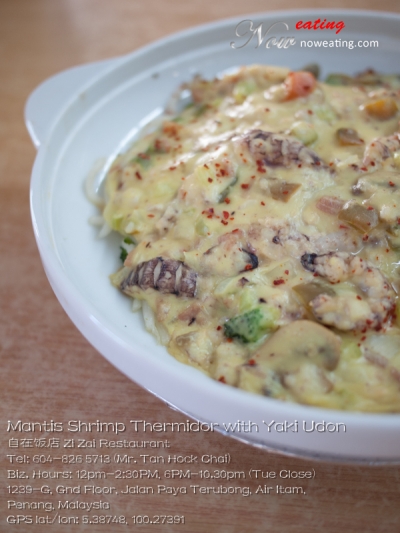 You may hear of Lobster Thermidor. Have you tried Mantis Shrimp Thermidor with Yaki Udon 芝士虾蛄焗乌冬 for 2 to 3 pax? Obviously it is "Rakyat" version of Lobster Thermidor. The fresh mantis prawn meat is topped with homemade cream cheese sauce  and baked for 15 minutes in oven before serving.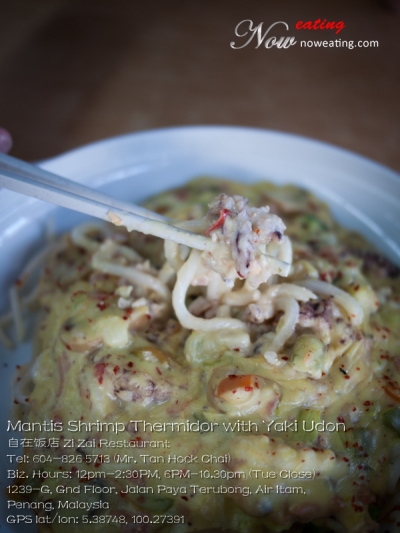 Personally I found it was not as creamy as those pasta dishes in fine dining restaurants and both Udon and cheese were not blended well. Perhaps we were busy taking photo and the dish was cold before mixing them thoroughly.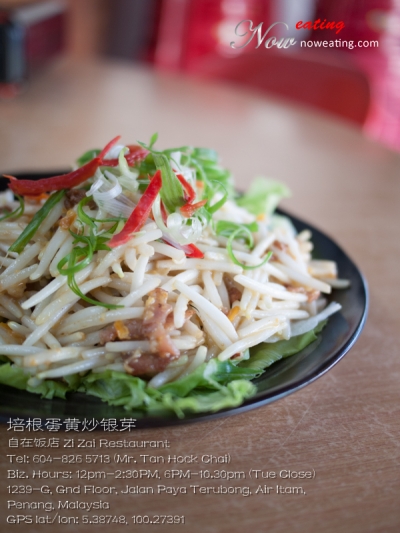 培根蛋黄炒银芽 Saute Bacon with Preserved Egg Yolk and Bean Sprouts was a new attempt by Zi Zai. Instead of frying bean sprouts with salted fish, bacon and preserved duck egg yolk were used instead. I, however, found that the combination was not well blended, such as it was still lack of saltiness of salted fish.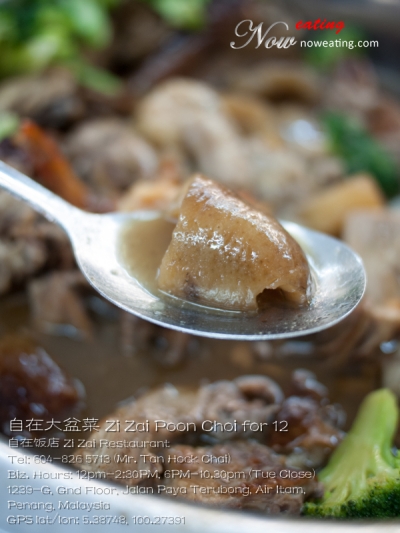 From improved to new recipes, Zi Zai Restaurant at Paya Terubong strives to be a Chinese family restaurant for both young and old generations with the introduction of some Korean and fusion cuisines. While Poon Choi remains their signature dish, we do hope to see Budae Jjigae – the army base stew, to appear in their menu soon.
| | |
| --- | --- |
| Place Name: | 自在饭店 Zi Zai Restaurant |
| Cuisine: | Chinese |
| Address: | 1239-G, Ground Floor, Jalan Paya Terubong, Paya Terubong, Air Itam, 11060, Penang, Malaysia |
| Tel: | +604-826 5713 |
| Email: | [email protected] |
| Working Hour: | 12pm-2.30pm, 6pm-10.30pm (Tue close) |
| Last Visit: | 20130427 |