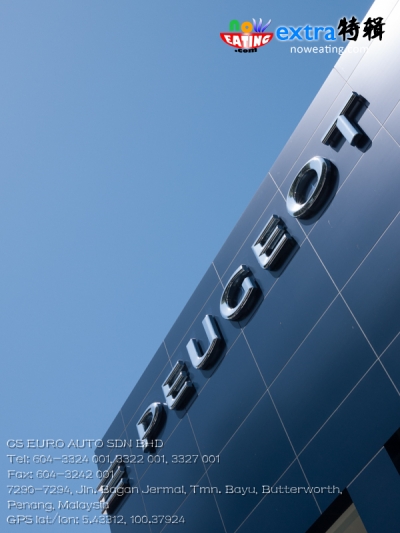 Peugeot's state of the art 3S (sales, service and spare parts) centre – the Blue Box has arrived in Butterworth, Penang! Located in the heart of the town, it is set to revolutionise the car service industry in the state.
Up until now, most car service centres in Malaysia only provide ordinary car showroom and service centre. This is, however, not the case for the Blue Box. When you step into the Blue Box, you can expect to receive exceptional service for your Peugeot and review the latest models from the renowned French carmaker.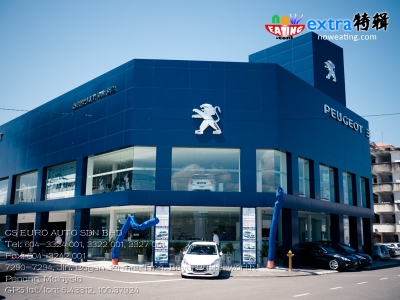 We were invited to experience the service and environment in the Blue Box. First thing we noticed was that, instead of single floor show room cum service centre, the Blue Box is actually a three-storey building with show room on the 2nd floor (3rd floor is management office).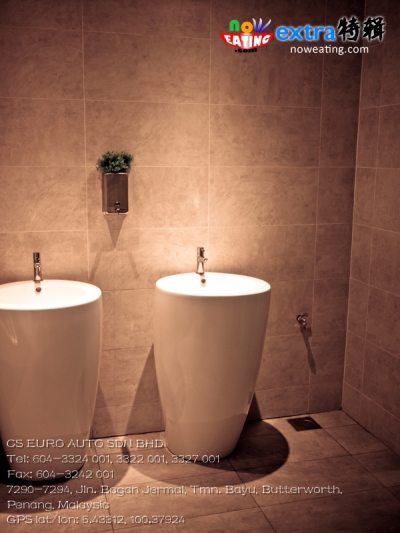 They said, to see how good is a building, go to their toilet first… not bad!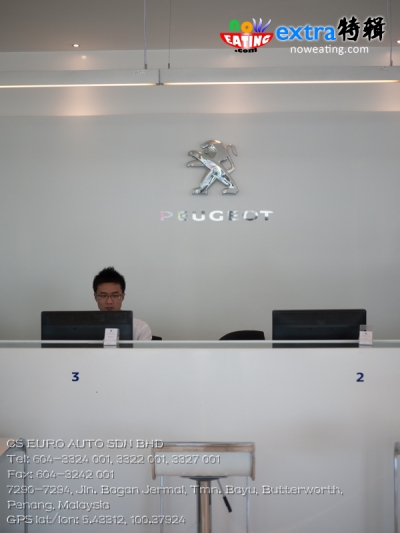 First floor was basically a reception area with one or two latest car models for display. The interior is air-conditioned and decorated in white color, providing customers a comfy environment to walk around.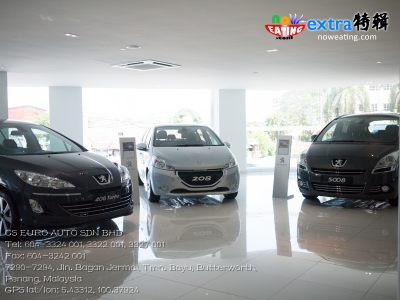 Without hesitation, we took a lift to 2nd floor, which is a showroom. We were greeted by Peugeot 208, 408 Turbo, 508, and 5008. I spent most of my times snapping photos of these cars until I forgot the main purpose of visiting the Blue Box – to promote the Blue Box.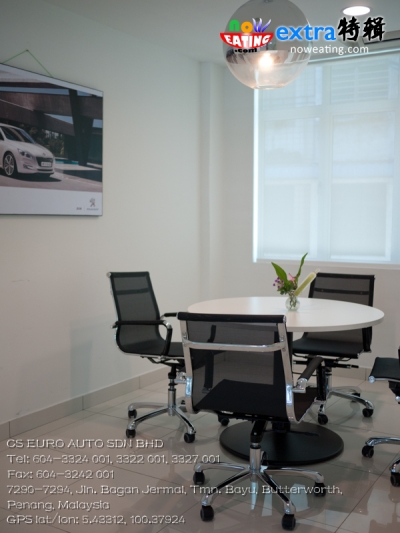 Right next to the show area is four professional rooms for 1-to-1 consultation between Peugeot professionals and customers.
Kids making noise? No problem! Put them into the entertainment room.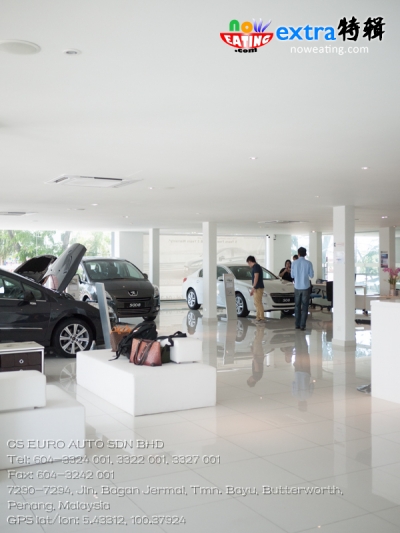 Second floor also works as a waiting area for customers sending their Peugeot cars for repair/service. Free guest WIFI is provided.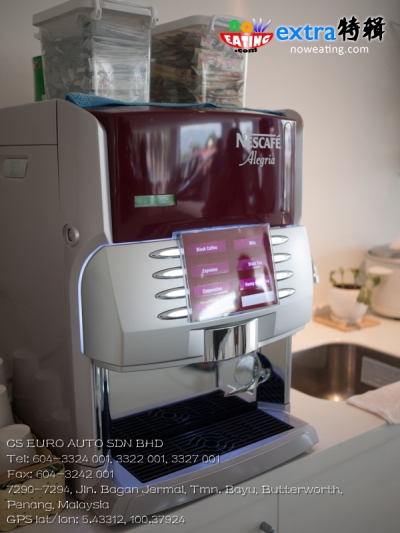 They even have a coffee maker there. The only thing missing is the main course.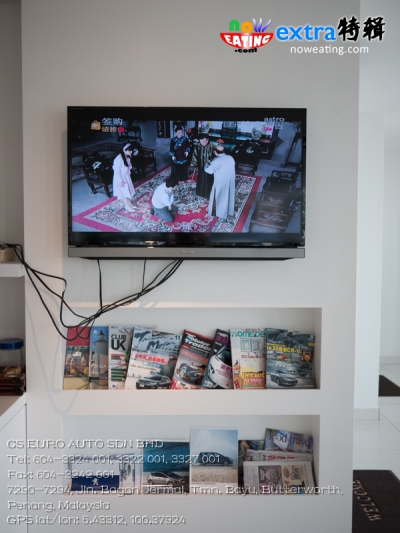 Not a fan of coffee and Internet? No problem! Grab a copy of magazine or watch Astro on their comfy sofa.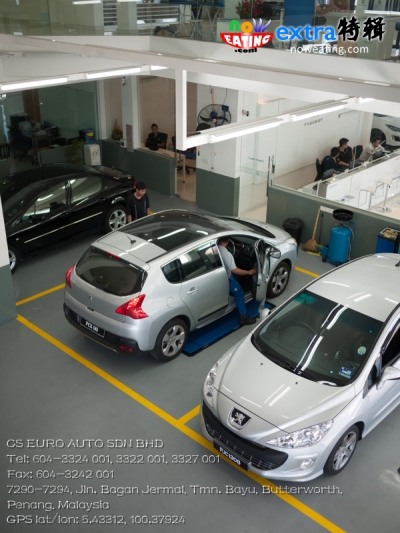 If you send your car for service, you can see how's your car is serviced through the glass of second level… a layout hardly seen in any service centre in Malaysia. The service centre consists of 6 service bays and able to handle 23 cars (by appointment) daily. Walk-in car repair is also possible but is on case-by-case basis (usually for emergency case). RM7 bridge subsidy is also provided for island customers sending their car for service (with island home address).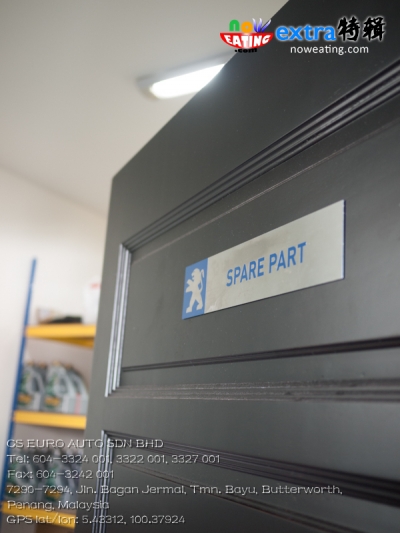 When people taking about Peugeot, first thing comes into their mind is the lack of second hand value due to lack of spare parts. According to the host – Mr. Ong, it is no longer the case as Peugeot now has its spare parts manufactured and distributed around the world. You can grab spare parts easily from the Blue Box.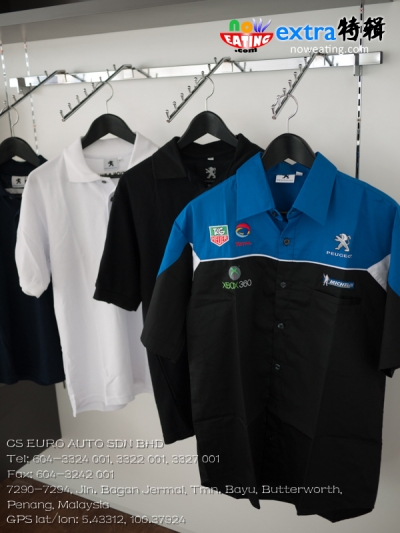 Last but not least, you can grab some Peugeot souvenirs from its merchandise boutique.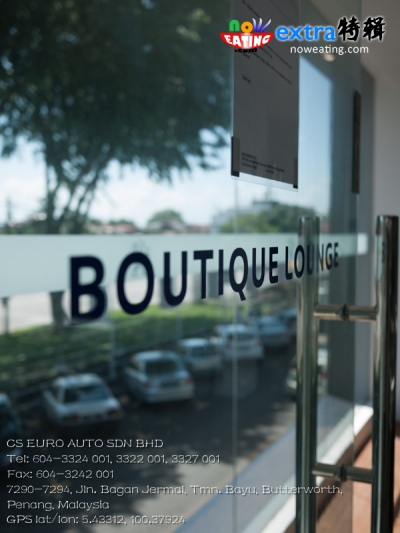 IMHO, this Blue Box should be called 4S instead – Sales, Service, Spare Parts, and Souvenirs. By the way, see the parking lot behind? The Blue Box provides 10 parking spaces for customer.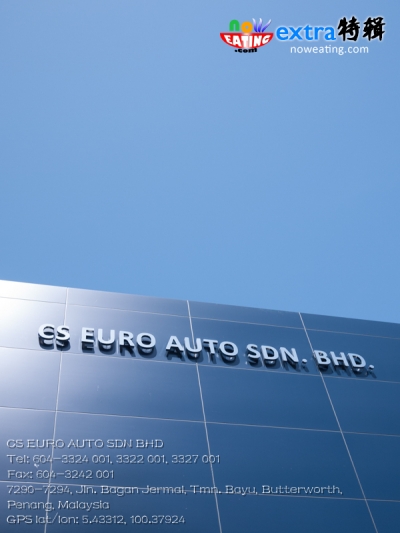 Despite of having no enough budget to get one Peugeot 508, it was an enjoyable moment in the Blue Box. Special thanks to CS (Chye Seng) Euro Auto by providing this opportunity to visit one of the best sales, service and spare parts centre in north region of Malaysia.