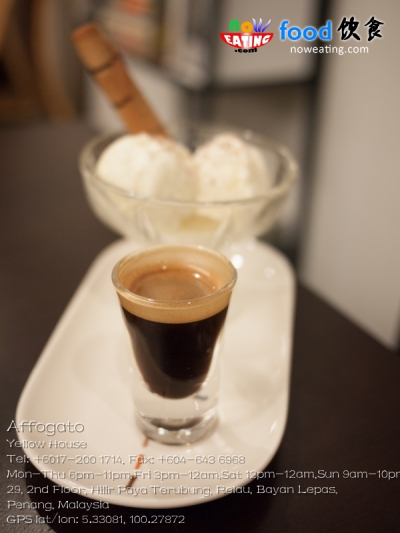 Affogato (RM8.00) – come with two scopes of vanilla ice cream to be poured with a small cup of expresso brewed with 100% arabica coffee. The espresso was really kick-ass. It can be found in Yellow House – a new hidden gem in Relau, Penang.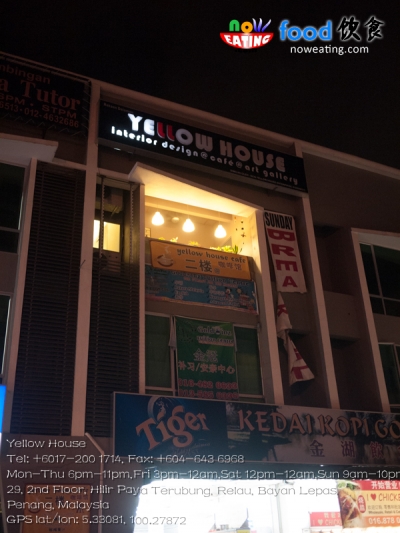 Yellow House is a new cafe located next to Golden Lake Coffee Shop 金湖饮食中心 at Relau (opposite of PISA/SPICE). You will hardly notice it as it was located at 2nd floor of the new shop lot.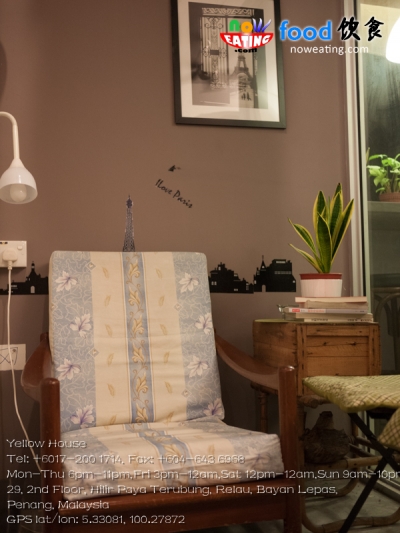 The operation hour is a bit weird as it only operates at night during weekday. On Friday, the business starts at 3pm until 11pm. Saturday is from 12pm til 12am. Sunday from 9am til 10pm. Also, during weekend, only coffee, healthy fruit juices and snacks are served. During weekend, you have a chance to try their special chicken rice and spaghetti which I will show you later.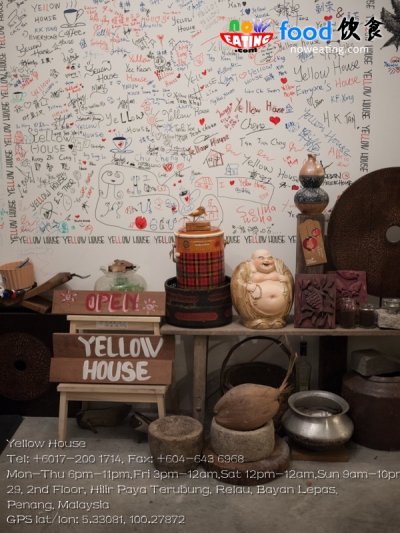 The moment you walk up the staircase of Yellow House, you will notice that it is not an ordinary shop with four pieces of wall. It is a nicely decorated cafe similar to Sushi Kitchen, Goh Kaki and Chai Diam Ma. Customer signatures are on the wall, together with some antiques hanging around.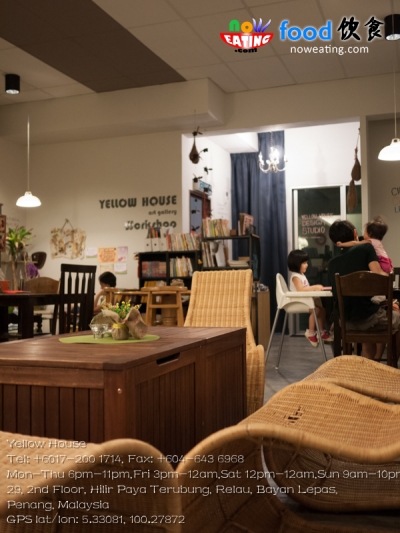 The dining area consists of a coffee bar and few tables of different design. It looks more like a living house than a cafe. Yellow House also sells handicraft and has a design studio in it (which explains why the interior looks so nice).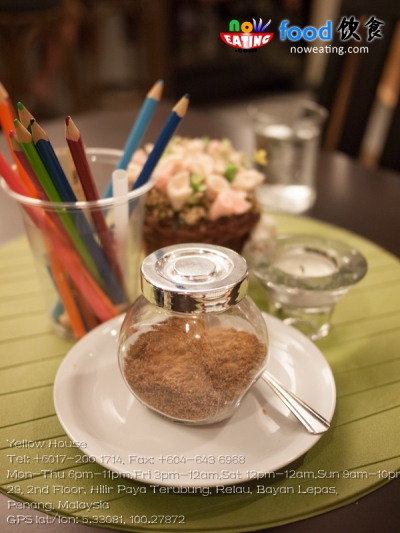 I wonder what is the purpose of the colour pencils on our table. My guess is that there is a tuition centre at 1st floor and Yellow House quickly becomes a "waiting room" for students before and after their tuition class.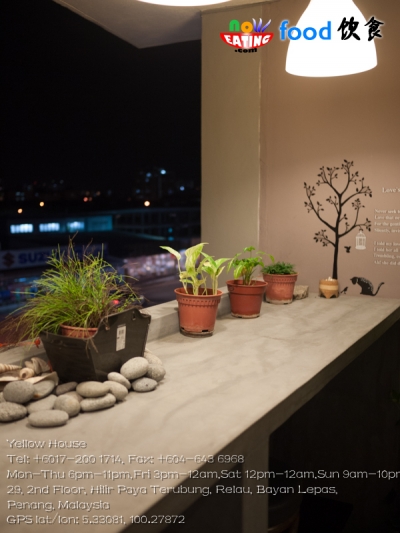 Smoker? No problem! Move your ass outside to their balcony. The balcony consists of a row of stools so that you can sit there and enjoy the street view of Relau.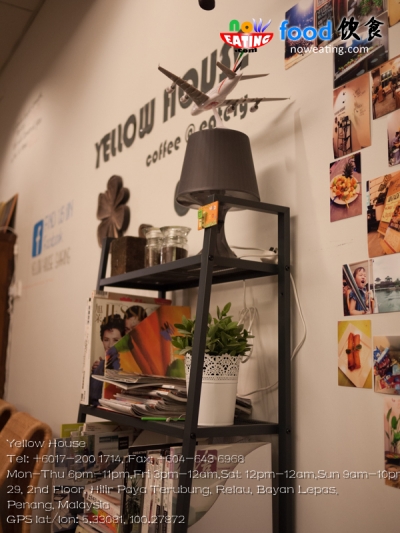 Yellow House concept is simple – allowing customers to relax themselves in its cozy environment with a cup of freshly brewed coffee or healthy fruit juices. WIFI is available. Many magazines, comics and other books are also available for customers.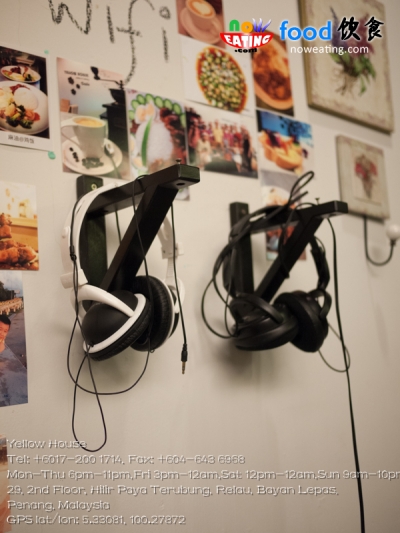 Guess what? They even provide customers with stereo headsets.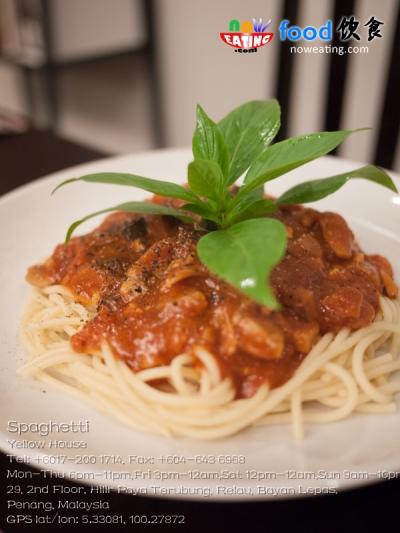 If you are coming here for full course meal, then you are at the wrong place. The main course is limited even during weekend. However, we found out that both main courses tasted good. The red sauce for Spaghetti tasted excellent with mixture of herbs (including ginger flower), chunks of hams, mushroom, and button mushrooms. A quality hardly find in other cafe. See the giant leaves on top? It is fresh basil and is edible. The Spaghetti is priced at RM9.90.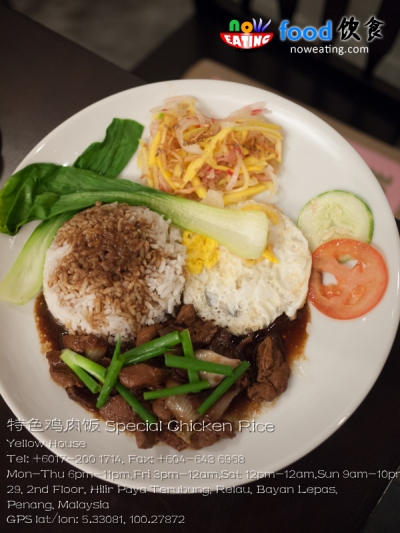 Special Chicken Rice 特色鸡肉饭 (RM8.90) was… special. The selling point here is not the chicken fillets with dark gravy, but the Kerabu next to it. The sweet and sour shredded fresh mango was very appetising.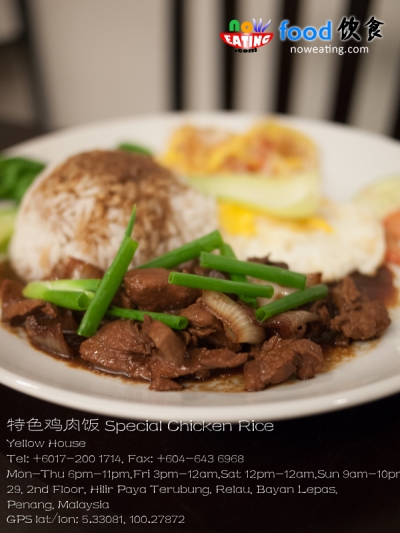 According to the owner, they emphasised on healthy food and all the food do not contain MSG.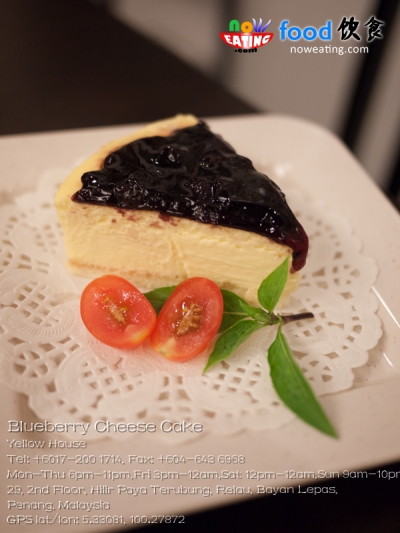 As for the dessert, we ordered a slice of homemade blueberry cheese cake (RM6.50) which was quite tasty and delightful. The drawback was that the portion is a bit small.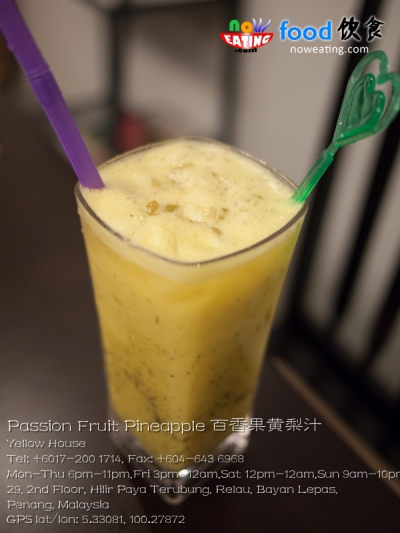 Yellow House menu is very simple and consists of only 3 pages – fruit juice, coffee, and snack pages. We were having difficulty in selecting another drink for us. The host recommended us passion fruit with pineapple juice 百香果黄梨汁 (RM6.50), in which the pineapple was home grown. A small amount of honey was added on top of it. Tasted good.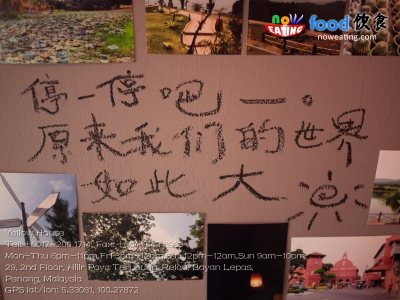 When walking down the stair at the end of our meal, I noticed this. Looks like a hint for me to stop working after my contract with an MNC here ends at the end of July.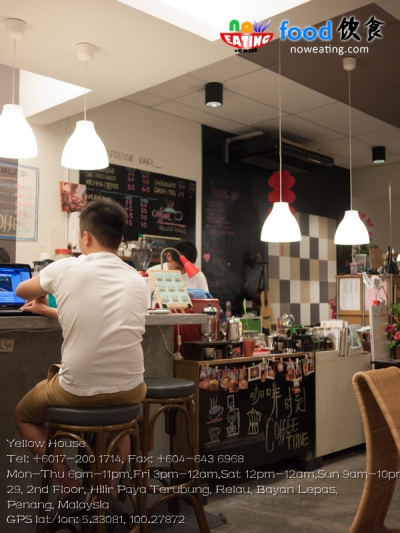 Acting as an interior design studio, a cafe, and an art gellery, Yellow House is a good place to relax yourself or hangout with friends and family after a hectic working day. This hidden gem is located at second floor, next to Golden Lake Coffee Shop at Relau and can be difficult to spot at first.
Place Name:
Yellow House
Cuisine:
Western, Chinese
Address:
29, 2nd Floor, Hilir Paya Terubung, Jalan Dato Ismail Hashim, Relau, Bayan Lepas, 11900, Penang, Malaysia
Tel:
+6017-200 1714, Fax: +604-643 6968
Email:
[email protected]
Working Hour:
Mon-Thu: 6pm-11pm
Fri: 3pm-12am
Sat: 12pm-12am
Sun:9am-10pm
Tax:
No
Last Visit:
20130707