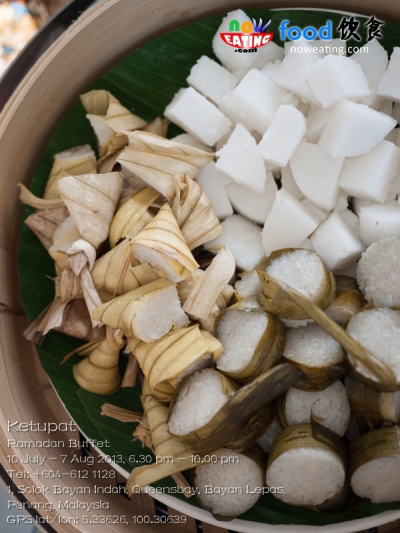 From 10-Jul til 7-Aug-2013, enjoy Ramadan Buffet at Eastin Hotel Penang consisting an array of delicious authentic traditional fasting favourites such as buah kurma, sup gearbox, lontong, nasi briyani gam, shawarma kebab and daging rendang with mouth-watering desserts like assorted Malay kuih and ice kacang for a hearty breaking of fast.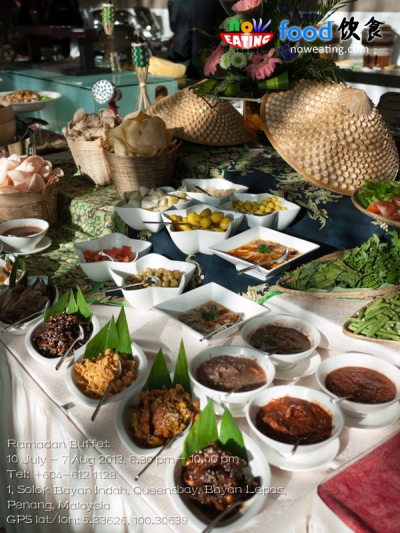 First thing first, remember to make reservation especially for this Ramadan Buffet as it is usually fully booked if you walk in that day. Please call +04 612 1128 for reservation.
The Ramadan Special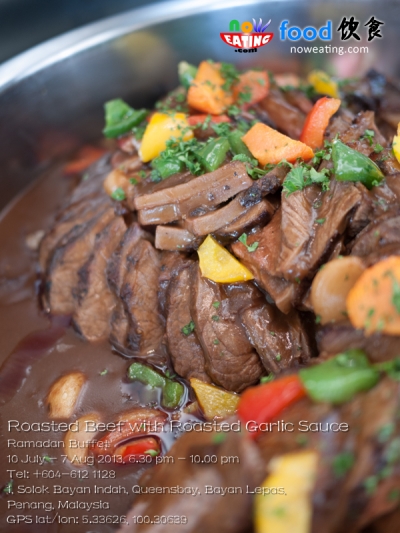 If you are a beef lover, you should enjoy this dinner as there are plenty of beef items such as Roasted Beef with Roasted Garlic Sauce, Daging Masak Merah, Hati Lembu Masak Berlada (Eww!), Gearbox Soup, and Bubur Lambuk.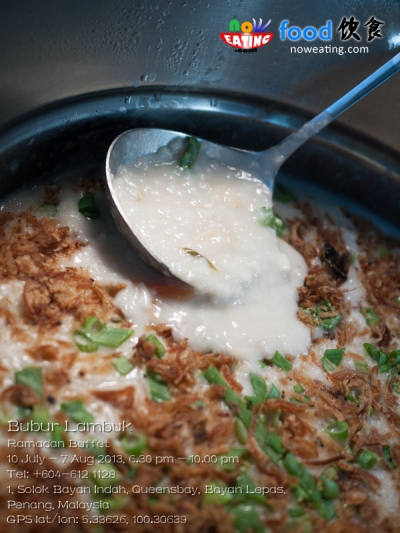 Bubur Lambuk is a famous dish during Ramadan in which the porridge is usually prepared in group and cooked with various spices, vegetables, and beef.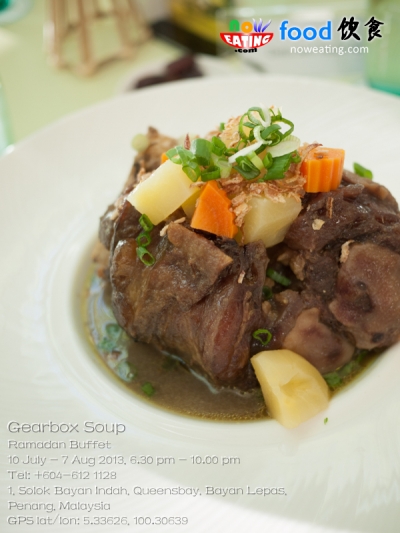 Sup Gearbox is made of bull's knee joint and cook for more than 12 hours to soften the flesh and cartilage. Sup Gearbox costs about RM10 per bowl outside and it is unlimited in Eastin Hotel Penang. Don't drink too much or else you can play drum without drum sticks.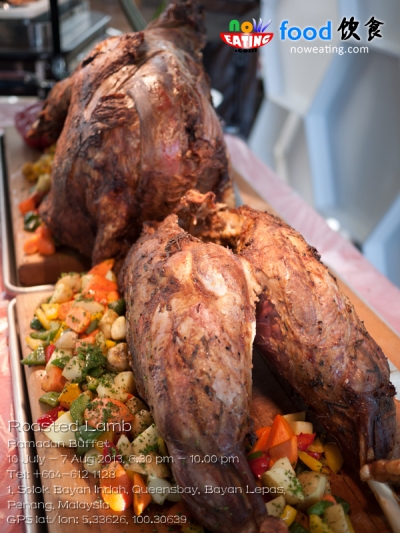 Another highlight is roasted whole lamb. It will be served by the crew outside of the dining area.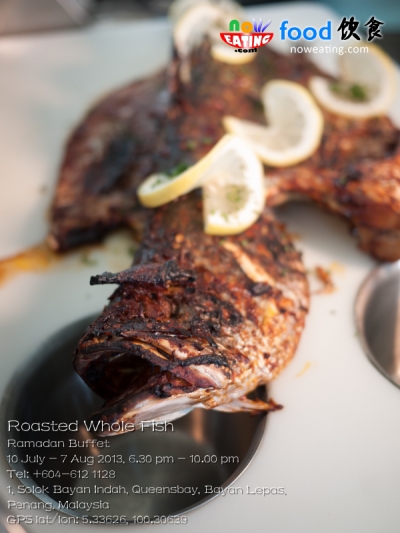 In some hotel, whole fishes are usually put in tray and are self-service. A disadvantage is that it will become messy the moment patrons start slicing the flesh. To overcome this problem, in Eastin Hotel Penang, it was served by crews.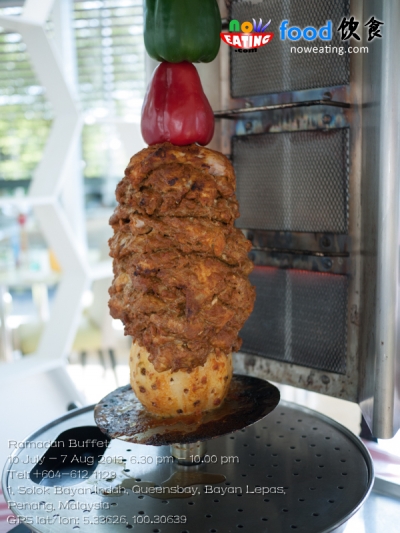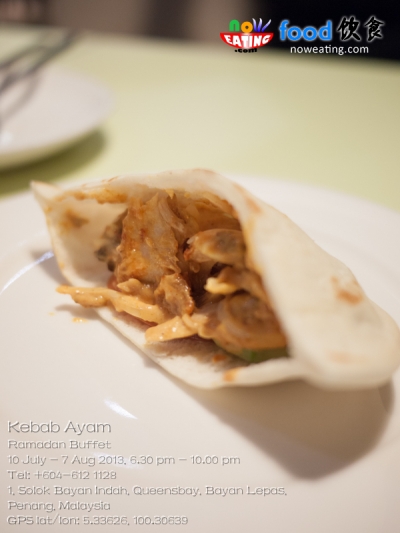 Kebab Ayam is also available. Again, it is served by crew.
The Exotic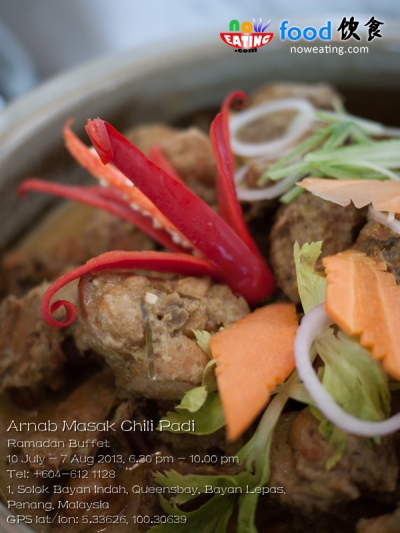 Thanks to the master chef Mr. Bakri, we have some exotic food as well, such as Arnab Masak Chili Padi (Spicy Rabbit), Sup Burung Puyoh (Quail Soup), and Wok Fried Ostrich with Ginger.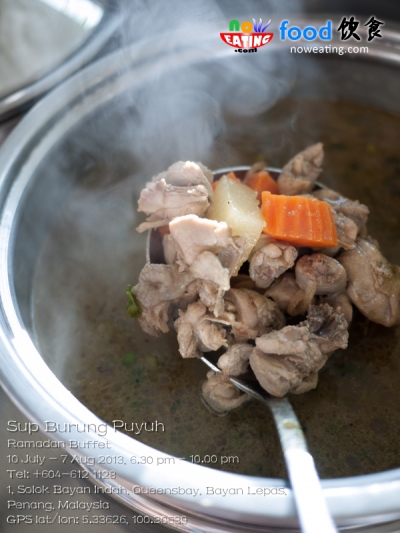 Quail is also known as 鹌鹑 (An1 Chun2) in Chinese and usually rich in protein, Vitamin B6 and Iron (and cholesterol). In Chinese cuisine, its eggs are usually used for desserts.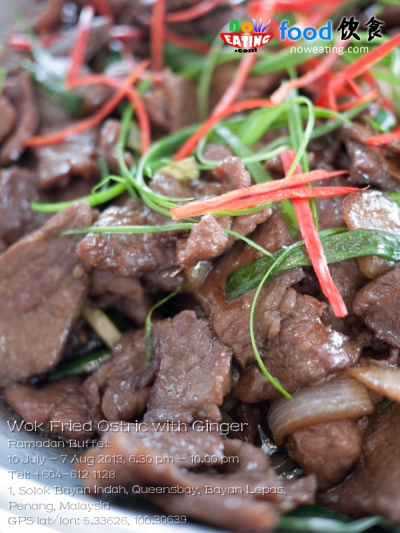 Out of all the exotic items, I only tried the Ostrich. It tasted like chicken but the texture is less tender compared the later.
Traditional Malay Cuisine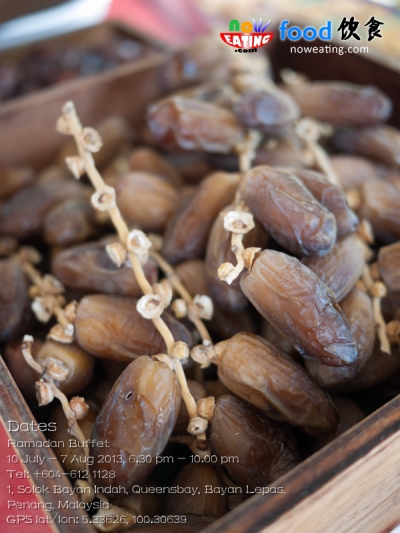 Kurma (Date) is the appetizer not to be missed during Ramadan.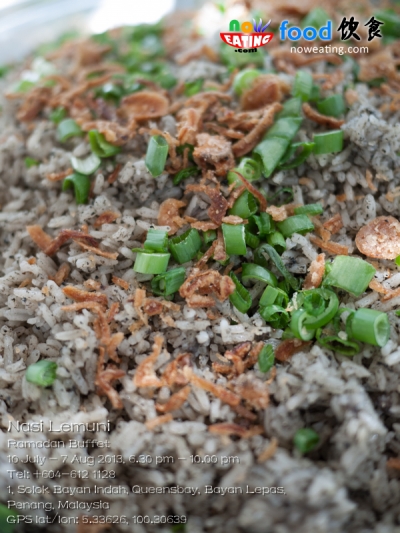 It was my first encounter with Nasi Lemuni. Lemuni is Malay name for Vitex trifolia plant 蔓荆. The leaf is traditionally used for female ailments and to relieve fever. It tastes like Nasi Ulam and is more delight compared to the later. If you like Nasi Ulam, you definitely like this Nasi Lemuni.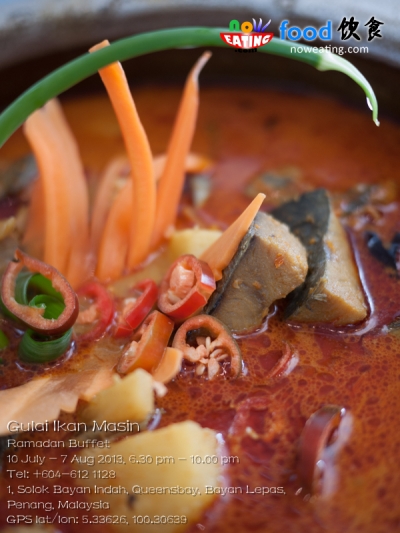 With over 100 buffet items, Eastin Hotel Penang is not short of curry dishes for this Ramadan month, including fish head curry, chicken curry kapitan, salted fish curry, and calamari and egg curry.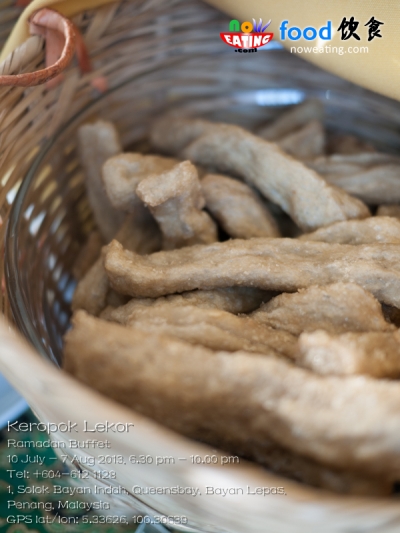 Lekor is my favourite snack. Too bad due to humidity, it quickly became soft before putting it on our table. Fortunately, the chef was more than happy to re-fry it to make it crispy again.
All Time Favourite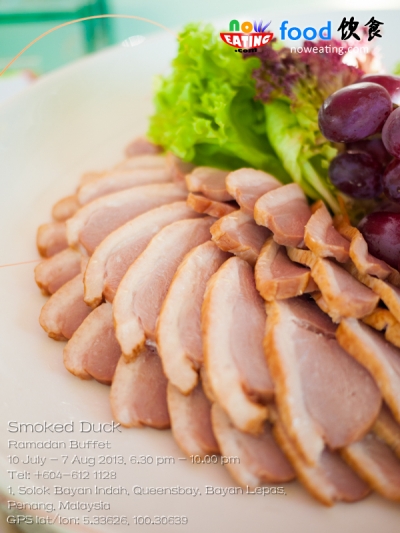 To cater for customers from different background, Eastin Hotel Penang also serve its all-time-favourite. A cold plate item I liked most is Smoked Duck. It is one of the best Smoked Duck in hotel buffet.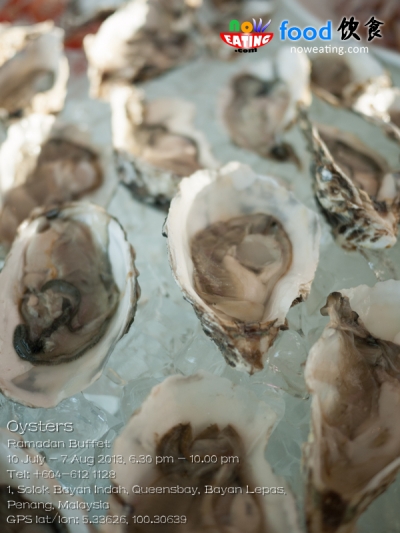 It is surprise that Eastin Hotel Penang also offers raw oysters which usually only available as exclusive item in Seafood theme buffet.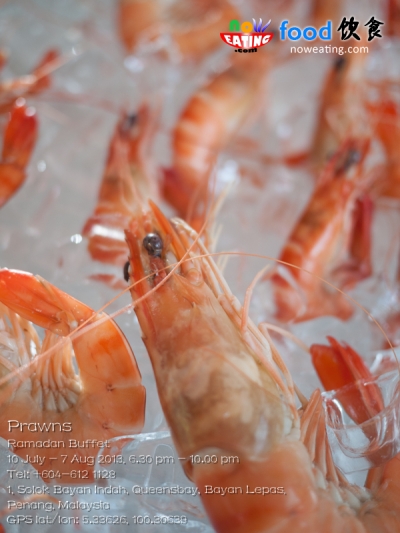 Other than raw oysters, fresh prawns and mussels are also available.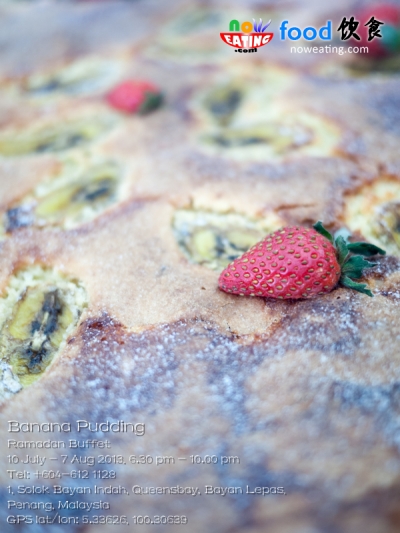 A dessert I liked pretty much is Banana Pudding. Good to dip with vanilla sauce provided. Better, put a scope of vanilla ice cream on it.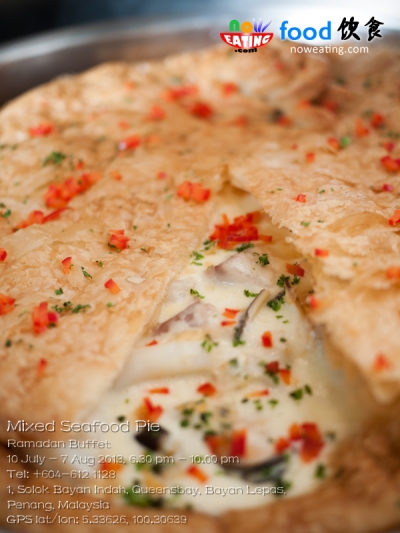 I found myself quite enjoying this Mixed Seafood Pie. It consists of calamari, fish fillet, scallops, prawns, and mussels to name a few in cabonara sauce.
The International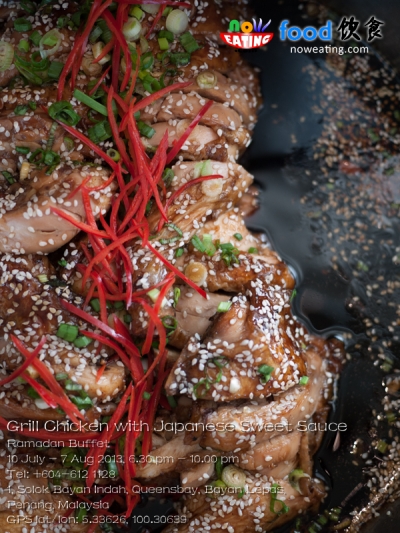 Eastin Hotel Penang also serves a few international cuisine in the ratio of 90:10 (90% Malay cuisine: 10% International). Some international item of the night was Grill Chicken with Japanese Sweet Sauce…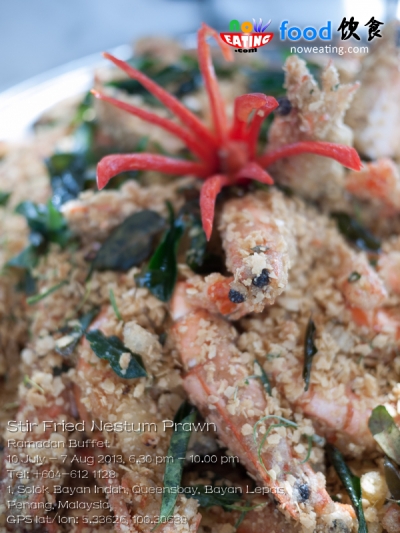 … Stir Fried Nestum Prawn – a dish usually found in Chinese restaurant…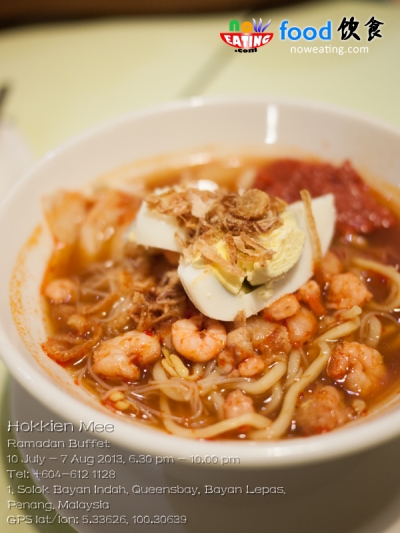 … and Hokkien Mee. This halal version of Hokkien Mee tasted surprisingly good according to my friend. It was prepared on-the-spot by the hotel crew.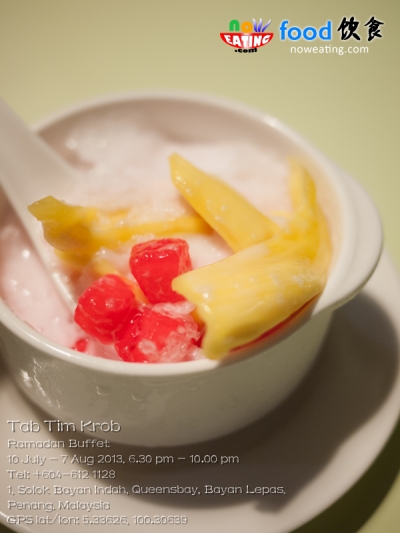 Finally, Tab Tim Krob – a famous Thai dessert. The coconut milk was fresh. If you like jackfruit, you can always add more jackfruit into your Tab Tim Krob, make it the ultimate dessert. Also available is ABC (Air Batu Campur).
The Pacifier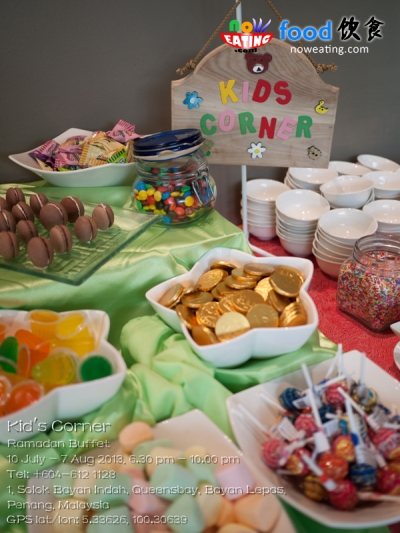 Kids jumping and running around after the meal? No problem. Send them to Kid's Corner.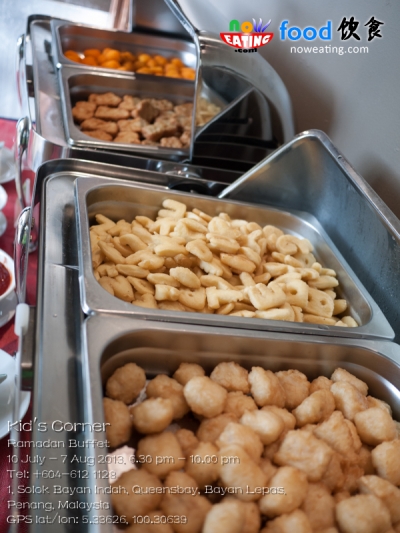 Also available at the Kid's Corner is assorted nuggets.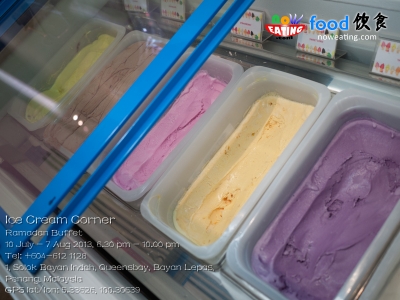 Just like adults queued up buying Happy Meal…. Kid's Corner is not always for kids. There is an ice cream counter. I like to dig a scope of vanilla ice cream and put it on espresso (to become Affogato) or Banana/Chocolate pudding.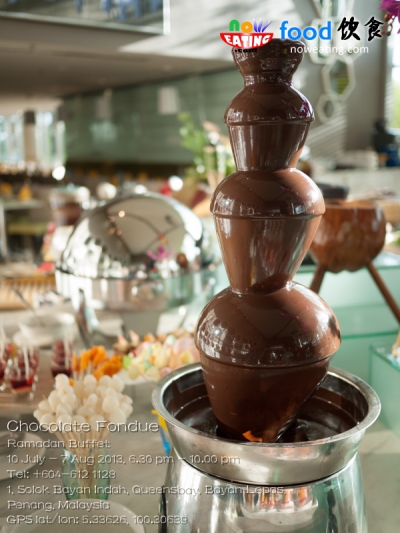 Even better, bring along your ice cream and let it coated with a layer of chocolate from the fondue.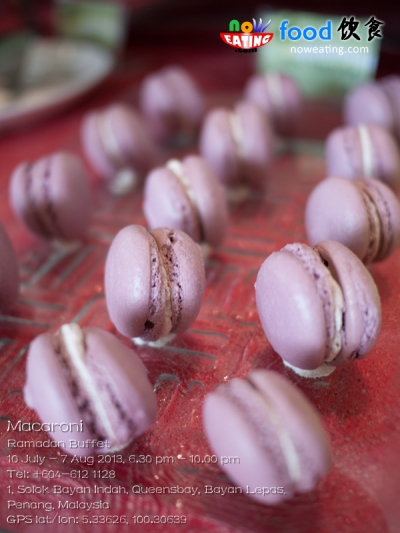 Ramadan buffet is available at RM85++ (adult) and RM43++ (child).
The Charity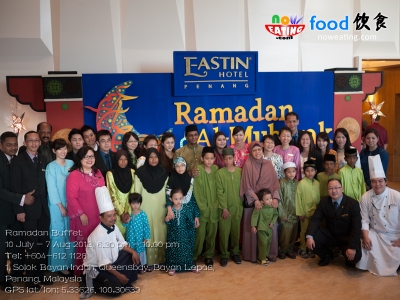 In conjunction with Berbuka Puasa, 20 orphanage children from Rumah Jagaan Nasyiatul Aisyah are invited for a warm-hearted Ramadan buffet dinner at Swez Brasserie, Eastin Hotel Penang. This event is yet another in the calendar of Eastin's on-going community initiatives to ensure the orphanage children get involved in the festive celebrations and have a memorable Ramadan dinner.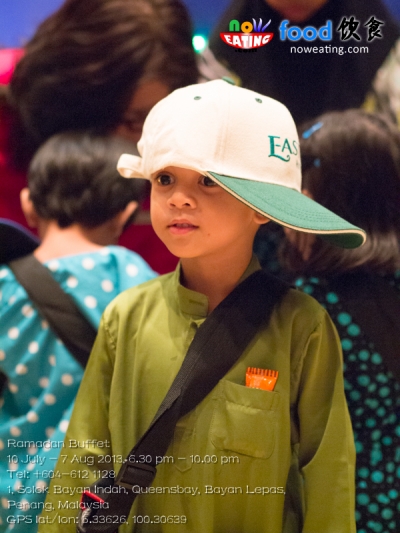 At Eastin, the staffs are pleased to share the joy and warm of festive occasions with the less fortune. RM 1,115 is collected among the staffs as donation for Rumah Jagaan Nasyiatul Aisyah. There is a group photography session for the children together with Eastin staffs led by the General Manager, Ms. Mary Ann Harris followed by goodie bags presentation for the children as a courtesy from Eastin Hotel Penang.