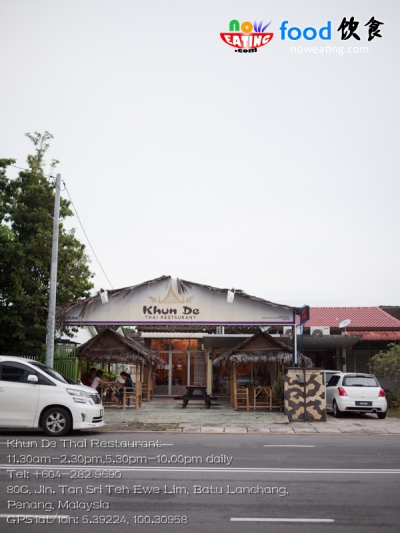 Located at Jalan Tan Sri Teh Ew Lim near Batu Lanchang, Khun De Thai is not to be confused with Khun Thai at Teluk Kumbar. While the later has beach view with ample parking space, Khun De Thai is located at the busy street of Batu Lanchang and it is extremely hard to find parking there. Maximum of 5 cars can be parked in front of Khun De Thai, while the rest have to park further up a bit, at the shoulder of Jalan Hikmat (see Google Map below).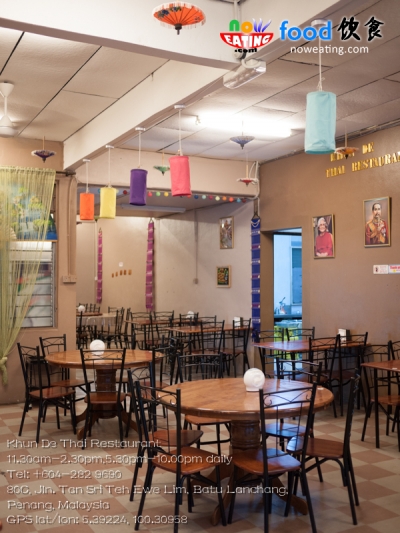 Good thing is that the restaurant was air-conditioned and there is outdoor dining area as well for smokers. It can host maximum of 150 customers.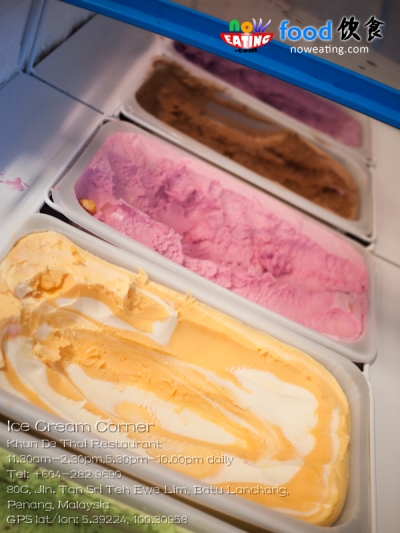 Even better, they offer unlimited ice cream regardless which menu you ordered (e.g. ala-carte or set meal). The ice cream corner consisting five ice-cream flavours is located next to cashier counter and is self-service. This is a BIG plus in which you hardly find in any Thai restaurants, and is a life-saver after the spicy meal.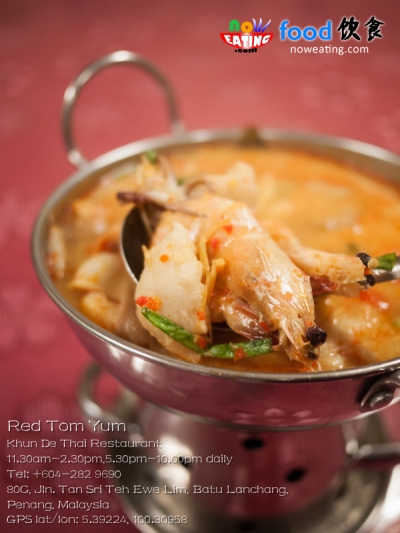 In this post, I will cover Thai dishes commonly found in any Thai restaurant. All dishes are in small size and prepared by Thai chef from northern Thailand. First and foremost is the Seafood Red Tom Yum (RM19). The spiciness and sourness were just perfect for those who prefer mild-to-spicy food. Seafood consisting of squids, fish fillets, and prawns were fresh.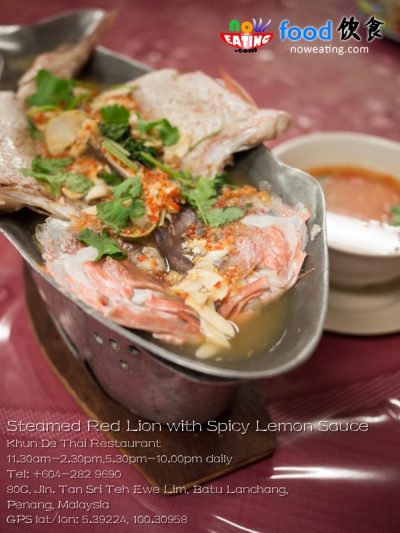 Next is Steamed Red Lion Fish 红狮鱼 with Spicy Lemon Sauce. A bowl of spicy and sour sauce was also given. We found that the sauce was a bit too spicy, which covered the sweetness from the fish. Pricing-wise is based on market price and size of the fish but expect this item to be RM45 or more.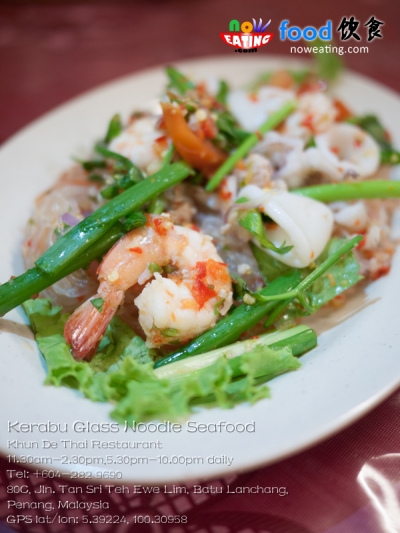 Kerabu (especially mango and glass noodle) is my favourite. The ingredients of this Kerabu Glass Noodle Seafood (RM12) was generous. However, we found it a bit dry.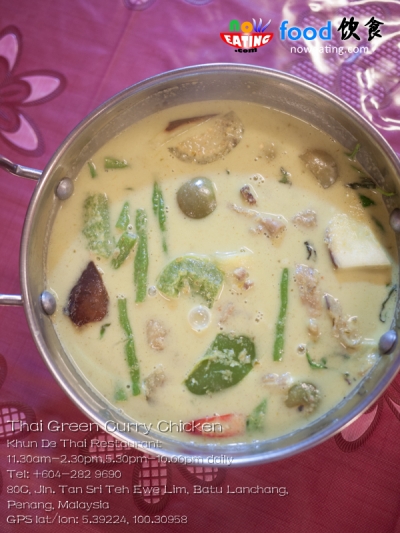 Like something sweet? Try their Thai Green Curry Chicken (RM12). The green colour comes from Thai basils and green chilies. The main ingredients were Thai egg plants, long bean, kaffir lime leaves, and of course, chicken. Made of coconut milk, the curry was sweet and best consumed with rice.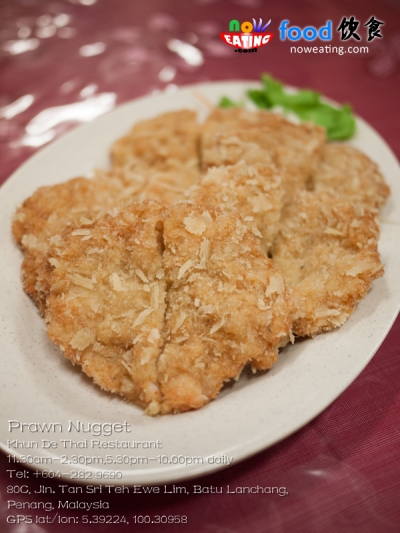 Like some snacks? Try their prawn nuggets (RM6.00 for 2 pieces) which was fried to golden and crispy. It was less oily as well compared to some other Thai restaurants.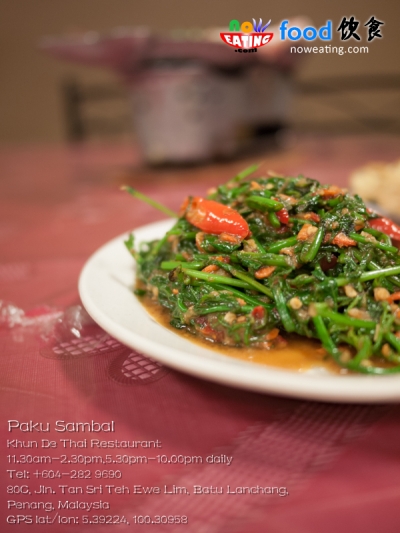 You probably think this is Kangkung Sambal 马来风光. Actually this is Paku Sambal (RM10). Paku is known as Fern in English and is seasonal. It has its own aroma once stir fried and personally I prefer it to be fried with omelette to preserve it original taste.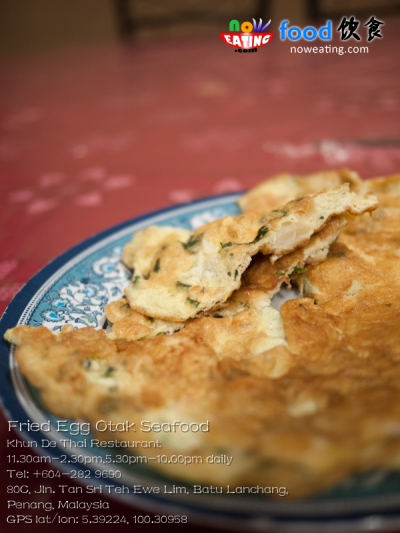 Omelette is also a famous Thai cuisine. Fried Egg Otak Seafood (RM10) is a bit special in which the minced seafood was fried with beaten egg. However, we did not find a trace of otak-otak in it or at least not significant. This makes this omelette nothing more than an Egg Foo Young 芙蓉蛋.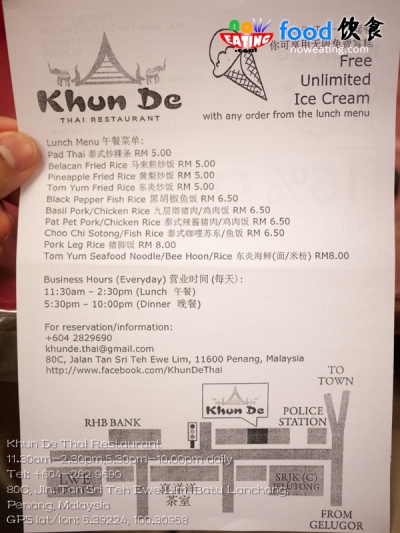 That's all for now. In my second post, I will introduce you some special dishes in Khun De Thai. At the mean time, if you would like to enjoy unlimited ice cream even with a single order of RM5.00 Belacan Fried Rice (available for lunch), do visit this Khun De Thai outlet near Batu Lanchang.
| | |
| --- | --- |
| Place Name: | Khun De Thai Restaurant 好人餐厅 |
| Cuisine: | Thai |
| Address: | 80C, Jalan Tan Sri Teh Ewe Lim, Batu Lanchang, 11600, Penang, Malaysia |
| Tel: | +604-2829690 |
| Email: | [email protected] |
| Working Hour: | 11.30am-2.30pm, 5.30pm-10.00pm daily |
| Last Visit: | 20130716 |