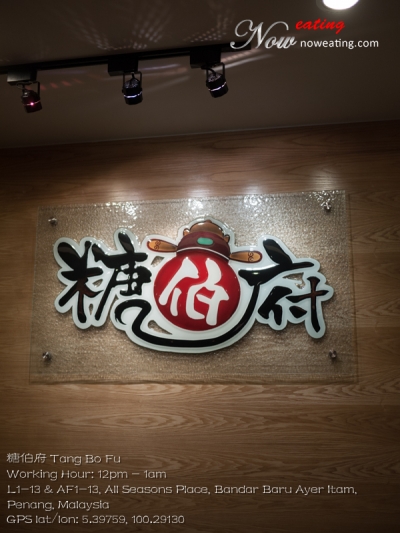 In this last post of Tang Bo Fu 糖伯府 series, I will introduce you some low profile items and also its English tea.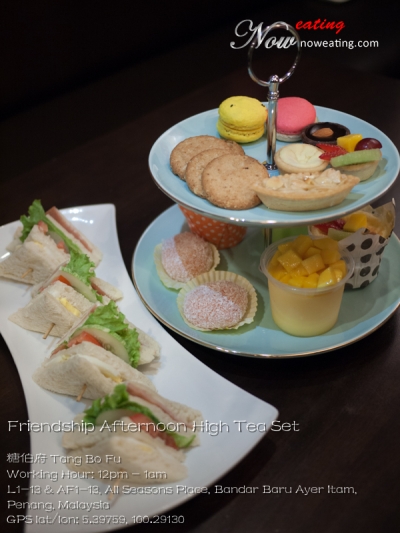 Let's start with its high tea. Friendship Afternoon High Tea Set 老友记下午茶 (RM45.90) is suitable for 4 persons. It is just like a dessert platter consisting of ham & eggs sandwich, macaroon, chocolate tart, ini fruits tart, almond tart, blueberry cheese tart, handmade scone, hokkaido cupcake, mango mochi, mango pudding, and honeydew pudding.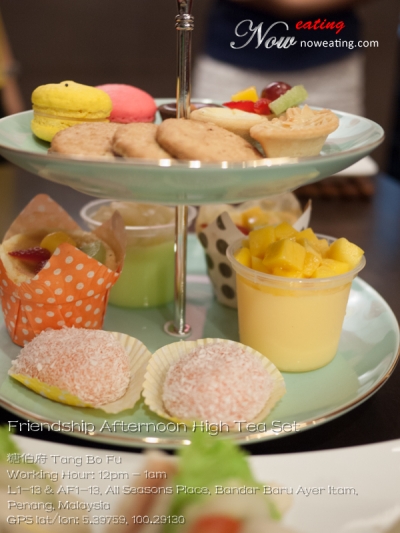 We found that the sandwiches, puddings, and Mochi tasted good. Macaroons were too sweet for my liking.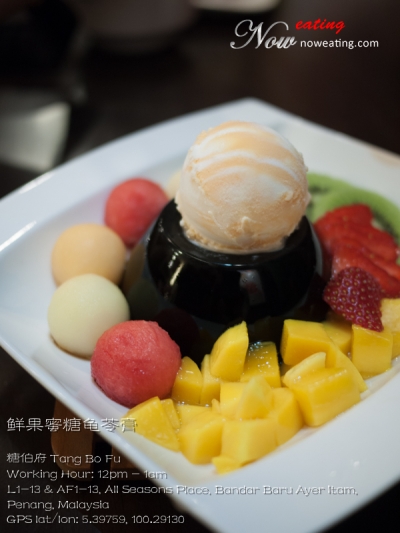 Next, a few variants of Tang Bo Fu's best seller. Previously, I introduced Mix Fruits Mango Pudding with Ice Cream 鲜果芒果布丁 (RM9.80). If pudding is too sweet for you, you may consider another variant – Mix Fruits Chinese Herbal Pudding Ice Cream 鲜果蜜糖龟苓膏 (RM9.80). The Chinese Herbal Pudding was not bitter at all compared to those sold in Chinese herbal stall.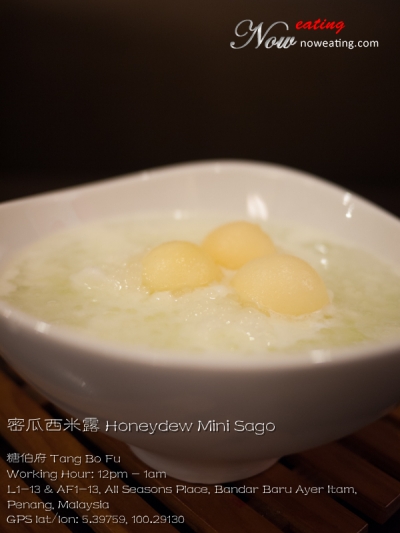 In my first post, I introduced their Mango Mini Sago 芒果西米露 (RM7.80). Another variant of Mini Sago is this Honeydew Mini Sago 蜜瓜西米露 (RM5.80) consisting of Honeydew fruit balls. IMHO, the combination was just average as the gluey sago did not blend in well with neither mango or honeydew juice. I still prefer Mango Black Rice 芒果黑糯米 (RM7.80) (see the first post) as long as cold dessert is concerned.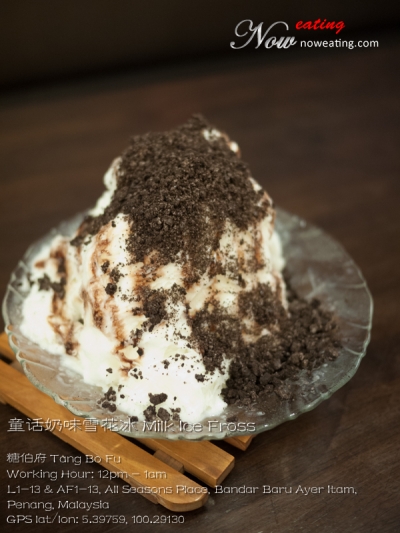 Last but not least, Tang Bo Fu also has a separate menu for snow ice. Snow ice was made using ice cube with frozen milk, fruit juice, or powder drinks. Milk snow ice is one of the original snow ice and you can find the same item – Milk Ice Fross 童话奶味雪花冰 (RM8.90) in Tang Bo Fu. As its Chinese name applies, it is suitable for kids.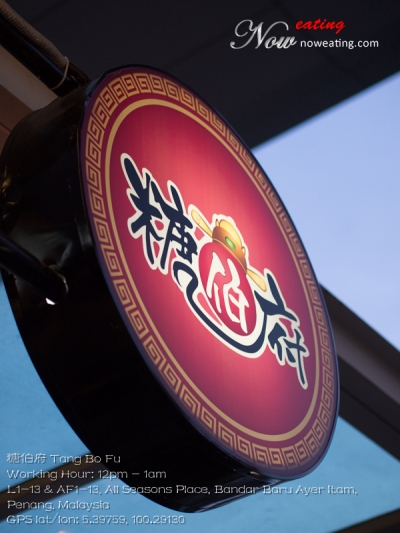 From dessert to high tea to main course, Tang Bo Fu actively improving its menu and food quality. Only time will tell whether Tang Bo Fu is able to sustain in this highly competitive dessert industry.
Visit my previous post of Tang Bo Fu here:
| | |
| --- | --- |
| Place Name: | 糖伯府 Tang Bo Fu |
| Cuisine: | Western, Chinese |
| Address: | L1-13 and AF1-13, Level 1, All Seasons Place, Lebuhraya Thean Teik, Bandar Baru Ayer Itam, 11500, Penang, Malaysia |
| Website: | www.tongparkfu.com |
| Working Hour: | 12pm-1am |
| Last Visit: | 20130611 |